After weeks of speculation and rumors that the next American Express Centurion Lounge was heading for the nation's capital, American Express officially announced Wednesday that it's building its next Centurion Lounge at Washington, D.C.-Reagan (DCA).
The new lounge in D.C. will be located near terminal B, behind security but in a new common space so that nearly anyone flying out of Reagan airport will be able to access it – regardless of which airline they're flying. At 11,500 square feet, it won't be the biggest lounge in Amex's network. But American Express says it will have all the usual amenities that make their lounges stand out among the competition: stellar food and drinks, high-speed Wi-Fi, quiet workspaces, and some local flair from the capital city.
The new lounge is expected to open in late 2022, making it the 16th Centurion Lounge worldwide after the London-Heathrow (LHR) location opens later this year.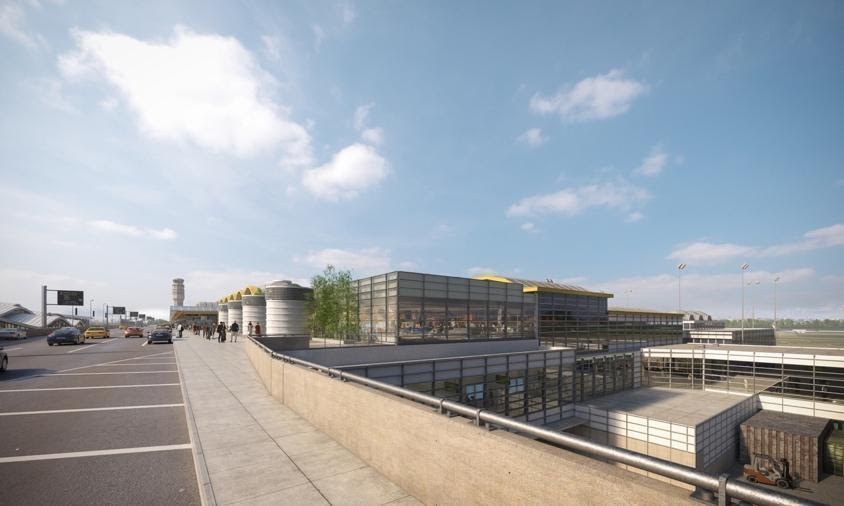 "We've been steadily growing our lounge footprint around the world and are excited to bring a  premium lounge experience to Reagan National Airport," Amex Vice President of Travel Experiences and Benefits Alexander Lee said in a statement.
The credit card company has been on an absolute tear in the last year, opening up five brand new Centurion Lounges in Phoenix (PHX), Charlotte (CLT), Los Angeles (LAX), New York City (JFK), and most recently in Denver (DEN). But they've been doubling down – quite literally – on existing spaces, too, with an expansion underway in Las Vegas (LAS) and a relocation of the undersized New York City-LaGuardia (LGA) space.
American Express on Wednesday reaffirmed its plans to also expand in Seattle (SEA) and San Francisco (SFO). The tiny Seattle space will more than triple in size to nearly 14,000 square feet, going from the smallest Centurion Lounge to among the largest. And San Francisco will take the crown as the largest Centurion by growing to nearly 16,000 square feet, even adding a second bar and cafe area.
"Historically, these are among the top airports our  Card Members have traveled through and we want to ensure they have a safe, spacious, and comfortable place to relax during their travels today and in the future," Lee said of Washington, D.C., Seattle, and San Francisco.
Prior to the pandemic, Centurion Lounges were in a league of their own domestically thanks to smart design and strong food and drink. But they grew popular to a fault, leading to frequent overcrowding.
As travel slowly recovers and American Express works to build and expand the airport lounges of tomorrow, additional space seems to be the name of the game. And that makes sense: Now more than ever, having extra space is clearly key to a premium travel experience.
But even in the midst of the pandemic, American Express is still delivering a solid experience in these lounges. While airlines have cut lounge offerings back to the bone, Amex has found a way to balance enhanced safety measures without sacrificing the defining features of Centurion Lounges. Watch our review of the brand new Denver Centurion Lounge to see what I mean.
Getting into Centurion Lounges
To get into any Centurion Lounge, you'll need the right credit card. And few are better than The Platinum Card® from American Express.
It'll get you into all 14 current Centurion lounges and counting for free. But you can no longer bring guests in free: As of Feb. 1, 2023, guests cost $50 apiece (or $30 for minors) unless you charged a whopping $75,000 to your Platinum Card in the last year. Guests two years and younger are complimentary.
Still, the Platinum Card also opens doors to 1,000-plus Priority Pass lounges, Delta Sky Clubs if you're flying Delta that day, Escape Lounges, and more.
Read our full review of the Amex Platinum Card.
Click Here to learn more about the Platinum Card from American Express.
The Business Platinum Card® from American Express will get you in as well. And there's a relatively new option: The Delta SkyMiles® Reserve American Express Card, Delta's top-tier travel card. But you have to be flying Delta that day to use a Centurion lounge, and you can't bring free guests with you – they'll be $50 each.
Read our master guide to getting into & using Amex Centurion lounges!
Bottom Line
It won't be open until late 2022, but this next lounge at Washington, D.C.-Reagan (DCA) will be the 16th Amex Centurion Lounge worldwide. After the slowdown in travel this last year, it's exciting to watch American Express double down on these lounges.