After shutting down its beloved Centurion Lounges last year due to the pandemic, American Express is on a tear. Nearly all of its 13 U.S. locations are back open, including two brand new lounges opened within the last year. Expansions and renovations are underway at others, and another new Centurion Lounge is heading for Washington, D.C.-Reagan (DCA).
And now the credit card company has its sights set on the largest airport in the world. The Atlanta Journal-Constitution reports that the City of Atlanta is on the cusp of approving a brand new American Centurion Lounge at the Atlanta (ATL) airport. 
There are few details on the upcoming Centurion Lounge, including its location, size, amenities, or projected opening date. The agreement with American Express for at least a 10-year lease to build and operate the lounge is up for a vote in an Atlanta City Council committee meeting Wednesday.
An American Express spokesperson confirmed an Atlanta Centurion Lounge was under consideration but didn't share any additional information.
"We are working closely with the Atlanta Department of Aviation to explore options for a new Centurion Lounge at Hartsfield-Jackson Atlanta International Airport, however we do not have further details to share at this time," the spokesperson said. "We look forward to sharing more information later this year."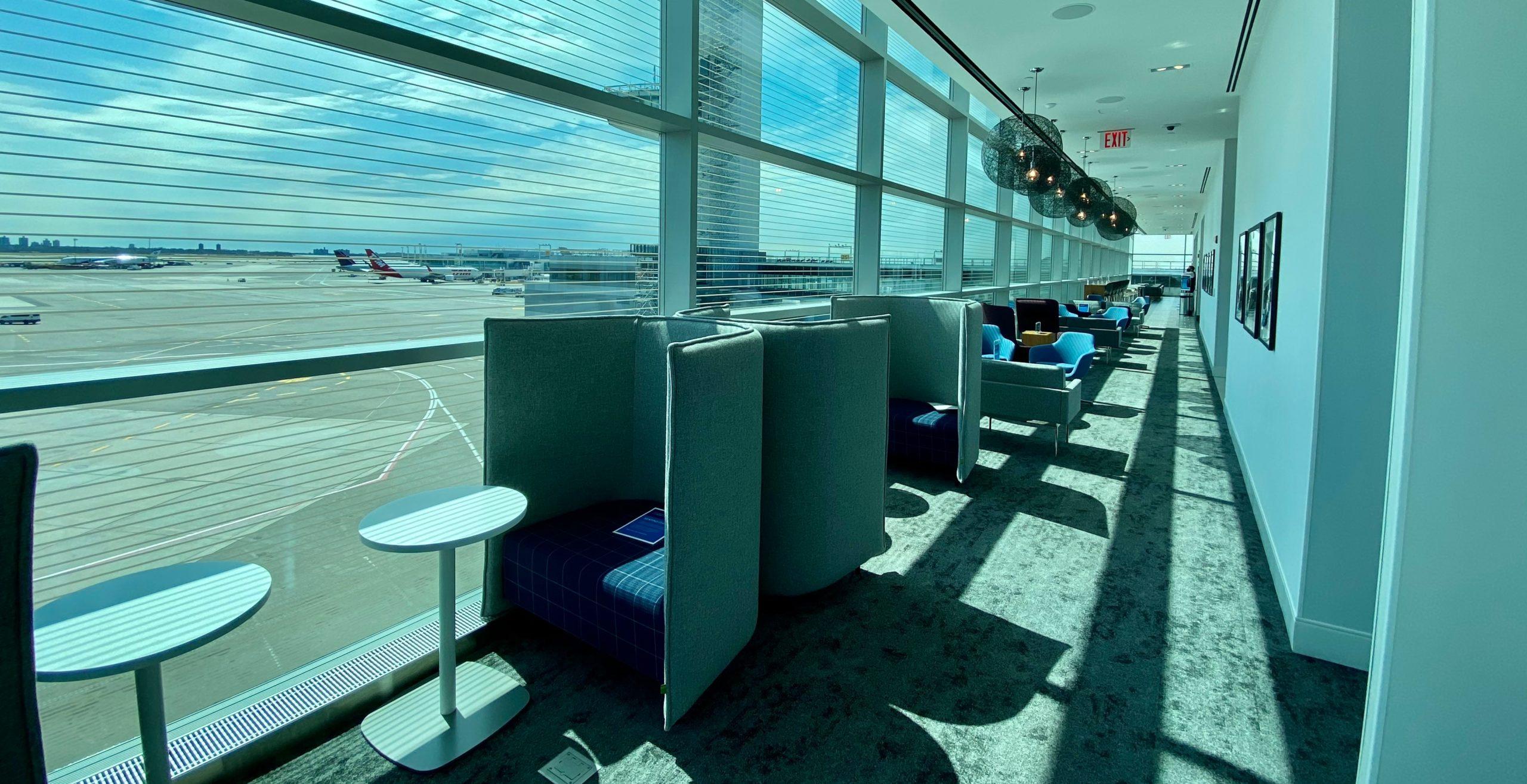 Why Atlanta?
A Centurion Lounge would be a welcome addition in Atlanta, the world's largest airport by passenger volumes.
Though the Delta megahub is teeming with Sky Clubs, there are few lounge options for travelers flying with other carriers. Along with a lounge each for American and United frequent flyers, the only Priority Pass Lounge is The Club in Concourse F.
"This leaves passengers flying the remaining 15 airlines at ATL with only one severely undersized option, even if they are flying in a premium cabin," the city said in public documents.
It's also a change in strategy for American Express. A lounge in Atlanta would be the credit card issuer's first outpost at a major Delta hub. They've steered clear of Delta strongholds until now, as travelers with cards like the Platinum Card® from American Express can already get into Delta Sky Clubs so long as they're flying Delta that day.
As travel picks back up, travel credit card companies are clearly focused on building out new lounges and expanding older ones.
If the plans for this Atlanta space move ahead, it would be American Express's second new space announced in 2021: The company unveiled its plans earlier this year to build a Centurion Lounge at Washington, D.C.-Reagan (DCA) opening in late 2022. After many delays, a long-planned London-Heathrow (LHR) Centurion Lounge is on track to open later this year.
Read more: Amex Doubled Down on Centurion Lounges During COVID-19. What's Next?
Capital One is building new lounges in Dallas-Fort Worth (DFW) and Washington, D.C.-Dulles (IAD). And even Chase is getting into the airport lounge game, starting with its very first Sapphire Lounge in Boston (BOS).
But both companies have a long way to go to catch up to American Express.
What's in Store for the Atlanta Centurion Lounge?
Amex Centurion Lounges are easily among the best in the country with comfortable seating, fast Wi-Fi, an open bar with free wine and cocktails, and meals that far surpass what you'll get in most other airport lounges. While Amex hasn't shed any light on what it has planned in Atlanta, flyers there are likely in for a treat.
The newest lounges like the Denver (DEN) Centurion Lounge and the JFK Centurion Lounge in New York City (JFK) have taken what sets Centurion Lounges apart and taken it to the next level with some local flair, signature touches, and lots of additional space.
The Denver Centurion Lounge is among the biggest in Amex's portfolio with great tarmac views, a game room, and a dedicated craft beer bar pouring the Denver area's best brews. The New York location is even larger with two full floors, including a gym and wellness area and a speakeasy-style bar.
Getting into Centurion Lounges
To get into any Centurion Lounge, you'll need the right credit card. And few are better than The Platinum Card® from American Express. It'll get you (and two guests) into all 14 current Centurion lounges and counting for free. And it also opens doors to 1,000-plus Priority Pass lounges, Delta Sky Clubs if you're flying Delta that day, Escape Lounges, and more.
Read our full review of the Amex Platinum Card – and its massive bonus of up to 275,000 points!
Click Here to learn more about the Platinum Card from American Express.
The Business Platinum Card® from American Express will get you in as well. And there's a relatively new option: The Delta SkyMiles® Reserve American Express Card, Delta's top-tier travel card. But you have to be flying Delta that day to use a Centurion lounge, and you can't bring free guests with you – they'll be $50 each.
Read our master guide to getting into & using Amex Centurion lounges!
Bottom Line
American Express can't stop, won't stop with Centurion Lounges. After opening two new lounges in the last year with more in London and Washington D.C. coming soon, the king of airport lounges is now targeting the world's biggest airport in Atlanta.
Stay tuned to see what's in store – and when we might be able to expect a new Atlanta location to open its doors.