After shutting down its beloved Centurion Lounges early in the pandemic, American Express has been on a tear: All 13 current U.S. locations are open with several expansions in the works and more are on the way in Newark (EWR) and Washington, D.C.-Reagan (DCA). Add another one to the list: The busiest airport in the world.
American Express confirmed Wednesday that it will open an Amex Centurion Lounge in Atlanta (ATL), months after the Atlanta Journal-Constitution reported on the prospect based on Atlanta City Council meeting minutes. And the plans for the new lounge are suited to an airport that sees more daily passengers than anywhere else on the globe: At approximately 26,000 square feet, it will be the biggest Centurion Lounge by far. Amex is planning several outdoor spaces with tarmac views at its Atlanta Lounge, another first for the company.
The lounge is set to open sometime in 2023 – Amex didn't have any more specific details on the timing. It will be located in Concourse E, near Gate E11. Other details on the lounge were sparse, too: Amex promised it will feature "an array of new amenities" and "a modern approach to Southern design influenced by Atlanta's local landscape and culture." There will even be a dedicated bourbon bar.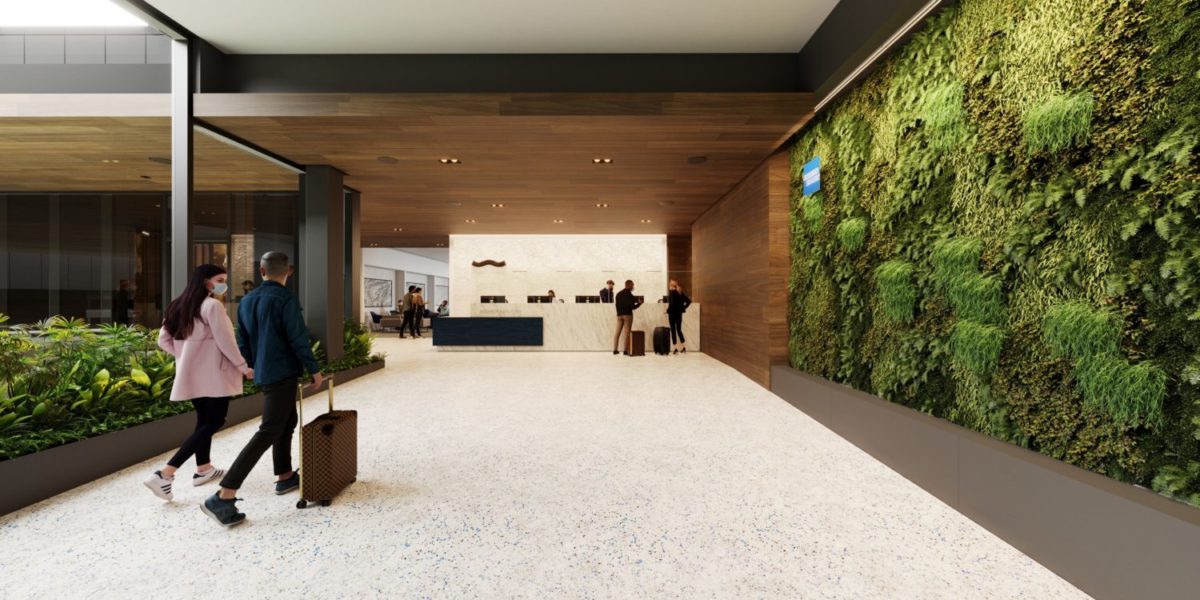 But American Express clearly understands that when it comes to its increasingly crowded airport lounges, bigger is better. At 26,000 square feet, this location would dwarf the JFK Centurion Lounge, which is currently the largest in Amex's network at over 15,000 square feet. The Atlanta lounge may need every inch of that space in order to combat overcrowding, which has become an even bigger problem for these popular lounges as travel rebounds post-pandemic.
In a first for Amex lounges, outdoor spaces should be a nice touch at this new Atlanta location. In fact, the bank says it will have multiple outdoor spaces, including what it calls a "garden terrace" inspired by the city's trees.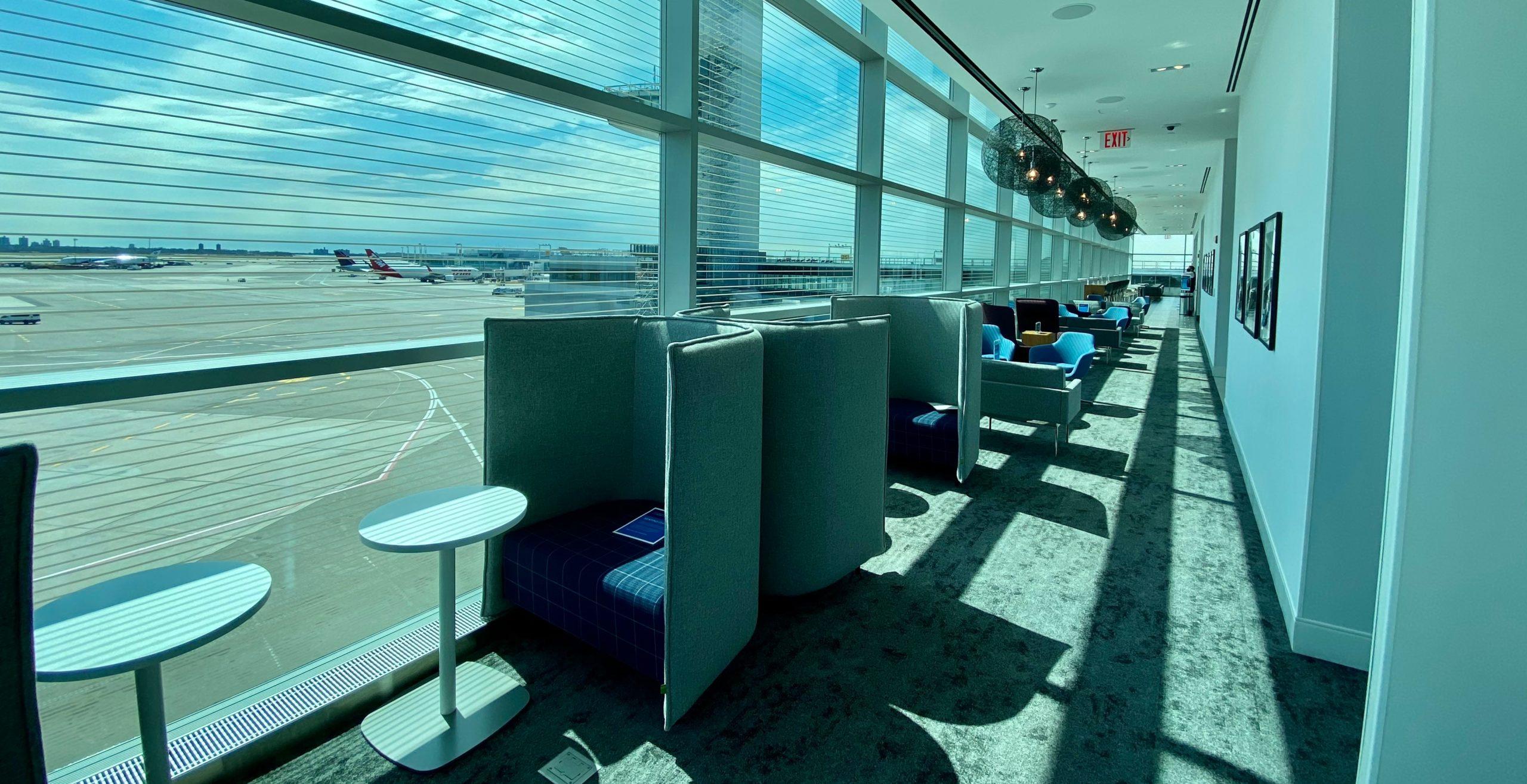 Amex Centurion Lounges are easily among the best in the country with comfortable seating, fast Wi-Fi, an open bar with free wine and cocktails, and meals that far surpass what you'll get in most other airport lounges.
The newest lounges like the Denver (DEN) Centurion Lounge and the JFK Centurion Lounge in New York City (JFK) have taken what sets Centurion Lounges apart and taken it to the next level with some local flair, signature touches, and lots of additional space.
The Denver Centurion Lounge is among the biggest in Amex's portfolio with great tarmac views, a game room, and a dedicated craft beer bar pouring the Denver area's best brews. The New York location is even larger with two full floors, including a gym and wellness area and a speakeasy-style bar.

Read our master guide to Amex Centurion Lounges!
Why Atlanta?
A Centurion Lounge will be a welcome addition in Atlanta, the world's largest airport by passenger volumes.
Though the Delta megahub is teeming with Sky Clubs, there are few lounge options for travelers flying with other carriers. Along with a lounge each for American and United frequent flyers, the only Priority Pass Lounge is The Club in Concourse F.
"This leaves passengers flying the remaining 15 airlines at ATL with only one severely undersized option, even if they are flying in a premium cabin," the Atlanta City Council said in public documents regarding the lounge.
It's also a change in strategy for American Express. A lounge in Atlanta will be the credit card issuer's first outpost at a major Delta hub. They've steered clear of Delta strongholds until now, as travelers with cards like the Platinum Card® from American Express can already get into Delta Sky Clubs so long as they're flying Delta that day.
As travel picks back up, travel credit card companies are clearly focused on building out new lounges and expanding older ones. Capital One has opened its first fantastic lounge in Dallas-Fort Worth (DFW), with more locations on the way in Denver (DEN) and Washington, D.C.-Dulles (IAD) later this year. Even Chase is entering the airport lounge wars with four planned U.S. locations and an international branch in Hong Kong (HKG).
But both companies will have a lot of catching up to do with Amex, which has only increased its footprint through the pandemic. Atlanta is the bank's third new location announced in the last year alone, after Newark and Washington, D.C. Expansions of existing lounges are set to get underway in both San Francisco (SFO) and Seattle (SEA). An overhaul and expansion of the Las Vegas (LAS) Centurion Lounge was completed last year, as was a relocation of the New York City-LaGuardia (LGA) Centurion Lounge. Oh, and the long-awaited London-Heathrow (LHR) Centurion Lounge finally opened last year, too.
Read more: Amex Doubled Down on Centurion Lounges During COVID-19. What's Next?
Getting into Centurion Lounges
To get into any Centurion Lounge, you'll need the right credit card. And few are better than The Platinum Card® from American Express. It'll get you into all 14 current Centurion lounges and counting for free, though guests will cost up to $50 apiece. And it also opens doors to 1,000-plus Priority Pass lounges, Delta Sky Clubs if you're flying Delta that day, Escape Lounges, and more.
Read our full review of the Amex Platinum Card!
The Business Platinum Card® from American Express will get you in as well. And there's a relatively new option: The Delta SkyMiles® Reserve American Express Card, Delta's top-tier travel card. But you have to be flying Delta that day to use a Centurion lounge, and you can't bring free guests with you – they'll be $50 each.
Read our master guide to getting into & using Amex Centurion lounges!
Bottom Line
American Express can't stop, won't stop with Centurion Lounges. After opening two new lounges in the last year with more coming soon, the king of airport lounges is now targeting the world's biggest airport in Atlanta.
The lounge won't open until 2023 – and we don't know exactly when, or what's in store when it does. So stay tuned for more details.
Lead photo courtesy of American Express