Weeks after Delta's troubling overhaul of its Medallion status program, many once-loyal Delta flyers are rethinking their loyalty. And other airlines are swooping in to try to claim some disillusioned Medallion members.
JetBlue is the latest airline out with a status match hoping to win over Delta flyers, and it's not subtle: The New York-based carrier calls it "Mosaic on the DL" – a nod to Delta's industry abbreviation – and puts the question to flyers: "Feeling 'Blue' about the changes to a once-favorite loyalty program? We've got the answer." Travelers who currently have Delta status can apply through Oct. 31 to get matched into an equivalent level of JetBlue TrueBlue Mosaic Status for at least the rest of the year – with a path to extend it all the way through 2024.
But JetBlue is capping how many flyers who can take advantage of this status match at 30,000. So if you're tempted to try out JetBlue status for this year or next, apply soon – just in case.


JetBlue isn't the first airline trying to win over angry Delta flyer, and we're betting they won't be the last, either. Alaska Airlines went even further, giving Delta elites an easy path into an even higher tier of status with its own matching offer earlier this week. Airlines clearly sense an opportunity to expand their reach at Delta's expense.
But whether you're swearing off Delta or still plan to fly with them, these status matches can get you a year (or more) of benefits whenever you wind up on another carrier.
Read next: How Delta Status Compares to American, United
How the JetBlue Status Match Works
Like Delta, JetBlue now offers four tiers of elite status: Mosaic 1, Mosaic 2, Mosaic 3, and Mosaic 4, unlocking perks from free checked bags and priority boarding with JetBlue all the way to upgrade certificates. With this status match, you can climb all the way to the top with JetBlue.
Travelers who currently have Delta Medallion Status can easily apply online to match into the equivalent Mosaic tier with JetBlue through at least the end of 2023. By holding (or opening) a co-branded JetBlue credit or spending a certain amount with the airline by the end of the year, you can extend that new status with JetBlue through 2024 – whether you've already locked up Delta status through 2024 or not.
Just fill out this form and submit proof of your Delta status by Oct. 31. Here's how it maps out: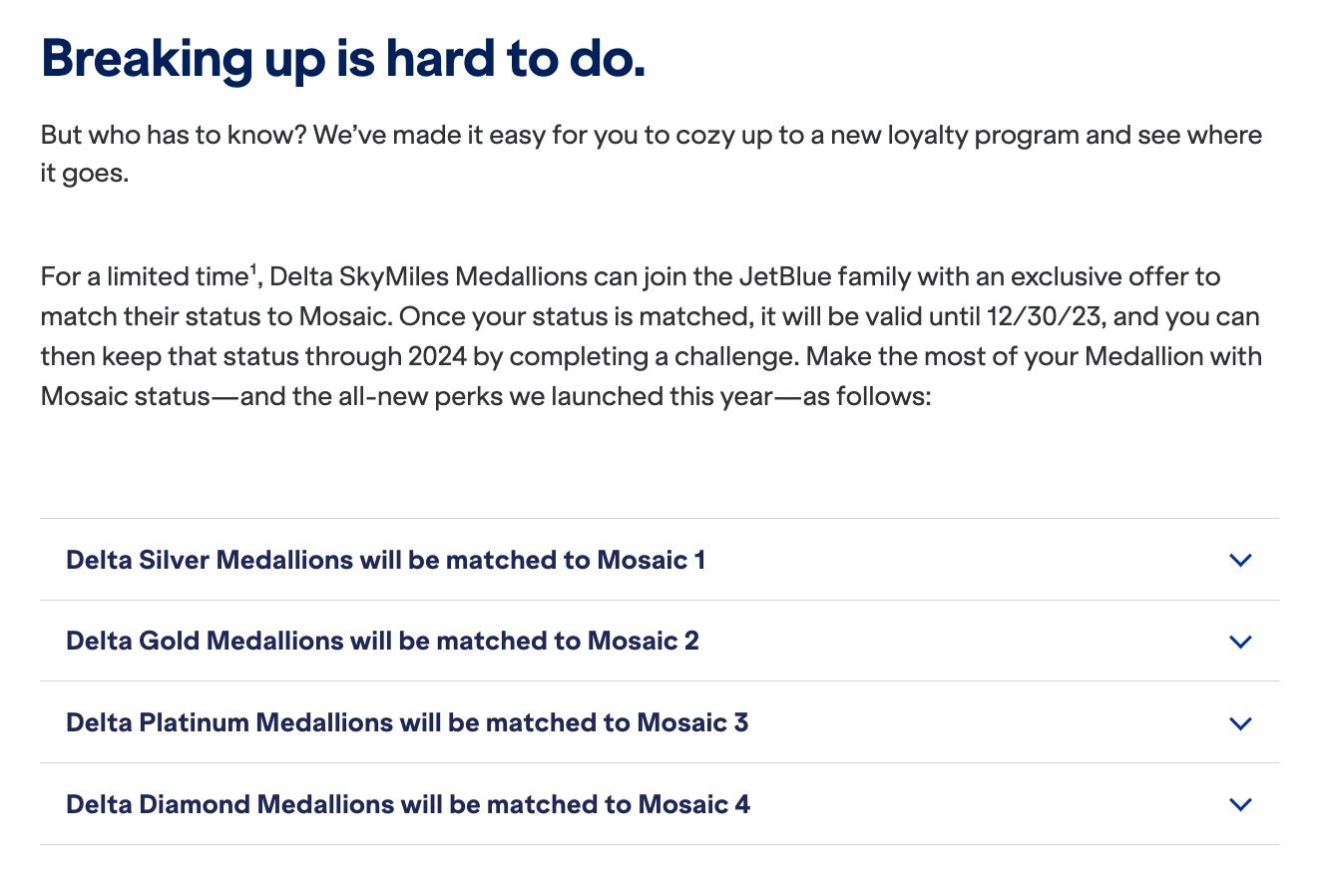 Status matches and status challengers are a fixture in the airline industry, but JetBlue and Alaska Airlines have made it more alluring by making it so easy for Delta loyalists to get more than just a few free months to test it out. You can extend your JetBlue status all the way through 2024 by doing one of the following:
Having a co-branded JetBlue credit card or opening one by Dec. 30.
Earning a certain number of tiles – JetBlue's building block for Mosaic status – by Dec. 30, depending on the level of JetBlue status you matched into
Tiles are how you now build JetBlue Mosaic status and other perks, and earning them is fairly straightforward: You get 1 tile for every $100 you spend with the airline – or for every $1,000 you spend on a JetBlue credit card. But with this promotion, you'll automatically extend your status with a JetBlue card. Otherwise, you'll need to spend a significant amount with the airline to keep your new Mosaic status through 2024.
Here's how many tiles you'd need to earn depending on your level of Delta status to keep your JetBlue status through 2024:
Silver Medallion: 6 tiles to keep Mosaic 1
Gold Medallion: 12 tiles to keep Mosaic 2
Platinum Medallion: 24 tiles to keep Mosaic 3
Diamond Medallion: 30 tiles to keep Mosaic 4
That means current Delta Silver Medallion members would have to spend at least $600 on JetBlue flights to keep their Mosaic 1 status through 2024. Keep in mind that only flights you book for yourself (not family members or others) – will earn you those necessary tiles. And you must actually take the flight by the Dec. 30 deadline in order to earn that credit to complete this status match.
What You Get With JetBlue Status
JetBlue recently overhauled its TrueBlue loyalty program, adding more Mosaic status tiers and additional perks for frequent fliers.
Even with the lowest level of Mosaic status, you get free checked bags and seats with up to seven inches of additional legroom at no extra charge, as available. But as you climb to Mosaic 3 and Mosaic 4 – or get there automatically by matching your Delta Platinum and Diamond Medallion status, respectively – you get upgrade certificates to automatically move up to JetBlue Mint business class seats. At the highest tier, you get six of those upgrade certificates as well as credits for free Blade helicopter transfers to and from Manhattan from both New York City (JFK) and Newark (EWR) airports.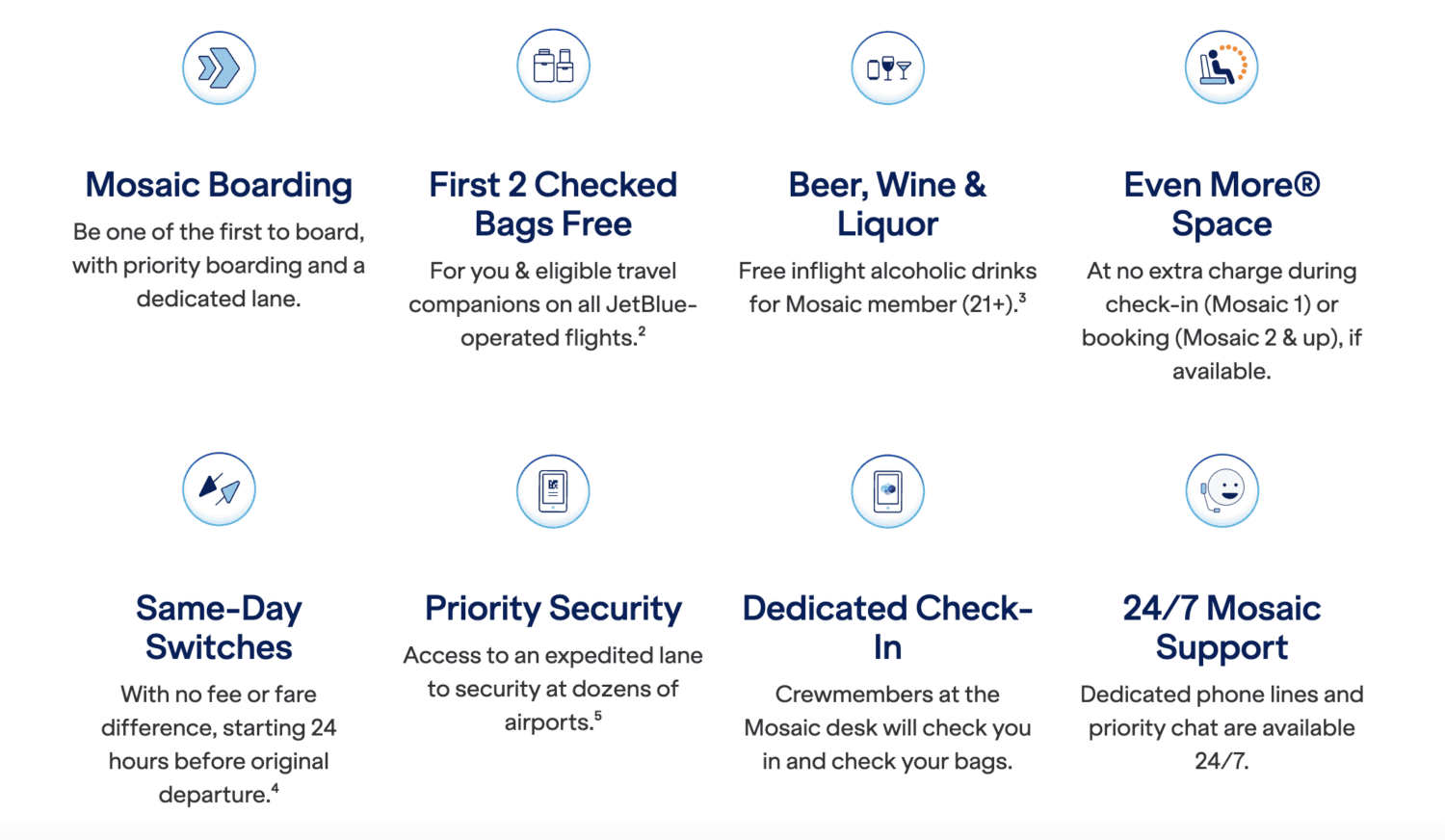 Check out JetBlue's full breakdown of TrueBlue Mosaic status here.
One of the most exciting things about JetBlue's revamped loyalty program is that members also get to pick an additional perk at each tier, customizing their benefits to their travels. If you match to Mosaic status through Delta, you don't get your pick – one is selected for you:
Silver Medallions matching to Mosaic 1 get a Mint Suite priority
Gold Medallions matching to Mosaic 2 get a free pet fee waiver
Platinum Medallions matching to Mosaic 3 get a FoundersCard Blue Membership
Diamond Medallions matching to Mosaic 4 get 15,000 bonus TrueBlue points
Bottom Line
Airlines clearly see an opening to win over once-loyal Delta flyers upset by the airline's recent, drastic changes to its SkyMiles Medallion program.
JetBlue is just the latest airline out with a status match, allowing Delta Medallion members to instantly earn Mosaic status through 2023 – and potentially all the wya through 2024. While it's not the most lucrative status match we've seen to date, it's worth a look if you're flying JetBlue this year or next … and even if you're not.