Delta will launch its new, color-coordinated boarding process for all flights on Wednesday, Jan. 23, doing away with the old numbered zones while adding several new tiers for boarding.
The airline first announced the change last month, giving travelers plenty of heads up about the brewing change. And all Delta flyers with travel booked Jan. 23 and beyond should have received a warning about the new way Delta will handle boarding, which the airline calls "Branded Boarding."
And although Delta added two more tiers to the boarding process to round out at eight total groups, there are few changes to the pecking order of who boards the aircraft when. Instead, it's largely a visual and structural change.
Rather than simply stamping a zone number on your boarding pass, it's tied directly to the fare you book. And that means flyers will see where they stand from the time they check out until they get to the gate.
There will be no more "Zone 1, Zone 2, Zone 3." Instead, there's just Delta One boarding. And Delta Comfort Plus boarding for those passengers. Basic economy flyers will take up the rear, boarding eighth and last.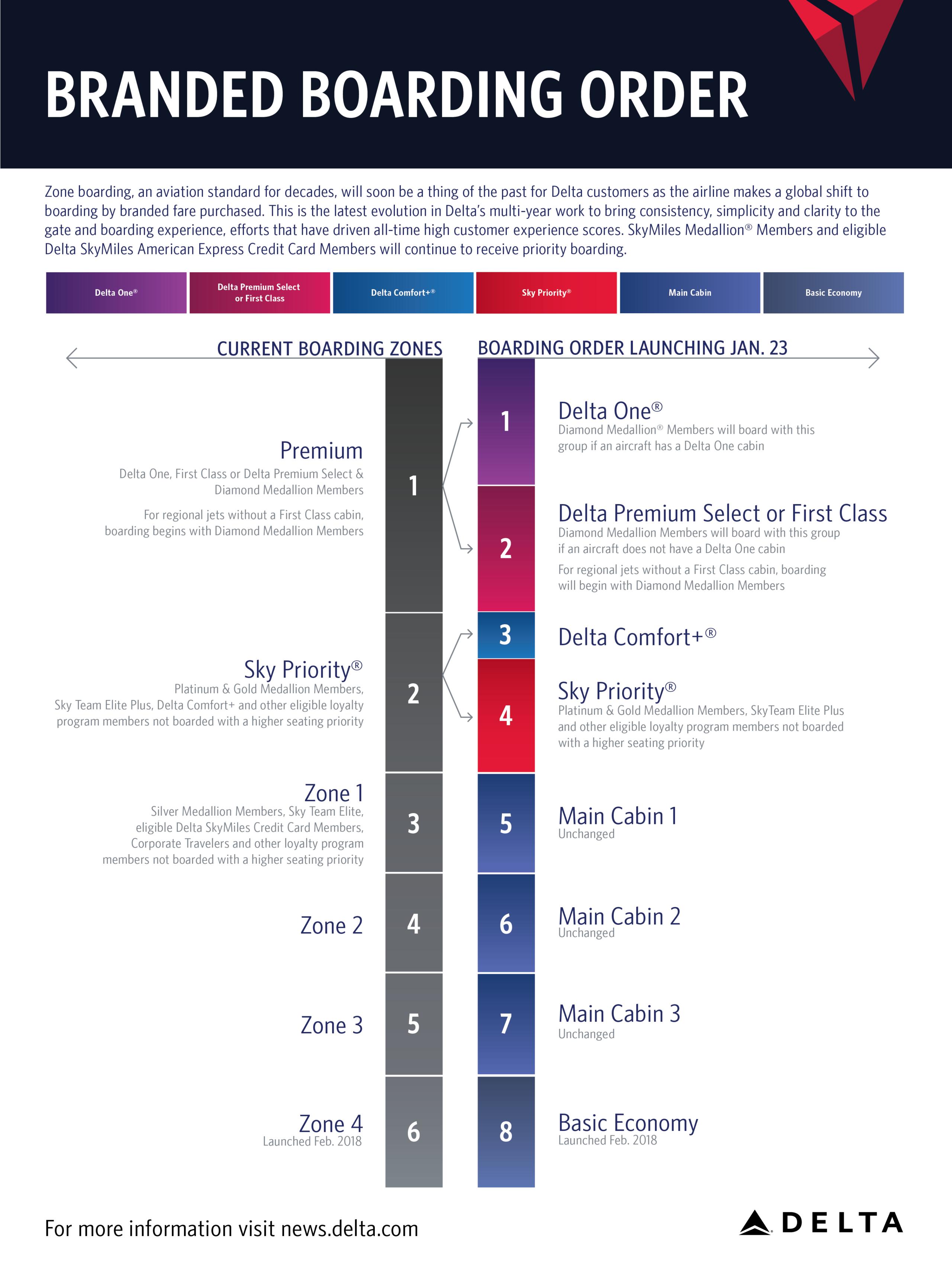 Even with some additional boarding groups, there aren't many changes to the actual boarding order. And if you've got a co-branded American Express card like the Gold Delta SkyMiles card, don't worry. You'll still get priority boarding after these changes.
The biggest change is that flyers sitting in Comfort Plus now get a designated boarding group – and it's ahead of Delta Medallion status members with Platinum or Gold. While that may sound like a loss for Delta's most loyal flyers, many of these passengers will be upgraded into Comfort Plus or above anyway. It's likely a wash.
While all premium cabin passengers currently board together, Delta is divvying that group up a bit. If the plane's got a Delta One cabin, those passengers will board first along with top-tier Delta Diamond status holders. Up next will be flyers in the new Premium Select cabin, or first class if it's a domestic flight.
Our Analysis
Delta is clearly hoping to eliminate some of the confusion behind the boarding process by constantly putting it in front of flyers' faces.
Only time will tell whether that helps in the U.S., where airlines and passengers alike seem to struggle with boarding regardless of the setup. We'll be on a Delta flight this Friday to test out the new boarding system.

Bottom Line
If you're on a Delta flight Wednesday or later, prepare for a slightly different way of getting onto your plane. Just don't expect a world of difference.