Delta spent more than a month letting customers know that they were changing up their boarding process, replacing the numbered approach with a color-coordinated system.
This new setup launched on Wednesday, Jan. 23. And after taking a Delta flight days after, I can assure you: Very little has changed with how Delta gets passengers on board. 
The Basics Behind Delta's New Boarding Order
Delta announced the change in December, calling its new system "Branded Boarding." And although Delta added two more tiers to the boarding process for a total of eight groups, there are few changes to the pecking order of who boards the aircraft when. Instead, it's largely a visual change.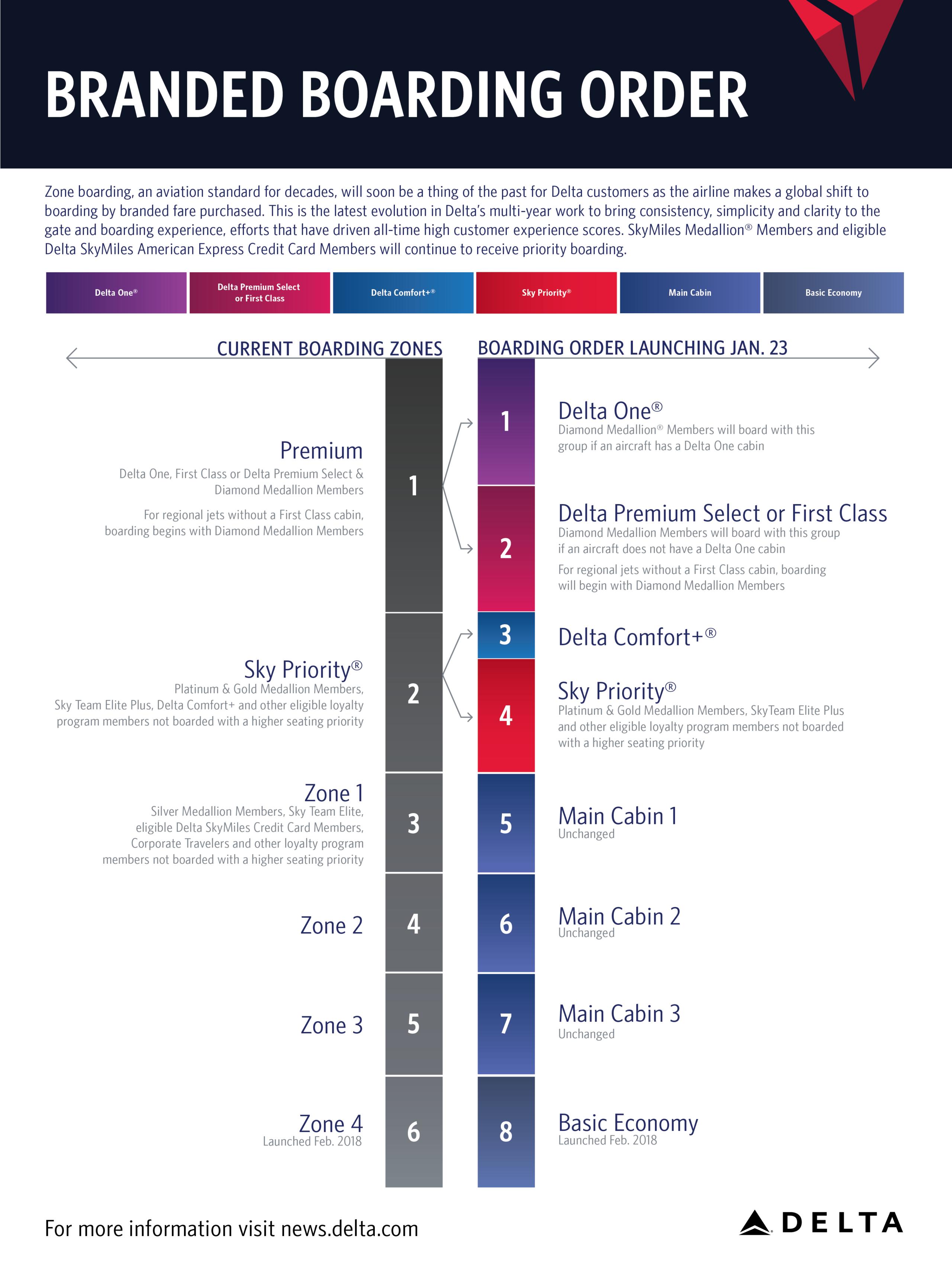 Rather than simply stamping a zone number on your boarding pass, it's tied directly to the fare you book. And that means flyers will see where they stand from the time they check out until they get to the gate.
There will be no more "Zone 1, Zone 2, Zone 3." Instead, there's just Delta One boarding. And Delta Comfort Plus boarding for those passengers. Basic economy flyers will take up the rear, boarding eighth and last.
The biggest change is that flyers sitting in Comfort Plus now get a designated boarding group – and it's ahead of Delta Medallion status members with Platinum or Gold. While that may sound like a loss for Delta's most loyal flyers, many of these passengers get upgraded into Comfort Plus or above anyway.
Our Analysis
In theory, this could help. Rather than simply stamping a number for boarding on the boarding pass, Delta is constantly reminding passengers where they stand. It's tied directly to the type of seat you're flying in.
But in practice, this changes almost nothing. While it could pay off over time, this new method does not address any of the factors that make boarding confusing and time consuming for airlines.
Color coordination won't help passengers who don't read their boarding pass or sneak up to the front of the line thinking it must be their turn now. It won't help flyers find their seats or lift oversized carry-ons into the overhead bin.
Bottom Line
Delta's heart was in the right place, but ultimately, this new setup misses the mark for improving boarding. Don't expect any substantial changes for how you get on the plane – or how long it takes.
Lead photo courtesy of Delta News Hub via Flickr