Editors Note: Delta has since removed the price search feature from its Discover map, allowing users only to see current travel restrictions.
Delta just took a page out of Google Flights' book. And that's not a bad thing – far from it.
Amid an avalanche of news that included extending travel credits through 2022 and unblocking middle seats come May, the Atlanta-based airline rolled out a brand new and powerful tool this week called the Delta Discover Map. The Delta Discover Map allows you to easily enter your home airport, then scan through the map to find the cheapest destinations to fly to.
It also includes a quick breakdown of any travel restrictions like quarantine or COVID-19 testing requirements at each destination – with handy color-coding based on whether each state or country is completely open, open with restrictions, or closed to visitors.
Check out the new Delta Discover Map for yourself!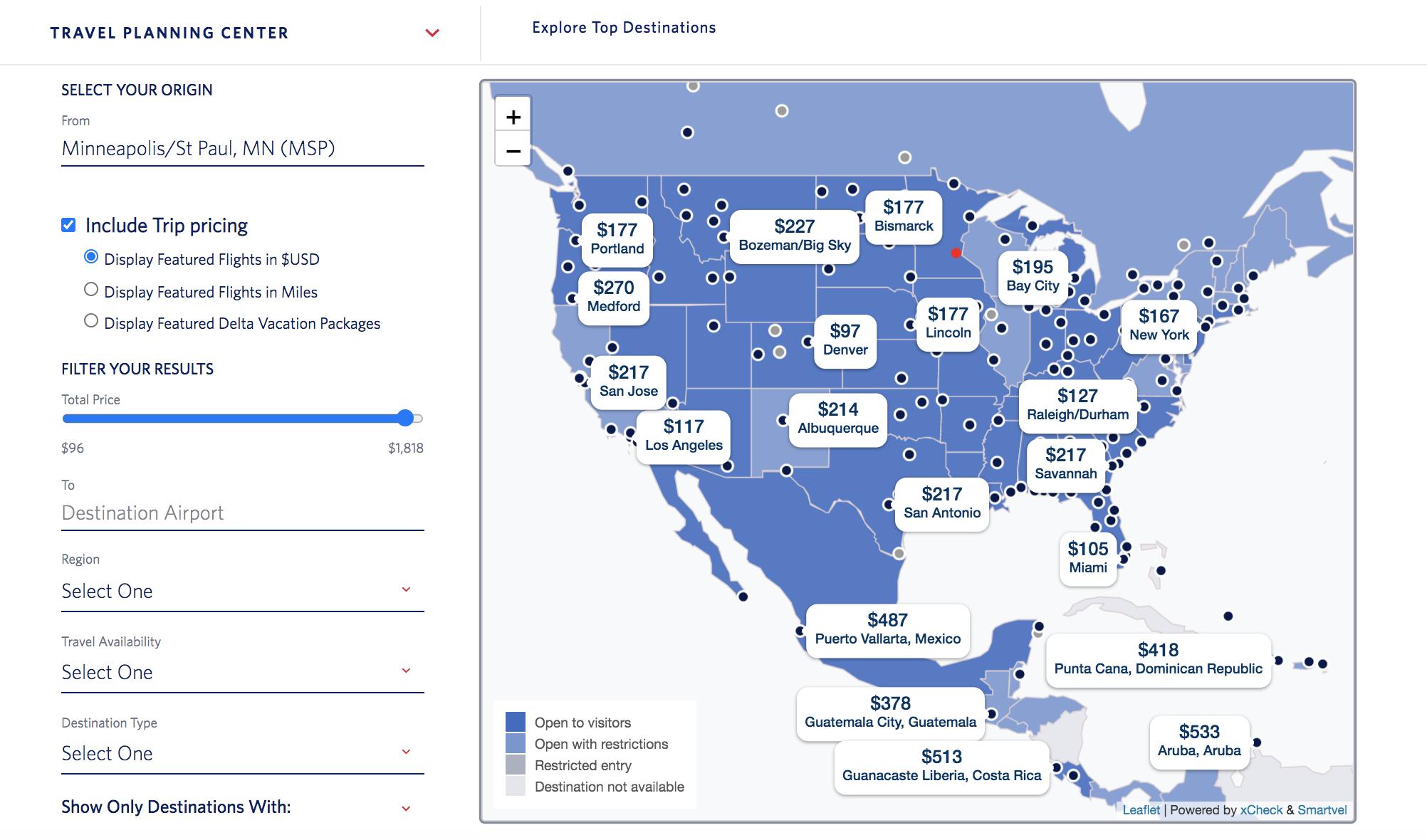 This new tool was created by the Delta team, xCheck, and Smartvel. And it's clearly inspired by Google Flights Explore, one of our favorite and underrated features of Google Flights. Just as with Google Flights Explore, you can easily spin your way through the Delta map in search of the cheapest prices if you're not set on where you want to go. You can also easily zoom in on a specific region by picking from North America; Central and South America or the Caribbean; Europe, Africa, and the Middle East; or Asia and Australia.
But in some ways, this map goes even farther than even Google Flights Explore. Chiefly, it also allows you to search for the best deals booking with SkyMiles rather than cash. That's huge, as it could potentially take some of the guesswork (and luck) out of finding the best Delta SkyMiles flash sales. American has a similar award search map, but this one is arguably even better.
The way we see it, there are really only two shortcomings with this already stellar tool.
Delta doesn't currently allow you to set a date range or general time frame – it will simply display the best deals available at any time.
The map doesn't currently have a toggle to display only nonstop flights.
Still, this could be an incredibly powerful tool for Delta flyers on the hunt for a bargain whether they're using SkyMiles or cash – and get information on travel restrictions at the same time.
How to Use the Delta Discover Map
Start by heading straight to the Delta Discover Map page, of course.
The tool will default by setting your closest airport as your origin, but you can swap that out for any airport you'd like to search from. Below that, select whether you'd like to search for deals using cash, SkyMiles, or even select Delta Vacations packages that are available. No matter which you choose, you can easily use the slider to set a maximum price.
You can apply tons of different filters based upon what kind of destination you're looking for. Use the region filter to focus on a specific area of the globe. Get rid of any results that aren't accepting visitors using the "Travel availability" filter. You can even narrow down on what kind of trip you'd like to take under "Destination type" with options like beach, food, city, history, and outdoors. Don't want to quarantine upon arrival? No problem – just exclude those destinations from your results.
Whatever you pick, the Delta Discover Map will spit out the results on the map. You can easily click through on an airport and pull up more information on that flight, as well as any travel restrictions in place at the destination. Just select "Search Flights" and you'll go straight to Delta's flight search, where you can book within a few clicks.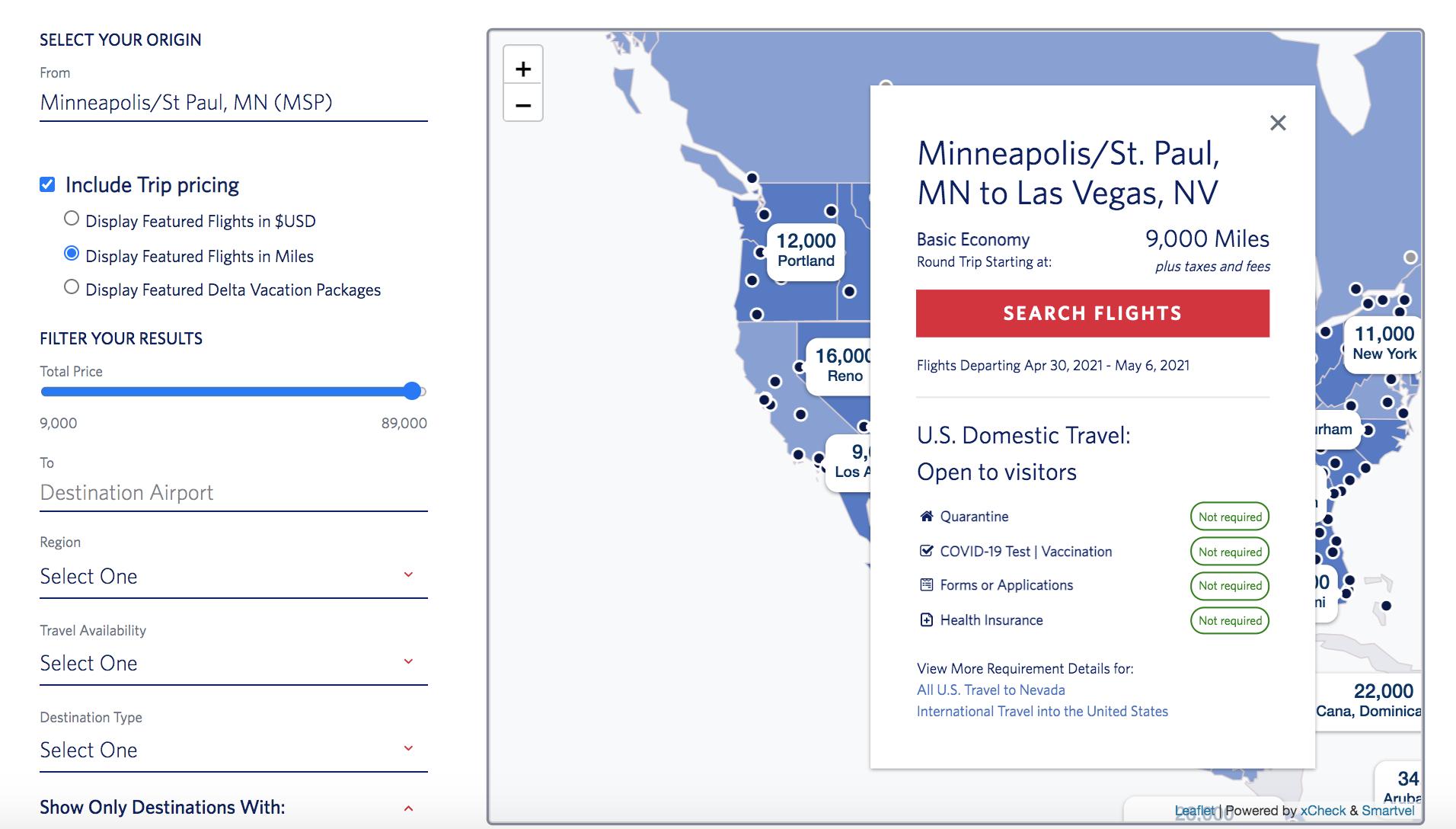 Below the map itself, you'll find a list of all the available destinations, which you can sort either by price or alphabetically.
Bottom Line
Bravo, Delta. Bravo.
This is such a great new tool, I'm surprised Delta (or another airline) didn't do it sooner. It comes at a perfect time as travelers across the country are ready to start planning a trip after more than a year stuck at home. Adding a breakdown of travel restrictions is just the icing on the cake that sets this tool apart from almost anything else you can find with an airline today.