This should go in the Bad Timing Hall of Fame.
Award Wallet broke the news that American Airlines raised the fee for a checked bag with a basic economy fare flying from the U.S. to Europe and Africa, from $60 to $75 each way. These new, higher fees apply to tickets booked as of today, Tuesday, April 21 – basic economy fares booked earlier will still pay the lower rate.
Read more: How to beat American basic economy fares, the airline's cheapest fares with no frills.
It adds up to an extra $30 in fees on a round-trip ticket. Travelers with a more expensive Main Cabin economy ticket on these flights still get a free checked bag.
Talk about poor timing – and bad optics. For starters, American and other major U.S. airlines just got more than $50 billion from the federal government to stay afloat as travel has collapsed due to coronavirus. Charging more in bag fees while accepting taxpayer money to survive isn't a good look.
What's more, American is hardly flying to Europe right now – or internationally, period. The airline is currently operating just three international flights: Dallas-Fort Worth (DFW) and Miami (MIA) to London-Heathrow (LHR), and Dallas to Tokyo-Narita (NRT). With just two flights operating between the U.S. and Europe and many planes going out emptier than ever, this won't exactly be a windfall.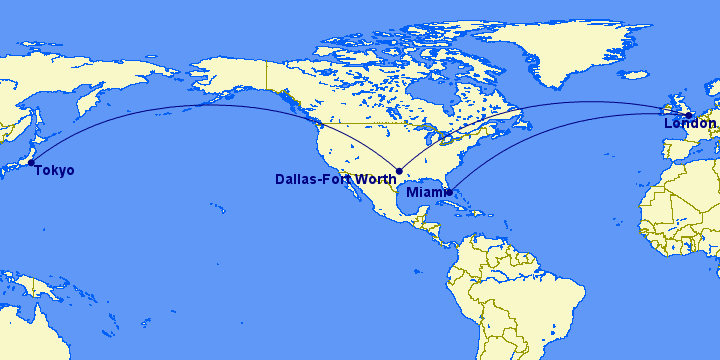 Of course, these higher fees will apply to all future flights booked as of today, whenever normal travel begins to resume, including flights elsewhere in Europe and throughout Africa.
American confirmed the increase, defending it as aligning its own baggage fees with its partner airlines.
"Starting today (Tuesday, April 21), American is changing its checked baggage fees for Basic Economy passengers on transatlantic flights to better align our bag fee structure with our Atlantic Joint Business partners, British Airways, Iberia, and Finnair," American said in a statement. "These changes only affect passengers who purchase new Basic Economy tickets on transatlantic flights starting on April 21 going forward."
As Award Wallet points out, Finnair recently increased the cost of a checked bag from $55 to $65 each way.
Luckily, there's an easy way to avoid this increase: Don't check a bag at all. These higher fees give you all the more reason to pack in only a carry-on bag.
Bottom Line
There's bad timing, and then there's this. Raising fees just after accepting a government bailout is a bad look – especially when hardly anyone is traveling.
Unfortunately, this is likely a sign of what's to come: airlines can't resist copying one another when it comes to raising fees on travelers. And while airlines may try to use lower flight prices to convince wary travelers to eventually start flying again, this shows they may look to fees on checked bags to make up the difference.