Seoul doesn't get the same hype as other tourist hotspots in Asia like Tokyo, Singapore, or Thailand. But perhaps it should.
I spent a year exploring cities across the continent, and Seoul was one of my favorites. With the help of a friend living in Korea's capital city, I discovered Seoul's unbeatable beauty shops, glorious street food, and incredible sights.
Here are some must-dos for your trip to Seoul, with the help of a native who knows it best.
City Attractions
On my first full day in Seoul, my friend took me to City Hall, home to an ancient palace from the 1400s. We walked down the street marked with two giant statues: one for the emperor that created the written Korean language and the other for a military officer who defeated hundreds of Japanese ships with only 12 ships. We also walked around the free underground museums that lie beneath the statues themselves. One of the museums offered a free Korean character-writing activity, which I highly recommend. 
Thrifty Tip: Seoul is about to get even easier to visit for many travelers after Delta launches a nonstop flight from Minneapolis-St. Paul (MSP) to Seoul-Incheon (ICN) on April 1.
Here's some advice from a local: A trip to South Korea simply wouldn't be complete without a visit to a Korean bathhouse. The moment I walked into Dragon Hill Spa and Resort, I was hooked. I've been to my fair share of hot springs in China and massage spas in Thailand, but this experience was unlike any other. First, we entered the women-only area, which is a nude bathhouse. We showered and enjoyed the communal hot baths treated with different herbal remedies. Next, we sweated profusely in the sauna and salt sauna. The salt sauna is made entirely out of salt bricks (yes, we licked the walls just to be sure) which apparently provide extra detoxification. We took a nap on warm jade tiles.
Then, we showered again and donned our Dragon Hill outfits and headed to the unisex areas. Korean bathhouses aren't just for bathing. It's a multi-activity experience! Dragon Hill has a full restaurant, an entertainment area with a movie theater and live performances, more saunas and detox rooms, and plenty to do for people of all ages. You could spend a whole day there – and for only $15! This relaxing day was definitely one of the highlights from my trip, and it really gave me a glimpse into Korean culture and local life.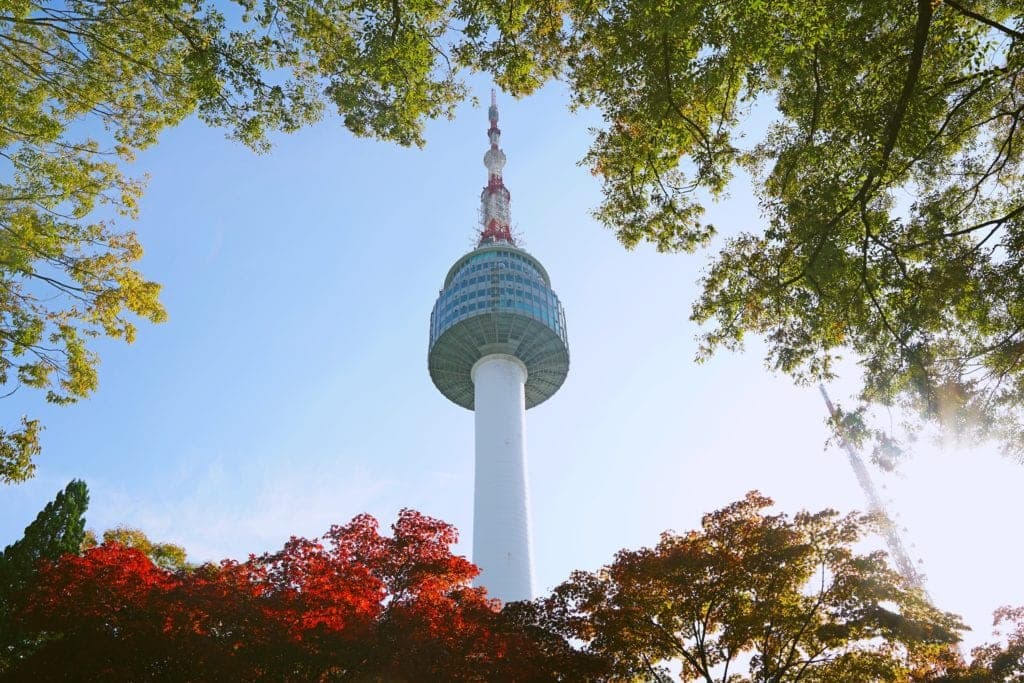 One evening, we walked up to Seoul Tower for an amazing view of the whole city. It was gorgeous at night all lit up! There were many restaurants and cafes at the top of the mountain where the tower stood. Lining every wall and fence near the tower were thousands of locks that people had signed and left there to mark their visit to Seoul.
I can't imagine a trip to Seoul without a visit to Yongsan Family Park, near the National Museum. The park was stunning. The cherry blossoms were just blooming their brilliant white and pink flowers. These trees only bloom for about a week, making the sight even more precious! Seeing such beautiful nature in such a large, metropolitan city was a highlight of my trip to Seoul.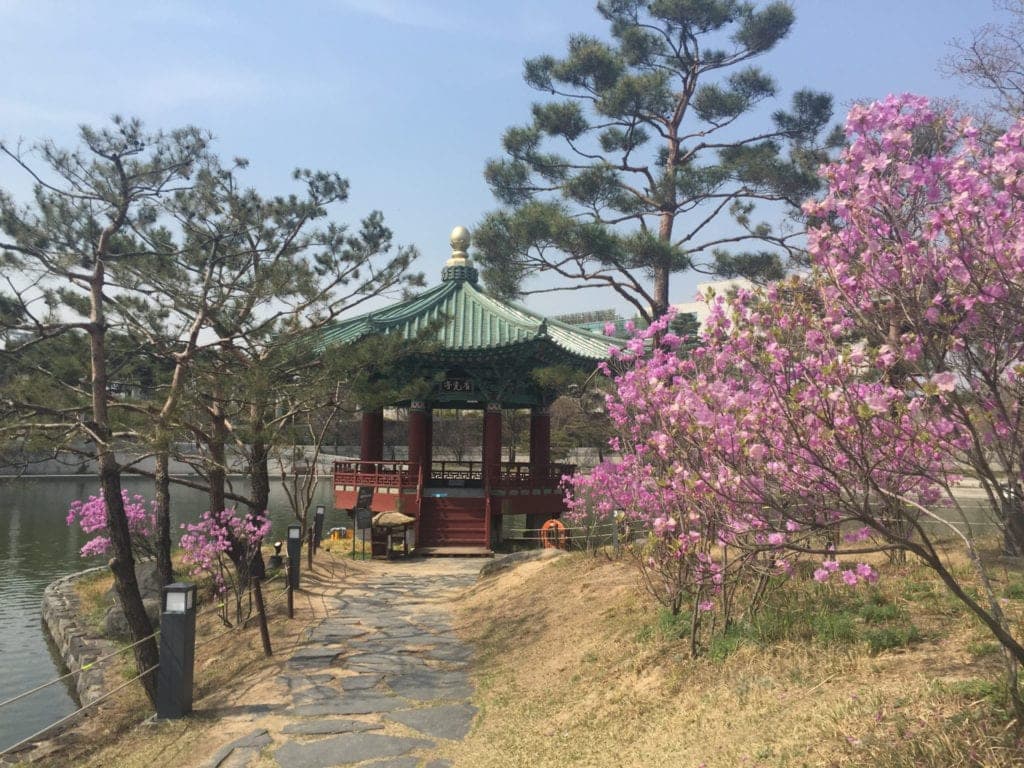 Shopping in Seoul
You simply must wander the streets of Myeongdong. Seoul is known as the beauty product mecca of Asia, and almost 70% of tourists to Seoul are Asian tourists coming for high-quality beauty products. Tourists and locals alike crowd these streets, shuffling in and out of makeup and clothing stores, chatting with shop salespeople and snagging free samples.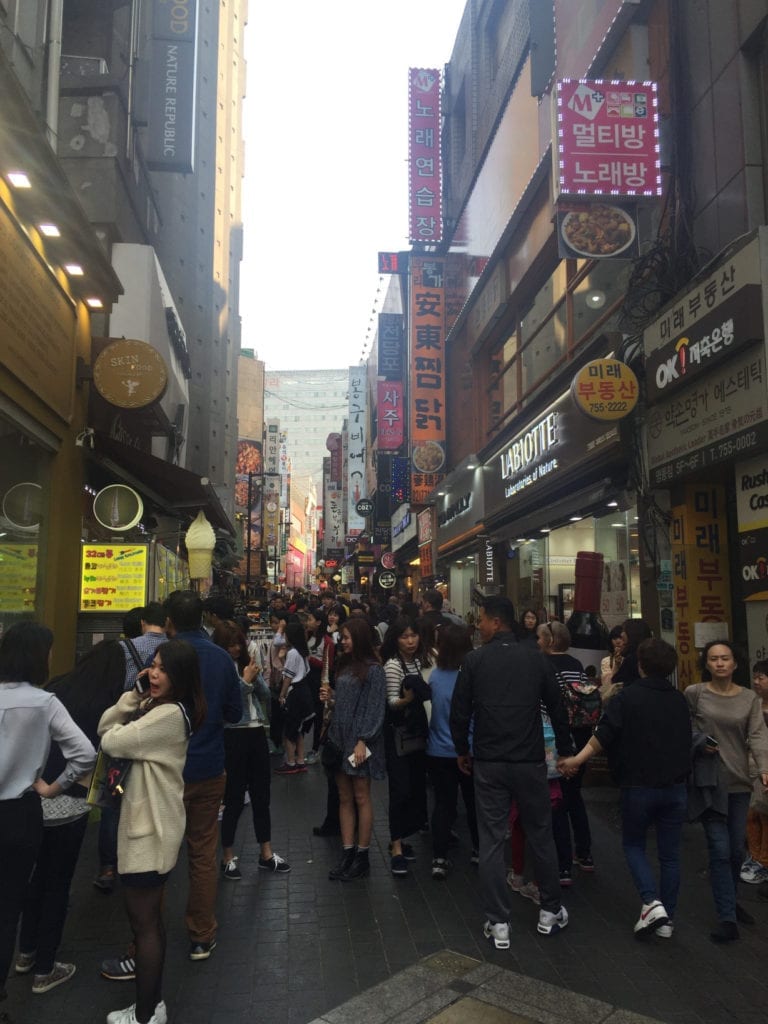 South Korea has higher requirements and standards than the U.S. when it comes to beauty products, and the selection is broader than I've seen anywhere else in the world. They had everything from high-end facial mists and emulsions to cute face masks in the shape and design of Shrek and Kung Fu Panda. So of course, I indulged in some beauty goodies. Shopping with a local who knows these beauty products like the back of her hand was a bonus. If you don't have that local expertise, take some time to get familiar with the best Korean skincare brands online. Next time I visit Seoul, I'm packing an empty duffel to bring my loot home in!
Thrifty Tip: Don't be shy about asking for free samples! These stores, like beauty counters here in the US, bank on customers trying out new products in hopes of converting a sale. They don't mind handing out a few extra free samples to a friendly customer. You just might find your next favorite beauty product.
Not looking for beauty products? No worries, Myeongdong has much more to offer, including delicious street food, cafes, restaurants, clothing stores, trinket shops, and much more. Even if you don't buy anything, walking through these packed streets and soaking it in is an experience in itself.
If you're looking to expand your shopping beyond Myeongdong's bustling streets, check out Insadong, a trinkety market with lots of Korean cultural souvenirs and handicrafts. I picked up a few small souvenirs for family here. Insadong also offers some great local street food, including a poo emoji-shaped red bean pancake outside of the quirky "Poo Museum"!
My friend's mother surprised me one day by taking me to a local food market. This market in Dongdaemon offered tons of street food (and of course we tried them all.) She introduced me to the traditional mung bean cake, the rice cakes pictured above, and a fried red bean dessert. Everything was delicious.
Above the street food market was a massive secondhand clothing market, hidden away for only the savviest shoppers. But again, it pays to know a local. My friend's mom took me up the stairs to one of the coolest thrift markets I've ever seen. We got lost in the aisles upon aisles of secondhand American, Japanese, and Korean clothing, and found some treasures for ourselves.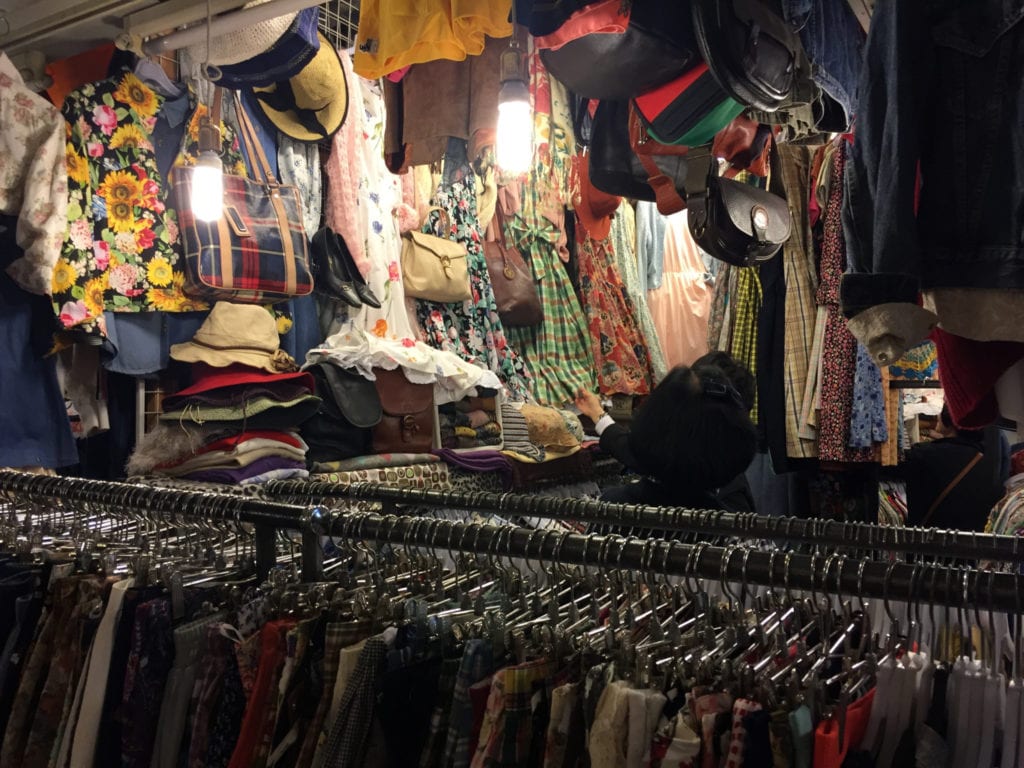 Before leaving the Dongdaemon area, my friend's mother took me to a part of the City Wall,  which was rebuilt after being destroyed in an invasion. The City Wall is so magnificent, surrounded by blooming plants and trees.
Food and Drink
Beyond beauty products and city views, Seoul is also known for its nightclub and social life. My friend passed on a saying in South Korea: There are six levels of drinking. First is a drink at dinner, second is a few drinks but also with food, third is at a bar with snacks, fourth is drinking at a bar, fifth is drinking at a club, and I guess the sixth is the aftermath of steps 1 – 5.
South Koreans definitely enjoy their nightlife, as evidenced by the hundreds of bars and clubs. I saw this first-hand when we went for dinner and a drink my first night in Seoul in Gangnam (Yes, from that old hit PSY song!) Some of Seoul's clubs are ranked top 10 in the world! We went to Octagon, one of the best in the city and in the world. Gangnam is a great place to try some local dishes. Be sure to try bibimbap (think fried rice, deconstructed), the rice cakes in sauce pictured above, and kimchi (fermented cabbage – healthy, spicy and delicious!)
Of course, a visit to Seoul wouldn't be complete without Korean BBQ! Find a KBQ spot recommended by locals and prep your own meal on the built-in table grills.
On my last day, we went for lunch in Itaewon, an area where many expats and foreigners gather. Seoul is a popular place for expats to teach English, and there are many American soldiers and officers stationed at the U.S. army base. Itaewon has some great trendy bars and cafes, plus some Western food options for those missing bites from home.
Bottom Line
I absolutely loved Seoul, from its trendy, Instagram-worthy cafes to its bustling markets and beauty shops. Thanks to my local tour guide, Seoul was definitely one of my favorite cities in all of Asia. During your trip to Seoul, check out these spots and discover some recommendations of your own. I'm sure your Airbnb host, hostel receptionist, or waiter has some awesome local spots you've got to see.