Heading to Amsterdam? While this city is unique and quirky, it can also be expensive. On my first trip to Amsterdam a few years ago, I fell into some of the expensive tourist traps. However, when I returned this summer for the second time, I was smarter about how to see Amsterdam on a budget. Here are some of my thrifty tips to see the most of Amsterdam for less.
Stay in a Houseboat in Amsterdam
Looking for a unique option for accommodation in Amsterdam without breaking the bank? Head to Airbnb or Hostelworld and check out the fun houseboats you can stay in while in Amsterdam. Hotels can be pricey in the heart of the city and hostels can be a bit rowdy, so opt for your own space on the water.
Here is a photo inside the houseboat I stayed in. We were located just a 15-minute walk from the heart of Amsterdam and a 1-minute walk to the closest tram station. The houseboat was quiet and peaceful, and even had a family with ducklings staying on the water nearby! Staying on the water is a fun and affordable way to have your own space, experience the canals up close, and stay in unforgettable accommodations.
Buy Your Meals at the Supermarket
Eating out in Amsterdam can really add up. Once we had checked Amsterdam pancakes off our bucket list, we opted for a cheaper alternative to pub food. For a light lunch or a cheap dinner option, head to the Albert-Heijn Supermarkt, located in the heart of Amsterdam. Here, you can find a variety of fresh produce, groceries, and the best part: ready-made meals to grab and go.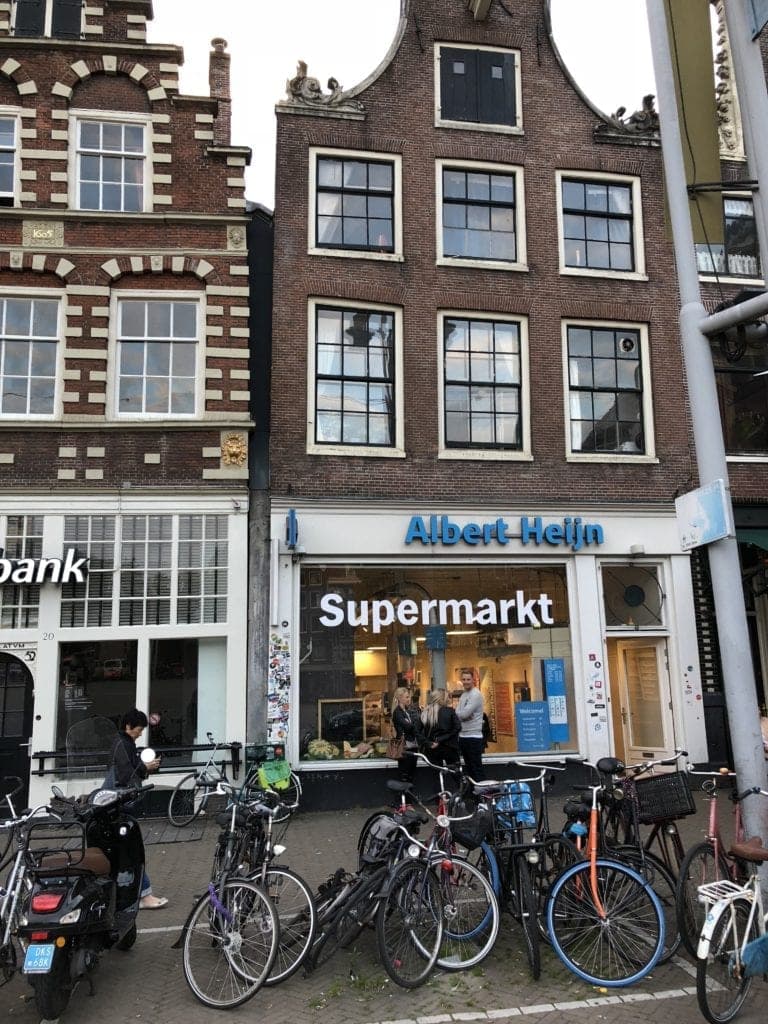 We chose salads, sandwiches, dips, and spreads to enjoy on the two occasions we grabbed a meal from Albert-Heijn Supermarkt. Have cash on hand: some locations don't take card. Each of the items cost us less than $5, which was a major steal compared to the nearby pub and restaurant prices. The best part? Eating our little picnic with our feet dangling over the canals of Amsterdam. It doesn't get much better than that!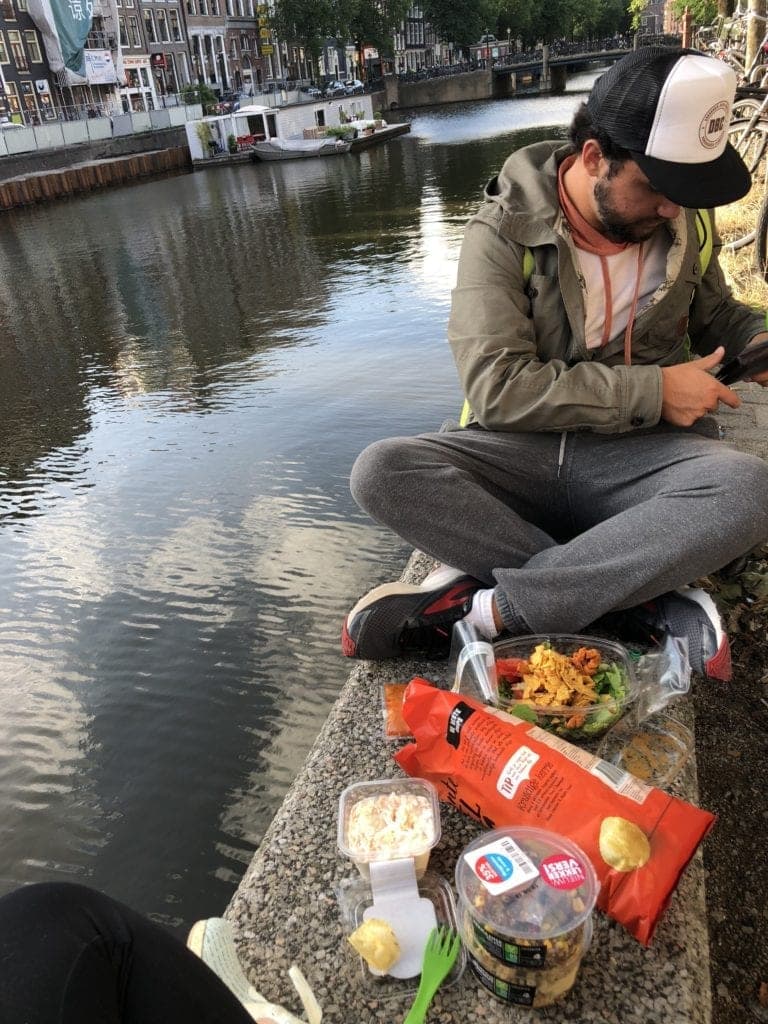 Walk, Don't Bike
If you've got the time, opt for walking the canals and exploring this city on foot. If you're not staying in town, use the awesome public transportation trolleys to get to Centraal station and begin exploring from there.
While biking can sound like a picturesque and relaxing experience in Amsterdam, spending your time on wheels in Amsterdam can be costly and stressful. Trying to navigate via a map or your Google Maps App with two hands on the handlebars can be quite a task. Locals don't have the patience to slow down for tourists on bikes, and you'll be riding by awesome photo opportunities and local shops. Finding a place to lock up your bike every time you want to explore an alley or peek into a coffee shop can get frustrating.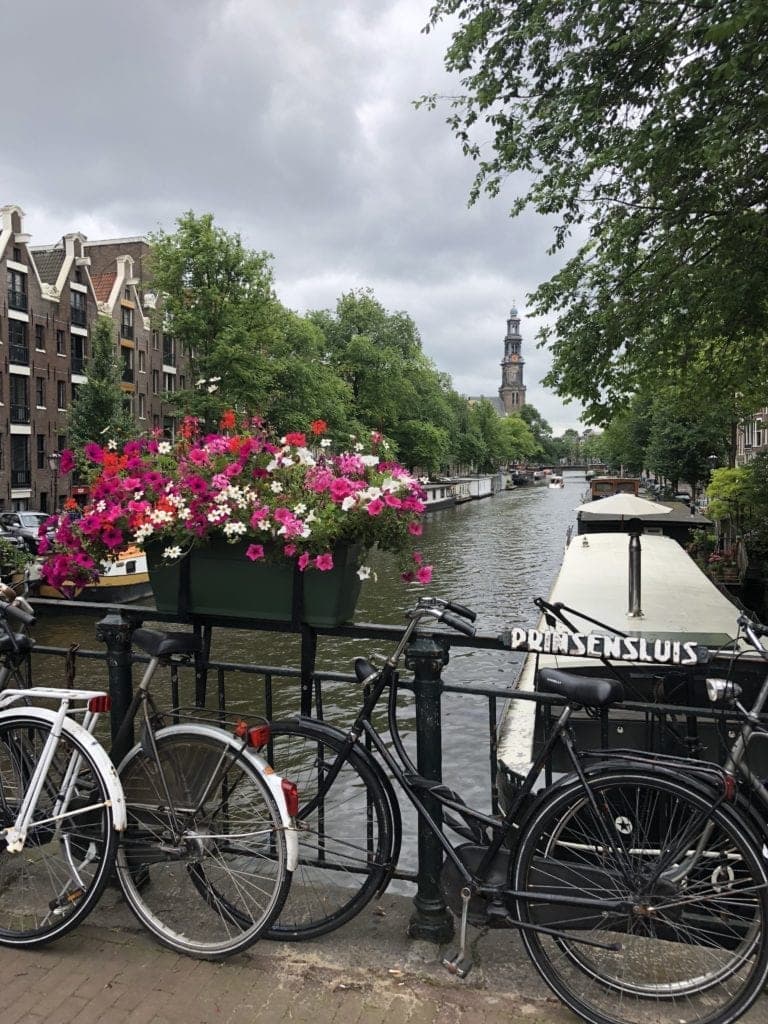 Not to mention, renting a bike can be expensive in Amsterdam. At most bike rental shops, 24 hours will cost you 15 euro or more. Adding bike insurance and other upgrades will add up quick. Opt for the free option — walking — and soak in as much of Amsterdam as you can on foot.
If you're dead set on biking in Amsterdam, do your sightseeing stops beforehand and take a leisurely ride along the canals while you've got your rental bike. Be sure to choose a bike that has a wheel lock to make stopping and exploring easier.
Plan Your Must-See Museums in Advance
For many of the main attractions in Amsterdam, ticket offices have switched to online sales only. This is especially important to note if you're interested in visiting the Anne Frank House. Tickets are only available for the Anne Frank House on their website, where you must purchase your tickets and select a date and time for your visit.
Tickets are 10 euro and time slot options are available from 9 am – 10 pm. Remember to book your tickets for the Anne Frank House as soon as you can: during peak summer, tickets are often sold out two months in advance.
The Van Gogh Museum also only offers online tickets, so make sure to purchase your tickets online in advance before heading here. Tickets are 18 euro for adults. Other museums and attractions like the Rijksmuseum and NEMO Science Center do have in-person ticket offices, but you can purchase tickets online as well.
Looking for a unique museum to check out while in Amsterdam? We visited Red Light Secrets: Museum of Prostitution during our visit and really enjoyed this museum. Located in the heart of the Red Light District, this museum provides interesting insight into the history of prostitution in Amsterdam and the daily life of the workers in the district. Get tickets online for a reduced price on their website.
If you do plan to walk around Amsterdam, I recommend planning out your itinerary based on the tickets and times you have selected in advance. On our trip, we began at the Anne Frank house and worked our way around the canal rings to explore the rest of the city. Planning your itinerary based on where your selected activities are on the map will save you time and money on public transportation.
Thrifty Tip: Buy yourself a 24- or 48-hour pass for public transportation when you arrive at Centraal Station from the airport and save yourself the hassle. Trams and buses don't take cash in Amsterdam, so it's often easier to just have a day pass on hand.
Bottom Line
Amsterdam is a city of thrills, attractions, and history. To get the most out of your time in Amsterdam without breaking the bank, use these thrifty tips during your travels. And remember: the best way to experience a city is to walk, and that's always free!