Beijing, Shanghai, and Hong Kong get all the press when it comes to traveling in China. If you're headed to China, make the most of your trip and add these amazing cities to your China bucket list.
Guilin/Yangshuo
Are you ready for the most beautiful mountains you'll ever see? Make your way to Guilin in the Guangxi Province. Guilin is settled on the west bank of the Li River. Take a bamboo raft along the river to see the gorgeous rock formations and karsts that make up the beautiful Guilin landscape.
Check out Elephant Trunk Hill and Moon Hill. In the evening, take a walk along the river down to the Sun and Moon Pagoda for a photo op.
If you've got a few days, take a ferry down the Li River to Yangshuo; I promise it's well worth the ride. The boat ride down the Li River is some of the most striking mountain scenery you'll ever see. These karst mountains are like something out of a Dr. Seuss book.
The ride takes about 5 hours, but don't stay cooped up in the ferry; get your camera out, as you'll be boating through paradise. See the view that is on the 20 yuan bill!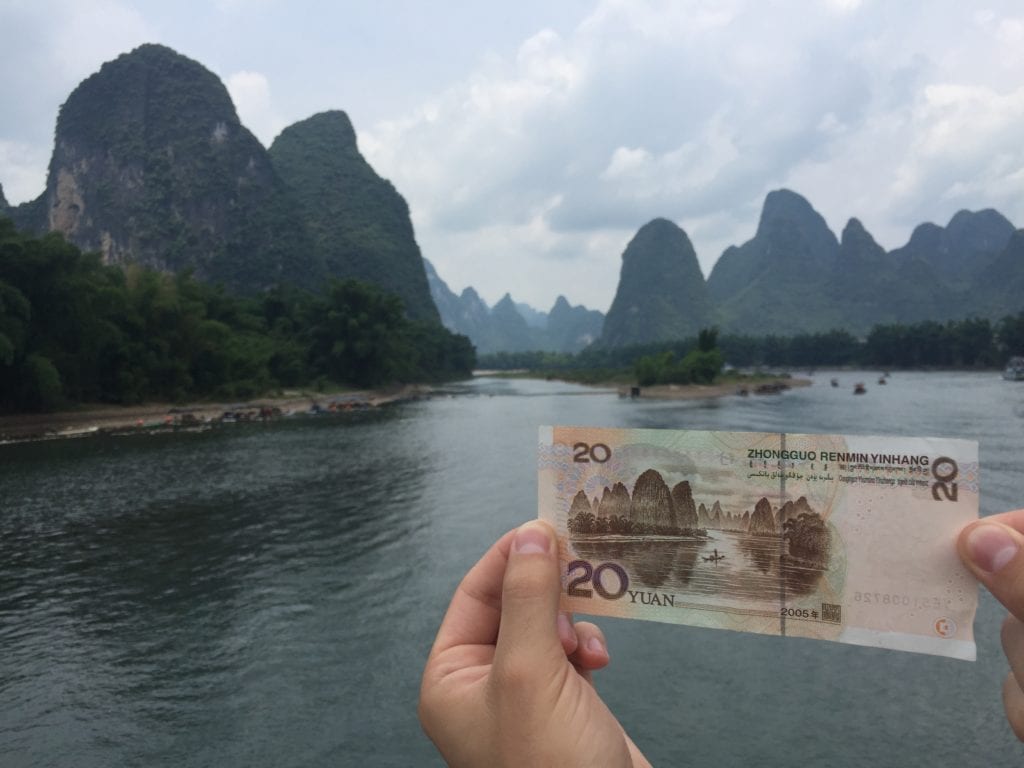 Stay at a cozy bed and breakfast and do some hiking during your stay in rural Yangshuo. You can take a day trip to a tea plantation and pick your own green tea leaves. I also highly recommend renting mopeds in town and cruising through the countryside for the day.
Chengdu
This unique little town is home to the Chengdu Research Base of Giant Panda Breeding, one of the few places in the world you can see endangered giant pandas in their natural habitat.
For some sight-seeing and shopping fun, visit JinLi. Eat the crazy street vendor food (duck head, rabbit head, and bugs a la carte) and take in the gorgeous ancient architecture. Chengdu is also known for having a large expat presence, so take advantage and chat with locals and foreigners alike to find out what their favorite restaurants and sights are around the town.
Of course, the Chengdu Great Panda Research and Breeding Center is a must-see attraction. Tickets are shockingly cheap at around 5 USD. Arrive early to beat the crowd and see the pandas being fed in the mornings: this is when the pandas are most active and most visible.
There are several different areas where you can view the pandas, and the atmosphere is much better than a zoo: the pandas had plenty of space, obstacles to climb, and lots of bamboo to munch. If you're lucky, you can also see the baby pandas.
Chongqing
With a population of a cool 30 million, Chongqing has more inhabitants than  Beijing or Shanghai. This city is settled at the heart of where the Yangtze and Jialing river meet. High rise skyscrapers, unique burrows, and infamous spicy foods make Chongqing a must-visit city.
If you make it to this bustling city, definitely check out Ciqikou Ancient Town. This is a fun area to walk through the ancient town streets, sample unique foods, and window shop the boutiques. In Ciqikou, you can eat hand-spun cotton candy in crazy shapes and visit trendy bars. This place is a photographer's dream!
Next up: take the cable car across the Yangtze River for an amazing view of the Chongqing skyline at night. This cable car ride high above the city will cost you less than a few dollars (the same ticket cost as a metro ride through Chongqing) but provides a million dollar view. You can also take a river cruise along the Yangtze River to get a river tour of this massive city.
Bottom Line
On your next trip to China, get off the beaten path and explore the wide array of cities, landscapes, and experiences the country has to offer. There is so much more to see and explore in China than Beijing, Shanghai, and Hong Kong (though I love them, too). These are three of my favorite cities that you need to make sure you visit on your trip to China.