Packing can be hard even when you're flying solo. Add in some kids for a family vacation, and it's intimidating to make sure you've got everything for yourself and your children. And then there's staying organized – or getting it all to fit.
But we have some tips and packing lists below to make the process a little easier while saving space, time, and money. After all, that's all valuable when it comes to travel!
Baggage for Beginners
Getting through the airport with kids can be challenging as is. But nothing is worse than trying to wrangle too many kids and bags at the same time.
To keep the chaos to a minimum, consolidate baggage as much as you can. Rather than pack bags for each, combine each kid into an adult's bag – or have your kids split a bag. Our family of four has even packed into one shared piece of luggage, then packed some smaller personal belongings into backpacks or carry-on bags.
Either way, baggage isn't cheap. Each checked bag costs $30 each way on domestic flights, and can cost much more when flying basic economy fares internationally. Multiply that by three, four, or more, and it can cost a lot. Holding the right credit card is the solution for a family's travel finances.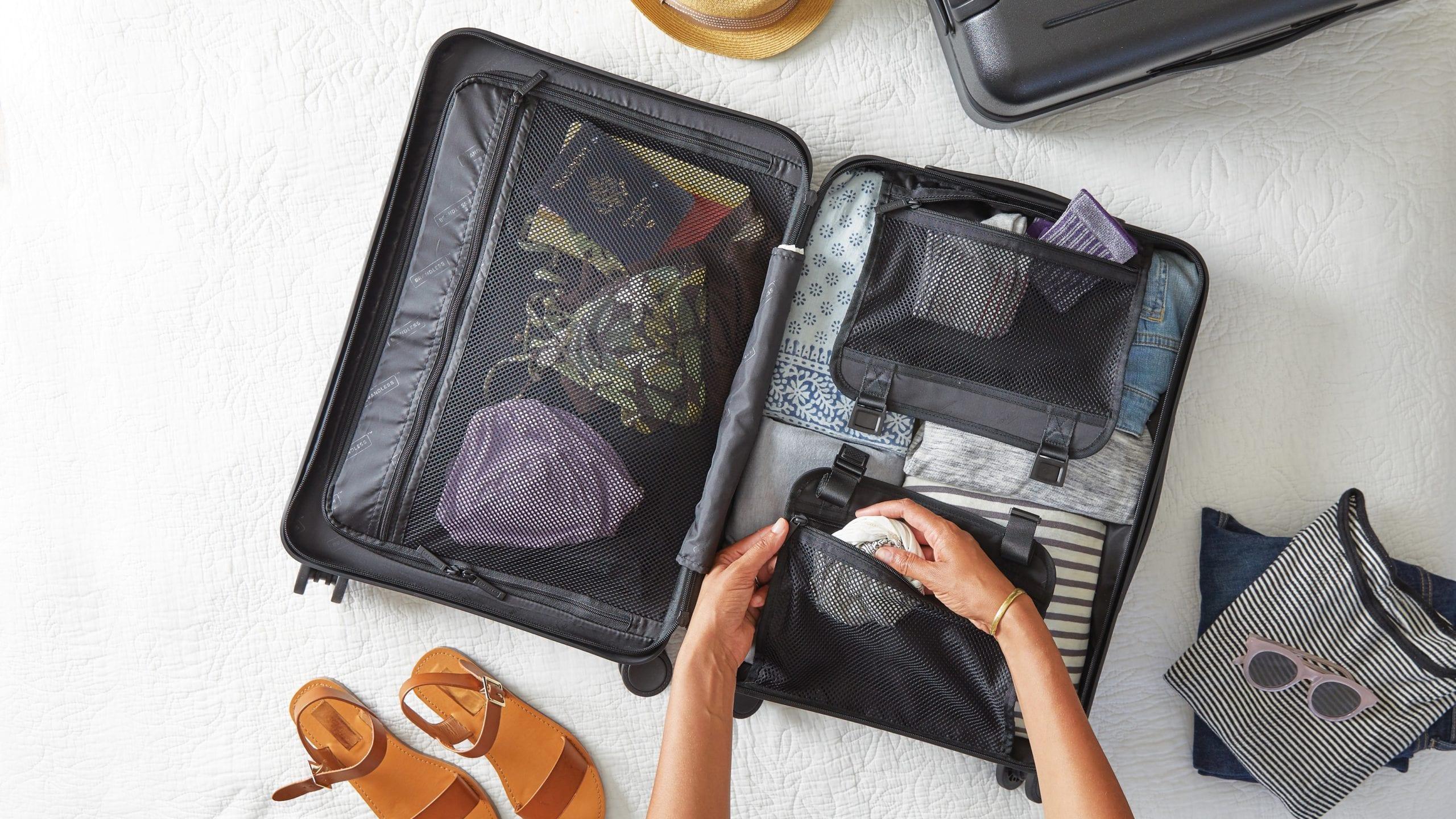 Most co-branded airline credit cards will get you a free checked bag on every flight – along with others booked on your reservation. For example, the Delta SkyMiles Gold American Express Card will get a free checked bag for you and up to eight other travelers booked on the same reservation. And you don't even need to pay for your ticket to get that baggage benefit flying Delta.
With a $95 annual fee (increasing to $99 starting Jan. 30), a family of four could come out ahead after a single one-way flight!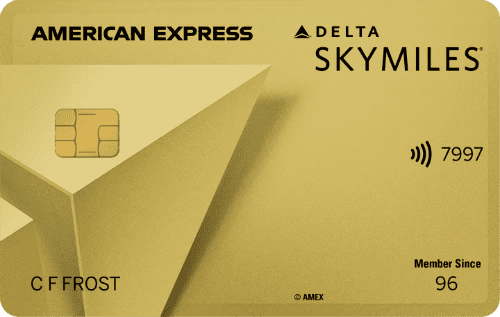 Click Here to learn more about the Delta SkyMiles Gold American Express Card. 
Better yet, if your trip isn't too long, consider packing in carry-on bags only. It helps eliminate the inevitable excess clothing and shoes and cuts down on long wait times while checking a bag or waiting for it at the claim.
And remember: More isn't always better. If you're going on a longer vacation, think about doing laundry so you're only packing for a week or two, not the entire length of the trip.
Thrifty Tip: If you check luggage, pick a unique bag or add something colorful to make it easier to quickly spot your versus a lookalike. Tie a bright-colored piece of string around the handle or stick some bright-colored tape to one side for a quick and cheap solution.
Carry Away, Kids
As soon as your kids are big enough, have them tote their own bag – whether it's a backpack or a rolling suitcase.
For starters, it puts the responsibility in their hands for their own things. But it also takes a lot of work off you parents – you have enough to manage and haul through the airports. That's why we have our kids very involved and in charge of packing their own clothes, books, and toys, too.
Be Smart with Your Personal Item
Once the kids are taken care of, consider your own bags.
For your personal item, try to maximize convenience and moving around. I prefer personal items that I can sling over my carry-on luggage handle to become one, easy-to-move unit.
Try a handbag with a sleeve (often a pocket) that slides over your carry-on handle. This ensures it stays in place and doesn't slide off.
Thrifty Tip: Need some essentials close by? Use a fanny-pack for a little additional space without having another "bag."
Stay organized by employing bags within your bag. Maybe that's some packing cubes to sort your clothes, or just throw in some reusable cloth bags to separate dirty clothes or wet swimwear during the trip. Throw in an extra one for shopping or a small backpack for day trips.
If you're tight on space, don't pack your jackets – wear them on the flight and store them in above head compartments or under your seat. Same goes for kids' blankets: Don't pack them, but tie them onto their backpacks or carry them.
For families, bring the stroller to save time. That will help when it comes time to board, as many airlines allow families with small children to board early for more time to get settled in for the flight. Strollers can also save you time in transit – you won't have to fight with slow-walking kids or carry them. Just keep your kid asleep in the stroller.
Pack Smart to Save on Food
Airport lounges can be a godsend for travelers. And that's no different for families, who can spend a small fortune feeding everyone in an airport.
Check out some of the best credit cards that can get you into airport lounges across the U.S. – and around the world. Free snacks or meals and free drinks can save families a ton of money on each trip, perhaps easily covering the cost of a card's annual fee.
You can also often grab some fresh fruit, soda, or bottled water on your way to the gate to save even more.
If you don't have airport lounge access, don't worry: You can still save big on food costs. Pack your own food for the trip, especially for kids! You'll save so much money compared to airport food costs.
Make a PB&J, bring a cup of noodles and use the hot tea water in flight, bring fresh fruit or chips etc. Pack plenty of snacks too. And bring a re-usable water bottle to fill up once you pass security. We typically pack an entire loaf of bread, peanut butter, and a jar of jelly for easy on-the-go meals with the kids throughout our trip.
And the savings don't have to stop at the airport – especially when traveling to expensive locations like Iceland or other Scandinavian countries. Take your stop to the grocery store to the next level by bringing some groceries along for your trip.
Consider devoting one checked bag to only food for your vacation. You can pack dry or canned goods, bottled sauces, bread, cereal, and many other ingredients to make meals. Then just stop at the store for produce and other fresh ingredients after you land.
This approach is especially useful with kids, as it guarantees at least a few meals you know they'll like (you can easily pack the mac and cheese!) To save even more space, take food out of cardboard packaging and seal them in plastic bags. And a bonus: You'll have extra room to pack souvenirs going back home once you've eaten everything.
If you're more concerned with time over money, consider a food delivery service on arrival if you have a kitchen or Airbnb. You could use a service to deliver products and even toiletry essentials (like Shipt) or a meal kit service like HelloFresh for ready-to-go ingredients and recipes.
Packing Lists
These tips are all great in theory, but when it comes time to pack, you still need some help.
We've compiled a few packing suggestions to help with smoother travel with kids. There are also a few bonus packing essentials tips, for items outside your normal clothing/packing.
But first, a few general rules for packing. A good rule is to pack just one or two extra outfits and not to go overboard. Watch the local weather for where you're traveling, but also prepare for the unexpected. Always have a light sweater or sweatshirt for evenings or cold flights.
Packing Lists for Traveling with Babies
Car seat: Every major airline allows you to check a car seat for free. But remember, you'll be stuck hauling it around for your trip. Most car rental companies offer car seats for a fee, though others like Silvercar offer it free.
Baby wipes: For diapering and easy clean-up.
Diapers: Bring just enough for your flights, then ship the rest to your destination (or make a quick run to the store after landing).
Bottles/formula, snacks, and food: You can fly with any baby foods, liquids, breast milk, etc. TSA will do a quick test at security.
Stroller: Just check it in for free at the gate.
Baby-wearing carrier
Baby blanket
A favorite stuffed animal or toy: To help your baby feel secure
Change of clothes for your baby AND yourself: Enough said.
Teething ring
Baby Tylenol and thermometer: Plus any other medicine, just in case.
Packing List for Toddlers and Elementary-Age Kids
Car seat: Same as above
Stroller: As needed
Kids backpack
New small toys/activities: Wrapped up for your young kid to open in flight
Dry erase markers: Great for plane windows
Gel cling stickies: More fun for the window
Hand sanitizer: Wipes or spray
Medical kit: Band-aids, kids tylenol, thermometer etc.
Kids blanket
Stuffed animal
Kids' headphones
Tablet device: We also bring a headphone jack splitter for the kids to watch the same device
Suckers, fruit snacks, or gummy worms: For helping with ear pressure during takeoff and landing
A spare plastic bag: For any accidents
Travel size games/toys: Think magnetic tangram, Brainquest teasers, small puzzles, coloring books and markers, books
Travel journal: some schools may also do this as homework
Snacks: Along with a kids' water bottle
Change of clothes: Again, for yourself and your kid.
Supplies for a new day: If you're traveling overseas or overnight, change of clothes, toothbrushes, and any nighttime necessities.
Bottom Line
Being thoughtful in your packing can set the tone for a great trip. It can make the flight easier, save you money, and save space if you plan smart.
Want the best flight deals and travel tips delivered to your inbox?
Sign up for Thrifty Traveler, and like us on Facebook or follow us on Twitter & Instagram

Editorial Note: Any opinions, analyses, reviews, or recommendations expressed in this article are those of the author's alone, and have not been reviewed, approved, or otherwise endorsed by any card issuer.