Missing family? Missing travel, too? We've got the perfect way to connect with loved ones over a shared love for travel.
While millions isolate to curb the spread of coronavirus this year, Airbnb has brought its popular Airbnb Experiences online. 
Airbnb Online Experiences bring hosts virtually into your home to teach, share, lead, and instruct. It's a great way to break out of your routine and learn about different cultures right from your couch. And if you're apart from loved ones this holiday season, this may be just the thing to mix things up, do something fun together, and learn something new!
What Are Airbnb Online Experiences?
Airbnb Experiences takes the game-changing sharing concept of Airbnb and brings it out of apartments and into experiences.
They're tours, activities, and classes led by local hosts around the world to teach you more about their home culture. It's our favorite way to find reputable day trip and tour guides, five-star food and bar crawls, animal-friendly excursions, and more.
Airbnb Online Experiences brings that opportunity to connect and learn from hosts around the world to your computer or tablet. From cooking classes from Thailand to Italy to art classes and magic shows, and everything in between.
But the beauty of these online Experiences is that you can do them in small groups with strangers from around the globe – or book a private group for your friends and family.
Curious about what you could learn? Here are a few more Experiences that caught our eye: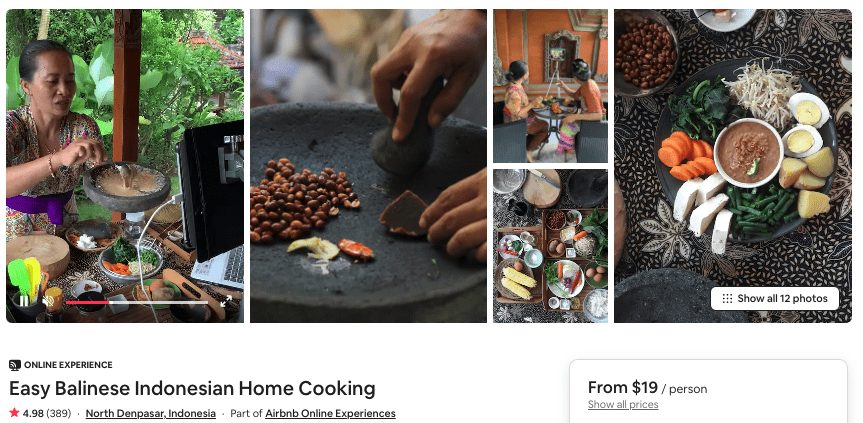 How fun are these? Learn a new recipe, take a wine class, work out with Olympians, meditate, take an interior design crash course, and so much more. And the best part? Most are under two hours and less than $50. Many are $15 or less, and support local creators and hosts around the world!
My Experience with an Airbnb Online Experience
This year has been a challenging one when it comes to celebrating birthdays, holidays, and spending time with friends and family.
This fall, I wanted to celebrate a friend's birthday in a special way, and do so remotely. So our group of 10 friends booked a private class with Fran from Buenos Aires to make Argentine empanadas and chimichurri!

Fran's 2-hour class was just $12 per person, and we got an additional discount for booking a private party for a group. You can select to join one of the host's usual class times or request a different date and time for a private class. Each host's availability and private group size will vary. In our case, Fran offers private classes for up to 30.
The Airbnb Online Experience description included everything we needed to know for our virtual cooking class:
a description of what we'd do and learn during the class
the ingredients we'd need to purchase for the class
the Zoom link to join the class
When the evening came, we were all prepared with our ingredients and Zoom videos on for the cooking fun! Fran was a wonderful host and taught us everything he knows about empanada-making:


We had an absolute blast! It was so much fun to cook international cuisine, support a host, and laugh and create with friends from afar. Here's our "after" shot of our creations!

Next up, we're celebrating my dad's birthday by making Hong Kong dumplings with family friends and plan to ring in the New Year with a Mexican mezcal cocktail course.
How to Search & Book Airbnb Online Experiences
I know you're curious now!
Head to Airbnb Online Experiences to browse all the online options. You'll find the curated collections at the top:


But you can also filter by type of experience: cooking, great for groups, family-friendly, animals, arts, baking, dance, drinks, and more. Filter by dates, time of day, price, and language as well! Note that for private groups, most hosts also accept dates and times outside of their existing options – just ask.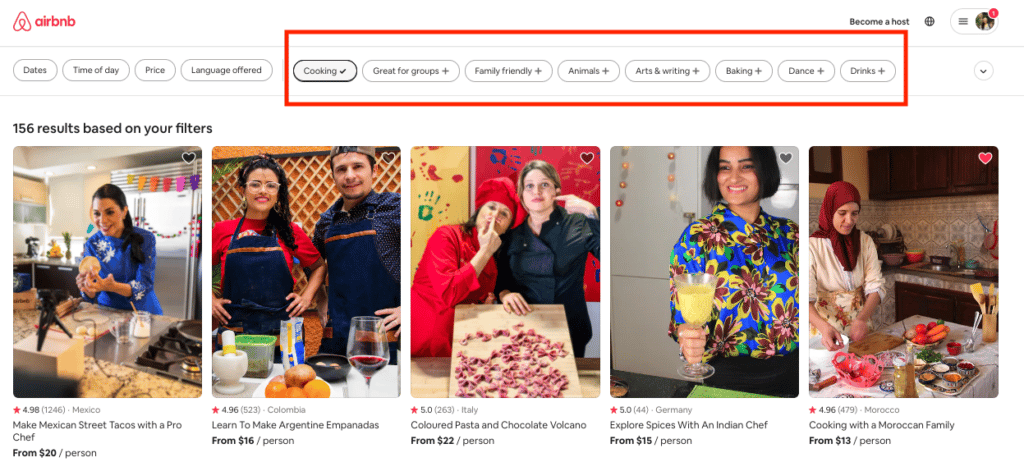 When you've found an Experience you're interested in,  click to view more information. There, you can see a description and photos of the class, read the reviews, check out the group size, see what ingredients or items you'll need, and more.

You can also gift an Experience! This would make the perfect gift to bring friends or family together while apart this holiday season.

Bottom Line
If you're spending the holidays apart from loved ones this year and craving some fun and cultural learning, this is the perfect remedy. What better way than to support creators and Experience hosts from around the world, while learning a new activity or skill?
We want to hear from you! Have you done any Online Experiences during the pandemic? Which ones have you enjoyed? For those who haven't tried one yet: which are catching your eye?