Whether you're a new Thrifty Traveler or a longtime reader, you probably know we're obsessed with Google Flights. It is simply the best platform out there to search for airfare, no matter your travel needs. And the competition isn't particularly close.
But when it comes to travel, flights are only half of the equation. And over the past year, Google has been hard at work building and updating its Google Hotels platform. It looks and works much like Google Flights. And that means it could be a gamechanger when it comes time to search & book lodging for your next trip.
Read on for everything you need to know about using the Google Hotels search feature to find the best hotel deals and book your lodging.
All About the Google Hotels Booking Platform
By visiting Google.com/hotels you will come across a user interface that looks very similar to what you know and love from Google Flights. It's simple and very intuitive, and you'll be able to enter a destination where you need lodging, dates and the number of guests you will be traveling with.
I started off by searching for hotels in New York City for a long weekend in May. The hotels platform integrates with Google Maps and will show you exactly where each property is located throughout the city. This is extremely helpful if you know you want to stay in a certain area or by a landmark for a specific event.
And since Manhattan is huge, the search results literally populated hundreds of hotel options. Because of this, utilizing the search features will come in handy.
What Filters are Available in Google Hotels?
Once you have dialed in on where exactly you want to stay, Google Hotels offers a number of different filters to zero in on your options even further. You can filter by guest rating, amenities, hotel chains, hotel class, and even set both a floor and ceiling price of what you are willing to pay. Unfortunately, there isn't yet a way to filter out hotels that charge those pesky resort fees.
For my search, I know I want to stay in Midtown close to Central Park so I zoomed in on the map of that area. Once there, I chose properties that have Google reviews of 4 stars or higher, had both a fitness center and a pool, and I only wanted to see only Hilton properties because of my Diamond status from the Hilton Aspire card.
And if you choose a specific hotel chain, it even lets you dial in specific brands within the hotel chain as you can see below. Though for this search, I will leave it open to all of the Hilton brands.
Once I decided on a location and added these filters, Google brought my list of potential hotels from 922 down to just one property – The Bernic Hotel New York City, Tapestry Collection.

Use the Google Hotels Price Tracking Feature
If your travel dates aren't flexible, using the price tracking feature can save you big money.
As long as you don't have any filters turned on, you will be able to use the price tracking feature. It doesn't appear that you can add price tracking for a specific property just yet, but I would imagine Google will add this in the future.
This works the same way as Google Flights price alerts – Google will notify you via email whenever prices for a specific search go up or down. In order to use this feature, you must have a Gmail email account. 
This toggle will appear about halfway down the page, as shown below, and can be toggled off and on quickly. And even after you book, it might be a good idea to keep this toggle on. Most hotels allow penalty-free cancelations within 24 hours of your stay. That means if prices drop, you might be able to cancel and rebook at a better rate.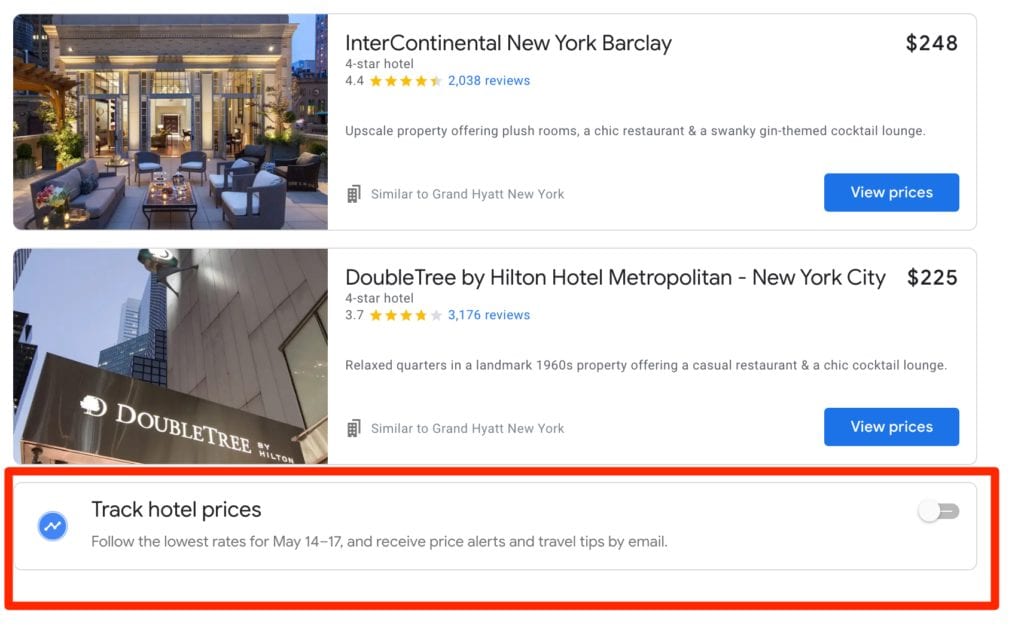 Other Useful Hotel Search Data
Another cool feature of Google Hotels is the "what you'll pay" dropdown on the main filter menu. Again taking a page out of the Google Flights price forecasting book, the feature will tell you what prices look like for your stay vs. the rest of the month.
As you can see below it is even broken down by the hotel star category, and prices for this long weekend stay in May are average. This can be helpful to determine if you are getting a good deal or if shifting your trip by even a few days can help you save.

Another great feature is the "when to visit" tab. As you can see, this will give you some average temperature data by month, give you an idea of crowds and when hotels might be the cheapest. As the data below suggests, shifting my trip to July could save some money when it comes time to book my hotel.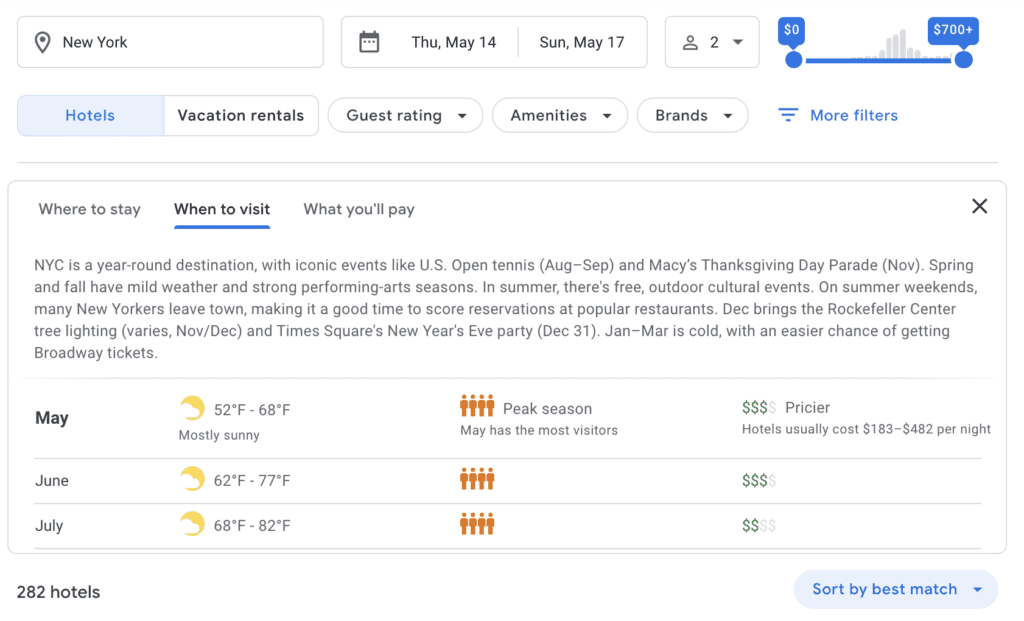 Booking Your Stay Through Google Hotels
Once you are ready to book, Google Hotels will give you the option to book directly with the hotel chain, or also with a number of different online travel agencies (OTAs). In my case, booking directly with Hilton matches the lowest price offered from a handful of different OTAs.
And when this is the case, you always want to book directly with the hotel. When you book a hotel through an OTA like Booking.com or Expedia, your hotel elite status benefits generally won't be recognized, and you won't earn points.
That said, the power of this tool from Google is undeniable: it gives you a quick price comparison.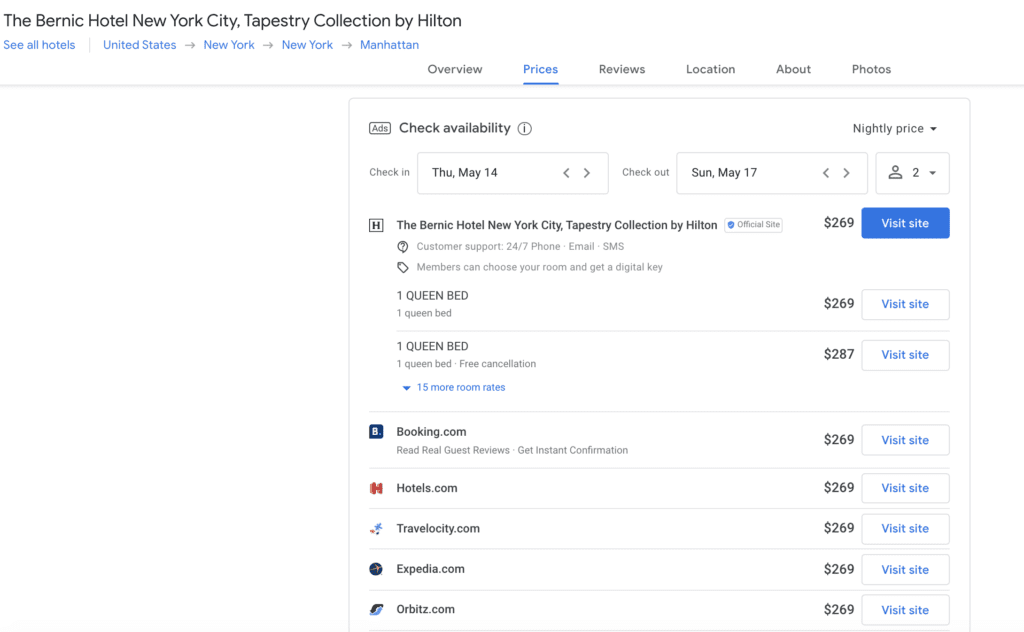 Book Home Rentals with Google Hotels
In addition to hotels, the platform allows you to book vacation rentals from sites like HomeAway, VRBO, Expedia, and more. 
One notable exception missing from these home rental listings are Airbnb properties. And it goes without saying that Airbnb is a competitor of Google's as it branches out in its hotel, and home rental offerings.
It works just like the filters you set for hotels. You can filter by the price, guest rating, etc. Simply click on the filter button and select "Vacation Rentals" if you want a full home rental to show up. This is a great option for families or large groups, which can often save a fortune by renting a house rather than booking several hotel rooms.
Just as with any normal hotel search, you can customize the results to fit your needs, whether you want just a room or a full home. But you can also filter for any must-have amenities, from free Wi-Fi and air conditioning to a pool or even a hot tub.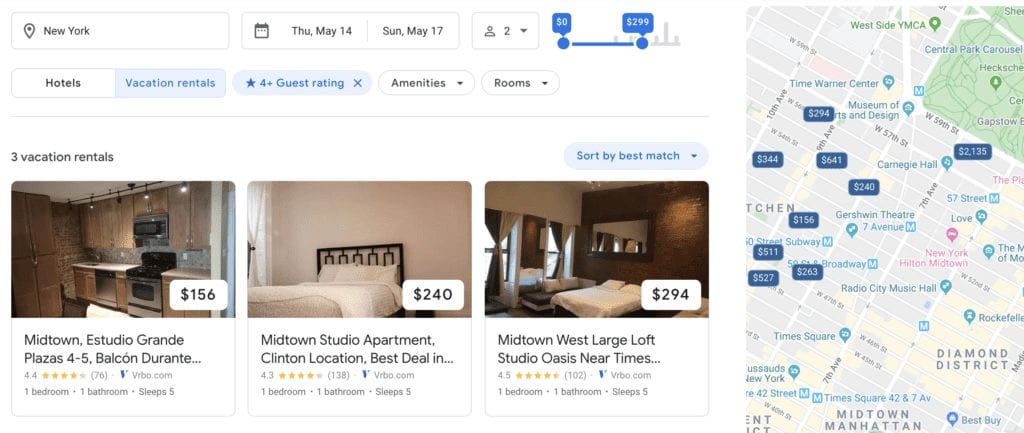 Bottom Line
Google is trying to replicate what they've built with Google Flights to disrupt the hotel booking industry. And that's a good thing.
Google will surely improve the interface over time and I would eventually expect it to be as robust as the Google Flights platform. Searching for and booking hotels is much easier thanks to Google. Just visit Google.com/hotels to get started with your next booking.