Millions of Americans have tested positive for COVID-19 over the past few months as cases have skyrocketed. While the pandemic remains deadly serious, there's a silver lining for international travel: It could allow you to bypass the strict COVID-19 testing requirements when flying back to the U.S. from abroad.
Fully vaccinated or not, the CDC requires all international travelers 2 and older to provide a negative test taken no more than one calendar day before flying to the U.S. But the CDC regulations spell out one exception: You can skip that test to return home with proof of a positive COVID-19 test within the last 90 days and a doctor's note confirming you've recovered. While you may still need a test and proof of vaccination at your destination, some countries also recognize proof of recovery from COVID-19 for entry, too.
With COVID-19 cases spreading like wildfire across the U.S, proving you've recently recovered from COVID-19 could become the go-to way for many Americans to pull of an international trip. After testing positive for COVID-19 just before Thanksgiving, that's exactly what I did coming home from a recent trip to Portugal. It allowed me to bypass the high-stakes testing option – and the stressful prospect of being forced to quarantine abroad for a week or more.
Here's what you need to know to prove you've recovered from COVID-19 to fly back to the U.S.

Step 1. Your Positive COVID-19 Test
The first thing you need to have is your positive COVID-19 test from when you were sick. And it must be a test taken no more than 90 days before your flight to the U.S.
While the CDC says only a "positive viral test" is needed, you'll need some official results to show your airline during check-in. That means most at-home rapid antigen test kits will not work – you can't simply carry a weeks-old test card with you, after all. Only at-home tests that include a proctored virtual exam – like the Abbott BinaxNOW test kits available through sites like eMed.com – will work.
Finally, you'll need to make sure your test results display the date your test was performed or when the sample was collected. That's the key to ensure your test was taken within that 90-day window.
So if you're planning to go this route for international travel, you'll need an official viral test performed or processed by a lab at the time you've contracted COVID-19.
In my case, I took advantage of the free COVID-19 testing from Vault Health and the state of Minnesota when I was sick with COVID-19. Here's a look at my positive test from November that I downloaded from Vault Health a few days before my flights to Portugal.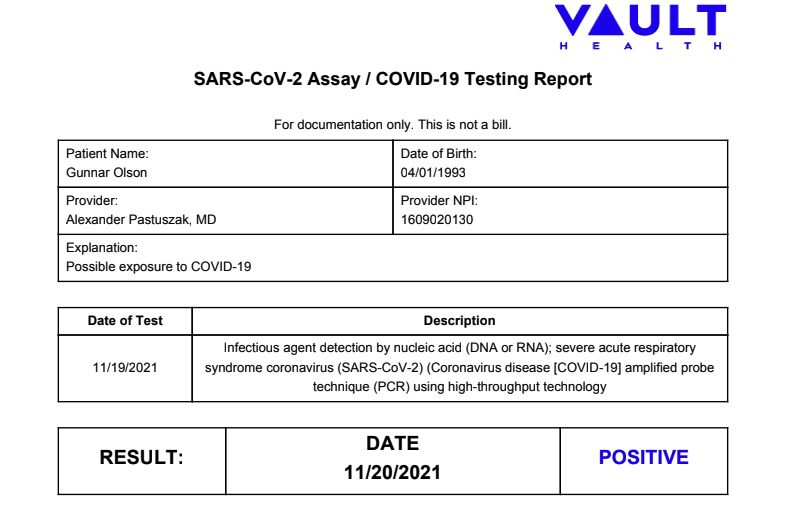 Each of these PCR tests comes with all of this information and a doctor's signature (which I cropped out for brevity). It's also important that your test information has your name and date of birth on it so the gate agent abroad can verify it is your test.
I made sure to print out this test and save a digital version on my phone before I traveled.
Step 2. Get a Doctor's Note
You'll need to visit the doctor for this.
About 10 days before my trip to Portugal, I had a regularly scheduled doctor's appointment. That gave me an in to obtain an official form displaying I had recovered from COVID-19.
However, you do not have to visit your primary care physician in order to get a proof of recovery document. The CDC says you just have to show "a signed letter from a licensed healthcare provider or a public health official that states you have been cleared for travel" along with the positive test. Those two items together are considered "documentation of recovery."
At my appointment, I told my doctor exactly what I was looking for. They reviewed my positive COVID-19 test from November, checked me over, determined I was fully recovered and fit to fly, and wrote the note right then and there. Here is what they wrote, with identifying details for myself and my doctor cropped out:

It was that simple. He signed the note at the bottom and it was sent to my email and printed out on official health clinic  letterhead.
Just make sure your doctor's note meets the following requirements spelled out by the CDC:
Name (same as passport)
Date of birth (same as passport)
Doctor, healthcare provider, or public health official's signature and date on official letterhead
Doctor, healthcare provider or public health official's name, address, and phone number
Step 3. At the Airport
Exactly when you'll be asked to provide you've met the requirements to fly to the U.S. varies from airline to airline. Some require it at check-in at the airport, while others will check your documentation before boarding.
Flying TAP Air Portugal from Lisbon (LIS) to Boston (BOS) en route back home, I checked in online and was told I'd need to provide my documentation during the boarding process. The airline recommended I head to the gate a full hour before departure to make time for the process. 
So my fellow passengers and I queued up near the boarding area where we were each handed forms, asking us to indicate how we were going to prove we were fit to fly to the U.S.: a negative COVID-19 test or documentation of recovery. After filling out that form, I got in line and waited to be seen by a gate agent.
From the time I got in line to being released into the boarding area, the entire process took about 10 minutes for my roughly half-empty flight.

One thing to keep in mind: The processing times for travelers with negative tests was much shorter, with most of them being released into the boarding area in about a minute or so. In my case, it took a bit longer as the agent wanted a second set of eyes on both documents. Still, the agent ultimately let me through after about five minutes.
One note: My agent did ask me to pull up the email containing the doctor's note. It was not clear why, as it said exactly what the printed out note contained. Still, be sure to request a digital copy from your provider and then save that email before heading to the gate – just in case.
After her supervisor reviewed my two documents, I was released into the boarding area for my trip home. After landing, I cleared customs as normal without any additional checks of my documentation of recovery.
Bottom Line
The return testing requirement to the United States can be nerve-wracking because so much is at stake. So if you were swept up in the wave of COVID-19 over the past few months, you can circumvent that testing requirement with two documents.
Have a doctor or healthcare provider write you a note that says you are fit to travel and have recovered from COVID-19 and provide your original positive test within the last 90 days to avoid COVID-19 testing as your return to the United States from abroad.
While it requires a bit more work on the front end, it's ultimately a far less stressful experience when it comes time to return to the states. And these days, it's something that millions of Americans can potentially take advantage of.