We are living in the golden age of credit card travel rewards. I do not remember a time where the banks were competing as aggressively as they are right now for a share of consumers wallets in the form of improved benefits and rewards.
Whether it was American Express' relaunch of the Amex Gold Card, Capital One adding transfer partners to their Venture credit cards, or Amex adding valuable Membership Rewards transfer partners like Avianca, we have seen a lot of great changes to the credit card landscape in 2019.
At Thrifty Traveler, we are always speculating changes to the credit card landscape, and making our own wishlists. With that said, here are 3 changes we would like to see in the credit card landscape in 2019.
Add CLEAR as a Travel Rewards Credit Card Benefit
The CLEAR trusted-traveler program is one of the best things to happen in travel in the last 5 years. It has saved me an incredible amount of time in security lines. If you are not familiar with CLEAR, it is a private, trusted-traveler program that uses both fingerprint and iris identification technology to confirm a traveler's identity.
Once you have been cleared at the CLEAR personal kiosk, an ambassador will escort you to the front of the metal detecting and baggage scanning lines depending on your TSA eligibility. This means that if you have TSA PreCheck, you will then be escorted to the front of the PreCheck line (see diagram below). Because CLEAR authenticates your driver's license or passport during the enrollment process, you never have to take your identification out when checking in through CLEAR. Just scan your boarding pass and you will be on your way within minutes.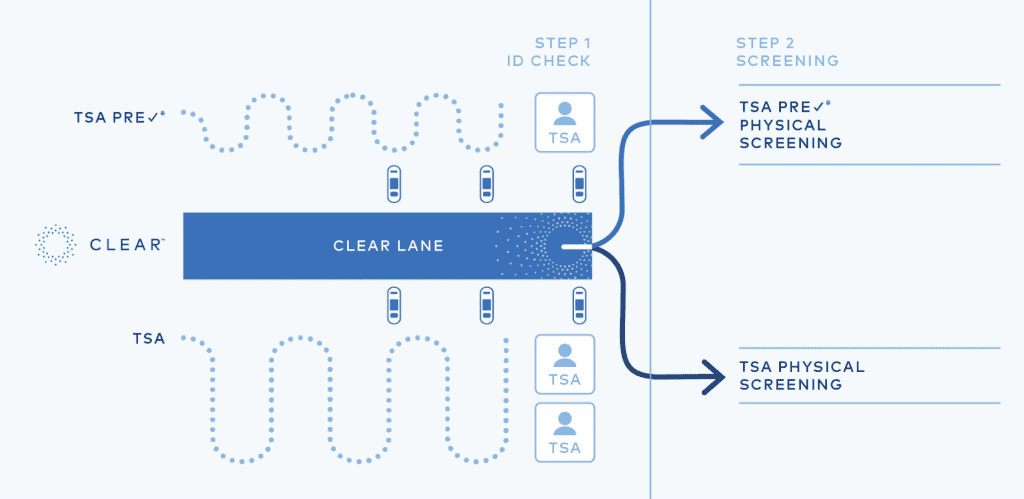 Annual membership in the CLEAR program is $179, which is a steep price to pay. However, there is a discount available by simply being a Delta SkyMiles loyalty program member. Delta offers the service for $79 just for holding one of the co-branded American Express Delta SkyMiles credit cards or for being a Platinum, Gold, or Silver Medallion member. The service is free for their Diamond Medallion members, and general SkyMiles members can join the program for $99.

Pretty much every premium travel rewards credit card in the marketplace today is offering a credit for Global Entry or TSA PreCheck. While this is a great benefit, it would be nice to see one of the credit cards in the premium space do something different. There isn't a card that is currently offering a credit for the CLEAR service.
Delta and CLEAR have an ongoing partnership, which is one of the reasons you will see the service available at all of Delta's hub airports. Adding CLEAR as a cardmember benefit of either the American Express Platinum Card or the American Express Delta Reserve Card would be fantastic and something I would like to see in 2019.
An Airbnb Loyalty Program & Credit Card
Airbnb has disrupted the hotel industry in a way that I don't think anybody could have predicted. There are so many things you just can't experience in a hotel that you can by staying in an Airbnb. Not to mention, it can be incredibly affordable, especially if you are traveling with big groups.
One thing Airbnb hasn't yet figured out is how to create loyalty with their customer base in the form of a points program, a co-branded credit card, or both. This seems like the next logical step for the company and I won't be surprised if this is an announcement we see in 2019. If Airbnb wants to further compete with the big hotel brands, this is something they absolutely have to figure out.
While the service attracts a lot of leisure travelers, Airbnb isn't attracting the road warrior business travelers who want to be rewarded for their loyalty to one hotel brand.
While there isn't currently a co-branded Airbnb credit card, there are a handful of cards that are great for staying at an Airbnb. See our guide here.
Adjust the 5/24 Rule
The Chase 5/24 Rule is the most restrictive rule out there when it comes to getting approved for a new credit card. If you are not familiar with the restriction, it essentially states that if you have opened 5 or more credit cards in the past 24 months from any bank (not just Chase cards), you will not be approved for Chase credit cards. Regardless of your credit score or history with Chase bank.
Chase isn't dumb. The 5/24 Rule was put in place to stop people from "gaming" the system and earning travel rewards hand over fist. This isn't profitable for the bank and the reason why the rule exists.
Personally what I'd like to see changed is that Chase only applies the 5/24 restriction to the welcome bonus offer. What I mean by this is that they should let consumers above and beyond 5/24 get a credit card without earning a welcome bonus on the card. This is what American Express does with their "once per lifetime" bonus rule.
I am not eligible to get the Chase Freedom Card because I am above and beyond the 5/24 restriction. I would be happy to forgo the welcome bonus offer on the card as the long-term quarterly bonuses would be worth it to me. This would still be a profitable relationship for Chase as well.
Bottom Line
One thing you can always count on in the world of credit cards and travel rewards is that change is going to happen. While not all changes are positive for consumers, these 3 are at the top of my wishlist for 2019.