If you've visited Airbnb.com lately, you may have seen a recent addition to the website coming up in your searches. Airbnb has a new feature for finding the best homes: Airbnb Plus.
Thrifty Tip: New To Airbnb? Sign up using our link and you will receive $40 towards your first stay (we will get $20 as well).
What is Airbnb Plus?
Airbnb Plus is the company's answer to consumer demand for the perfect accommodation experience. Airbnb Plus homes are visited by Airbnb staff and rated on a quality inspection grade to ensure the absolute highest quality of these select homes. When these homes are inspected, Airbnb staff check for 100+ things that are must-have amenities and details guests love. See some of the key amenities Airbnb staff look for below. Some of the most important things to me on this list are fast WiFi and strong shower water pressure.
Not only have these Airbnb Plus homes been reviewed and visited to ensure quality and comfort standards, these homes generally have gorgeous decor. These hosts are also known for having perfect ratings, stellar reviews, and attention to detail. These Airbnb Plus homes have been designed with care and are the most Instagram-worthy, picture-perfect abodes I've ever seen!
On the Airbnb Plus homepage, certain verified Plus homes have been featured in different categories, like "Beautiful Bathrooms", "Poolside Homes", "Big Backyards", "Peaceful Patios", "Endless Views", etc. It's so much fun to browse these gorgeous Airbnb homes and find the perfect spot to treat yourself on your next getaway.
I browsed some of the homes highlighted in the "Effortlessly Eclectic" section and instantly fell in love.
The featured "Poolside Homes" have me craving one of these Airbnbs for my winter getaway.
I was surprised to see that the prices per night for a majority of these homes weren't insanely expensive, as I had assumed they would be. There are definitely some high-end homes featured as Airbnb Plus homes, but many of them are within the typical $50 – $150 a night price range.
Where are Airbnb Plus Homes?
The Airbnb Plus homepage highlights a few of the major cities that have Airbnb Plus homes:
Cape Town
Sydney
Barcelona
Shanghai
Austin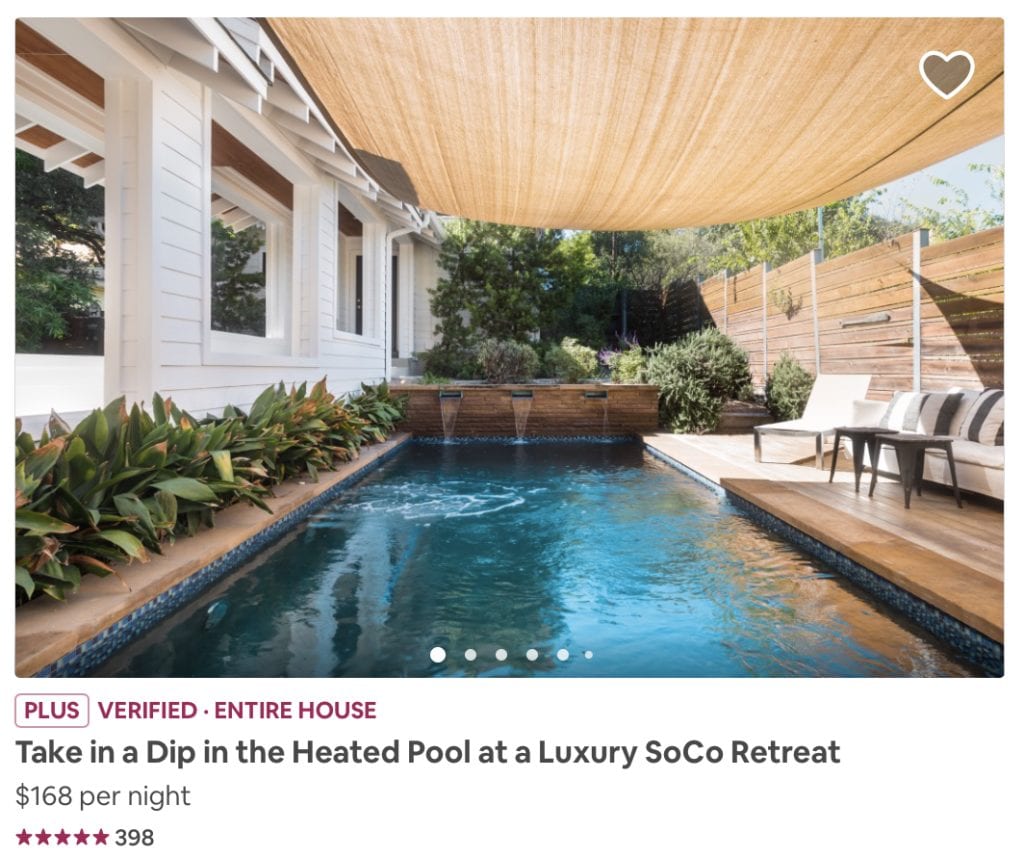 But Airbnb Plus is available in plenty of other cities, as well. For example, a few options popped up when I searched for Airbnbs in Phoenix for an upcoming trip to Arizona this winter. Any time you search for homes on Airbnb, the Airbnb Plus homes will be on the top of your search results. Just filter for dates, guests, and other preferences from there, and check out the Airbnb Plus options in your next destination city.
Bottom Line
Airbnb Plus is a response to consumer desire for verified, quality places to stay with the perfect decor and full amenities. If you choose to stay in an Airbnb Plus home, you can be certain you'll be getting exactly what you see in the Airbnb photos, communicating with a verified and trustworthy host, and staying in a pristine home stocked with all your needs. Check this feature out at Airbnb.com and start daydreaming about your next getaway accommodations.