It's been a memorable summer of low flight prices, and it's not over yet.
If you are still hoping to sneak in a summer trip in 2023, we're here with some good news: Flights this August and early September are still cheap.
You might be thinking "It's already August, so how are flights for this month and early next month still cheap?" Here's what we think happened: Last winter and spring, the airlines set insanely high flight prices anticipating a crazy summer travel season. They assumed that demand would be so high, that people would pay whatever for a summer trip to Chicago, for example.
What the airlines didn't know is that travelers weren't booking a Chicago trip, they were booking a Paris trip instead. And that means, those uber-expensive seats that you may have passed on a few months ago are still empty – and are about a quarter of the price now! In fact, flight prices are down a whopping 19% from last year at this time.
August and September have typically been a sweet spot for cheap summer flights, and that trend is alive and well in 2023. Here's what we're seeing out there for travel the rest of this summer.
Domestic Flights are Cheap Almost Everywhere
Honestly, just open Google Flights, type in your desired departure city, put "United States" into the destination bar, throw in some random dates in August, and hit search. This is called the Google Flights Explore feature, and it's our favorite way to search for cheap flights.
After the map shows up on your screen, click on the dates on the left side of your screen. You'll see this box pop up (above).

If you have a week or weekend in mind, simply put your dates in and re-do the search. Otherwise, just click "August" or "September" to find the best fares for those months, too.
During your search, you'll probably see airfare that is at least competitive, and most likely really cheap. Domestic flight prices are low right now for travel through Labor Day and into September (which is technically still summer!).
Remember that trip to Chicago I mentioned earlier? There's still time to make it happen for a fraction of the price you would have paid in February or March.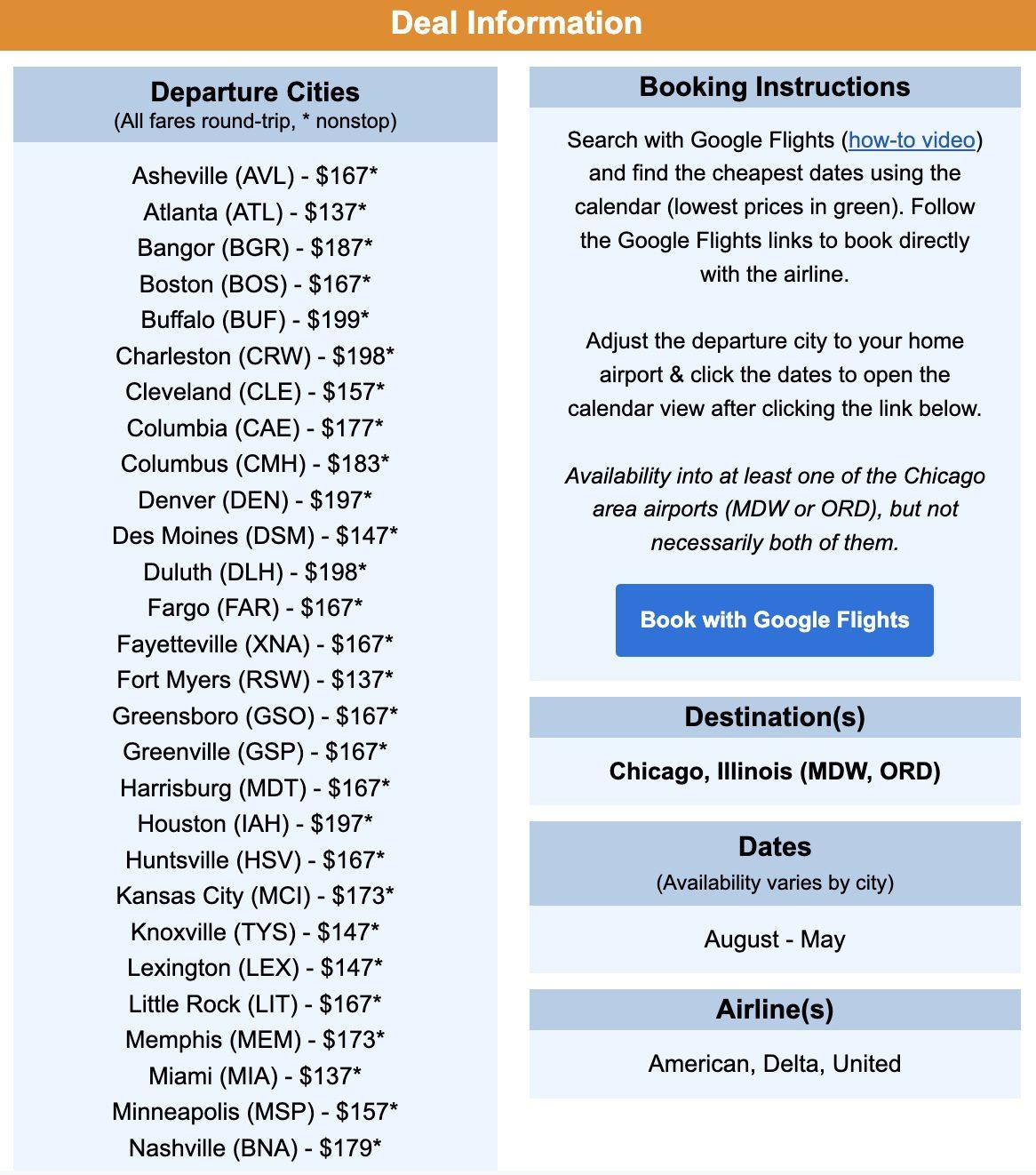 These nonstop fares to O'Hare (ORD) and Midway (MDW) airports could be your ticket for a weekend retreat to the Windy City.
But how much summer availability is actually in this deal? Let's look at a calendar search from my home airport of Minneapolis-St. Paul (MSP) to Chicago's two airports (MDW, ORD).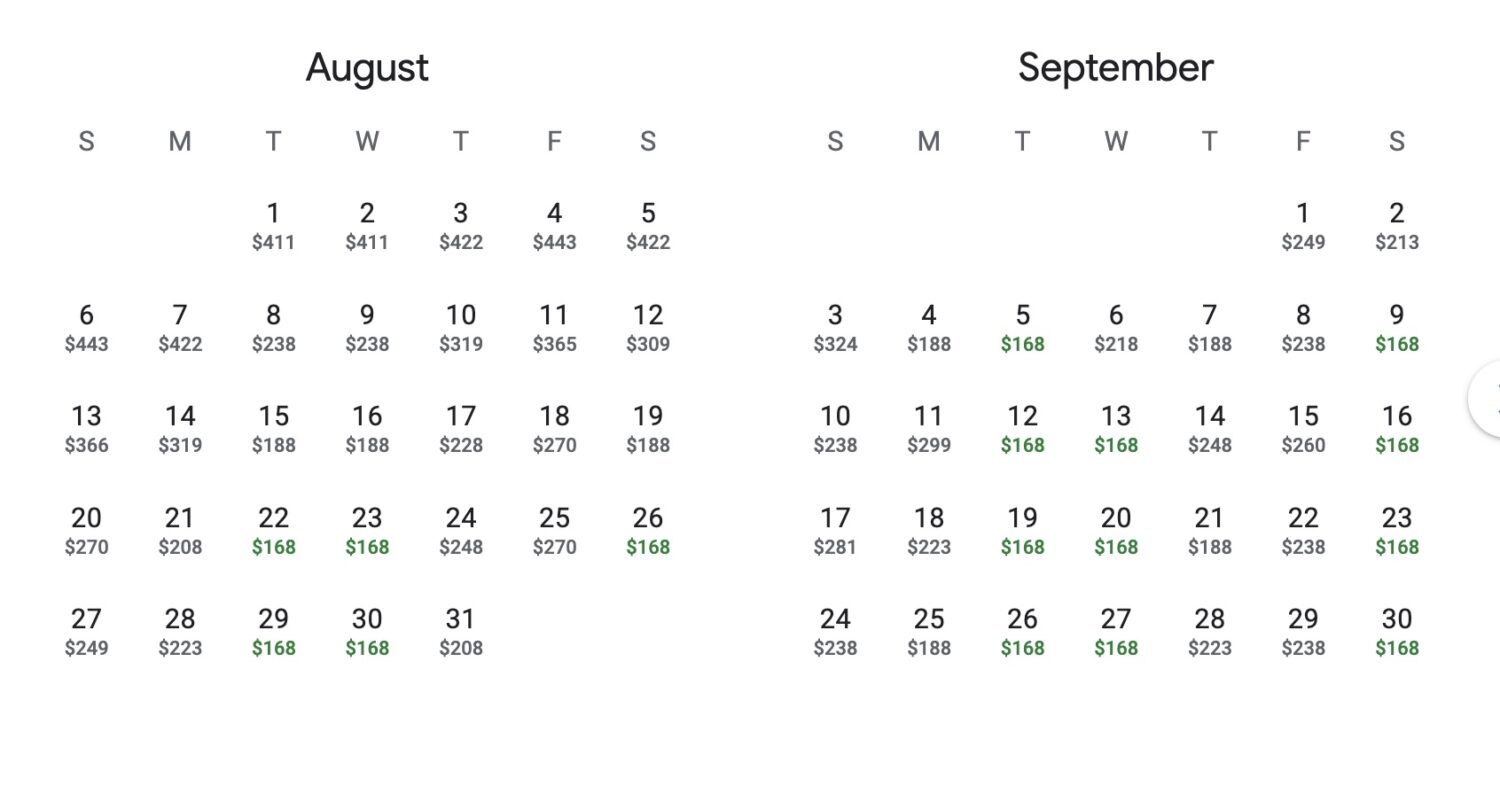 As of this writing, it's Aug. 1. If I wanted to fly on Friday, the fare would be $443. But less than a week after that, the flight is $238. Give it one more week and you're sub-$200. The lowest fare of $168 roundtrip is just four weeks away, and you can find flights for that price through Labor Day and beyond, too.
You'll see a similar calendar for low fares to other destinations, too. Niagara Falls weighing down your bucket list? How about a quick, cheap flight to Buffalo, New York (BUF) this summer?

Join Thrifty Traveler Premium to get notified about more cheap fares like this one! 
If price is the only thing standing between you and seeing this natural wonder, take a look at flights from Chicago (ORD) to Buffalo (BUF) in the next few weeks.

For less than $250 roundtrip, Niagra Falls is well within reach this summer.
The same goes for Myrtle Beach. The family beach getaway you wanted (and needed) this summer could be on the shores of South Carolina, and flights to get to Myrtle Beach start at just $97 roundtrip.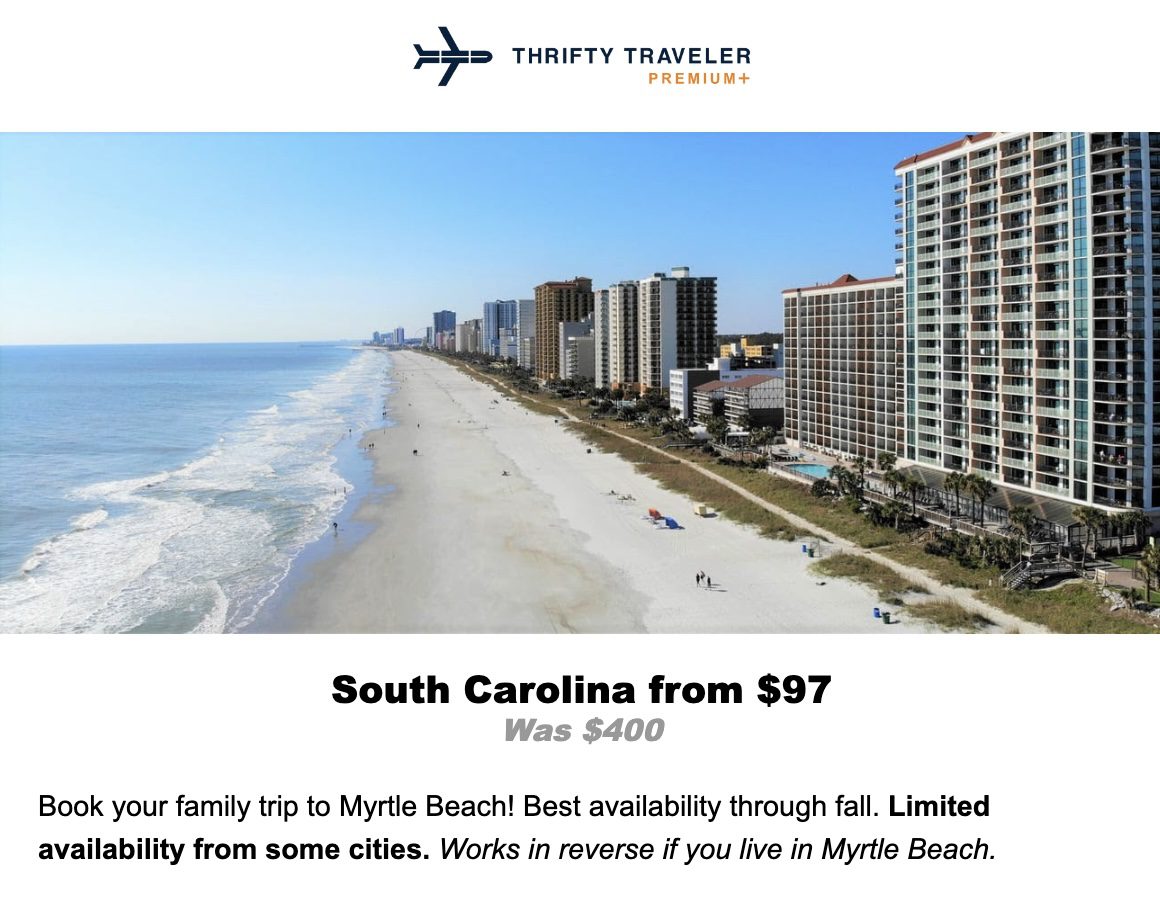 Speaking of the family, a childhood trip to the nation's capital is always memorable. I remember when I first saw Washington, D.C. and while I don't know what my family paid to get us all there, I'd bet it wasn't as good as these prices!

Austin, Texas, one of the fastest-growing cities in the country, is no stranger to cheap flights either. The cheapest fare on this flight deal is from Orlando (MCO). It's not in August, but early September is certainly still summer, especially in a place like Texas. So if you're not tied to the academic calendar, this is still a really convenient and cheap time to travel.

Overall, staying close to home is going to be your best bet to finding a cheap flight deal if you are trying to pack in a bonus summer trip this year.
International Flights
If a last-minute trip abroad is the kind of adventure you seek, there are more still available options for this summer than we've ever seen at this time of year.
Western Canada has been a sweet spot for cheap flights all summer long, and that hasn't changed.

This Vancouver (YVR) flight deal from just a few days ago proves it. While the best availability is in the fall, late August and early September dates were available from most cities, too. The same goes for cheap flights to Calgary (YYC) and nearby Banff National Park, too.

Get flight deal alerts like these in your inbox with Thrifty Traveler Premium! 
Dozens of U.S. and Canadian Cities were included in these deals featuring low fares to Western Canada for under $399 roundtrip. And the best part is we sent both of those deals within the last four days, meaning those fares are fresh out of the oven.
If you want something a little further from home and potentially even more spectacular than western Canada, take a look at these nonstop fares to Iceland.

Most of these listed fares are for flights in the middle of fall. But in many cases, for just about $100 more, you could book the same routes to Reykjavik (KEF) in late August and September, too.
In the southern hemisphere, our summer is their winter. But in places like Buenos Aires, Argentina (EZE), the weather is pretty temperate all year round, which makes August a great off-peak time to visit the bustling South American country.


The lowest fare on this deal is from Tampa (TPA), where the weather is…a little steamy this time of year. It's probably a nice reprieve to visit Buenos Aires instead. At just $510 roundtrip, it could be the perfect, cheap escape.
If the beach is what you crave instead, cheap flights to Mexico before the kids go back to school are also out there. This Minneapolis (MSP) to Cancún (CUN) fare was just one of dozens of sub-$400 fares down to Mexico we found just last week.
This would be a pretty sweet Labor Day excursion if you ask me.

But you can do even better. Instead of paying cash, throw a few Delta SkyMiles at your flights instead. These nonstop Delta flights to the three major beach towns in Mexico were all put on sale at the same time a few weeks ago, including August and September availability from all cities.

This flight deal is no longer available. Make sure you're signed up for Thrifty Traveler Premium+ to get all our points and miles deals so you don't miss the next one!
Whether you want to see the volcanoes of Iceland or the beaches of Puerto Vallarta, an August or early September trip could still be in the budget this summer.
Bottom Line
It's been one of the best years we can remember when it comes to summer flight prices, and we're not done yet. Cheap airfare for summer travel is still out there if you know where to look.
By staying a little closer to home, you can book some of the lowest fares of the year for travel this August or September. Don't give up on a summer trip just yet!