American Express is out with a handful of new Amex Offers that can help you save big bucks on hotel stays at certain high-end Hyatt and IHG properties later this year.
The offers vary by hotel chain or property, but they'll give you between $60 to $150 straight back after spending $300 or $750 on your American Express card. Most properties within each chain will qualify for savings.
Just add the offer to your card, book directly with the hotel, hit the spending requirement, and voila – you can save up to 33%. Critically, you don't have to rack up all those charges in one fell swoop. As with all Amex offers, you can reach the spending requirement over multiple transactions. You can even do so through a combination of paying for your room and room charges once you're at your hotel.
And you don't have to actually complete the stay by the expiration date on these offers, simply pre-paying for your room should trigger the credit.
But these offers are targeted, so not every Amex cardholder will see them in their accounts. Fortunately, it seems like most *amex platinum card* and *amex gold card* are targeted – as well as some co-branded Delta and Hilton Honors American Express cards, too. Just log in to your Amex account and see what's available!
Here's a look at each of the hotel offers.
Park Hyatt Amex Offer
Park Hyatt properties are the best of the best in Hyatt's hotel portfolio … so go figure they're typically the most expensive. This Amex Offer can take the sting out of it.
Spend $750 or more at a Park Hyatt hotel in the Americas, Asia, Europe, Middle East, Oceania, and Africa and you'll get $150 back as a statement credit. That's up to 20% off a luxury hotel stay.
This particular Amex Offer is valid for stays through Dec. 15, 2023.
Hyatt Thompson Amex Offer
There's also a new Amex Offer for stays at another Hyatt luxury brand: Thompson Hotels.
With this offer, you'll need to spend $300, and you'll get $60 right back so long as you do so by Dec. 15, 2023.

The offer is good for Thompson Hotel stays in the U.S., Mexico, and Spain.
Small Luxury Hotels of the World Amex Offer
Small Luxury Hotels of the World is another luxury brand within the Hyatt Hotels portfolio with locations all over the world. And with this new Amex Offer, you can spend $300 and get $100 right back – up to a 33% savings.
The offer is good for Small Luxury Hotels of the World stays in the Americas, Caribbean, Europe, Asia, and Oceania and you must use it by Dec. 31, 2023.
InterContinental & Kimpton Amex Offer
Finally, there is a great new Amex Offer for stays at an InterContinental or Kimpton Hotel in select locations. InterContinental and Kimpton properties are the top options in the InterConintental Hotels Group (IHG).
With this new Amex Offer, you can spend $300 and get $75 right back – up to a 25% savings.
This offer is valid for stays booked through Dec. 31, 2023, at InterContinetnal and Kimpton hotels in the United States, Thailand, the Maldives, Singapore, Indonesia, Japan, and Australia.

Where to Find Amex Offers
If you haven't used Amex Offers before, simply log into your American Express account and scroll down near the bottom of the screen and there should be a box called Amex Offers & Benefits. It's available through the Amex mobile app as well.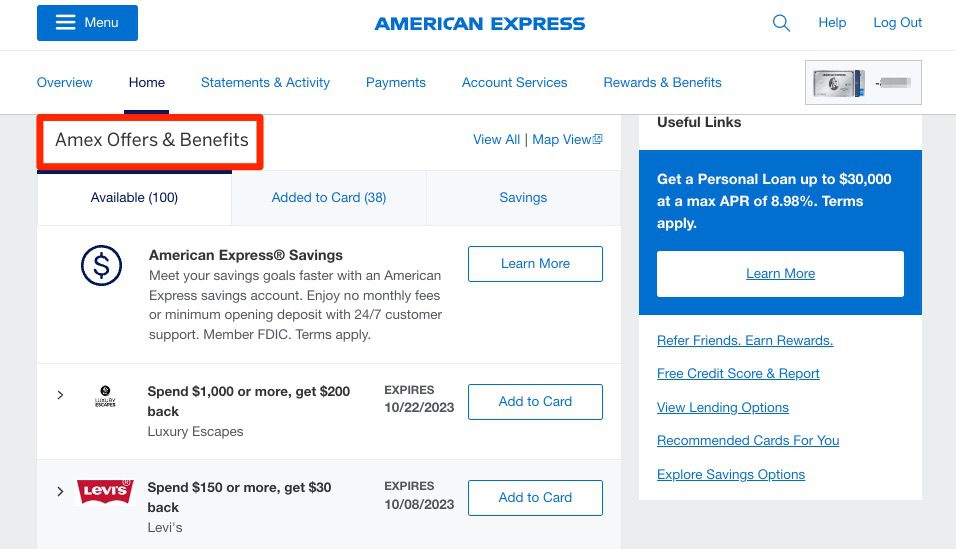 If you see an offer you like, simply add the offer to the card and make a qualifying purchase at that business with your card. You should receive a statement credit for the offer within a few days of making a purchase, though in some cases it can take several weeks.
Not familiar with Amex Offers? See our complete guide to using Amex Offers.
Bottom Line
If you've got travel plans that might involve a stay with Hyatt or IHG over the next few months, this is an easy way to save big on your hotel stays. Check your Amex account(s) to see which of these offers are available!
If you see them, make sure to add them to your card as soon as possible.
Lead Photo courtesy of Hyatt Hotels