Black Friday 2020 is here. And while travel is on pause across much of the globe, that's not stopping the deals you can get today for future travel.
Airlines are out with some tasty discounts on fares from the U.S., whether you're looking to fly domestically or jet off worldwide. You can snag some solid discounts on hotel stays, too.
But beware: Just because it's Black Friday doesn't mean you're getting the best deal possible. You can find dirt-cheap flights any day of the year – and the best deals are rarely advertised. So check out these deals, but do your homework, too.
This list of travel deals is sure to grow, so be sure to check back throughout the day!
Airlines
Aer Lingus
If you ask the flag airline of Ireland, it's not Black Friday – it's Black Flyday.
Aer Lingus is cutting prices to mark the occasion, with roundtrip fares from the U.S. to Europe starting at $399. Search from a handful of cities like Chicago-O'Hare (ORD), Boston (BOS), Toronto (YYZ), and more. And it's not just Dublin (DUB) you can fly to for cheaper, but other European cities like Edinburgh (EDI), Geneva (GVA), Manchester (MAN), and more than 20 other European cities. Best of all, Aer Lingus typically allows free stopovers in Dublin (DUB).
Business class fares are also available starting at $1,798 roundtrip, which is a decent deal to fly up front.


But these savings only apply when you fly between March 1, 2021 and May 31, 2021. And you must book by Monday, Nov. 30 directly at AerLingus.com.
Starting Nov. 29, Ireland will begin allowing American travelers to move about the country if they test negative for COVID-19 five days after arrival. If your trip doesn't pan out, Aer Lingus currently allows unlimited free changes to all tickets through at least May 2021.
Alaska Airlines
Alaska dropped some rock-bottom prices on select routes today, starting at $29 one-way.
Find select transcontinental fares from $99 one-way, and even some fares from the West Coast to Hawaii for as low as $149 one-way. Book by Nov. 30 for travel between Jan. 5 through May 19, 2021. See all the details on Alaska's website.

Alaska offers free change and cancellation (for a voucher) on any ticket purchased by the end of the year.
American Airlines
American has fairly novel Black Friday promo: Buy any flight by Dec. 1, and you'll get a promo code to save 10% to 20% on the next flight you purchase.
Just how big of a discount code you get depends upon how much you spend. Flights up to $199 get a 10% code, while spending $1,000 or more gets you a 20% code. Whatever you buy, it must be for travel by March 31, 2021. Get more details on American's Black Friday page.

Cathay Pacific
One of the world's best airlines is getting into the flight deal action for Black Friday.
Hong Kong's Cathay Pacific is touting savings of 50% on flights from the U.S. to much of Asia, dropping the price to as low as $482. Check out the details of its sale on Cathay Pacific's Black Friday page.

Flights are bookable now through Nov. 30 at these rates. And while travel to Hong Kong isn't currently allowed, these savings are available for travel from January through late May 2021, and again from mid-August through October 2021. Any flight booked by Dec. 31 can be changed for free.
Delta
Delta is getting in on the shopping season action, too. And it's a mixed bag.
You'll find plenty of fares already available on Delta's list of Black Friday sales, mostly for travel in the next few months. Nothing stands out as tremendous value, but scan the list to see what you can find. And keep in mind that Delta often slashes prices far beyond what it advertises, so search from your home airport.
Qatar Airways
Qatar Airways is getting in on the Black Friday action once again with promo codes for some decent savings.
The world's reigning best airline has set up a special Black Friday sale page. You can get 10% off economy flights on select routes from the U.S. to the Middle East, Europe, Asia, or even Australia. Just tap in the promo code BLACKFRIDAY.

Splurging for a flight in Qatar Qsuites? You'll get 10% off with the BLACKFRIDAY promo code, too.
Book by Dec. 2 to save. And you'll have to fly by Sept. 30, 2021 for these savings to kick in. Luckily, Qatar has one of the most flexible ticket change and cancellation policies you'll find.
Virgin Atlantic
Virgin Atlantic has one of the best Black Friday deals we've seen for using miles, offering 50% off all award tickets booked by Nov. 30.
That discount brings the price of flying Virgin Atlantic's outstanding Upper Class business suites as low as just 23,700 miles each way. Just keep in mind you'll still be on the hook for taxes and fees, which can be substantial.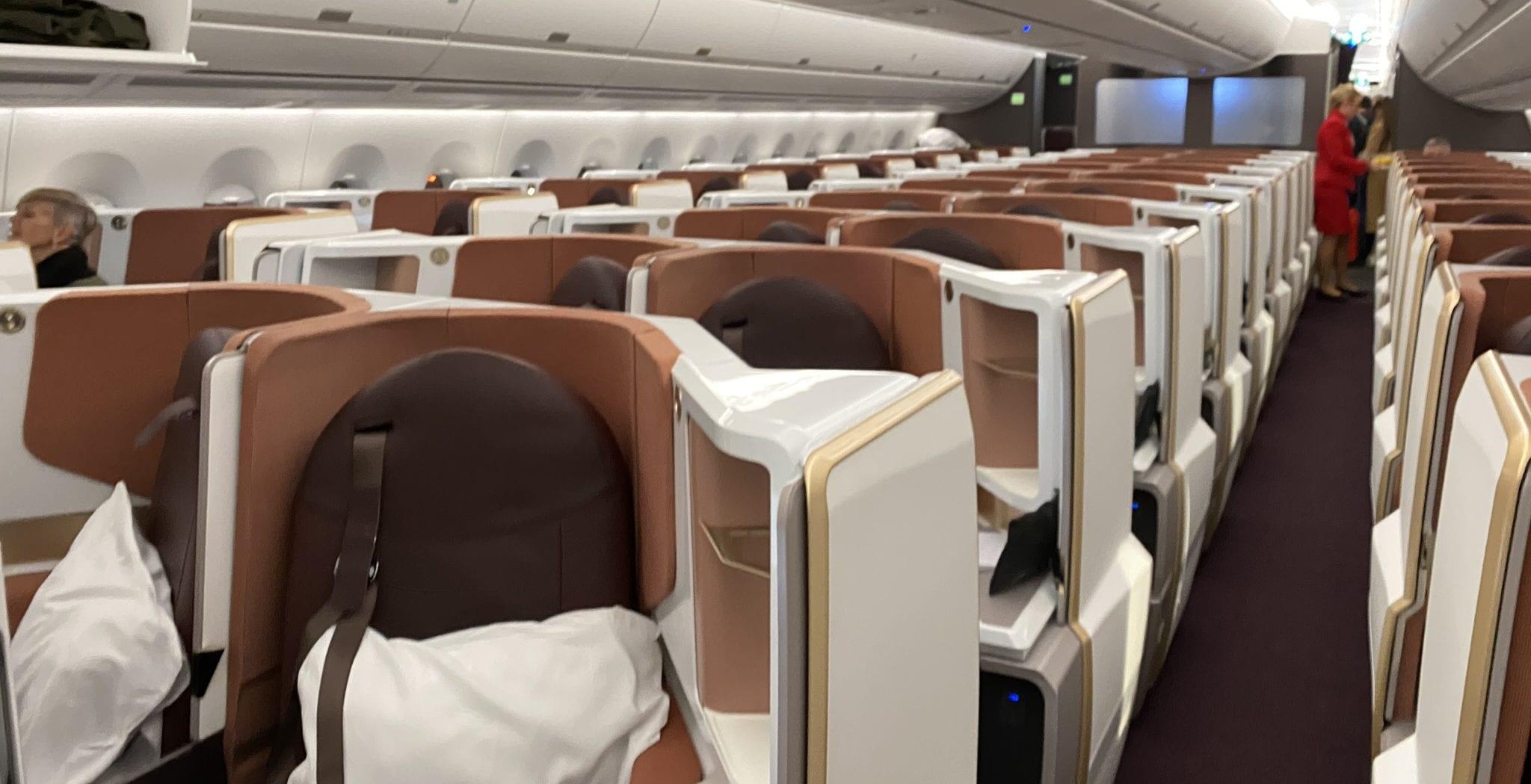 Virgin also has some outstanding flight deals if you're departing from Europe, with roundtrip business class fares under $1,400 to almost anywhere in the world. And the airline is also offering a 50% bonus when buying points, which could be a good way to book Delta One Suites or ANA first or business class for a bargain.
Hotels
Expedia
Online travel agency Expedia is offering some major discounts on hotel bookings for Black Friday and Cyber Monday, and Travel Tuesday.
The online travel agency is advertising hotel rates at 50% off for hotel stays through Sept. 12, 2021. But you can take that even farther by booking through the smartphone app and entering the promo code GOAPP12 to get another 12% off.
Learn what you need at Expedia's Black Friday page.
Thrifty Tip: Got an American Express Card? See if you're targeted for an Amex Offer to get 20% cash back, for up to $20 in additional savings.
Fairmont Hotels
Fairmont is coming back with its popular deal on gift cards.
From 2 p.m. to 5 p.m. EST on Black Friday, Fairmont will offer a 20% bonus on all gift cards. Fairmont runs this promo once or twice a year, and it's a solid way to book some of the nicest properties in North America.
It's not live yet, but we'll be sure to link it once this gift card promo is available.