'Tis the season for deals. You'll find them shopping, and you'll find them on travel, too.
Airlines, hotel chains, online travel agencies, and others are all advertising promotions and specials for Black Friday and Cyber Monday. We've rounded up the best deals on airfare, hotels, travel gear, and ways to capitalize on your purchases ahead of Black Friday.
Just don't assume that these are the best ways to book a flight or a hotel. Sure, there are some great deals to be had. But you can book cheap flights every day of the year – and the best deals are rarely advertised. In some cases, these Black Friday and Cyber Monday deals are more about marketing than saving you money.
The bright side? Many of these deals are already available! And more are sure to come by the time you've slept off your turkey coma and Black Friday and Cyber Monday roll around.
Airlines
Aer Lingus
If you ask the flag airline of Ireland, it's not Black Friday – it's Black Flyday.
Aer Lingus is cutting prices to mark the occasion, with $100 off select flights between the U.S. and Europe and $200 off in business class. That means you can fly from a handful of U.S. cities, including Minneapolis-St. Paul (MSP), Chicago-O'Hare (ORD), Boston (BOS), Toronto (YYZ), and more. And it's not just Dublin (DUB) you can fly to for cheaper, but other European cities like Edinburgh (EDI), Geneva (GVA), Manchester (MAN), and more than 20 other European cities.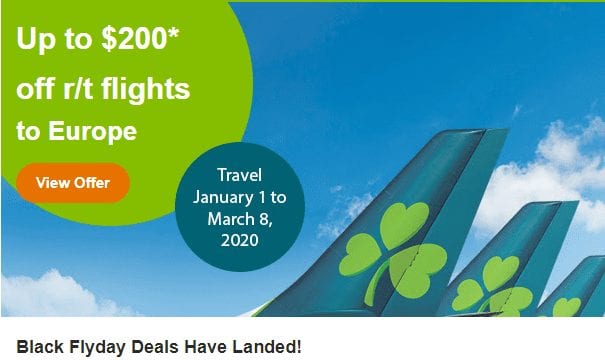 No need to wait – you can get these savings today!
But those savings only apply when you fly between Jan. 1, 2020 and March 8, 2020. And you must book by Tuesday, Dec. 3 directly at AerLingus.com. Head to the airline's promotional page for more info!
Cathay Pacific
One of the world's best airlines is getting into the flight deal action for Black Friday and Cyber Monday.
Hong Kong's Cathay Pacific is touting savings of 70% on flights from the U.S. to much of Asia – in both ecconomy and premium economy. That can drop the price under $600 for a round-trip flight in economy, and below $1,300 for premium economy. These savings are available from many of Cathay's U.S. gateways, including Chicago-O'Hare (ORD), Boston (BOS), Los Angeles (LAX), San Francisco (SFO), and more.
These flights are bookable now, and available through Tuesday, Dec. 3. Check Cathay's Black Friday page for more details.
Delta
Delta is getting in on the shopping season action, too. And it's a mixed bag.
You'll find plenty of fares already available on Delta's list of Black Friday sales. Nothing stands out as tremendous value, but scan the list to see what you can find. And keep in mind that Delta often slashes prices far beyond what it advertises, so search from your home airport.
Emirates
The flashy Middle Eastern airline is making a splash with some hot Black Friday fares.
Emirates has slashed prices on several of its routes from the U.S. to Europe. New York City (JFK) to Milan (MXP) for $449 round-trip? Or fly to Athens (ATH) on one of the world's best airlines for just $489 round-trip. Flights to Dubai (DXB) and Delhi (DEL) start at just $729.

Just head to Emirates' fare sale page to book. These flights are available now through Nov. 30 – but the best deals may sell out faster.
United
United is doing something different for Cyber Monday.
Rather than slashing cash prices, United is teasing some lower award rates when using miles to fly round-trip from the U.S. to Europe or Asia. Just how low prices may go is unclear, but United could make a splash now that it's transitioned to a dynamic award pricing model.
Whatever they are, these lower award rates will only be available Monday, Dec. 2. And it's only valid for travel between Jan. 12, 2020 and March 29, 2020.
Hotels
Expedia
Online travel agency Expedia is offering some major discounts on hotel bookings for Black Friday and Cyber Monday. But you'll have to be fast.
Starting at 9 a.m. PST, Expedia will offer a 75% discount code by using the Expedia smartphone app. Come Cyber Monday, they'll offer 95% off discount codes. Only a small number of these codes will be available, so make sure to set up your account, download the app, and be lightning fast. Learn what you need to get ready at Expedia's Black Friday page.

Priceline
What's better than 95% off? 99% off.
That's right, Priceline is upping the ante with a potential to score a 99% discount on hotel bookings. Just sign up for Priceline's Insider Emails, and Priceline will send out special deals on both Black Friday and Cyber Monday.

The cream of the crop is a Cyber Monday 99% mystery coupon for a Priceline Express deal, where Priceline only reveals the exact hotel (but provides other details like rough location and rating) after you book. Other users will get 15% or 10% off.
IHG
It may not be a Black Friday sale exactly, but there are still savings to be had booking IHG hotels.
The IHG hotel chain – which includes brands like Intercontinental, Kimpton, Crowne Plaza, Holiday Inn, and more – is offering 25% on select hotel bookings from Nov. 11 through Dec. 17. You have to be an IHG member to get those discounts, and your stay must occur before June 1, 2020. Head to IHG's Cyber Sale page to book.

Travel Gear
Amazon Devices
Amazon is already offering some sweet deals on some of their best and most popular devices. That includes a Kindle Paperwhite for just $84.99…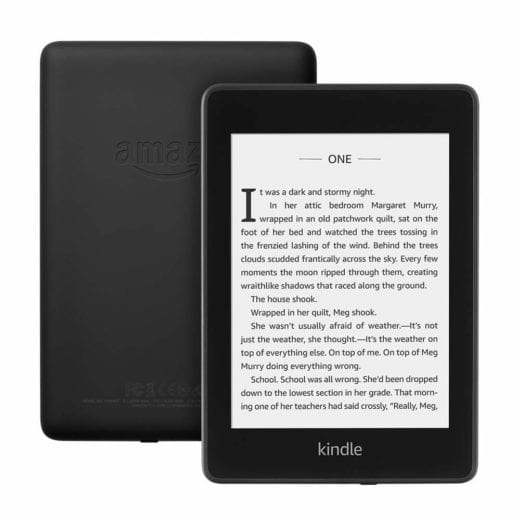 … to the Fire 7 Kids Edition Tablet for just $59.99.
There's plenty more already on sale, and more deals are sure to come. Head to the Amazon Devices page to see what else is on sale.
Thrifty Tip: Have an American Express credit card? Check for the Amex offer that will earn you 4x Membership Rewards points for every dollar you spend at Amazon.
eBags
Our favorite travel gear retailer is having a Black Friday Blowout.
You'll find plenty of luggage and accessories discounted 40%, 50%, or more at eBags. Check out eBags Black Friday sale page for the full list. For example, you could snag the eBags Professional Slim Laptop Backpack for just $69.99! This is our go-to personal item backpack for traveling.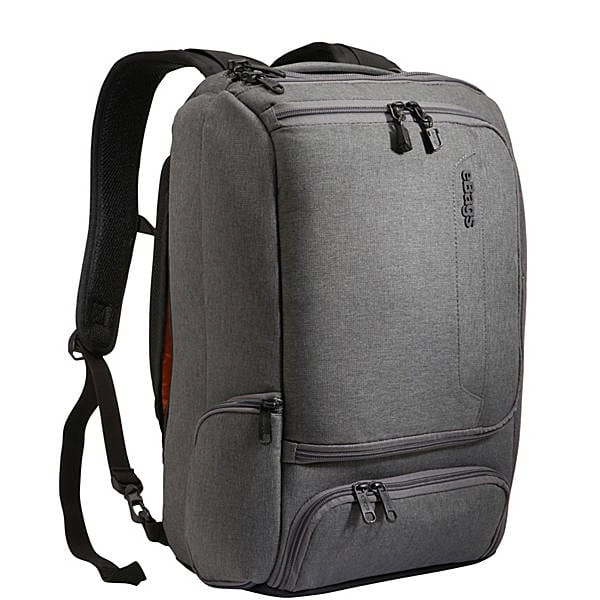 Maximize Your Deals
Found a great deal on flights, hotels, or travel? You can make it even better.
Getting extra cash back or earning bonus miles for everything you book and buy is crucial. Here are some tools to help for your Black Friday travel spree.
Use CashBack Monitor
CashBack Monitor is our go-to site to decode the crazy world of shopping portals. If you know you want to purchase something from an online retailer and want to find the best shopping or cashback portal to maximize your purchase, head to cashbackmonitor.com. This handy tool breaks down all the best portals.
Let's say you're getting ready to buy a new bag from eBags. Just type in eBags at CashBack Monitor and voila: It cranks out all the returns you can get by using different cashback engines or airline and credit card shopping portals.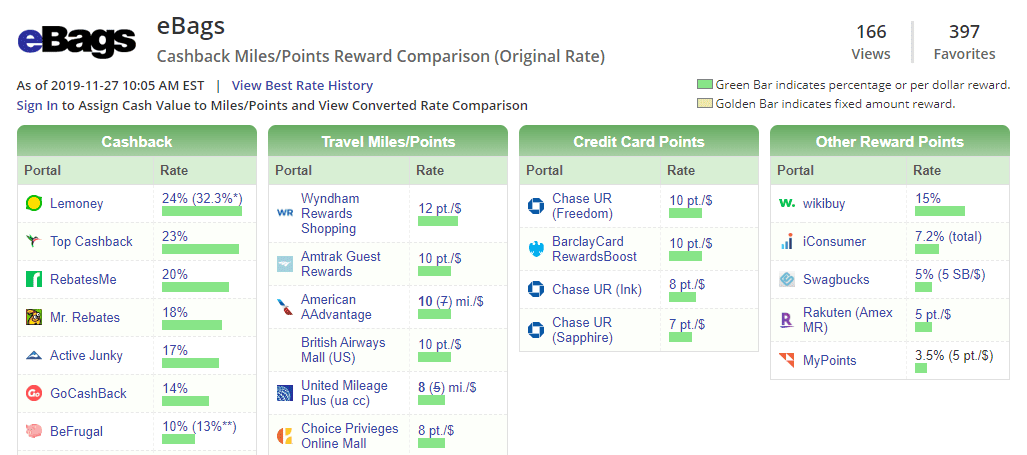 Earning 10x Chase points per dollar is tough to beat. But maybe you decide to earn 10x American AAdvantage miles for your purchase. Or perhaps 23% cashback from Top Cashback sounds more appealing? CashBack Monitor can help guide you toward the best choice.
Read our guide to using CashBack Monitor.
Rakuten to the Rescue
Rakuten (previously known as Ebates) is just one of the many shopping portals out there. But it's simple and straightforward to use – and they're sweetening the deal for Black Friday and Cyber Monday.
Rakuten is offering 15% cashback at 700-plus online retailers for the crazy holiday shopping spree. Better yet, you can instead choose to earn 15x American Express points per dollar on these purchases instead.
Plenty of travel-related websites will make the cut for bonus earning, including: Expedia, Booking.com, IHG, Orbitz, Travelocity, Hertz, Samsonite, TUMI, and more.
Bottom Line
These are some of the best deals available for Black Friday and Cyber Monday – and more are sure to come. Stay tuned for more!