In normal times, going to Europe in the middle of the summer isn't cheap. Paying $1,000 or even $1,500 for round-trip flights is the norm. But these aren't normal times.
Desperate for whatever cash they can get, airlines have been slashing fares to get to Europe in summer 2021, when we all hope travel has resumed – and Americans hope they're allowed into Europe. And it's unprecedented: Thrifty Traveler Premium is finding $500 (or less!) fares to Europe in August and September of next year. Even nonstop flights to top European destinations and flights from smaller regional airports have been on sale for 80% off normal prices.
The nation's largest airlines are in an all-out fare war. Best of all, these flights can be changed or canceled fee-free down the road if you're not ready to travel to Europe in summer 2021. This flexibility makes it one of the cheapest (and best) – times to book a trip to Europe … ever.
So, what does this mean for you? If you had a Europe trip canceled in 2020 or have always had it on your bucket list, there may never be a better time to snag a cheap summer flight. Read on to see just how cheap we're talking.
The Flight Deals We're Finding
It all started with this deal last week. Eastern Europe is typically very expensive to get to – especially in peak summer. But when we saw roundtrip fares to Europe under $500 for summer 2021, we knew something was up. But this was just the start.
That same day, prices to nearly every corner of Europe were dropping by the hundreds of dollars. We alerted Thrifty Traveler Premium members of roundtrip flights to Dublin (DUB) had dropped to just $489 for summer 2021. And flights to London dropped as low as $464.

American Airlines responded with a full-out fare war on flight prices to Europe and dropped prices from every U.S. city to nearly every major European destination for August 2021. Here's a screenshot of the flight deal alert we sent to Thrifty Traveler Premium members that day: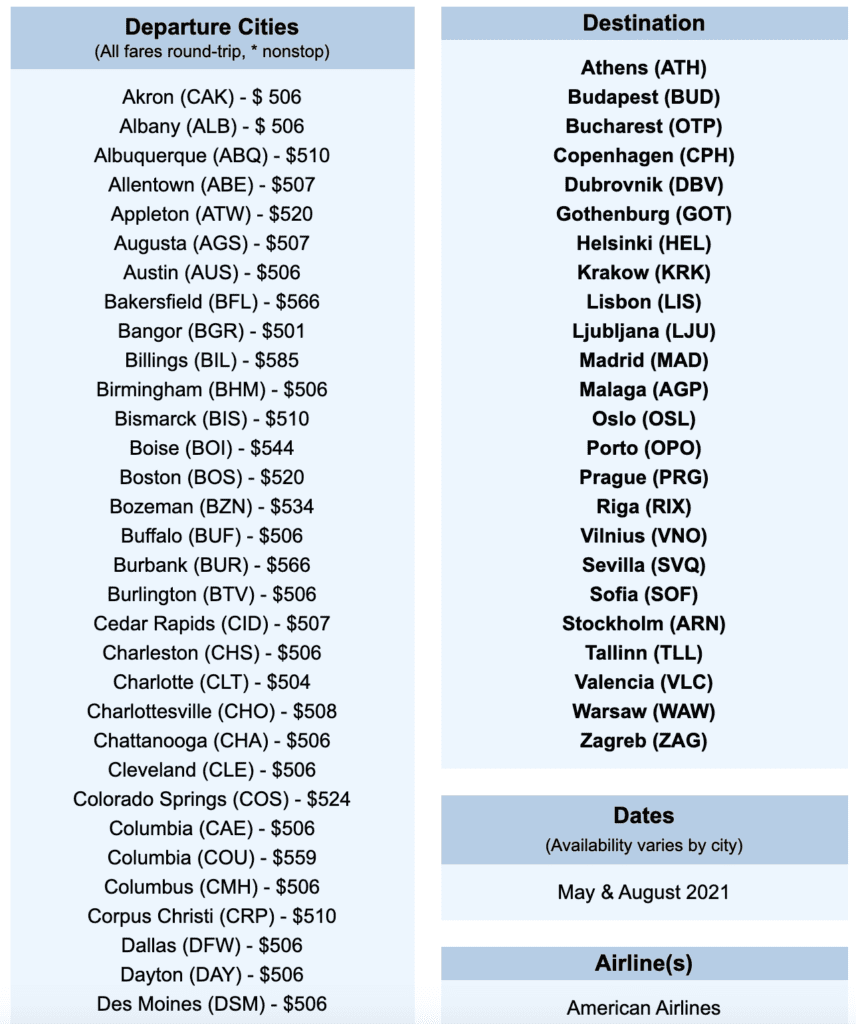 … And More Deals
Yes, the list goes on, with $500 flights from even small regional airports. This is insanely rare pricing into expensive-to-reach European destinations like Croatia and Greece in the Meditteranean and Sweden and Norway in Scandinavia. And in the middle of summer?
Almost every single U.S. airport got some love from the flight deal gods. For example, a typical roundtrip flight from North Dakota to Greece in August would cost well over $1,500. In this slew of mindblowing deals, we found them for just over 
$500 round-trip.
United also hopped in on the action, and the airlines battled it out for the cheapest nonstop flights to Europe next summer. The result? Some of the cheapest nonstop summer fares to Europe we have ever seen.
Many of these deals have since disappeared, but here's a shot of the flight deal alert we sent to Thrifty Traveler Premium members last week when these deals dropped:

We're talking cheap flights to Edinburgh (EDI), Budapest (BUD), Dubrovnik (DBV), Prague (PRG), Venice (VCE), Vienna (VIE), and more.

The fare war raged on with $500 flights to Germany, Belgium, and more. At the end of last week, we'd thought we'd seen it all. How could prices possibly go lower?
They did. This past week, we found yet another price drop on summer 2021 flights to Europe. This time, flights to all of France, Italy, and Spain were included. Here's a glimpse of how massive this deal was when it was still bookable.
Flights to Europe hardly come close to $500 roundtrip even in the dead of winter – let alone peak summer!
To give you an idea of just how much these flight deals could save you, take this example: Minneapolis-St. Paul (MSP) to Barcelona (BCN) in August for $506 roundtrip, with just one short stop each way.

\
We're a Google Flights household here. Google Flights is the best tool to search and book cheap flights. Here's what Google Flights analytics told us about this deal:

Savings of $839 on summer flights to Europe. You can't beat that.
Our Analysis
It's hard to put into words just how insane these prices are, but we'll try:
Rare peak summer availability, when prices are usually $1,300+ or much more.
Easy routes, most with just one short stop each way.
Available nationwide from every U.S. airport, including small regional cities.
Flights into nearly every European city – including rare availability to hard-to-reach cities in Italy, Croatia, Greece, Scandinavia, and more.
Flying U.S. airlines that allow you to cancel or change your flight fee-free down the road if things change when August 2021 rolls around.
Many of these deals are long gone, but some are still available for August 2021. If you want in on the next deal, you need to get instant alerts when fare wars and price drops like these happen.
Airlines are clearly hungry for money. They're laser-focused on selling tickets for trips that travelers want to take – and trips that they're confident can actually happen. That's the only explanation for these unprecedented sales on flights to Europe next summer.
And the best part is that travelers can book these risk-free, as all the major U.S. airlines allow you to cancel any ticket booked before the end of the year for a voucher, or change it for free.
But for now? We'll take advantage of these flights for $800 off regular summer pricing, thank you very much. We could all use something to look forward to in 2021.
Bottom Line
There's no question that coronavirus has changed travel in ways we never expected. And while many of those changes haven't been so positive, cheap flights are one good thing to come from all this.
In the last week, we've seen some of the cheapest peak summer flights to Europe that we've ever seen, period. And that's saying a lot: We spend all day, every day searching for deals.
One thing's for sure: if you're looking to get to Europe next summer, there's never been a cheaper time to book. And if you're on the edge of your seat wondering what the next massive fare war will bring, join us on Thrifty Traveler Premium for instant alerts when they drop.