Spirit Airlines is best known for its knee-crushing legroom, but it doesn't have to be that way.
Spirit sells big seats at the front of the plane that are aptly named the "Big Front Seats." While not quite a "first class" experience, it can be worth it for some travelers who can stand the thought of cramming into 28 inches of seat pitch.
Read on for our review of the Spirit Big Front Seat.
Curious about what it's like in the normal seats? Read our review of flying Spirit Airlines!
How to Book
Upgrading to the Big Front Seat is simple. You just have to pay for it.
When booking a Spirit flight online, you'll get to the landing page where you can pay to select a seat. Selecting an economy seat will typically cost you anywhere from a few dollars to $50, depending on the flight. Exit rows are generally a tad more.
But Spirit offers this third option: The Big Front Seat.
The rate will vary wildly by route and availability, anywhere from $25 to $150 or more each way. It will almost always be more to pick a Big Front Seat rather than a standard economy seat.
For my flight from Minneapolis to Denver (MSP-DEN), upgrading to a Big Front Seat was only $34 each way. If you opt to pay for a seat anyway, it can often make sense to upgrade to the front.

I chose 2A so I wouldn't have to put everything overhead in row 1. With only two seats per row, this normally aisle-always gal opted for a window seat.
The Big Front Seat
With a Big Front Seat, I boarded in Zone 2 – as compared to Zone 3 with my other Spirit flight back in economy. This gave Big Front Seat flyers a bit more time to get settled in front and claim overhead bin space.
My first thought upon boarding and getting settled into a Big Front Seat for the first time? This is so comfortable. These seats measure in with 36 inches of legroom and 20 inches wide, which is pretty comparable to major U.S. airlines first class seats on domestic flights. It's also a whopping 8 inches of extra legroom than you get back in Spirit economy.
The seat itself was well cushioned and comfortable – especially compared to Spirit's bare-bones economy seats.
I had plenty of legroom to stretch out, and could comfortably rest my elbows on both armrests. There are only two rows, for a total of 8 Big Front Seats on Spirit's Airbus A320.
Instead of having a tray table on the seat in front, the Big Front Seat trays come out of the armrest. The middle armrest is large and wide enough for two to comfortably fit without rubbing elbows.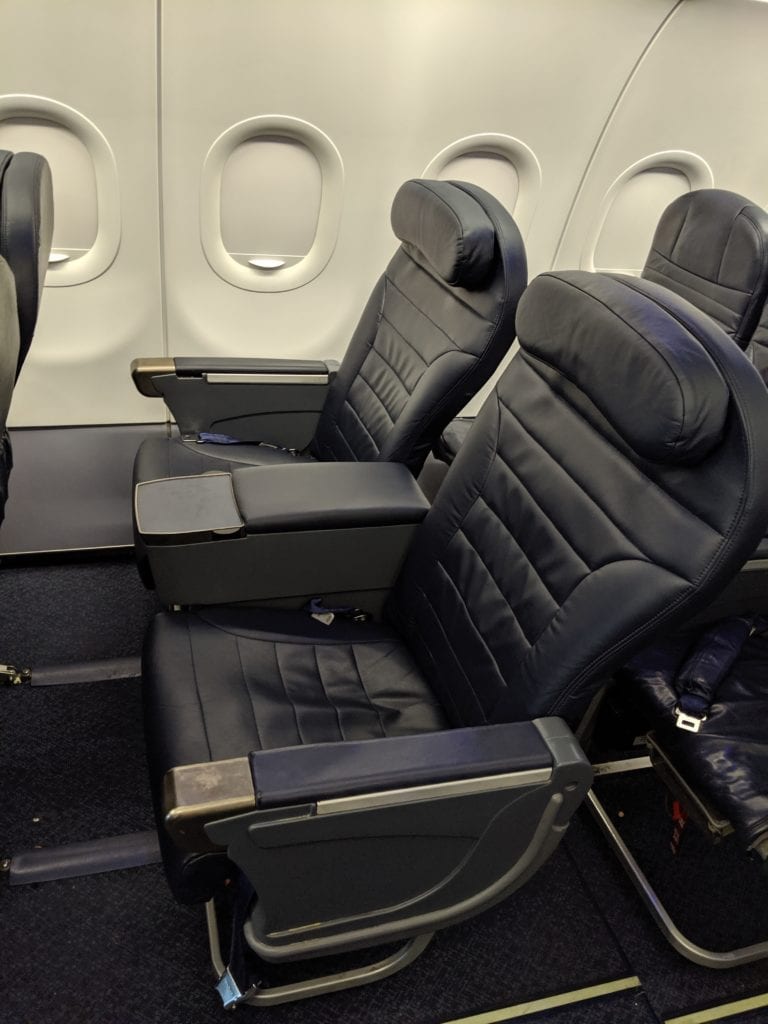 In-Flight Experience
While the Big Front Seat is clearly larger and more comfortable, that's about where the benefits end. Besides size, this seat isn't much different than the Economy seats on Spirit. Here's why:
There are no charging outlets in the seat
There is no in-flight entertainment or WiFi
The headrest doesn't bend on the sides to shape
There is no recline feature: seats are "pre-reclined"
Water, snacks, and any other service items are for purchase, even with the Big Front Seat. No water or beverages are included with this upgrade
As far as the flight itself, I had a quiet and comfortable flight, and attendants were kind and attentive. Read the full review of what it's like to fly Spirit for more details.
Our Analysis
The Big Front Seat is exactly what it says it is.
For a relatively cheap price, you can upgrade to a much larger seat, with more legroom and padding than in economy. But it's important to stress that this is all you get: no free drink (not even water), no charging, and no in-flight entertainment. In fact, the Big Front Seat isn't all that different than economy other than the size.
But all that extra room can be the difference between a very pleasant flight and a miserable one for some travelers. And at the price point you can often snag a Big Front Seat at, this level of comfort is hard to beat – especially for longer flights.
I'd definitely consider flying in a Big Front Seat again if the price is right.
Bottom Line

If a larger, more comfortable seat for a heap price is what you want, the Big Front Seat might be the key to surviving Spirit Airlines.
While it doesn't have any additional amenities or perks, it's a great way to treat yourself to a more comfortable Spirit flying experience without paying an arm and a leg. Instead, fit your arms and legs comfortably on a Spirit flight and give the Big Front Seat a try.
Want the best flight deals and travel tips delivered to your inbox?
Sign up for Thrifty Traveler, and like us on Facebook or follow us on Twitter & Instagram

Editorial Note: Any opinions, analyses, reviews, or recommendations expressed in this article are those of the author's alone, and have not been reviewed, approved, or otherwise endorsed by any card issuer.