More than four years since first vowing it would make inflight Wi-Fi free for all, it's starting to feel like Delta is ready to deliver on that promise soon.
The Atlanta-based airline has been pushing hard, progressively expanding tests to more and more passengers to ensure speeds don't crater. First, there was testing on a few domestic flights followed by giving free Wi-Fi to loyal flyers with Delta Medallion Status. Today, Delta is testing it out with even more flyers: On select flights, anyone with a free Delta SkyMiles account can get online without paying a dime.
After taking Delta's free Wi-Fi for a spin for the first time this week, I can render a verdict: It's working great. On flights where it's available, it's easy to log in and get online. And most importantly: The speeds didn't suffer – even when free, there was no problem downloading or uploading photos and even streaming video on YouTube.
So will 2023 be the year Delta finally launches free Wi-Fi? The airline isn't saying much – a spokesperson declined to give an update for this story. But here's a look at what you can expect if Wi-Fi is free on your next Delta flight.
Testing Free Delta Wi-Fi at 36,000 Feet
I missed the boat on free Delta Wi-Fi plenty earlier this year.
Even as Delta has expanded its free Wi-Fi pilot more and more, it's still not available on every flight. It depends, among other things, on what kind of Delta jet you're on – more on that later.
So I was thrilled to walk up to the gate before my flight to Denver (DEN) this week and see this notice on the display overhead. That was the first firm indication that Wi-Fi would be free onboard my flight.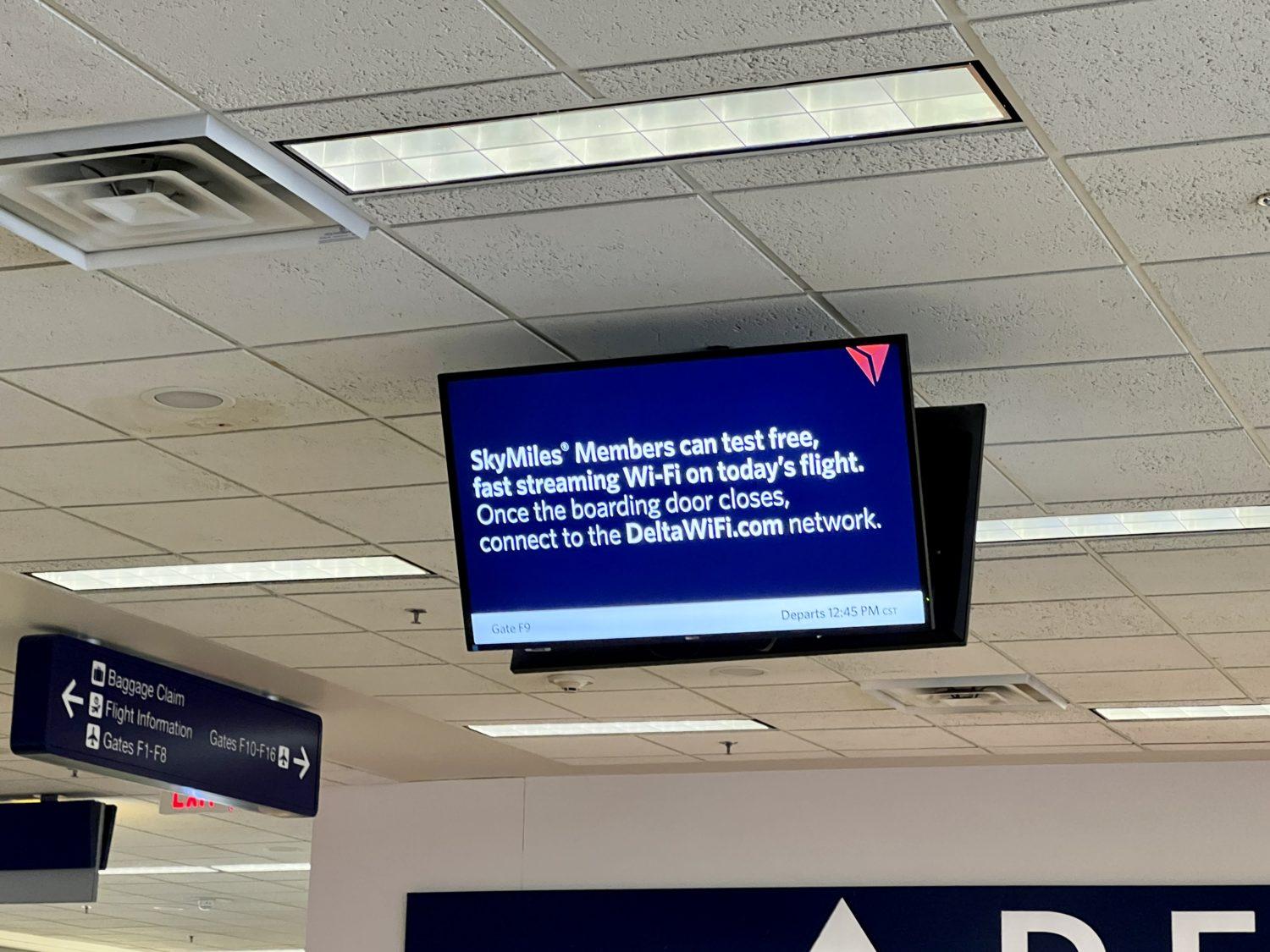 After settling in, taking off, and getting up to 10,000 feet or so, I pulled out my laptop and connected to the Delta Wi-Fi signal. I didn't hear the flight attendants make any announcements about Wi-Fi being free, but there it was: A prompt to get online for free by signing in with my SkyMiles account. Note that if you're not already a SkyMiles member, you can create an account from the sky and still get online free.

After logging into my account (keep in mind you'll need to know your Delta login information – or have it saved), it was done: I was online without whipping out a credit card.
And it was immediately clear that speed wasn't going to be a problem on this plane equipped with a new, faster service provider. Indeed, the whole point of Delta pivoting to Viasat inflight connectivity was to push towards the goal of making it free. Here's a look at my speed test mid-flight from Speedtest.net.

That's pretty darn fast for being in a metal tube 30,000-plus feet in the air – it doesn't get much better than that.
Those speeds meant downloading photos took just a few seconds. I was even able to stream some videos on YouTube no problem, with just a bit of buffering beforehand. And while uploading photos is typically a challenge in the air with limited upload speeds, it was no problem here.
Within a matter of seconds, I was able to upload some photos and screenshots and post to Twitter. How meta!

Here's one big surprise: There was no one-device limit for using free Wi-Fi. I was able to log into my SkyMiles account on both my laptop and cell phone and use free Wi-Fi simultaneously on both. While there's no ruling out Delta imposing limits at some point, that could be especially helpful for families who want to get their SkyMiles-less children online during the flight.
This is still internet on a plane hurtling through the sky: There are bound to be a few hiccups. The speed suffered a bit in patches throughout the flight and cut out for 10 to 15 minutes shortly before landing. But that happens whether Wi-Fi is free or you've paid dearly for it.
In the end, I was very impressed. I've paid $25 or more for Wi-Fi on other flights – including other Delta flights, for that matter – with far worse speeds than this one. And I didn't have to pay a cent.
If my experience is any indication of what's in store for the months ahead, Delta flyers are in for a treat.
Where You'll Find Free Delta Wi-Fi
While Delta has expanded these free Wi-Fi trials to more and more flights, you still won't find it available every time you fly – SkyMiles account or not.
For now, it hinges largely on what kind of plane you're on – and, more importantly what kind of Wi-Fi provider that plane has.
It's largely only available on Delta planes with upgraded, higher-speed internet access from Viasat. That should be getting easier, as the Atlanta-based airline previously vowed to outfit the vast majority of its domestic fleet with upgraded Viasat Wi-Fi by the end of this year.
That includes most of its Airbus A320s (from the tiny Airbus A319s to the brand new deliveries of A321neos), most Boeing 737s (especially the 737-900ER), and even some of Delta's Airbus A220-300s and Boeing 757-200s.

But even then, you might not find the option to get online for free on every plane equipped with Viasat. For example, my flight to Denver (DEN) on the Boeing 737-900ER had free Wi-Fi available to SkyMiles members. But while my flight home on an Airbus A321 was also equipped with Viasat, getting online still cost $5 – there was no free option.
And it's unclear if Delta will ever offer free Wi-Fi on Delta Connection, the flights on smaller, regional jets operated by airlines like SkyWest or Endeavor Air.
When Will Delta Officially Launch Free Wi-Fi for All?
Even as Delta has expanded these trials to , the airline has stayed quiet about its long-term plans.
Back in the summer, we broke the news that Delta was planning to officially launch complimentary Wi-Fi on domestic flights "soon," though Delta never set a firm date. By the end of 2024, Delta planned to expand free Wi-Fi to international routes, too.
"Bringing our vision for the future of travel to life requires putting our technology through rigorous tests, scrutinizing every detail to ensure customers are getting speed and reliability that exceeds their expectations," Glenn Latta, Delta's managing director for in-flight connectivity, said in a statement over the summer.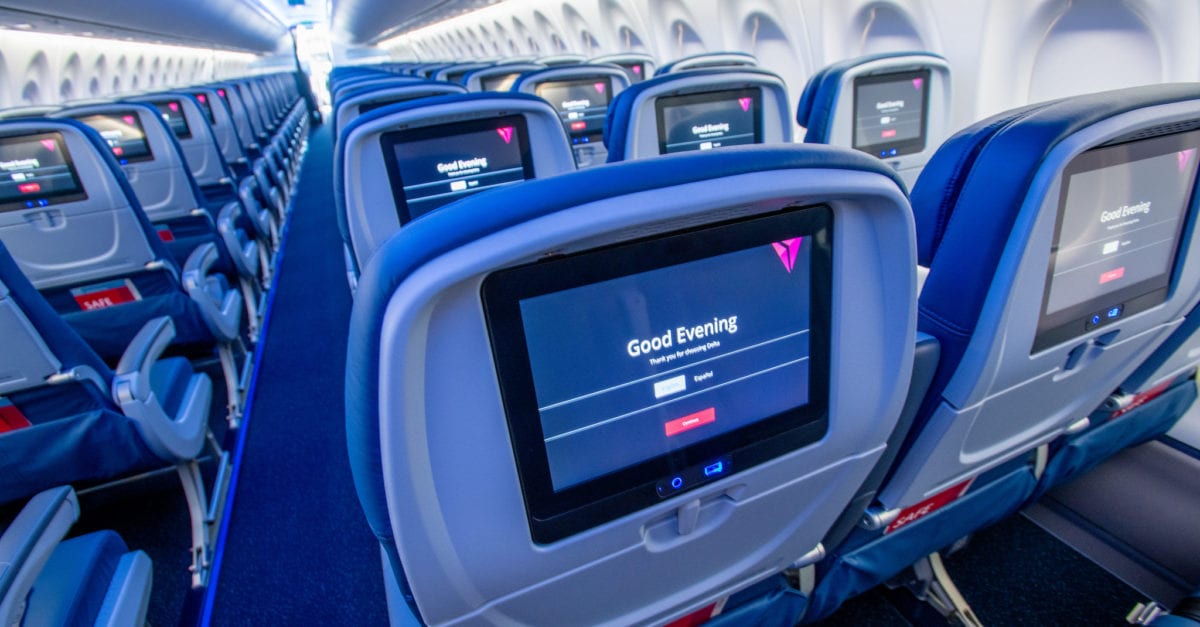 With each round of testing, Delta has opened the gates to free Wi-Fi to more and more travelers – all without sacrificing connectivity speeds, it seems. Allowing anyone with a free SkyMiles account to get online free and still being able to download, upload, and even stream video is an encouraging sign that Delta is getting close.
In fact, I wouldn't be surprised if that's the route Delta takes once they make it official. Giving SkyMiles members free Wi-Fi is a smart way to lure more travelers into Delta's ecosystem.
Delta would be the first of the four major U.S. airlines to offer free Wi-Fi to all flyers – but not the first airline, period. That distinction goes to JetBlue, which has offered free gate-to-gate Wi-Fi for its passengers for many years.
But for now, we'll probably have to wait and see what Delta says in the New Year. I know I'll be watching CEO Ed Bastian's keynote speech at CES, the massive consumer electronics trade show in Las Vegas, early next month…
Bottom Line
Is Delta's longstanding goal of making Wi-Fi free for all flyers ready to become a reality? It was only one flight, but my experience this week sure made it seem like it.
By just logging into my SkyMiles account, I was able to get online and go about my day almost as if I was back in the office, downloading, uploading, and even streaming video as normal … without paying a dime. That's impressive.