From the best flight deals to money-saving tricks and tips to make you a savvier traveler, we've devoted all our stories this week to making you a better travelers. But to cap off Summer Travel Week, we're turning inward.
We're a travel site, after all, and this is why we do what we do: We love it, and we want to share it with you. So every member of our team is spilling the beans on where we're heading off this summer – and how we each booked it to save some serious dough.
As you'll see, our team is covering a lot of ground this year. Some of us are sticking closer to home to enjoy every second of warm summer weather … while others are flying in serious style to check out five different countries on different corners of the globe.
Jared: Flying to Tokyo on a Unicorn Fare
Booking ANA first class from the U.S. to Tokyo for just 55,000 miles each way was one of the best deals in the world of points and miles. It's also one of the hardest to actually book, thanks to virtually nonexistent award availability to use points – especially for more than one seat.
But that's just what I'll be doing this summer with a group of friends. And it all started with one of our own Thrifty Traveler Premium+ award alerts.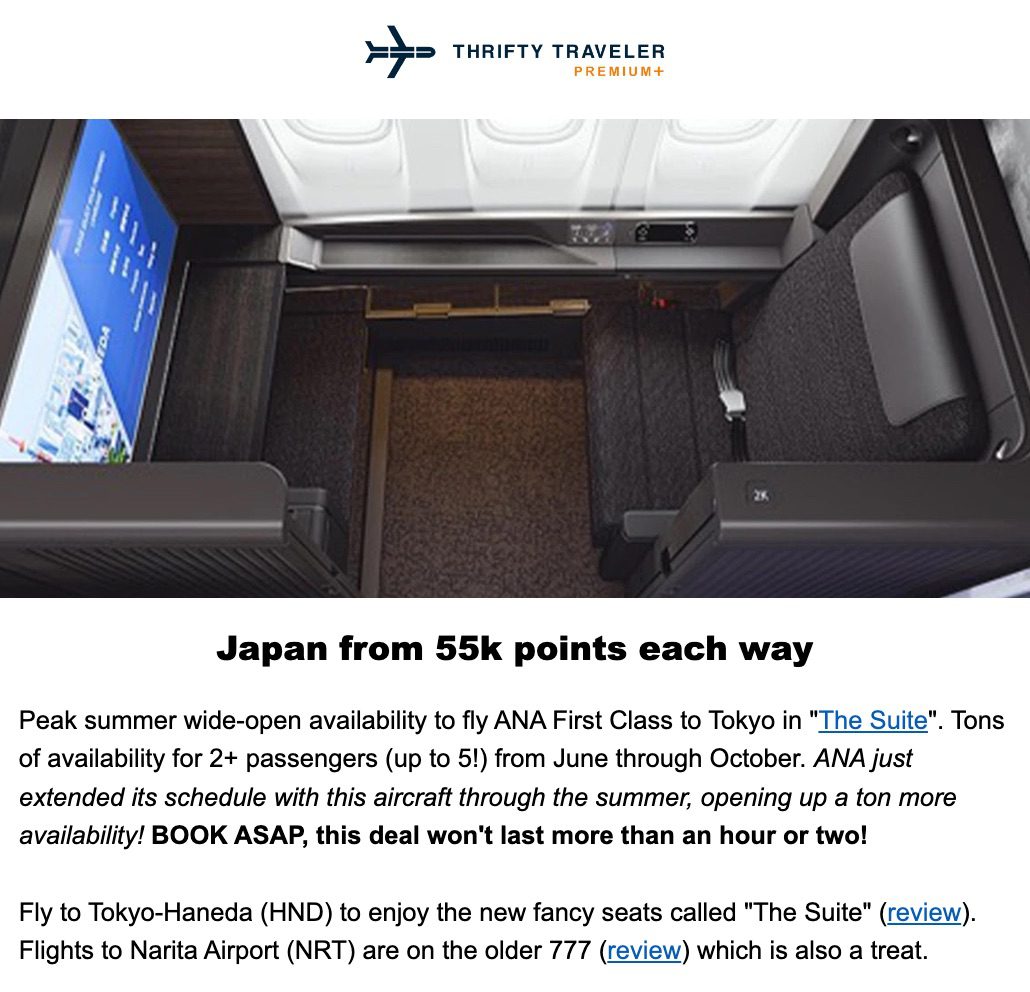 Get Thrifty Traveler Premium+ to receive award alerts to fly business and first class with your points and miles!
We sent this unicorn award alert earlier this year, helping travelers make their way over to Japan after its reopening last fall in some serious style. But we're not above getting high off our own supply here at Thrifty Traveler…
So I booked it, too, transferring 110,000 American Express Membership Rewards points to Virgin Atlantic to book roundtrip flights from San Francisco (SFO) to Tokyo-Haneda. Spending 20-plus hours in one of the world's best first class seats with friends should be amazing. Best of all, this route is running with ANA's latest and greatest first class seats dubbed "The Suite."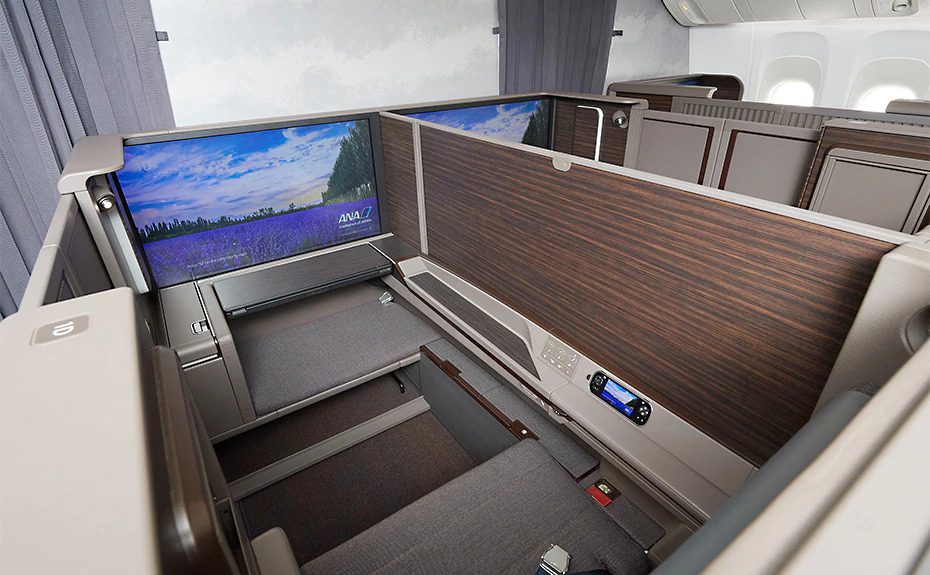 We all knew this deal was too good to last … and we were right. Last month, Virgin Atlantic abruptly raised award rates for booking ANA first class by nearly 30% or more.
Lucky for me (and our Thrifty Traveler Premium+ members), we got things locked in before that increase took place.
Erica: Using SkyMiles for a Trip to Maine
Jared might be going to Tokyo, but we also took advantage of another Thrifty Traveler Premium deal for a trip together this summer.
We've always wanted to visit Maine, so a $267 roundtrip fare with Delta in the middle of summer was too good to pass up. And since lower fares typically mean lower SkyMiles rates, we decided to take a cheap flight and make it (nearly) free instead.
In the end, our flights cost just 18,000 SkyMiles and $11.20 in taxes and fees apiece. Because Delta is an Amex transfer partner, we transferred the points we needed from our American Express® Gold Card instantly to book.
We will stay at an Airbnb, using miles from the Capital One Venture X Rewards Credit Card to erase at least some of the cost – it's the only way to book an Airbnb using points, really. Now, if only we could use our miles to erase all the lobster rolls we'll be buying…
Beyond that, we won't be doing a ton of traveling outside of Minnesota this summer. It's just hard to leave when the weather is so nice here. We'll save our points and money to travel more during the shoulder seasons of fall and spring.
Nick: A Golf Trip Close to Home
Like Erica said, summertime is the best time to stay close to home – and that's exactly what I intend to do this year. But as an avid golfer, I'm also always looking for ways to combine two of my passions: golf and travel.
So I'll be heading a few hours north of Minneapolis to Biwabik, Minn., for a long weekend of golf at Giant's Ridge. The two courses on the property, The Legend and The Quarry, consistently crack Golf Digest's list of the top 100 public courses in the country and they're right here, practically in my backyard.
But I haven't played either golf course, so I am very much looking forward to it.
I'll be driving, not flying, those two short hours, so I don't have any stellar deals to share on transportation. But I plan to use the $300 annual travel credit from my Capital One Venture X Rewards Credit Card to cover at least a portion of my hotel stay up in the Biwabik area.
Kyle: Back to Bali
Five years ago this summer, my wife and I tied the knot and headed off the next day for two weeks of honeymoon bliss in Bali. This summer, we're heading back to celebrate five years of marriage.
To get there, we'll be hopping on one of the best ways to get to Southeast Asia by flying EVA Air business class – not on the airline's (in)famous Hello Kitty flights this time. I'm not sure whether that's a good or a bad thing…
We booked these flights for 78,000 Avianca LifeMiles apiece, flying from Chicago-O'Hare (ORD) to Taipei (TPE) and onward down to Bali (DPS). A transfer bonus from Amex to LifeMiles at the time meant we needed even fewer miles to make it happen. Japan Airlines business class will get us home for a bargain: Just 70,000 AAdvantage miles each.
We're thrilled to explore some new corners of the island this time around, like spending a few days staying along cliffs of Uluwatu as well as taking a day trip out to the nearby island of Nusa Penida. But we can't help but revisit some of our favorite spots, from simple beachside restaurants (called warungs) to the 10-plus-course dessert tasting menu at Room4Dessert, now practically famous thanks to Chef's Table on Netflix.
Oh, and we'll obviously be spending a few nights at our favorite hotel on the planet: Komaneka at Keramas Beach. This boutique resort on Bali's fairly sleepy eastern coast is a good reminder that no matter how nice it can be to cover hotel nights with points, you can find something truly special by going outside the box.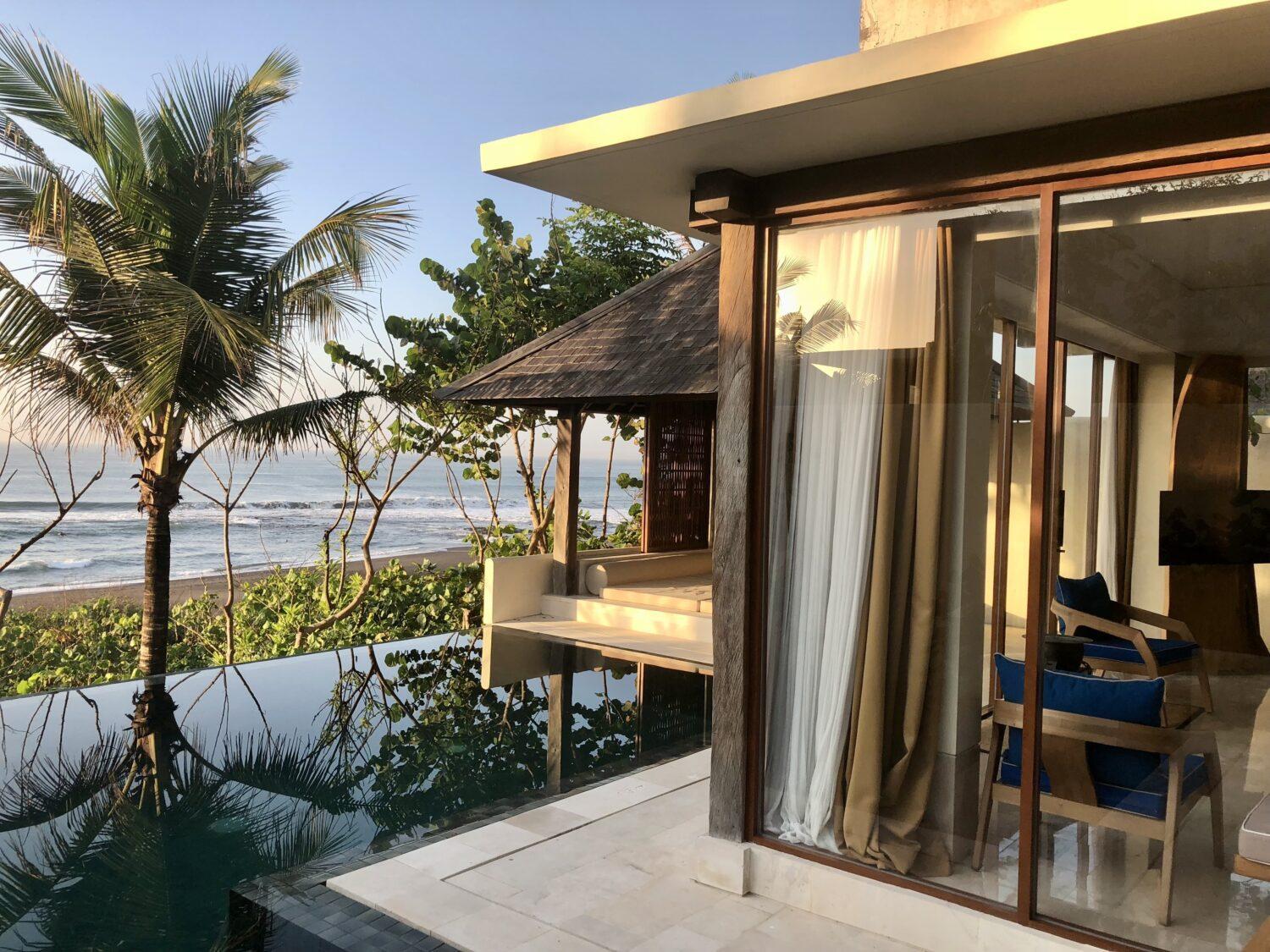 Read our full guide to exploring Bali in Indonesia!
Jon: First Trip to The Big Apple
Somehow, I made it this long without visiting New York City. This is the summer I'm finally changing that.
I've really always wanted to go to New York City, so I planned this trip as a quick solo adventure over a long weekend in late August. It's a great way to travel, and with a steady supply of cheap flights and a handful of airports to choose from, New York is the perfect destination for a weekend summer trip.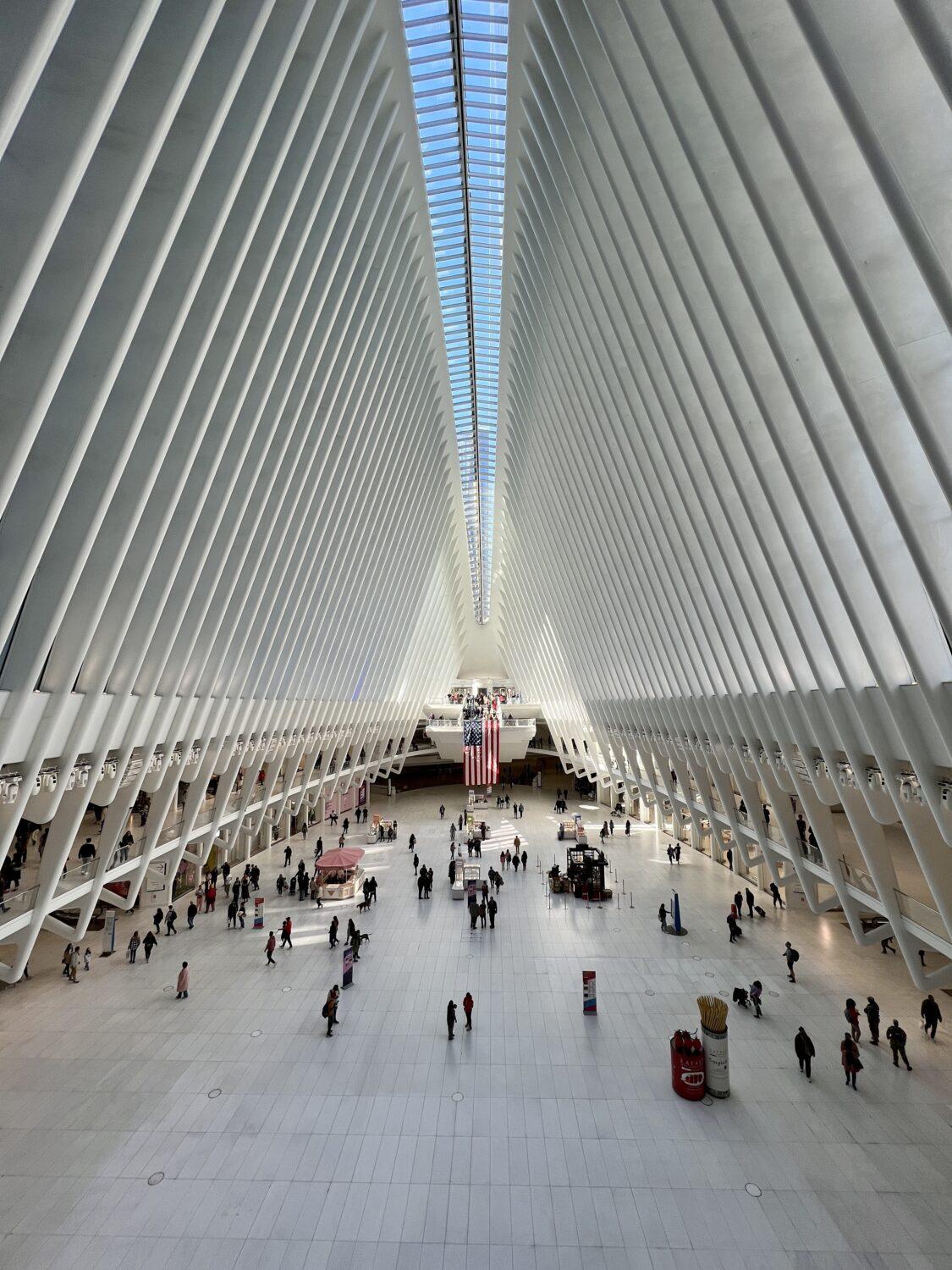 I wound up booking my flight to New York with just 6,000 American AAdvantage miles, flying from Minneapolis-St. Paul (MSP) to New York City-LaGuardia (LGA) on a Saturday. I plan to roam the city, falling into all the classic tourist traps before catching a Mets game on day two. On Monday, I'll be attending the opening round of the U.S. Open, soaking in the festivities while watching one of the biggest tennis tournaments in the world.
My journey ends on a Tuesday, when I'll be flying Delta home from LaGuardia back to Minneapolis for just 6,000 SkyMiles. There should be plenty of time to hop into the new Delta Sky Club in LaGuardia before heading home.
I'm curious to see how I'll like NYC. I think spending a long weekend there in the summer – with some fun events mixed in – will be a great way to see the big city for the first time.
Gunnar: Up the Coast of Croatia
This summer, I'm checking a bucket list country off the list with a trip up the coast of Croatia in August. The best part: My wife and I booked all of the flights with points and miles to save cash.
Our journey to Croatia will be on Air France in economy, which we booked with Virgin Atlantic points for 25,000 points each (transferred from American Express) for the one-way journey. We'll be flying from Detroit (DTW) through Paris-Charles de Gaulle (CDG) and then onto Dubrovnik (DBV). To get to Detroit, we booked a one-way Delta flight using some leftover SkyMiles for 14,800 miles each … so we'll be closely monitoring in case the price drops, in which case we can easily rebook them and get some miles back.
Our journey through Croatia will be filled with short-hop flights on Croatian Airlines and even a few ferry rides to get us from port-to-port as well. For our lodging, we're staying at some beautiful Airbnbs that were made cheaper by the fact that we're traveling with six other people!
On the way home from Croatia where, we'll be having a little more fun. At the recommendation of my colleagues, my wife and I will be flying SWISS Business Class home. We transferred Capital One Venture Miles over to Avianca LifeMiles, booking for 63,000 miles apiece from Zagreb (ZAG) all the way back to Chicago-O'Hare (ORD). Our connecting flight back also cost us 14,800 Delta SkyMiles each, and we'll be watching those like hawks, too.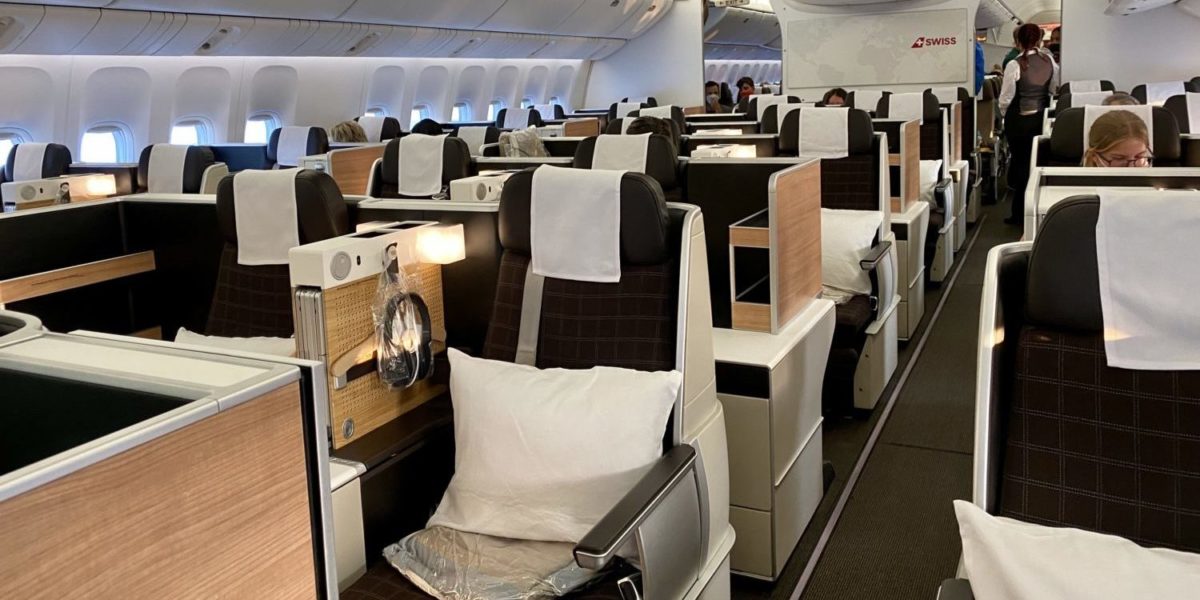 It's a dreamy summer trip that we would never be able to afford without using points and miles. We can't wait!
Peter: Heading Up to Banff
I'm traveling with a group of friends to Banff National Park in Canada this June.
Since I value flexibility to change travel plans, I turned to my stash of Delta SkyMiles to book this trip. WestJet is the only airline offering nonstop flights to Calgary (YYC) from my home airport of San Diego (SAN). And since WestJet is a Delta partner, I booked WestJet flights for just 12,500 Delta SkyMiles each way.
We've seen a slew of cheap cash fares flying up to Calgary (and the rest of Canada, for that matter) lately, but for my dates it was over $450 roundtrip … for a stingy basic economy fare, no less. So booking with SkyMiles for a summer trip was an incredible deal: I could book with peace of mind that I could change or cancel my ticket and get my SkyMiles (and taxes and fees, too) refunded at any time.
But I've got no plans to scrap this trip.
I'm looking forward to hiking some trails in the Canadian Rockies and checking out all the picturesque lakes, like Lake Louise and Moraine Lake. We also booked a fun day trip to go whitewater rafting. While I have driven through Banff in the past, I'm super excited to finally spend a few days exploring one of the greatest outdoor destinations in North America.
Allie: My First Trip to Europe
I write for a travel website and I've never been to Europe. Yes, I know. But I promise, that's finally changing this summer.
I'm doing it right, jetting off to Iceland with some friends over the Fourth of July to take in some stunning scenery, enjoy some thermal baths, and bask in nearly 24 hours of daylight.
Flights to Europe in the middle of summer are typically pricey, and this year is no different. Roundtrip fares of $1,200 or more aren't uncommon, so I saved cash by using points to fly Delta instead. But not using Delta SkyMiles…
Booking Delta flights using Virgin Atlantic points is one of our team's favorite workarounds, and it worked great for me in this case. After checking with Virgin Atlantic's new Reward Seat Checker tool to ensure the flight I wanted was bookable with points, I transferred miles to my Virgin Atlantic account from Capital One.
Virgin Atlantic charges 30,000 for these nonstop one-way flights to Europe – but thanks to a 30% transfer bonus from Capital One at the time, it only cost me 23,100 Venture Miles to book my flight. A cheap one-way fare with Icelandair will get me home.
As for the rest of the summer, I'm mostly sticking around Minnesota until the end of August, when I'll be heading to Oregon to run Hood to Coast, a 196-mile relay race from Mt. Hood to the Pacific Ocean. While I haven't booked my flights to Portland yet, I did set up a Google Flights Price Alert to let me know when fares drop.
Jackson: A Quick Trip to Porto
This summer my wife and I are traveling to Porto for a long weekend. Hopefully the pasteis de nata – the quintessential and delicious Portuguese pastry – are as easy to find in Porto as they were during a previous trip to Lisbon.
To get over to Europe, we took advantage of one of the cheapest ways to fly business class using points: Iberia business class, flying from Chicago-O'Hare (ORD) to Madrid (MAD). One-way flights go as low as 34,000 miles, though Iberia's peak pricing over the busy summer pushed our flights up to 50,000 Avios and about $129 in taxes and fees apiece. That's still a massive bargain.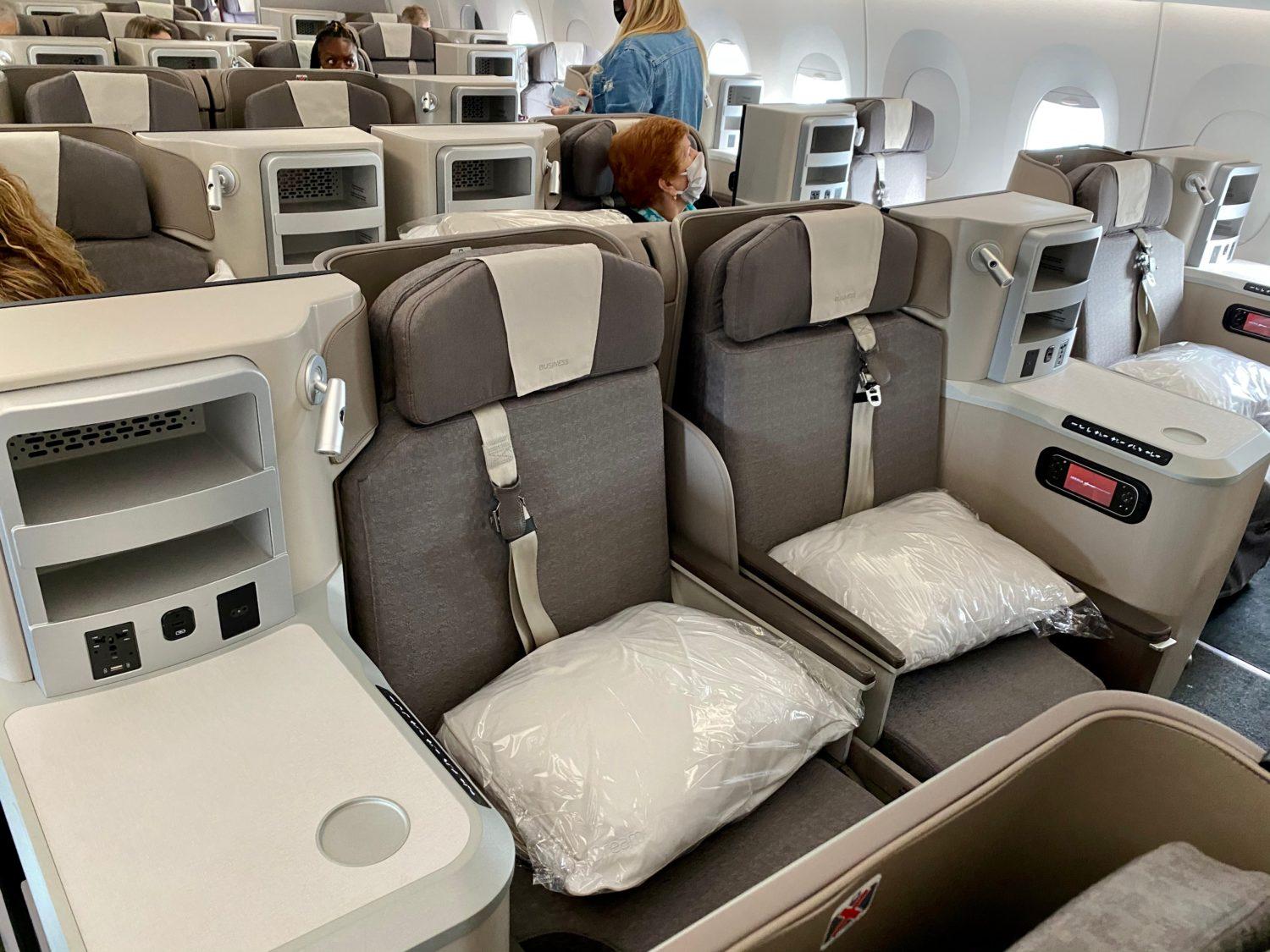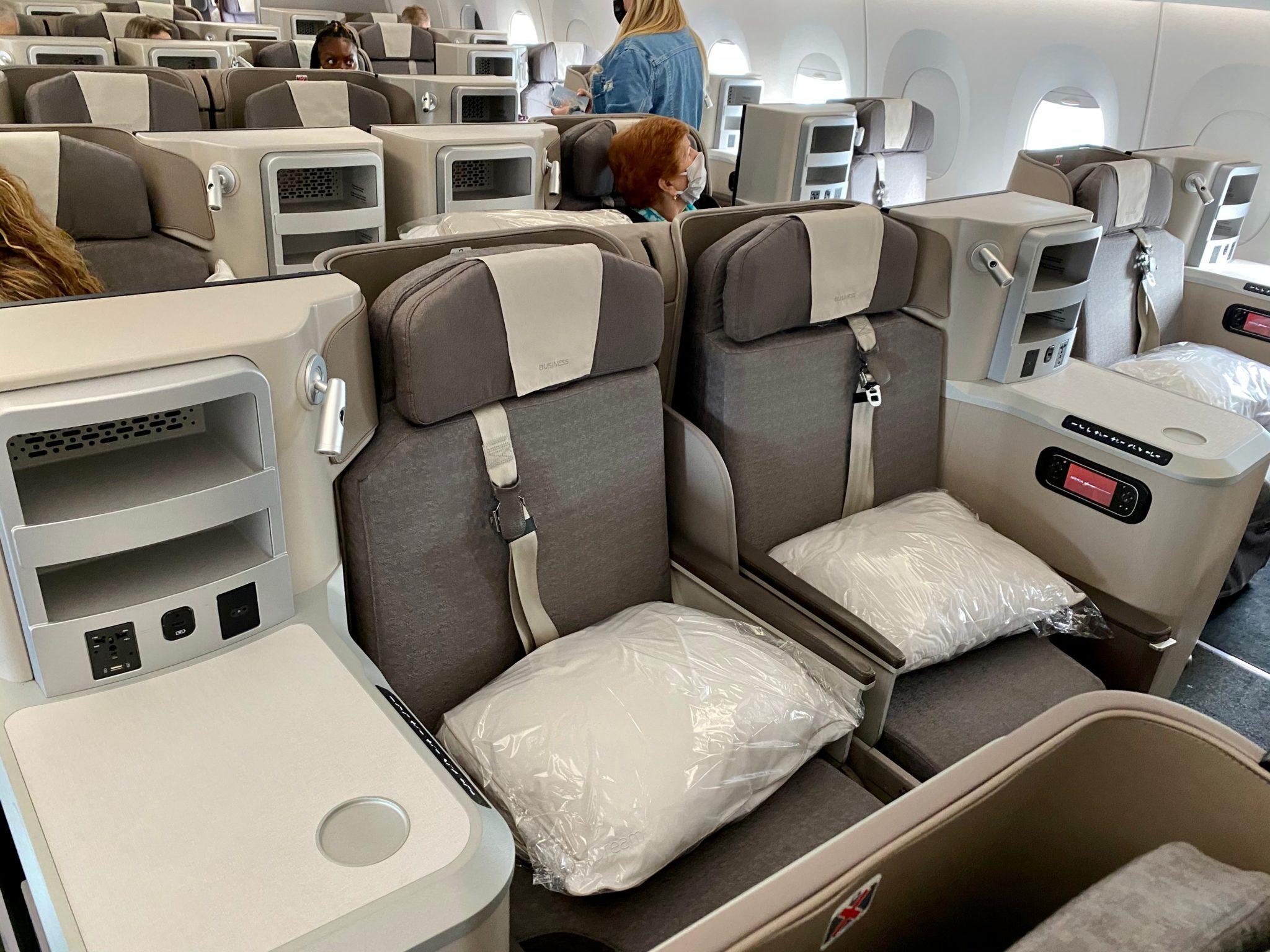 Lie-flat business class seats are always great, but it's even more important for us to get a good night's sleep in order to hit the ground running and make the most of our fairly short trip. Once we get to Madrid, we'll fly over to Porto on a cheap Air Europa flight.
From Hilton to Hyatt and IHG as well as Marriott, all the major hotel chains have properties in Porto we could have booked using points. But for this trip, we opted to save points and pay cash instead for our stay at the new Renaissance Porto Lapa Hotel. Portugal is one of the most affordable countries in all of Western Europe, and that includes hotel rates.
Traveling to Europe during peak summer is rarely a thrifty move. But thanks to points and miles, we were able to take some of the sticker shock out of this year's summer vacation.