If you resolved to spend more time outdoors in 2023, there's no better place to go than one of our amazing U.S. National Parks. Want to get some fresh air at one of our country's most treasured sites? You're in luck.
Each and every year, national parks offer free entry on a handful of days each year. And the first free day of the year is coming up fast: Next Monday, Jan. 16 for Martin Luther King, Jr. Day.
Here are all of the 2023 dates on which you could get free entrance to America's national parks:
Monday, Jan. 16 – Martin Luther King, Jr. Day
Saturday, April 22 – The first day of National Park Week
Friday, Aug. 4 – Anniversary of the Great American Outdoors Act
Saturday, Sept. 23 – National Public Lands Day
Saturday, Nov. 11 – Veterans Day
Read more: How Busy Are National Parks? And How to Beat the Crowds!
The U.S. is packed with some incredible national parks that showcase the country's diverse beauty – and there's at least one park in every state. There's the Grand Canyon in Arizona, an unbeatable collection of parks like Zion and Canyonlands in Utah, the tranquility of Glacier National Park in Montana, Yosemite in California, and so much more.
In all, the U.S. has 63 national parks you can access for free these days, like Bryce Canyon in Utah.
Read More: How to Plan a National Parks Road Trip in Montana and Wyoming

Thrifty Tip: Did you know that fourth graders (and their families) can get into all national parks free for an entire year?
Entrance fees at national parks typically range from $20 to $35. But free entry on these days goes beyond those major national parks, as it also extends to all 400-plus sites that the National Park Service manages.
These fee-free days are worth capitalizing on if you're nearby or making a road trip to a national park. But if your plans don't line up with these free days and you're planning to hit several national parks this year, consider the year-long "America the Beautiful" national parks pass.
At $80 for the annual pass, you'll start saving money after visiting just three or more national parks.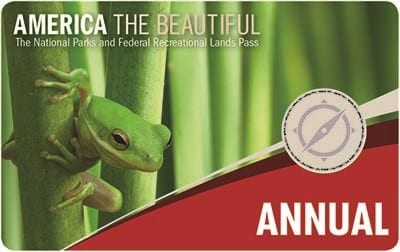 Bottom Line
Our national parks are special places. There's so much to see in our own backyards. If you've resolved to get outside more in 2023, take advantage of the opportunity to get into any national park for free on five days this year, including next Monday.