If you've attempted to rent a car for an upcoming trip within the last few months, you know the struggle. Rental car prices have exploded across much of the country – if you can find a car at all. Rental cars in popular destinations like Florida, Phoenix, and even Alaska that once cost $30 to $50 a day are regularly going for hundreds of dollars.
It's a major downside from the pandemic: Rental car companies sold off massive portions of their fleet as travel demand collapsed this time last year – and now, they just don't have enough cars on their lots to cope. That problem is creating major headaches for Americans hitting the road this summer and fall. Suddenly, renting a car has become the hardest part of travel planning.
But there's a little secret from a fan-favorite car rental agency that could be your golden ticket for securing an affordable rental car. It's National Car Rental's Executive Elite Status.
Behind National's Executive Elite Status
Executive Elite Status is National's highest level of status. It's the top of the top.
It's a step above even the automatic Executive status you get at National with the Platinum Card® from American Express – so just having that card in your wallet isn't enough to unlock these perks. Normally, you need a whopping 25 paid rentals or 85 rental days to reach Executive Elite status.
But plenty of travelers out there have easily gotten a free year of Executive Elite status through occasional promos for American Express cardholders. The most recent promo was back in January 2020 –  it's currently not open for new applicants, unfortunately. But anyone who took advantage last year should have Executive Elite Status with National through February 2022 thanks to a status extension from National.
And that's a big deal right now thanks to an undersung perk that's suddenly invaluable: National Executive Elite status gets you a guaranteed rental (up to a fullsize) so long as you reserve at least 24 hours in advance. So while agencies across the country are sold out, you are set with this status – and in our experience, the savings are sizable, too.


To check if you've still got Executive Elite status, simply log into your account at nationalcar.com and click your account name for details on your membership level.


As you can see, my Executive Elite status from 2020 has been extended through February 2022.
Using National Executive Elite Status
If you've got this rental car status, it's a big deal. Here's a look at what it's like in action.
While searching for a rental as a guest – or even with standard Executive status – it's a bloodbath. I searched for vehicles in Maui (OGG), Phoenix (PHX), Miami (MIA), and Anchorage (ANC), which is pictured below. As you can see, National indicates they have no vehicles available for the dates I searched in June into Anchorage.

But after logging into my National account with Executive Elite status, the results are an entirely different story. I'm guaranteed a car, so I see plenty of options – at reasonable rates for Alaska. And so long as I book a mid-size car or higher, I'll have access to the National Executive Aisle where I can pick any car I want.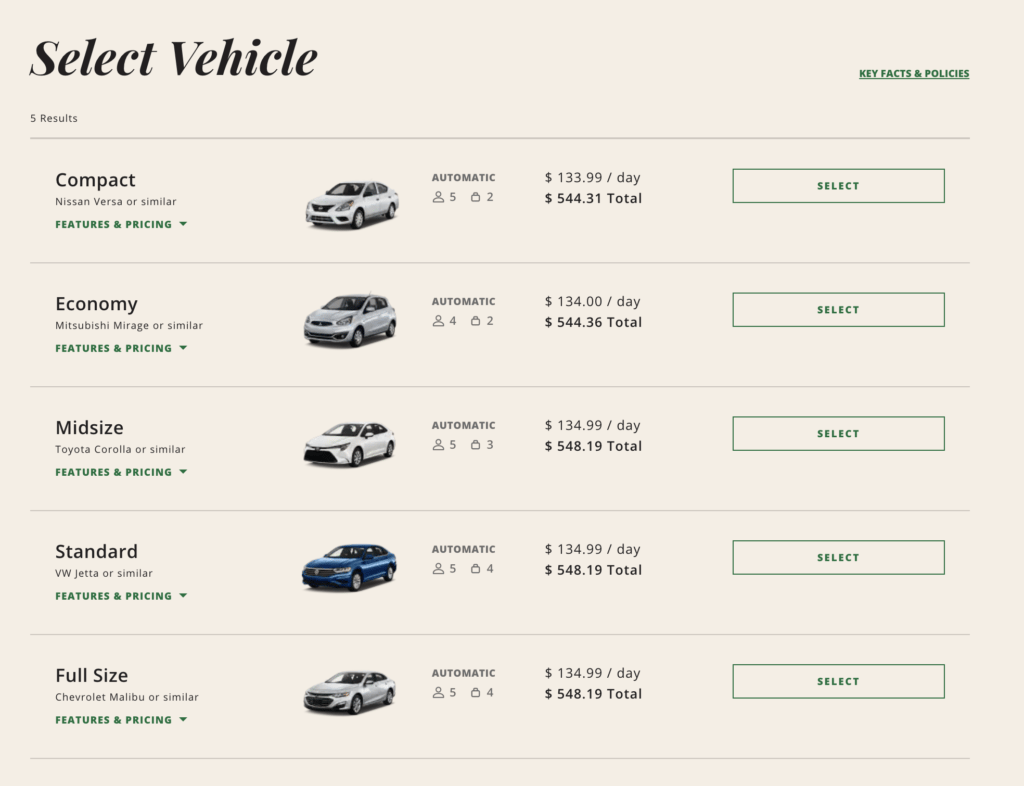 Here's another normal search for a car this coming weekend in Denver. No status? You're out of luck.


But with Executive Elite Status, there are still plenty of options. And while $117 a day and up is certainly steep for normal times, that's a fair price right now.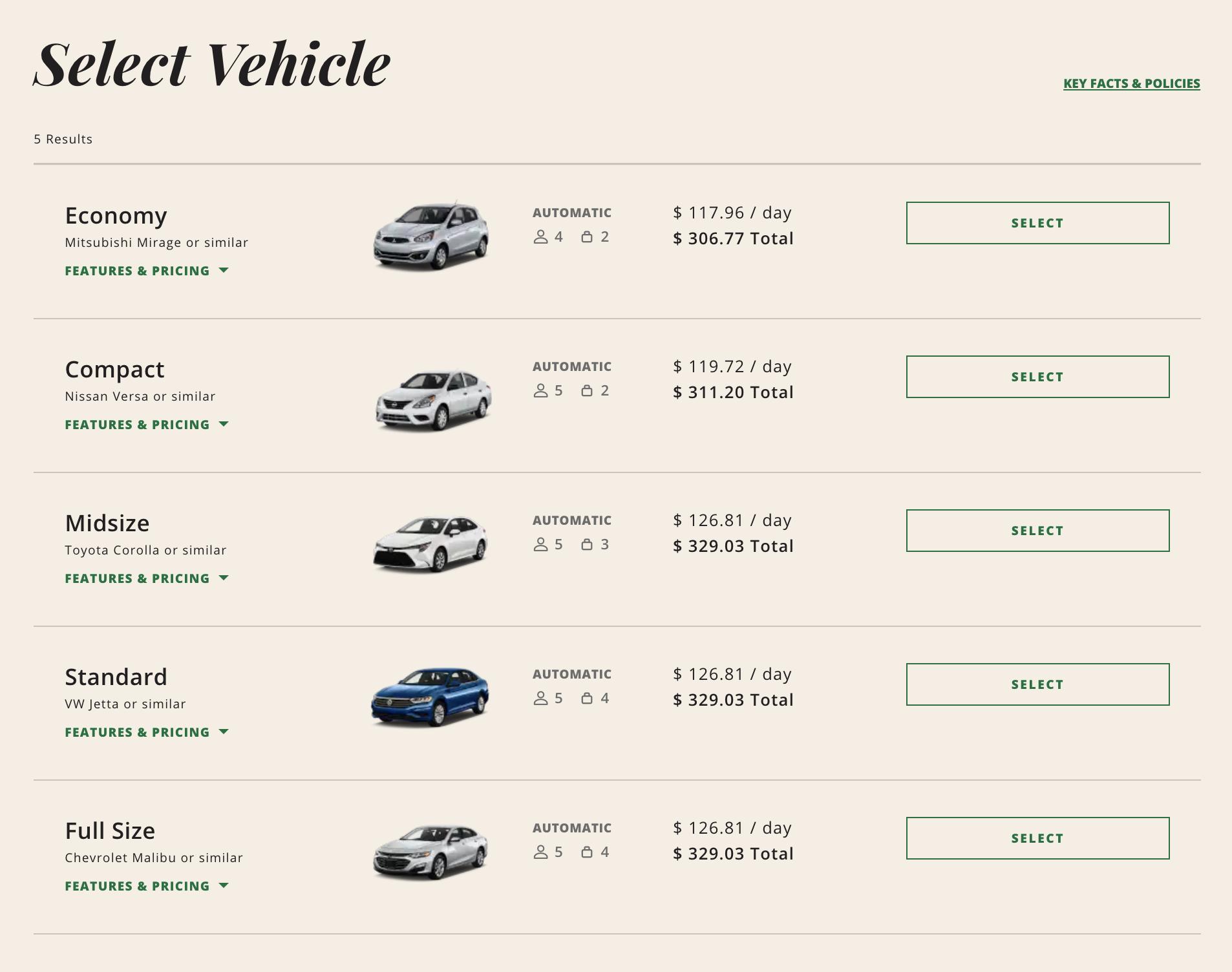 From Miami to Hawaii and everywhere in between, this same pattern plays out everywhere that rental cars are in short supply.

National Executive vs Executive Elite Status: What's the Difference?
Just for holding either The Platinum Card® from American Express or the Chase Sapphire Reserve, you'll get complimentary National Executive status with comes with lots of great perks.
You get access to the special Executive Section, where you can choose any full-size car or higher when paying a midsize car rate. That means that you can make a reservation for any-full size car and skip the National check-in desk entirely. Instead, head straight for the Emerald Aisle and take your pick.
But Executive Elite Status is a step above. So what's the difference?
National Executive Elite status includes all of the same benefits of Executive status – plus a few key differences. Most importantly, you will be guaranteed a vehicle (up to full size) with at least a 24-hour notice when you reserve a car at the Midsized rate in the U.S. and Canada. That's an incredible benefit if you often rent cars at the last minute – or for the current state of the rental car market.
And unlike Executive status, Executive Elite status can't be earned from the Chase Sapphire Reserve or the Platinum Card® from American Express. You have to make 25 paid rentals or 85 paid rental days in a calendar year to earn it. However, we've seen a handful of different promotions like the one mentioned above to easily earn National Executive Elite Status. While there isn't currently a promotion, keep your eyes peeled for future opportunities.
Read more: National Executive Status: Upgrade Your Car with the Right Credit Card
Bottom Line
If you took advantage of the promotion to earn complimentary National Executive Elite status last year, you may want to check your National account. That status has since been extended through February of 2022 and it's the key to making your next car rental easier.
Lead photo courtesy of Margalit Francus via Flickr