After more than two years of the pandemic and many months of pre-travel testing or vaccination requirements, Hawaii has finally dropped all entry requirements
First announced in early March, the change back to pre-pandemic entry policies officially took effect on Saturday, March 26 as Gov. David Ige allowed the Safe Travels Hawaii program to lapse. Hawaii's statewide mask mandate – the last remaining policy in the country – also ended on Saturday.
Here's a look at what Safe Travels Hawaii says now:

It marks a major turning point for pandemic travel policies, as Hawaii was the only U.S. state with entry requirements still in place. Hawaii closed down to tourists for months at the start of the pandemic before reopening with strict testing requirements in October 2020. As vaccinations rolled out, the state began allowing fully vaccinated travelers from the U.S. to bypass testing requirements in the summer of 2021.
Now, travelers from the mainland no longer need to register in advance nor provide proof of vaccination or a negative COVID-19 test taken within 72 hours of departure. Hawaiian officials and tourism agencies expect to see a bump in visitors but still urged caution.
"We've worked hard to protect our community. But the pandemic isn't over. You don't need an emergency proclamation to take precautions to keep yourself and your family healthy," the Democratic governor said on Twitter

Want to make your return to Hawaii for less? Check out our roundup of cheap flights to Hawaii we've sent to Thrifty Traveler Premium members – or the best ways to get to the islands using points and miles.
Despite the additional challenges to get in over the last 18 months, Hawaiian tourism has proven incredibly popular throughout the pandemic as Americans stayed closer to home. Data from Airlines for America shows that while tourism from Japan and other international countries remains low, domestic visits from the mainland to Hawaii hit a record-high in July 2021.
Hawaii News Now reports that the state screened more than 12 million arriving passengers since reopening in October 2020. But with international travelers waiting to return to Hawaii, arrival numbers were down by nearly 20% in February 2022 compared to 2020 figures.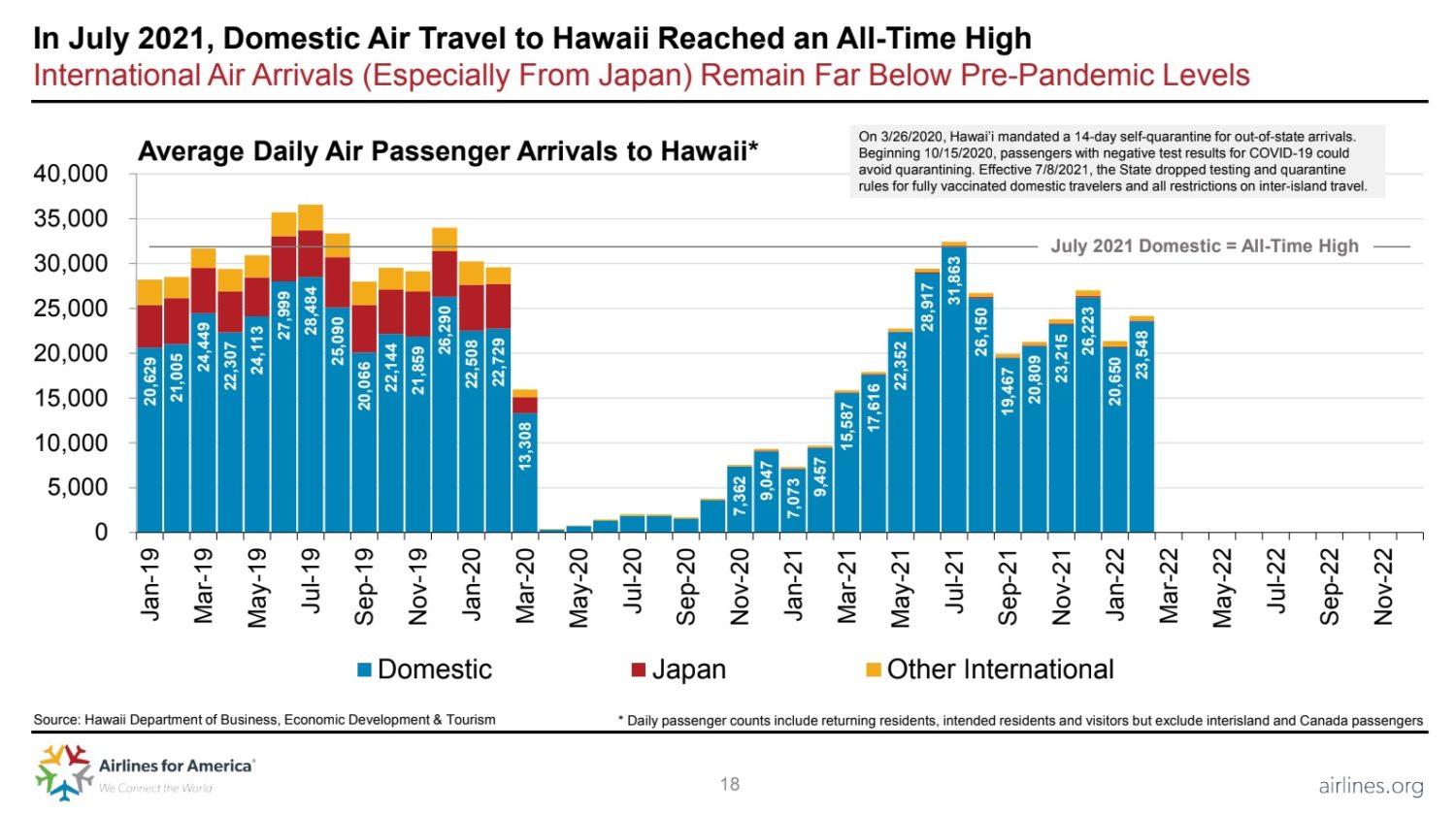 Travelers arriving from international airports are still required to provide proof of vaccination and a negative COVID-19 test taken no more than one calendar day before departure in order to visit Hawaii, along with the rest of the U.S.
The return to pre-pandemic policies was a swift reversal from Hawaiian official. Just weeks before announcing the end of all travel restrictions, Hawaiian officials were considering making booster shots mandatory for travelers heading for Hawaii before backing away from that plan as COVID-19 case counts began to fall. Across the globe, many countries have dropped testing requirements and loosened other travel restrictions as the pandemic enters a new phase.