Now more than ever, Google Flights is the best search engine to find cheap flights. And in our new normal of ever-changing travel restrictions and advisories, Google just added more ways to keep tabs on the rules and restrictions for your next trip.
On Wednesday, the web giant rolled out a brand new feature that quickly displays the current travel entry restrictions in place at your destination, whether it's a U.S. state or a foreign country. Best of all, you can get emailed alerts if those entry rules change. Think of it like Google Flights price alerts for travel restrictions.
Unfortunately, that new option won't pop up as you're searching for fares via Google Flights or even hotels via Google Hotels – it will only come up in a standard Google search. It's not perfect, but this is a powerful new tool that should simplify travelers' efforts to keep tabs on what they'll need when it comes time to travel again.
Here's a look at how it works.
Breaking Down
Head to Google now and search for part of your next trip. Maybe it's "flights to Mexico" or "hotels in Croatia" or "travel restrictions in Calgary."
Whether you search on desktop or on mobile, you should see a brand new result for these travel-related searches that quickly condenses the current travel restrictions in place at that destination. For example, here are the first few results when you search for "hotels in Croatia," which reopened to vaccinated travelers and those with a recent negative COVID-19 test last month.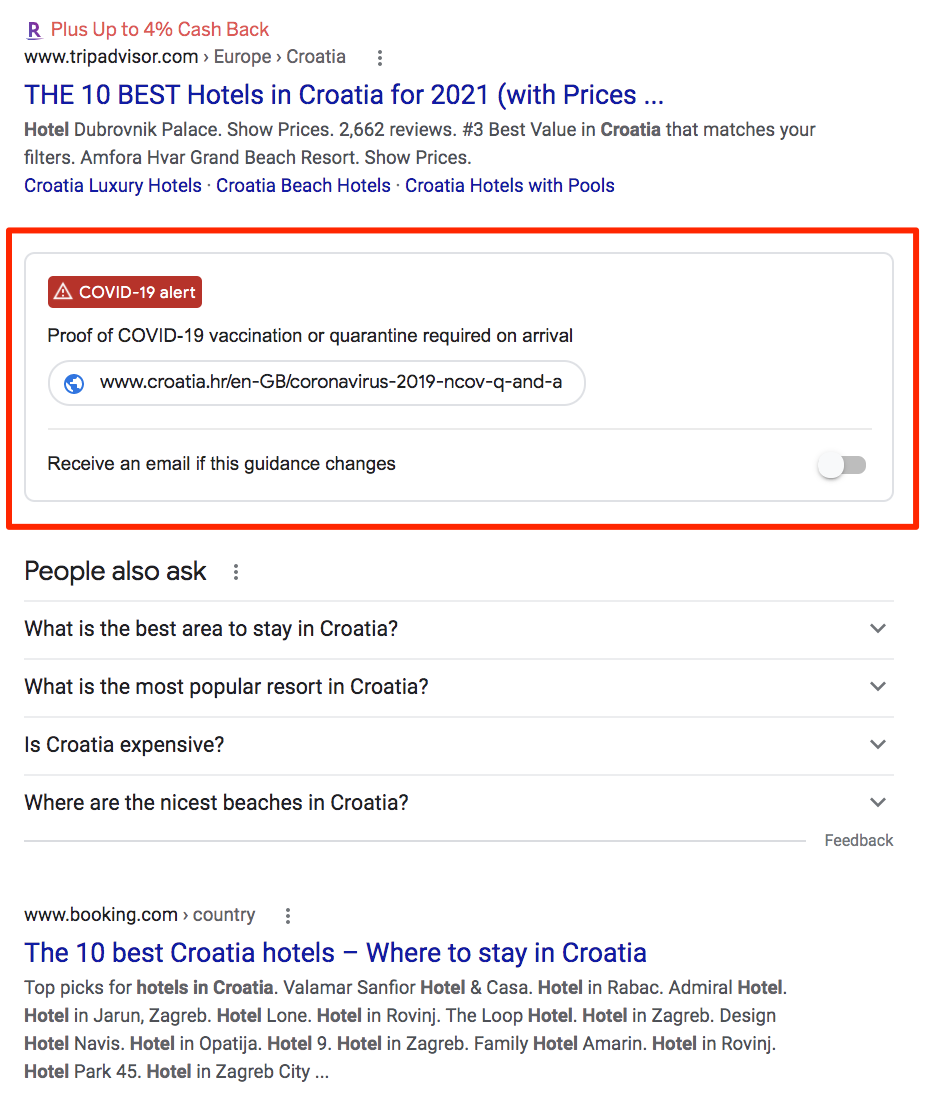 These snippets of current travel restrictions are nothing new – they've been available even when searching through Google Flights for many months.
But do you see that toggle button to "receive an email if this guidance changes"? It's exactly what it sounds like. When the restrictions in place at your destination change, you'll get an automatic email alert from Google. That's huge, as it takes a lot of the painstaking double- and triple-checking out of your travel planning to make sure the rules don't change as your trip draws near.
You need a Gmail account to be eligible for these alerts, and you need to be logged in to that account to see this option. Unfortunately, a Google spokesman confirmed that this alert feature isn't available through Google Flights or other Google travel platforms – only on a standard Google search.
Google says you'll get an alert "when restrictions are added, lifted, or reduced. These updates are country-specific, with state-specific information available in the United States." Here's an example of one of those emails from Google.

All that said, this system isn't quite perfect – at least not yet. You may find some outdated information on travel restrictions, such as with this search for "flights to Maui." Google insists a 10-day quarantine is required, but travelers with a negative COVID-19 taken no more than 72 hours before departure test have been allowed to visit Hawaii for months.

Read more on Hawaii travel restrictions and testing requirements!
So there's still no replacement for checking with the embassy or board of tourism at your destination to make sure you've got the most up-to-date information. But this new option from Google is another powerful tool for your toolbelt to keep track of changes as they happen.
Bottom Line
Bravo to Google. Keeping track of ever-changing travel restrictions in states and countries across the globe can feel like a full-time job. While this tool isn't perfect just yet, it will make it much easier (and less stressful) to stay up to date on the latest rules for your next trip.
Here's hoping it eventually gets added to Google Flights, so you can keep tabs on travel restrictions while searching for a cheap flight.