Many countries across the world have shut down international travel, and more are blocking U.S. travelers from entering. But the Caribbean is a bright spot for cheap flights this coming winter – and actually welcoming Americans.
Soon, we can add another country to that list.
As of Friday, July 10, Aruba will again welcome U.S. travelers to the island. This tiny Caribbean nation avoided the worst of the outbreak and began accepting travelers from Europe and Canada earlier this month.
While Americans are getting the green light, it may not be simple to get in. And just what restrictions you'll face will depend on where you're from.
Requirements For Travelers
Aruba has been planning this broader reopening for months. Like many other countries, there are testing requirements to enter.
Most travelers can provide a negative COVID-19 test result from 72 hours prior to their departure. Or you could pay $75 and take a test upon arrival at Aruba (AUA) International Airport, quarantining at your hotel until the results come back. 
But now, it's getting more complicated. Just as states across the U.S. are restricting travel from other states with rising outbreaks, Aruba is singling out certain states for more stringent measures.
The government of Aruba is now requiring visitors from nearly half of the 50 U.S. states to provide test results taken before departure – they won't be allowed to take a test at the airport. Many of these states have seen rapid rises in coronavirus cases in recent weeks.
It's a unique step – so far as we can tell, Aruba is the first country to impose different restrictions on U.S. travelers based on their residence. The list of affected states may change over time, so be sure to consult Aruba's official restrictions. 
All travelers are also required to complete an online Embarkation/Disembarkation card and it must be approved before entering the country. This application includes a section requiring Aruba Visitor Insurance for your duration of stay, which generally costs about $15 per day.
On The Island
Masks are required on all fights to Aruba and at all times in the airport. Restaurants, bars, and other entertainment venues have slowly begun opening over the past couple of months as Aruba's economy restarts.
But expect to see continued social distancing efforts in place. While not required, the government recommends wearing a mask when in public. Just wear a mask. 
Nestled outside the hurricane belt with just 15 inches of rain a year and temperatures averaging 80 degrees year-round, Aruba has long been considered a tropical paradise. Palm Beach and Eagle Beach typically rank as the best beaches in the Caribbean, so spending outdoors shouldn't be an issue.
Thrifty Tip: Stay at the Hyatt Regency Aruba Resort and Spa which is reopening on July 24. You can get 25% off Hyatt award stays through Oct. 8, 2020. 
Need A Flight?
Have SkyMiles you're looking to burn? We're seeing solid availability in this latest Delta SkyMiles flash sale from tons of cities for under 30,000 miles round-trip.
Using American AAdvantage miles to get down to the Caribbean will usually run you 25,000 to 30,000 miles round-trip.
One of our most recent Thrifty Traveler Premium deals featured 65-plus cities to Aruba … all for under $395 roundtrip! All of these flights were on Delta with typically only one quick connection.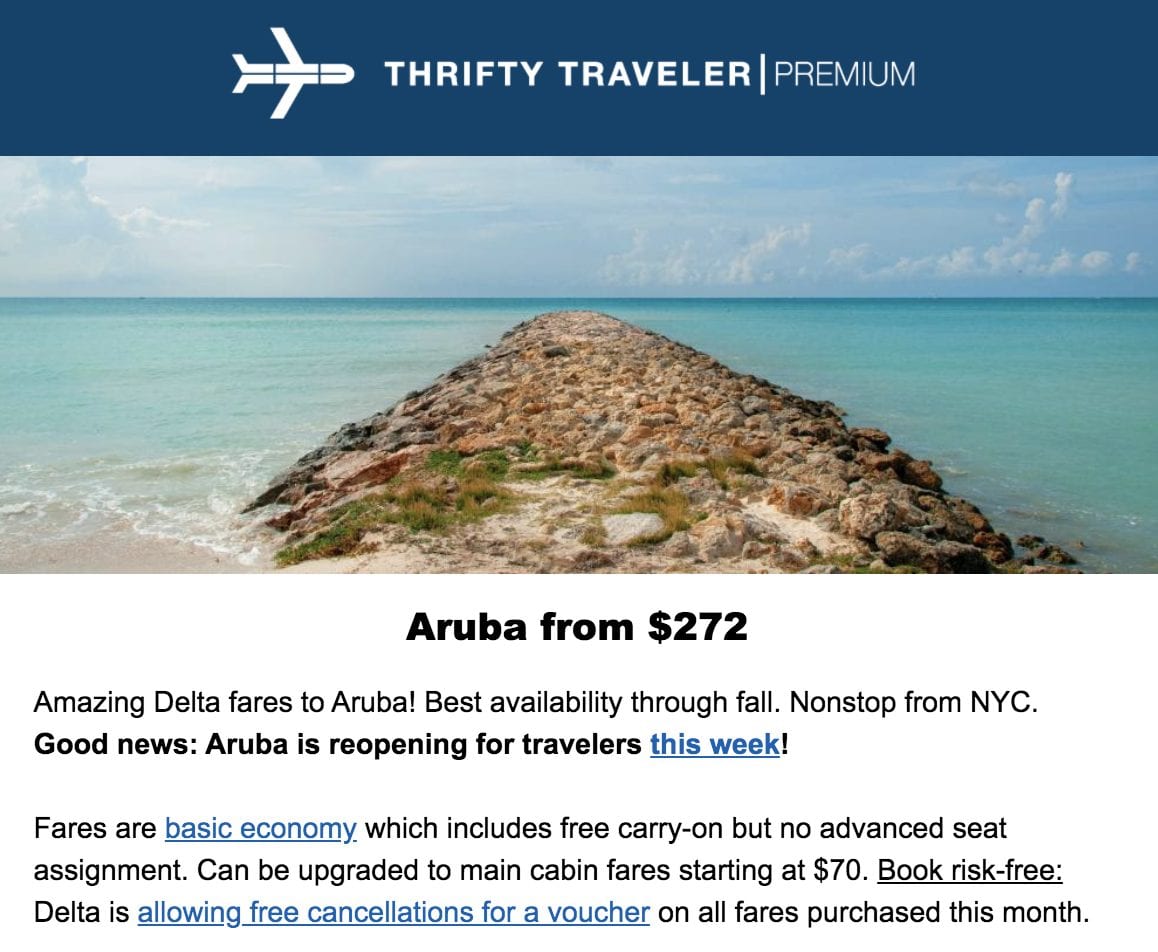 Bottom Line
Want your toes in the sand and a drink in your hand? If yes, then Aruba should be on your radar. And if you're set on escaping to this paradise, it can happen starting tomorrow. 
Just be prepared: Getting in may not be simple based on where you're coming from.