When the pandemic first struck last year, Airbnb quickly pivoted to adapt to the changing travel world by making it easier to find stays with flexible cancellation policies and an emphasis on off-the-grid, clean homes. Now, the homestay company is adjusting again.
As a part of its recently unveiled winter 2021 release, Airbnb is doubling down on flexibility by making it even easier for travelers to find a bargain no matter when – or where – they want to travel. At the same time, the company is adding new features to appeal to remote workers who need strong Wi-Fi while also making sure travelers of all abilities can find accessible stays.
So what Airbnb updates are in store? Check these new features out.

More Flexibility…
Travelers are clearly loving the ability to find bargains on Airbnb stays when their travel dates are flexible.
In the winter release video, Airbnb Founder Bryan Chesky shared that the "I'm flexible" option has been used 517 million times since it launched during the pandemic. it reflects a sea change to how travelers are rethinking Airbnb stays – and travel as a whole. As more companies offer remote work flexibility, that allows for more flexibility in travel plans, too.
And for remote workers looking for a change of scenery, that means they can be flexible to score a better deal or a cooler spot.
The date flexibility is still available. You can select a weekend, week, or month in one or multiple months in a certain destination and see all the property options within your flexible parameters.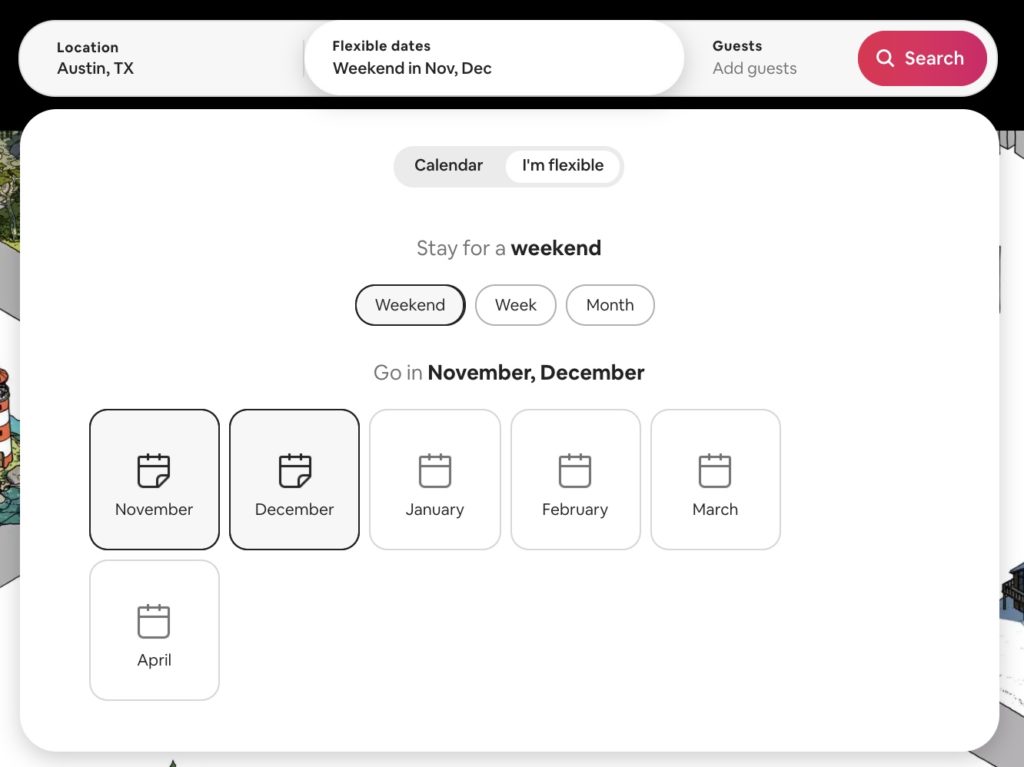 As part of Airbnb's Winter Release announcement, Chesky said the flexible date calendar will increase from six months to 12 months in advance, giving travelers an even longer window. We haven't seen that update on our end yet, but hope to see it soon!
With "even more flexibility," as Chesky called it, you don't even need to put in a destination. Simply select "I'm flexible" and without adding any other details, you'll be taken to a brand new page where you can browse top-rated, unique bookings available anytime, anywhere.

From the search results page, you can still set flexible dates, guests, and other filters. But the layout is completely different than a regular search. Here, Airbnb is highlighting their most unique listings, and when they're available within the set of flexible dates.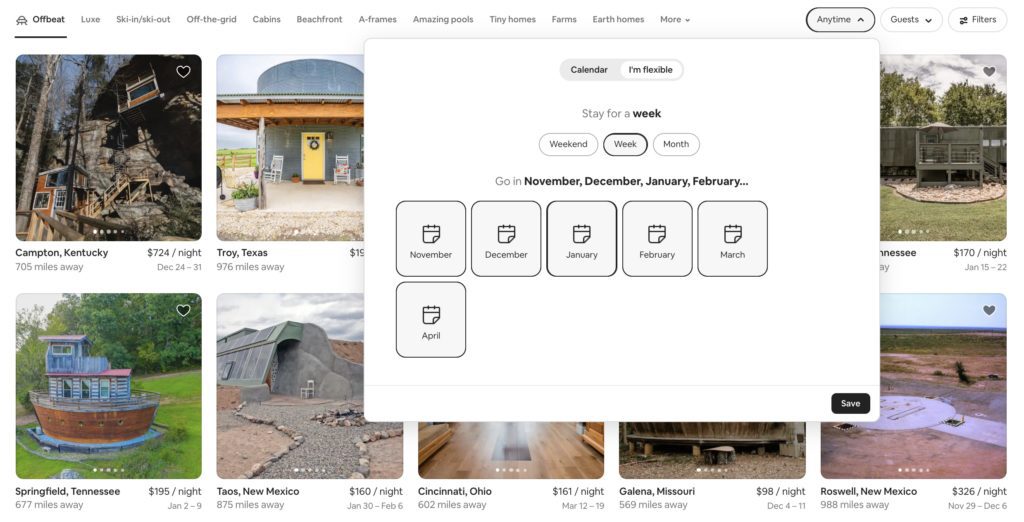 …And More Unique Stays
We've been big fans of the "unique" filter on Airbnb listings, which allows travelers to find some off-the-beaten-path types of accommodations.
To find it, you can click "More filters" on any Airbnb search, and scroll down to select from a set of unique options: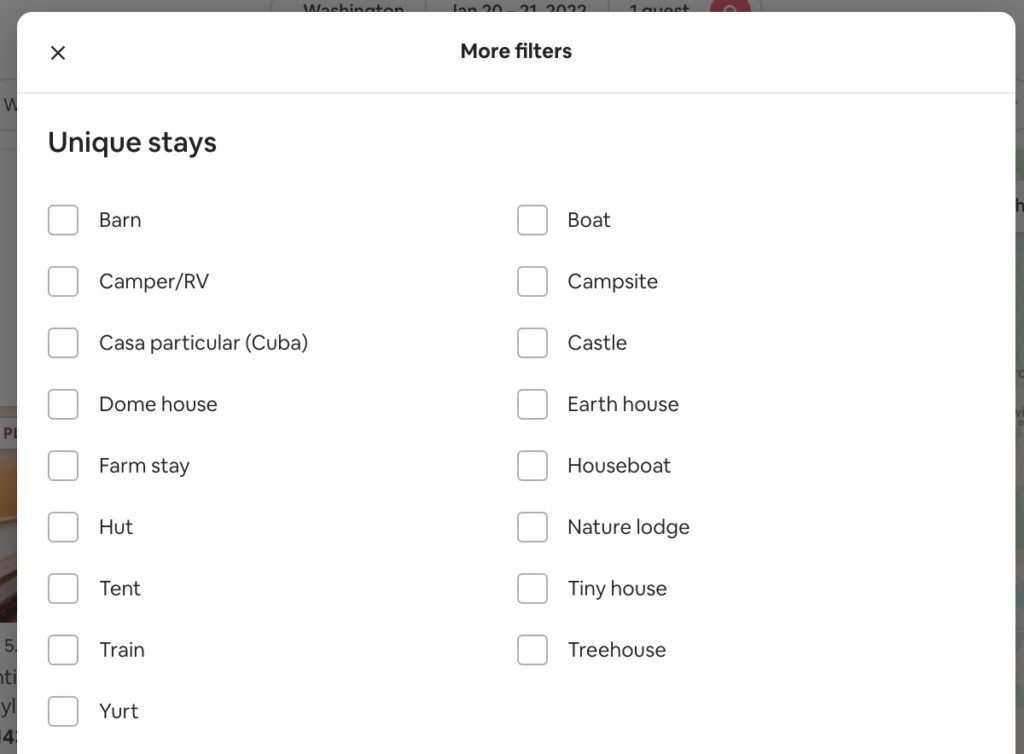 With Airbnb's new "I'm flexible" results page, they've taken this to the next level. All of the previous unique home categories like barns, treehouses, and yurts are searchable, but Airbnb's added a few more: ski-in/ski-out, off-the-grid, offbeat, and luxe homes.
If you're like me, this page is like being a kid in a candy store. All of the most random, bizarre homes in the world in one spot? Excuse me while I daydream…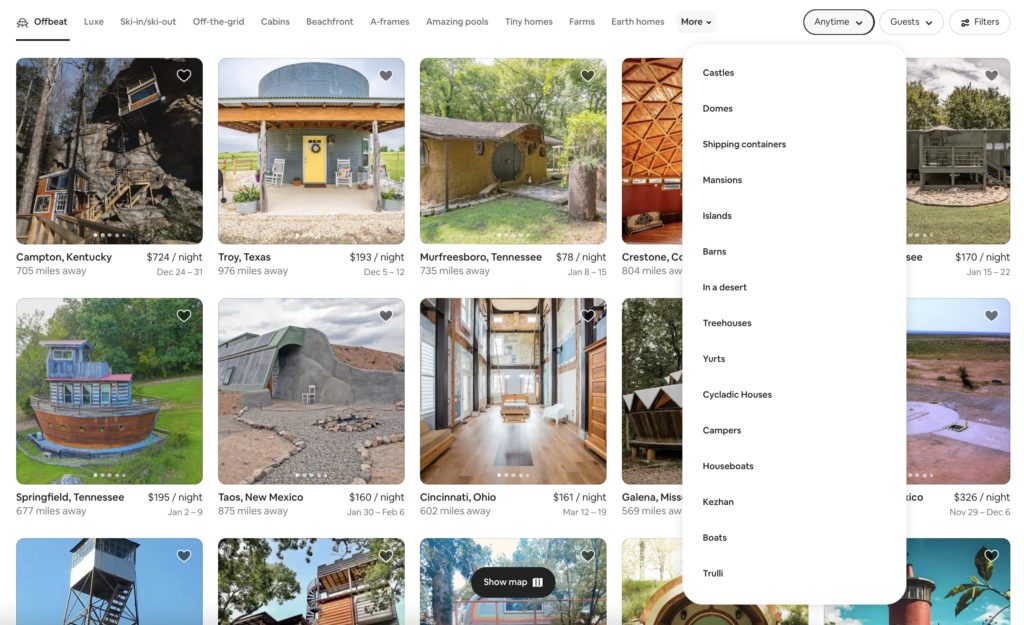 There is truly something for everyone here, and this new format appeals to travelers who are looking for a new experience in a new place starting with unique lodging. If you're looking for more than your typical apartment or house, I'd recommend selecting "I'm flexible" to get to this results page, and narrowing down your results from there with a flexible date range, guest count, and other filters.

Airbnb Updates: Accessibility Filters
This is most certainly one of the most important and much-needed updates Airbnb has made in the past few years. Airbnb has added multiple options from home entrance to parking, to bedroom and bathroom amenities to make sure travelers can find the properties that fit their needs and abilities.
Now, travelers can filter listings by accessibility features. Simply select "More filters" and scroll down to "Accessibility features" and you'll see a list of options to select for your search.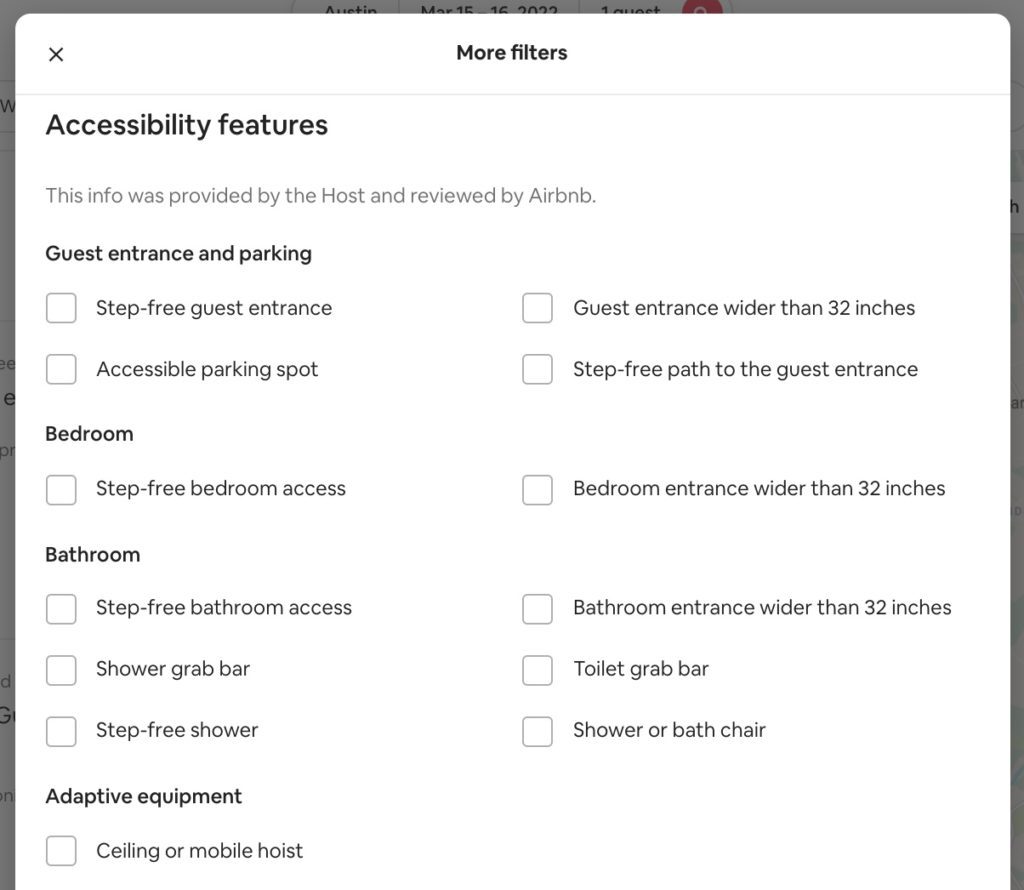 From there, your search will only include listings that offer those features. Better yet, Airbnb took it one step further: In order for hosts to list accessibility features, they need to provide photo proof. The Airbnb accessibility team reviews these photos (and provides further inspection if needed). From there, those photos show up on the listing page, so travelers can review them and know what to expect.

In my experience with this search, hosts can also include a short description of the accessibility features with the photo.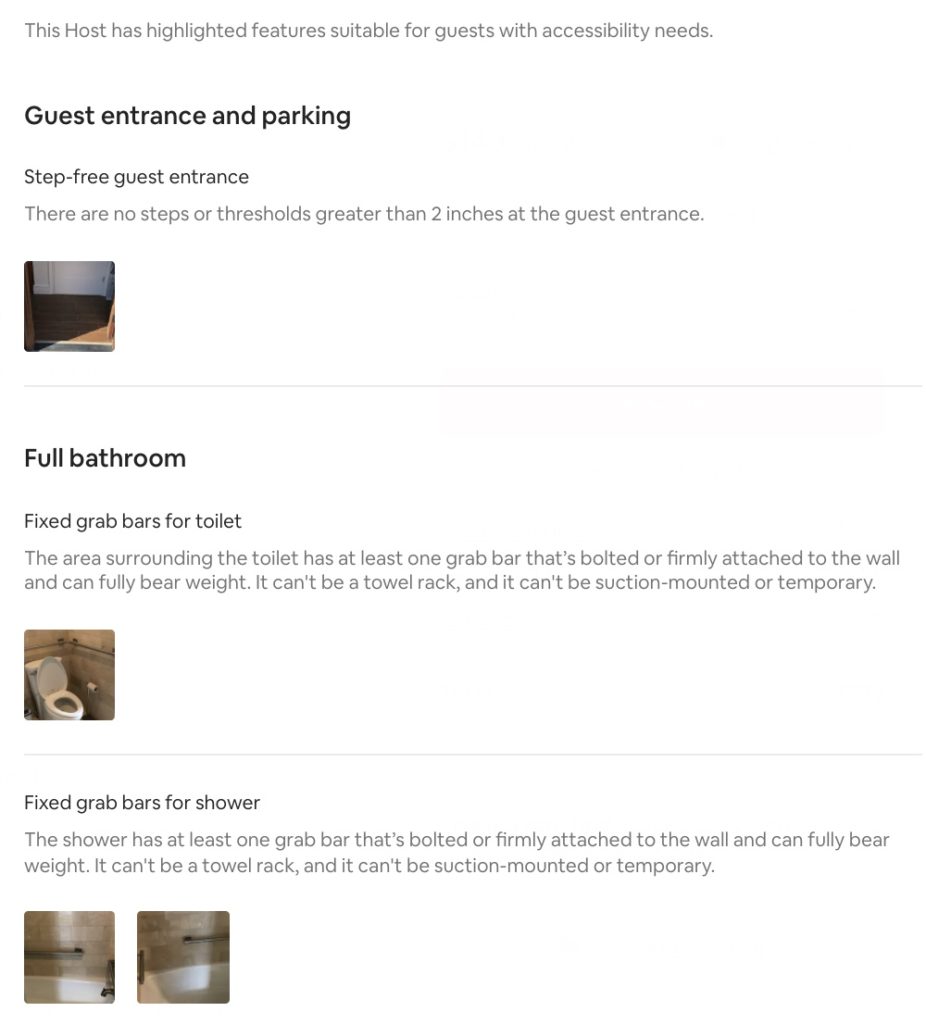 This is an important update for travelers to filter for the accessibility features they need, and know exactly what to expect at the home before they arrive.
Better Translation on International Listings
Have you ever been searching for an international Airbnb and the listing is in the native language? There has been an option to translate the listing page, but it isn't always the most accurate.
With this new update, Airbnb will automatically translate listing titles, details, and reviews into your selected language with more accuracy. It will look something like this: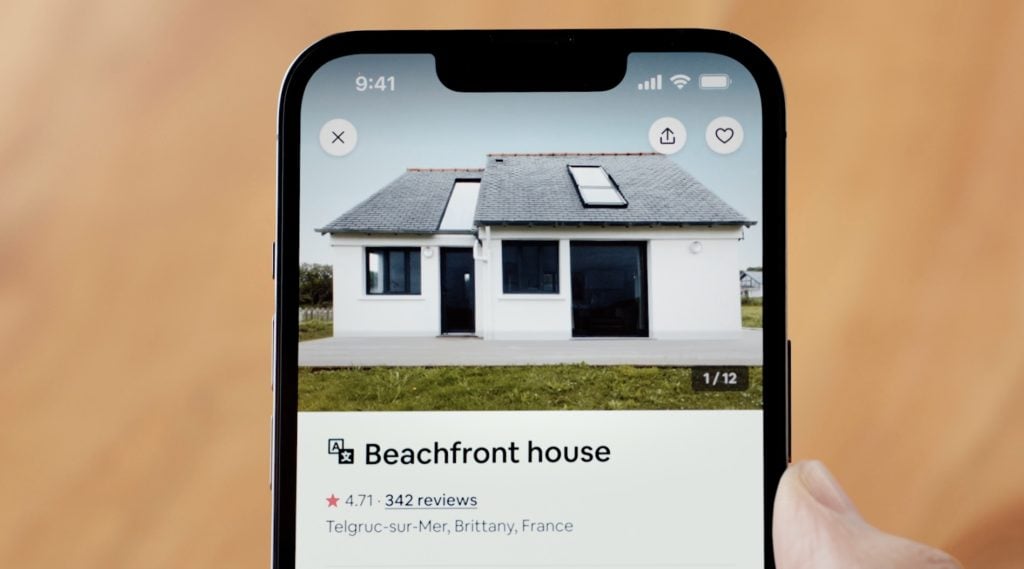 In practice, I'm not yet seeing this automatic translation update in my Airbnb app. But I think this enhanced translation will come in handy especially for reading reviews on international listings.

See Wi-Fi Speeds Before Booking
Planning on working remote from an Airbnb? You're not alone, and Airbnb clearly knows the drastic uptick of remote workers is here to stay.
While they've already added notes for designated workspaces, this latest update is ideal for remote workers on the go. Airbnb hosts can now measure their Wi-Fi speed within the Airbnb app and post the results within their booking.
Not all Airbnb hosts will include this on their listing page, but keep an eye out for this new feature!

There is a filter to only see listings that have Wi-Fi, but there is not yet an option to filter for only certain Wi-Fi speeds.
Bottom Line
Airbnb is once again responding to the drastic changes in travel style as travel demand picks up and travelers change how they vacation – or work – in Airbnbs around the world.
With more date and destination flexibility, a growing list of quirky homes, and brand-new accessibility options, they're doubling down on being travelers' go-to option for something different – whether it's for a weekend or a month. And the new Wi-Fi feature shows just how serious they're getting about remote work travelers.