Just like hotels and airlines, Airbnb has given travelers far more flexibility throughout the pandemic to find refundable stays and improved its COVID-19 cancellation policy – just in case plans change. But as daily life and travel normalizes, Airbnb is taking a step back.
Airbnb updated its community policies recently to show that its "Extenuating Circumstances Policy" will change as of May 31. After that date, new bookings will no longer be eligible for an automatic refund if you need to cancel due to travel restrictions or a positive COVID-19 test, God Save the Points reports.
All reservations made before May 31 will retain the current cancellation policy – even for a stay far in the future.
This change is separate from the cancellation policies in place from property to property – your host may still allow you to cancel for a full or partial refund. Still, this change is a negative and adds to the confusion when plans change with an Airbnb reservation. It removes an overarching cancellation policy that could get you a full refund, even when your property doesn't allow it.
Fortunately, the platform has added a filter where you can search for refundable stays.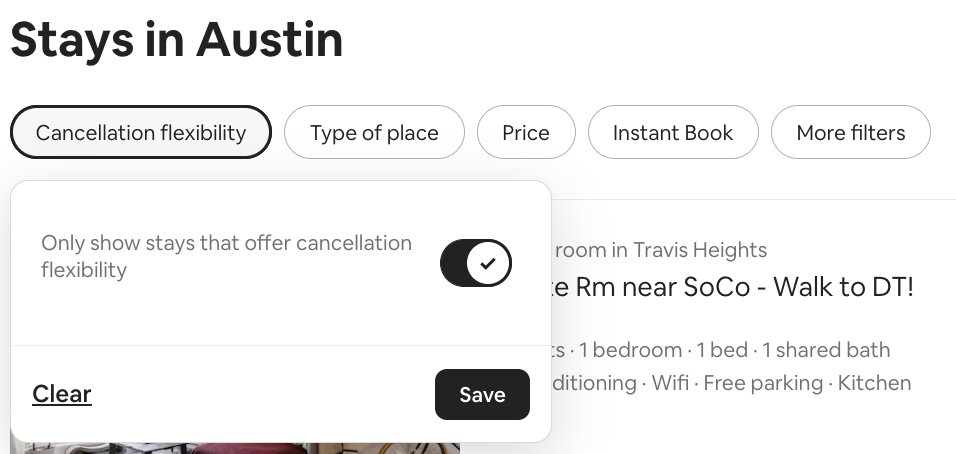 Read more on the Airbnb cancellation policy
During the pandemic, Airbnb instituted a refund policy for stays impacted by travel restrictions on top of its existing cancellation policies, that allowed for cancellation anywhere from 24 hours before a stay to 14 days before a stay.
But with this change, that "Extenuating Circumstances Policy" is sunsetting May 31. Extenuating circumstances include changes to entry requirements, travel restrictions, or emergencies in the location you're staying. But it also includes if you've been infected with COVID-19 and are unable to travel.
It's important to note that nothing in the rules says the hosts and guests cannot work out an agreement on their own if there are travel or health issues. Airbnb is just no longer on the hook.
What Counts as an Extenuating Circumstance?
Here's Airbnb's description of everything that's considered an "extenuating circumstance" under the rules that are set to expire May 31.
Changes to government travel requirements: Unexpected changes to visa or passport requirements imposed by a governmental agency that prevent travel to the destination. This doesn't include lost or expired travel documents or other personal circumstances relating to a guest's authorization to travel.
Declared emergencies and epidemics: Government-declared local or national emergencies, epidemics, pandemics, and public health emergencies. This does not include diseases that are endemic or commonly associated with an area—for example, malaria in Thailand or dengue fever in Hawaii.
Government travel restrictions: Travel restrictions imposed by a governmental agency that prevent or prohibit traveling to, staying at, or returning from the Listing location. This does not include non-binding travel advisories and similar government guidance.
Military actions and other hostilities: Acts of war, hostilities, invasions, civil war, terrorism, explosions, bombings, rebellions, riots, insurrection, civil disorder, and civil unrest.
Natural disasters: Natural disasters, acts of God, large-scale outages of essential utilities, volcanic eruptions, tsunamis, and other severe and abnormal weather events. This does not include weather or natural conditions that are common enough to be foreseeable in that location—for example, hurricanes occurring during hurricane season in Florida.
COVID-19 infection: If you are sick due to a COVID-19 infection, this is always covered under our standard Extenuating Circumstances Policy, and you can choose "I have an extenuating circumstance" when you cancel.
How to Cancel Your Airbnb?
If your booking was made before May 31, 2022, and you have to cancel because of an extenuating circumstance, take these steps:
Read Airbnb's Extenuating Circumstances Policy to see if your situation applies
Make sure you have any required documentation ready
Cancel your booking by selecting "I have an extenuating circumstance"
Contact Airbnb to file a claim and submit documentation within 14 days of cancellation
Wait for the Airbnb team to review your case
After May 31, however, you are back to pre-pandemic cancellation policies or whatever options are available directly through your host.
Need to cancel a booking at any time? Once you've found the right listing with the right cancellation policy it's easy:
Log in to your Airbnb profile
Go to Trips and find the trip you want to cancel
Click "Show trip details"
From the overview, click "Show details"
Click "Change or cancel"
Click "Cancel reservation"
The next page will show you how much money you'll get back and the cancellation policy stage based on the time frame. (*Note that all cancellation times are based on the local listing's time zone – not your own.)
Bottom Line
Airbnb will end its COVID-19-era "Extenuating Circumstances Policy" on May 31, meaning all bookings made after that date will no longer be eligible for automatic refunds for cancellations made due to travel restrictions or COVID-19 infections.
Airbnb was slow to put in COVID-19 protections for travelers and hosts and, seeing a travel environment increasingly free of COVID-19 restrictions, decided it was time to sunset these rules. Book now if you want even more flexibility for your next Airbnb stay.