The beauty of modern traveling – well, at least when you're heading back to the skies – is being able to skip the check-in desks and head straight for security. Just check-in online, print your boarding pass (or pull it up on your phone) and you're on your way.
Unless if you're flying on a United basic economy ticket.
Basic economy fares can be a real pain, as these no-frills fares come without free seat selection or the flexibility to change or cancel. But United takes it even further with some of the most egregious restrictions of any carrier that can make it impossible to check-in for your flight online.
Here's why.
The Basics of United Basic Economy
There's no way around it: United basic economy fares come with a lot of restrictions. That's why United was the big loser our Battle of Basic Economy, comparing the cheapest fares between all three major U.S. carriers.
Baggage: Get a personal item for free; pay $30 each way for a checked bag (or $60 each way to Europe). No carry-ons allowed unless flying to Europe.
Seat Selection: Available for a fee, typically starting at $10. Otherwise, seats are automatically assigned.
Boarding: Final boarding group.
Earning United MileagePlus Miles: Yes.
Earning Status: You'll earn half the Premier Qualifying Miles and Premier Qualifying Segments toward United elite status as a standard economy fare.
Upgrades: Not eligible for complimentary upgrades.
Ticket Changes and Cancellation: Not allowed except for within 24 hours of booking – or if booked by June 30, thanks to the airline's coronavirus waiver.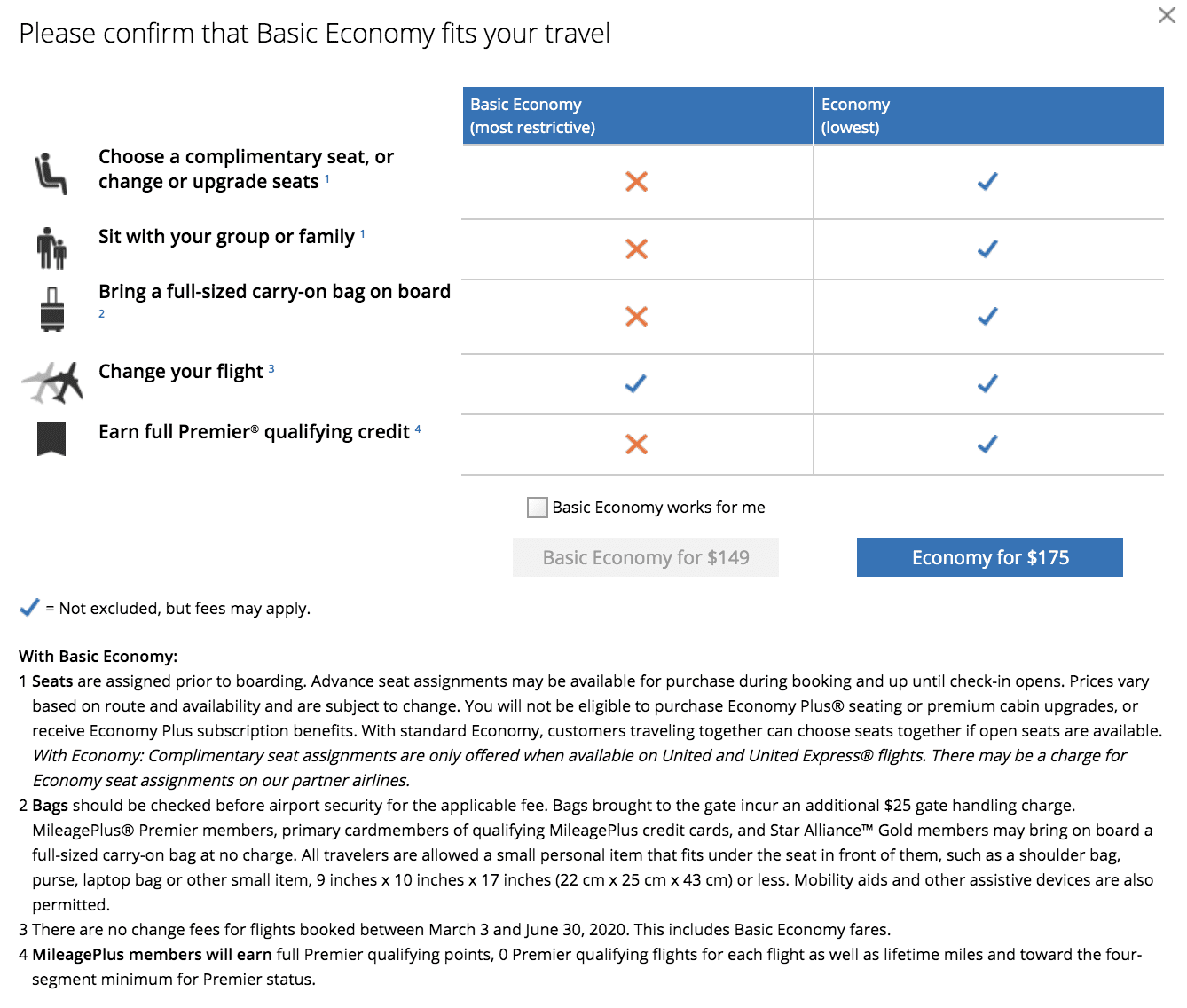 With most airlines, the inability to pick a seat or change your flights for free is what irks travelers. That's how airlines try to convince you to pay the extra money to avoid basic economy. That's the entire point of basic economy.
Yet you'll notice that United takes it even further by not even allowing travelers to bring a carry-on bag onboard. Every other major U.S. airline, from Delta to American to even JetBlue and Alaska, lets basic economy flyers use the overhead bin.
But not United. You get a personal item for free, and that's it. And that creates additional problems when it's time to check in.
Read more: How to Beat United Basic Economy Fares
No United Online Check-In
The headaches when flying United basic economy don't stop with what baggage you're allowed to bring.
Because you can't bring a carry-on bag, United requires that one of its agents confirm that you're following those restrictive rules. And that means you have to check-in for your flight at the airport. United spells it all out in its own policies.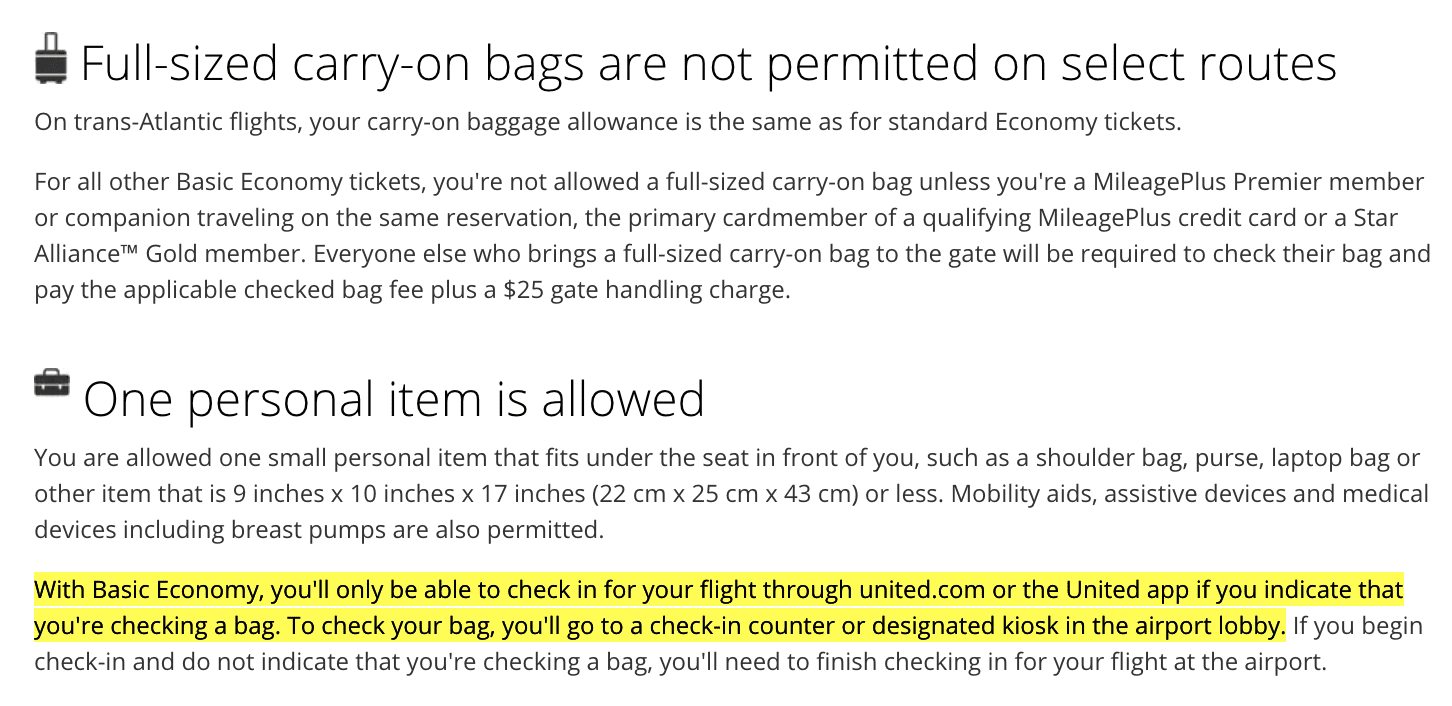 If you're checking a bag, you'd have to head for a check-in desk anyway. If you're traveling with just a personal item, you're out of luck – no waltzing straight to airport security for you.
Indeed, when I tried to check in online for my United basic economy flight last year, I was directed to finish the check-in process at the airport. After punching in my details at the kiosk, I had to wait for an agent to come over and confirm I wasn't trying to sneak a carry-on bag onto the plane.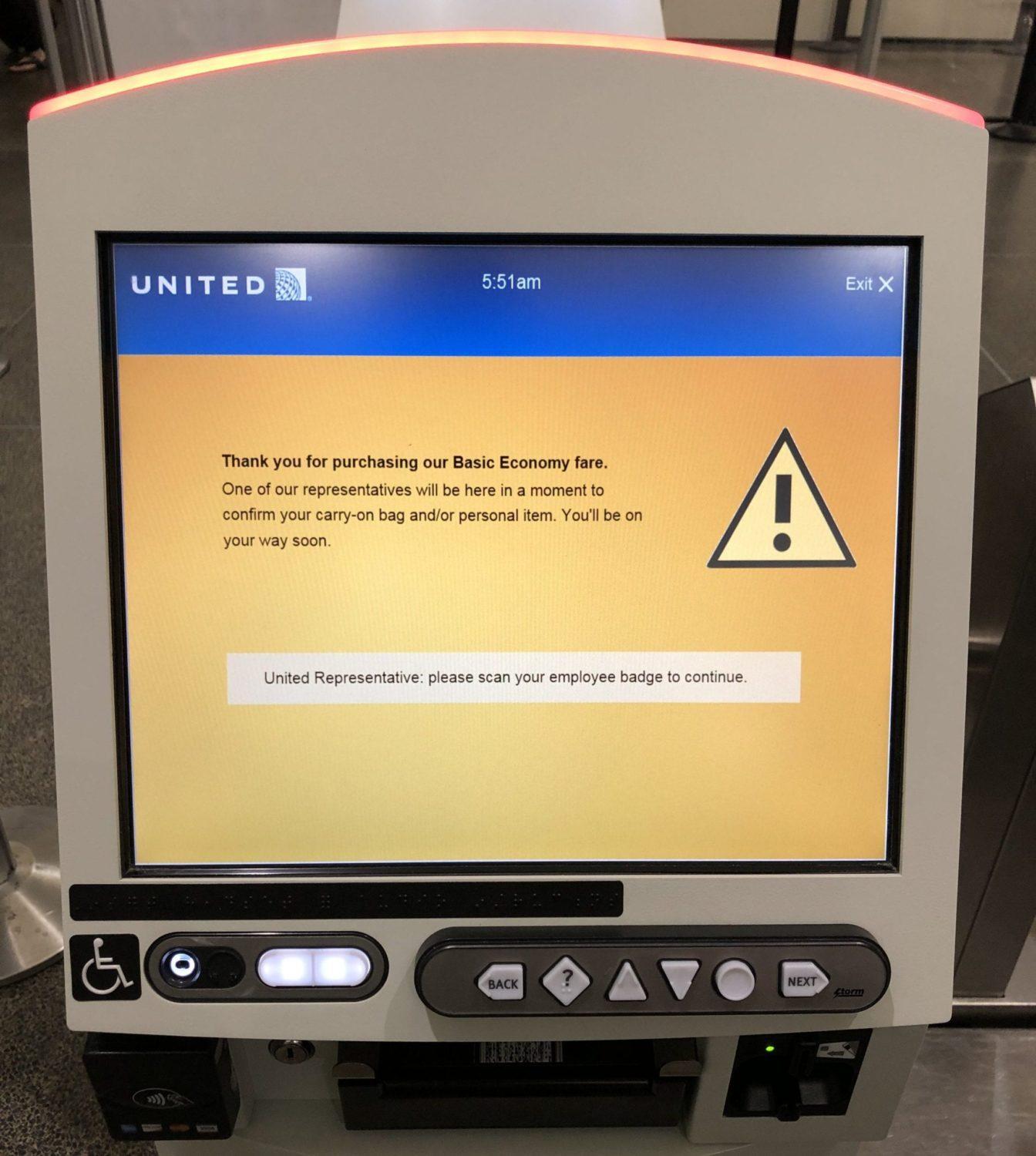 It's just another hurdle to keep in mind with basic economy fares. Airlines make these fares as unpleasant as possible on purpose, hoping you'll pay up to avoid them.
But between baggage restrictions and this check-in protocol, United clear goes farther than the rest.
Bottom Line
Don't count on a quick trip through the airport if you've booked a United basic economy fare. Like it or not, United will force you to finish your check-in process in person before heading for your flight.
It may seem like a small thing, but it's just another way that United's basic economy fares stand out – for the worse.
Lead photo courtesy of Chris Lundberg via Flickr