Editor's note: While some travel is resuming, you should consider your health, your community's health, and public health recommendations before flying somewhere near or far. As the pandemic drags on, we consider it our jobs to inform you to make smart travel choices – now or far in the future.
Mexico is one of the few countries open to U.S. travelers without major testing or quarantine requirements. And while the list of countries open to us is getting longer, there's no international destination easier for Americans to get to – or cheaper, thanks to a slew of recent dirt-cheap flight deals to Cancun, Puerto Vallarta, and beyond.
That's why travel to Mexico has vaulted up wish lists as travelers make their plans for winter and spring 2021. But with COVID-19 cases climbing worldwide and still a massive concern for travelers, what's it like in Mexico? Is a country that isn't requiring negative COVID-19 tests from tourists really taking the pandemic seriously?
In our experience, yes. Mr. TT and I headed south for Mexico this week uncertain of what we'd find. But from the airport to restaurants and resorts, we've been pleasantly surprised at how many people are wearing masks, social distancing and other safety measures, and more.
Keep reading and see for yourself what it's like to travel to Mexico during COVID-19.
The COVID-19 Situation in Mexico
Traveling is fun – especially with the prospect of trading in the cold for a beach in Mexico. But now more than ever, the decision to travel is a complicated one.
We're still in the midst of a global pandemic – and with cases on the rise as we creep towards winter, it seems to be getting worse. Public health officials are still urging Americans to avoid all nonessential travel. Consider not just your own risk for COVID-19, but your loved ones and your broader community.
But more and more Americans are traveling, and Mexico is high on their list. Whether you're hoping for a trip next month or not until next year, there's plenty to keep in mind.
On the surface, Mexico seems to have a better handle on COVID-19 with lower per capita infection rates than the U.S. But the New York Times found that Mexico has been underreporting deaths, specifically in Mexico City where the country's COVID-19 caseload is concentrated. Mexico's testing is also behind the U.S., so it's not an apples-to-apples comparison.
The U.S. State Department still has a level 3 warning for travel to Mexico – which means "reconsider travel" – due to COVID-19 and ongoing safety concerns in specific regions.
These are good things to keep in mind if you've got a trip to Mexico in the works. Beach destinations where you can spend most of your time relaxing, eating, drinking, and doing other activities outside will be your best bet.
Getting into Mexico
The land border between the U.S. and Mexico remains closed. But flights to Mexico have continued throughout much of the pandemic to popular areas like Cancun (CUN), Puerto Vallarta (PVR), Cabo (SJD), and others.
So yes, you can fly to Mexico right now. And there are no current travel restrictions for Americans getting into Mexico: No testing requirements and no mandatory quarantine procedures.
But that doesn't mean you shouldn't do those things for public health. To do your part in mitigating the spread of COVID-19, consider quarantining before your departure or taking a COVID-19 test prior to your trip to ensure you are healthy – and won't unwittingly bring the virus to a foreign country. Mr. TT and I work from home, so we were able to quarantine before our trip. We plan to get a COVID-19 test when we return.
After landing in Cancun (CUN), there were a few changes to the normal entry process. In addition to the immigration and customs forms you normally have to fill out, there is a health form with questions about any recent exposure to COVID-19, if you're experiencing any symptoms, and the places you've recently traveled.
This form should be collected with your customs form after going through immigration. In our case, our forms were not collected.
We also saw new social distancing measures in place in the Cancun airport when you go through immigration and customs. There are markers on the ground to help passengers spread out in line – and most people were keeping their distance. There were also ropes around the customs desk to insure more distance between travelers and the customs agents.
In addition, every passenger is scanned by a temperature-sensitive camera as they make their way to the baggage claim area.
The car rental process hasn't changed much aside from some impressive COVID-19 procedures put in place inside the rental office. Masks are required, social distancing is enforced, and there is plexiglass divider between the agent and customer. They even sanitized IDs, credit cards, and passports before handing them back.
Cars were clearly cleaned thoroughly and sanitized inside, too.
Face Masks Are Prevalent
Wearing masks indoors and in public spaces, including while in or on a vehicle (moped, golf cart, or car) is required in most states in Mexico. In the state of Quintana Roo, which is home to Cancun and the popular Riviera Maya area, face masks are required indoors and in most outdoor spaces. Every business we've come across has had a sign posted at the entrance reminding customers to wear them.
In general, locals and tourists alike are following the rules – in many cases, better than what we've seen at home in the U.S. Mask wearing has been almost 100% in indoor spaces, and much more prevalent in outdoor spaces where people may not be able to spread out. Even many beach vendors we've seen are wearing masks.
We have noticed that most people walking, riding mopeds, motorcycles, and golf carts (on Isla Mujeres) wear masks. The only place we noticed people not wearing masks was on the beach.
Restaurants Take COVID Seriously
Most restaurants we've visited thus far are also checking temperatures and requiring customers to use a hand sanitizer before entering. Many restaurants do not have physical menus and instead have QR codes for you to access their menu online.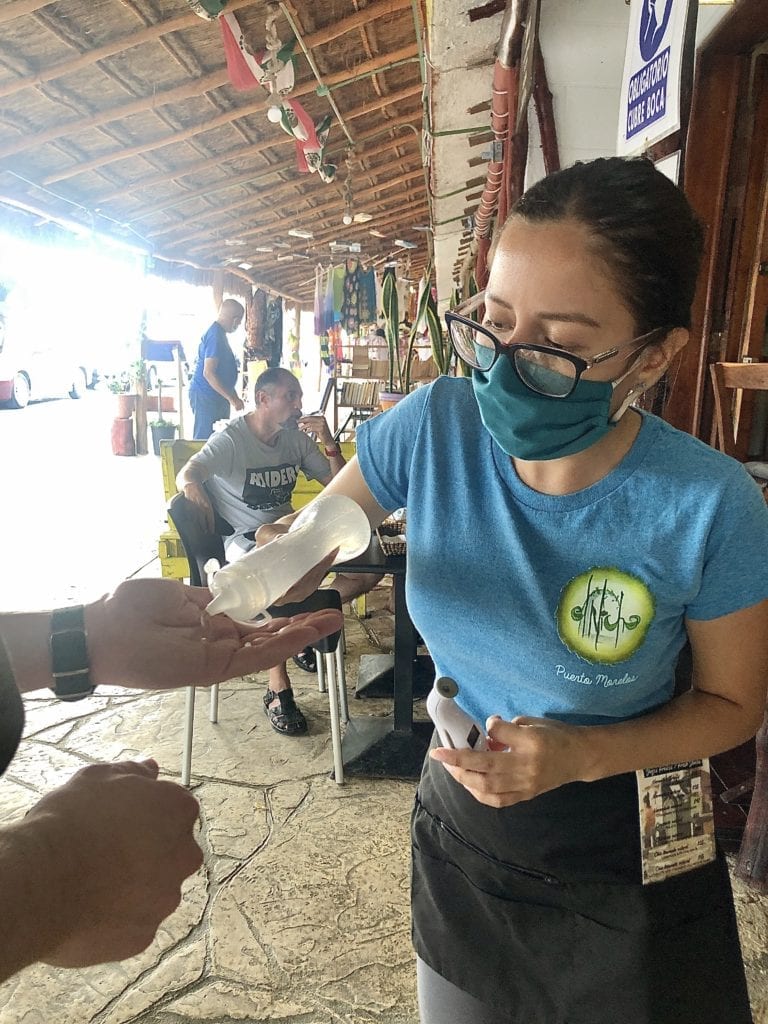 You are required to wear your mask as you walk to your table or if you get up to use the restroom. You can only take off your mask once you are seated. Tables inside the restaurants are spread out, with 50% capacity limits indoors.
But this is Mexico: You came for the weather and you'll want to sit outside. Tables are also socially distanced in the outdoor seating areas of most restaurants.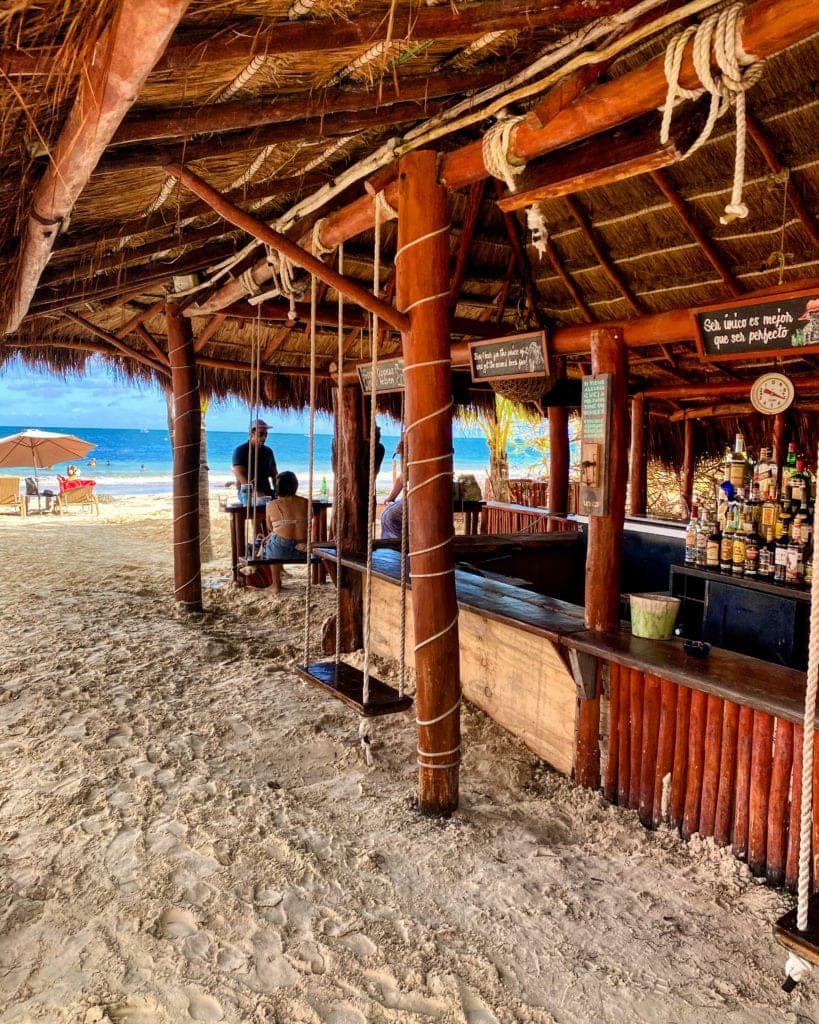 Beachside restaurants have been an exception. Staff are still wearing masks but they do not check temperatures or give out the hand sanitizer. As they get busier throughout the day, social distancing doesn't seem to be as carefully enforced.
And of course, this will vary greatly based upon where you're actually staying. While restaurants and other businesses in the beachside town of Puerto Morelos were strictly enforcing new COVID-19 rules, it's been much more lax on Isla Holbox, in our experience.
Hit the Beach
You can be as socially distanced as you want on the beach.
Bring your own towel or chair and keep your distance, or move around the chairs provided by your hotel. Masks are not required outdoors.
Grocery Stores Have Stepped Up, Too
When we went to the grocery store, our temperatures were checked upon entry and we were given hand sanitizer.
During our visit to a local shop, there was only one way to enter and one way to exit, keeping the flow of shoppers in one direction. At the registers, there were reminders to social distance and plexiglass separating cashiers from customers.
Pools & Resorts
Masks are not typically required in outdoor spaces but each resort has different protocols and requirements. Check the website of your hotel or resort for their procedures.
We stayed at the Hyatt Zilara The Zilara requires masks in all indoor spaces and outdoors when you are moving around. Unless if you're in your lounge chair or in the pool, you are supposed to wear a mask. However, mask-wearing was not enforced and about 60% of the people at the resort wore masks while indoors and while walking around the pool area.


Read More: A Look Inside a Mexico All-Inclusive Resort During COVID-19: Are They Safe?
Leaving Mexico
When leaving Mexico, before entering the security line, you will be required to download a questionnaire on your phone and fill it out. It doesn't take too long, maybe five minutes for the whole process, but make sure to give yourself a little extra time to fill it out.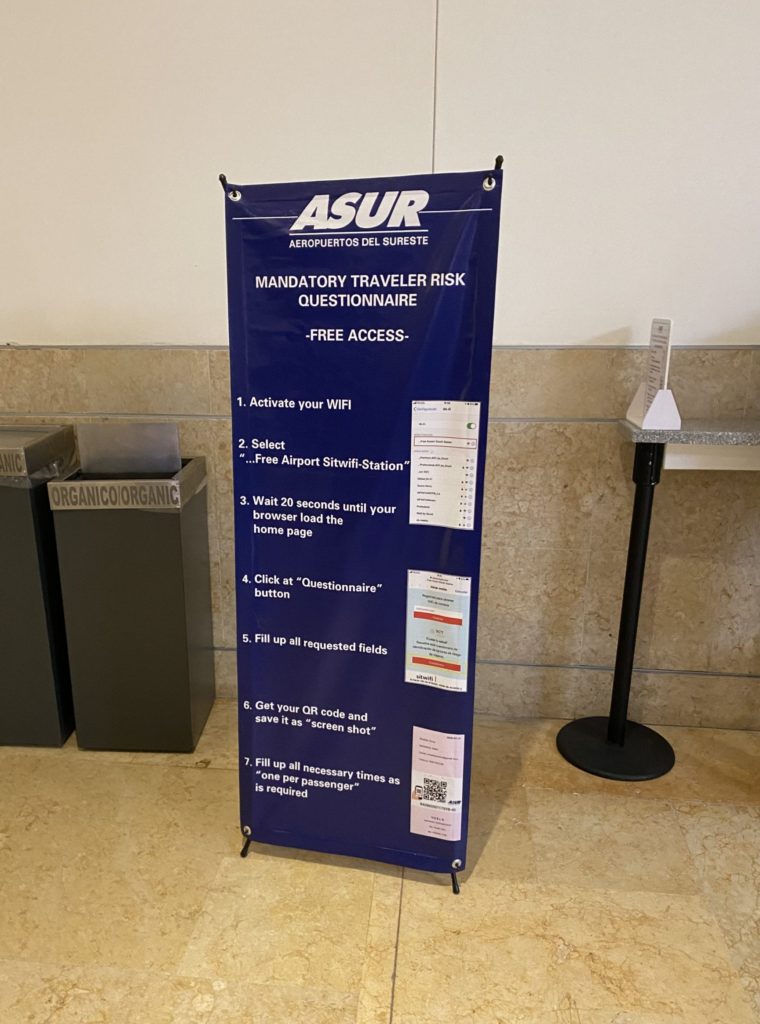 When you finish the questionnaire you will get a QR code. Take a screenshot of it so you have it saved. We expected to have to present our QR codes with our boarding pass when going through security but no one asked for it then or when we boarded the plane.
Bottom Line
Heading to Mexico was our first trip since COVID-19 struck in March, and we weren't sure what to expect.
Needless to say, we've been impressed by all the new precautions and procedures in place. In many cases, it feels like Mexico is taking it more seriously than back home – but that will vary based upon where you're actually heading in Mexico.
Oh, and being outside on the beach doesn't hurt.