This summer, my brother and I are taking a four week trip around Eastern Europe. One way we're saving is by traveling from city to city with Busabout. In addition, we are staying almost entirely in hostels, and in doing so, saving a ton of money. I'm sure the stereotypes of hostel lodging are running through your head, but let me put those assumptions to rest.
I'd like to introduce you to Hostelworld, the website service that I use to search for and book the best hostels in the world. In this post, I will outline how I used Hostelworld to find the best places to stay for our upcoming trip.
Your Friend, Hostelworld
When I search for hostels in destinations I plan to visit, I use Hostelworld. It has hundreds of amazing hostels to choose from, with details and photos for each. This is a great way to compare hostels and make sure you're staying in your ideal lodging.
Don't get me wrong, I like Airbnb too, but sometimes the process of trying to find the Airbnb and arranging a time to get let into the apartment or house is more frustrating than anything. With hostels, you walk in to a welcoming staff waiting to check you in, show you to your room, and lead you to the on-site bar with free WiFi. Everyone needs a beer at their hostel in sweatpants and slippers after a long travel day!
One of the best parts of Hostelworld is that it provides a rating for each hostel. Much like hotel ratings on any other booking site, Hostelworld users rate the lodging after their stay on multiple facets like cleanliness, location, & service, to name a few. Similar to Airbnb, you can read written reviews for each hostel. This is so helpful when selecting the right hostel for your travels.

One of my favorite ways to use Hostelworld is by using the filter features. I always filter for the following amenities: free WiFi, free bed linens, locker/lock, and air conditioning. When there are a ton of options in a city, I also filter for 24 hour reception so we can check in immediately upon arrival, and free breakfast which saves so much money.
I also filter for the room I'm looking for. When traveling with another person I look for a private twin beds room, and when alone I book a 4-bed female only dorm. Finally, I filter out any hostels with below a 7.5 rating. This gives me a list of the best hostels in my destination city. From here, I look to the map.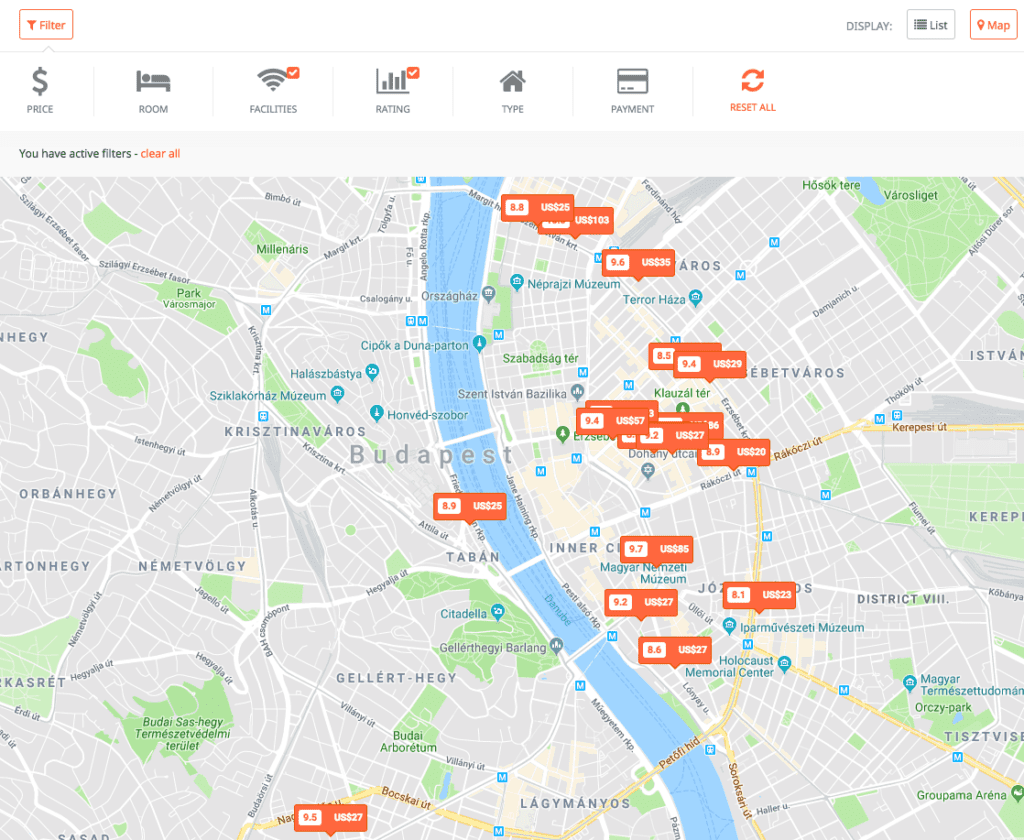 This is a really easy way to see what your options are in a city. For me, being close to the city center is worth the extra money. With the map feature, I zoom in on the city center area to see what landmarks I'd like to be closest to during my stay, and select the best hostel from there based on price and rating. Remember that at this point, I've already filtered for my must-have amenities. This way, you don't have to sift through distant or poorly reviewed hostels, and can just choose between the best.
A Picture is Worth a Thousand Words
So you've filtered for the amenities you want, you've narrowed your search to the types of rooms you want to stay in (double bed private with ensuite bathroom, please), and you've browsed the map mode to find hostels in the best location with the highest ratings in your price range. Now, it's time to make your choice. By this point, I usually have my options narrowed down to 5-8 hostel options that all meet my criteria. I open each hostel page in a new tab, and scroll through photos.
Photos are where you really get a feel for the ambience, amenities, and experience of staying in each hostel. For me, photos are often the make it or break it point. If I see that a majority of the hostel's photos on their page are of the on-site parties and the pub crawls they host, I typically delete that one off my list. If beds don't look comfortable or there's not much of a lounge area in the lobby, I typically pass.
While looking for lodging in Krakow, Poland for our summer trip, we took quite a few hostels off our list because they were too party-focused. Instead, we booked the Greg & Tom Hostel, pictured below, because the photos really illuminated what a stay at their hostel is like.
Their photos are of small groups of people (older adults pictured compared to the young party hostel photos) relaxing and enjoying the free breakfasts and dinners hosted by the comfortable and quaint hostel. We were sold on the atmosphere we could envision through the photos as these looked like our kind of people. The awesome free meals look awesome, too!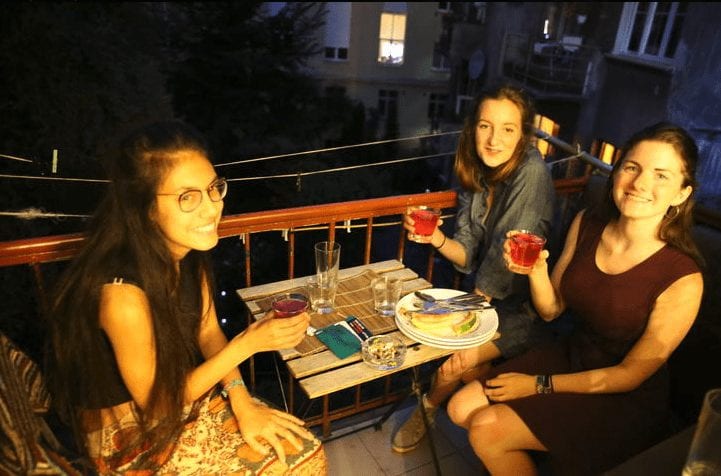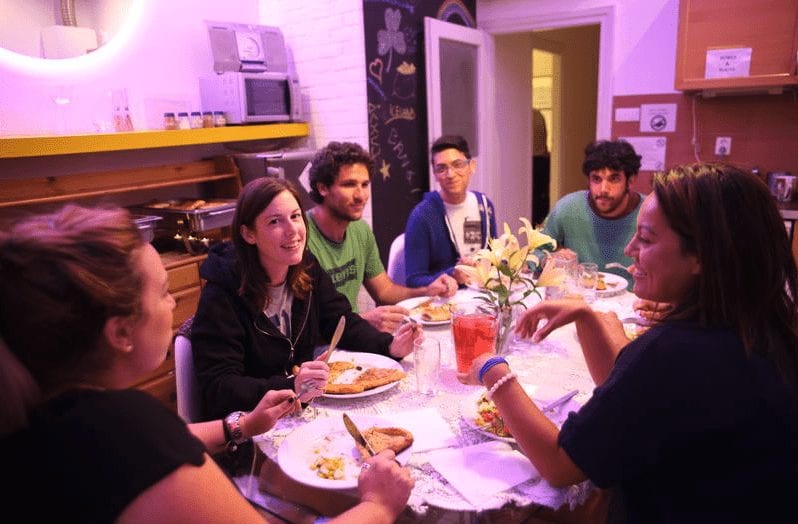 Unique lodging is my favorite part of hostels. If I see that the hostel has crazy cool rooms and lounge areas, I'm in. I also like to get a feel for what the room and bathrooms are like. Clean bathrooms and pretty, decorated rooms say a lot about hostel management and experience. Here's an example of hostel decor we simply fell in love with while looking for a place to stay in Prague: the Art Hole Hostel in Prague, Czech Republic. We can't wait to see the adorable and unique wall art in this hostel in person this summer.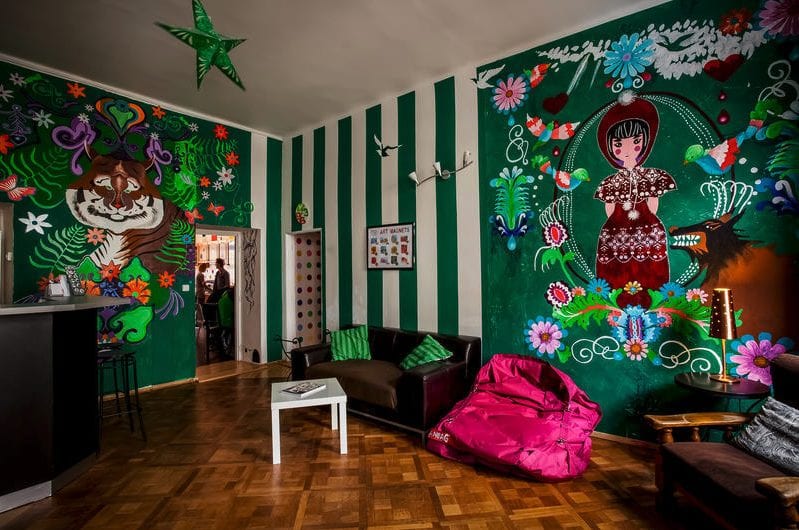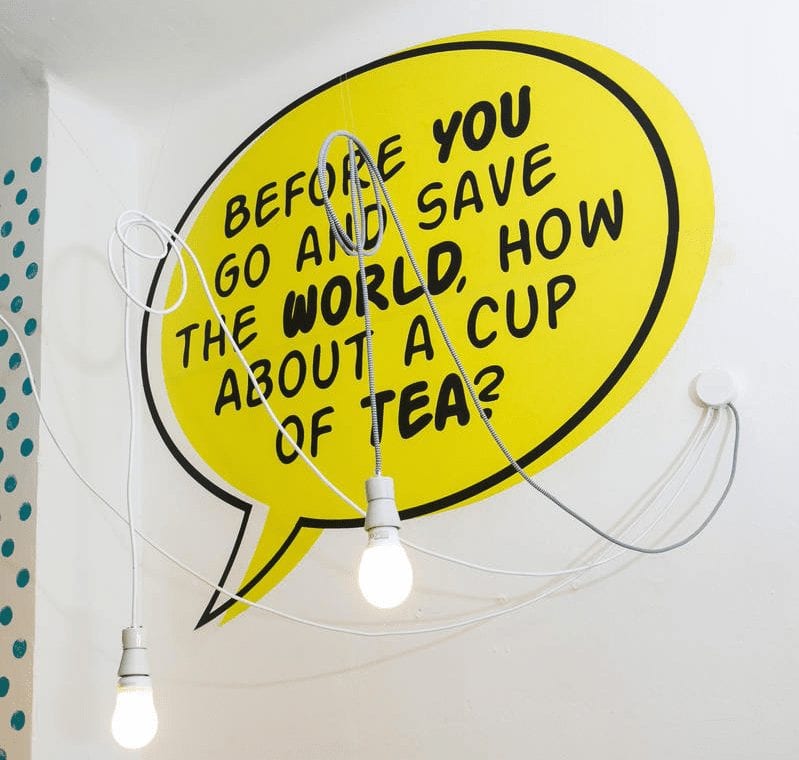 Finally, I love to see a sense of humor! My brother and I saw this hilarious photo in the photos for Kangaroo-Stop hostel in Dresden, Germany while searching for lodging for our upcoming trip, and we booked this one immediately. We could tell that this hostel has a great ambience, fun management, and unique service from this hilarious photo.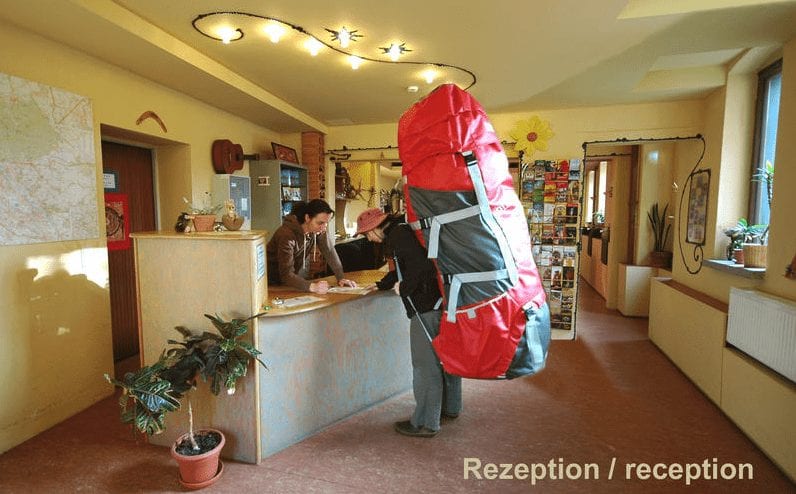 Bottom Line
If you're looking to travel for cheap and stay in the heart of the city in unique lodging, hostels are the way to go. I love getting city tips from the staff, meeting fellow travelers, and staying in places that are one of a kind. You just won't get this kind of experience holed up in a hotel. Check out the awesome and affordable options on Hostelworld in your destination cities, and prepare for an awesome adventure.