A bit northeast of central Paris, the 11th arrondissement is a quirky and hip district with unique bars and eclectic boutiques. This arrondissement is also home to the Opera Bastille. This district is home to the Atelier des Lumieres.
Before my trip to Paris, I posted in the private Thrifty Traveler Premium Facebook group, asking for recommendations for my upcoming visit. I received restaurant suggestions, tips for off-the-beaten-path views, and favorite local haunts. However, one of the recommendations was mentioned by two or three group members and piqued my interest.
The Premium Facebook group members raved about their recent experiences at Atelier des Lumieres, regarding it as a "must-see", a place that brings art to life.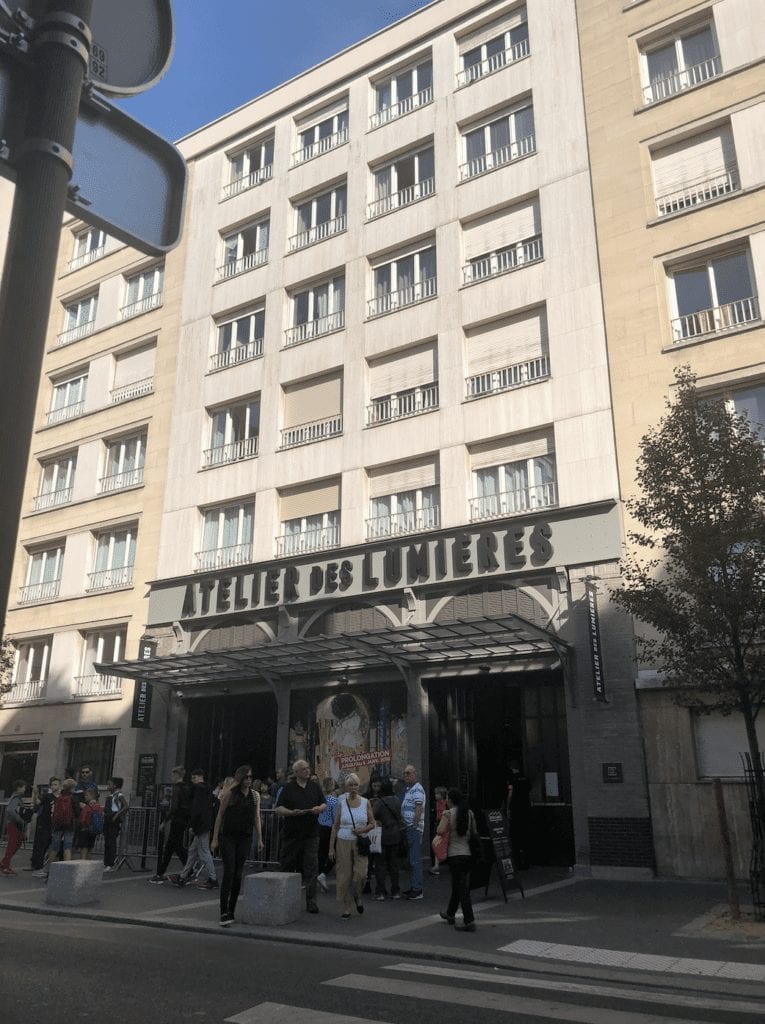 Upon further investigation of Atelier des Lumieres, I discovered that the current exhibition was a celebration of Gustav Klimt's work. As one of my mother's favorite artists, I knew we had to check this place out together.
As we reached the building, I noted some quaint and adorable cafes and small restaurants on the same block. A nearby restaurant specialized in vegan and organic meals and was painted pink. We approached the entrance: even in the late afternoon, a winding line formed. My mother asked what this place was: is it a museum, an art exhibition, or a show? I admitted I wasn't really sure, but I thought it was a little of each. We were totally unprepared for the spectacle we would soon encounter.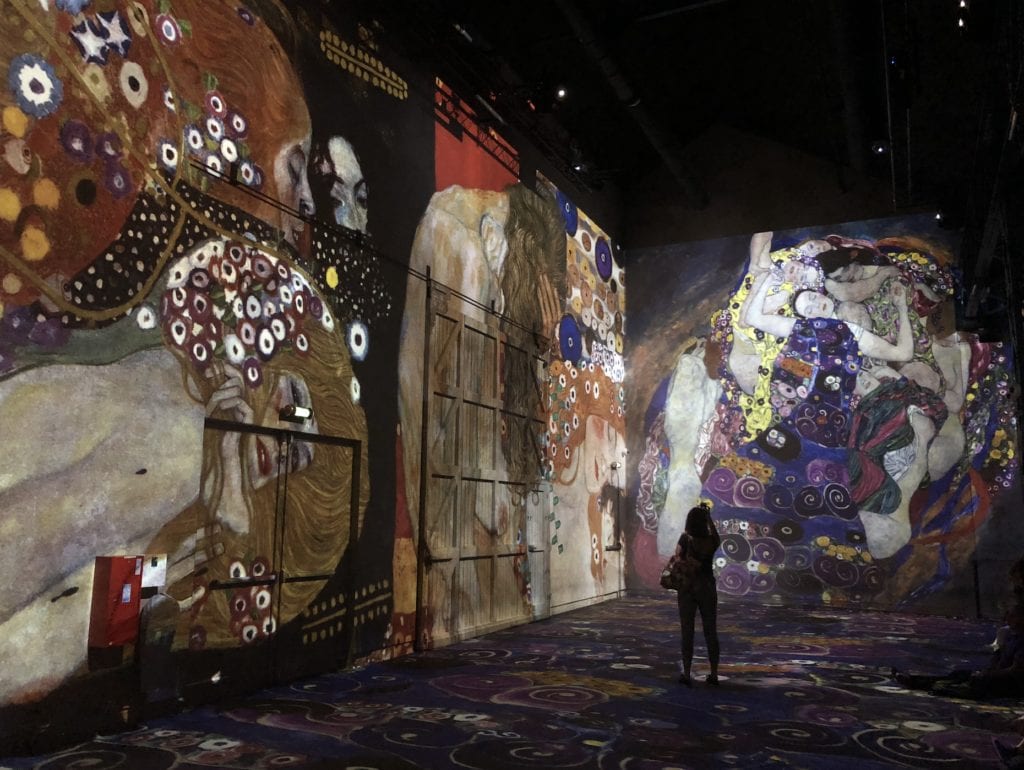 In 1830, this space was created as a foundry, creating cast-iron navy and railway parts, and later plane castings. In 1929, the foundry was closed. In 2013, this space was rediscovered by the Culturespaces President, who had dreams of turning it into a digital art mecca in Paris. Four years later, in April 2018, this space officially opened with the first (and currently showing) Klimt & Hundertwasser exhibition.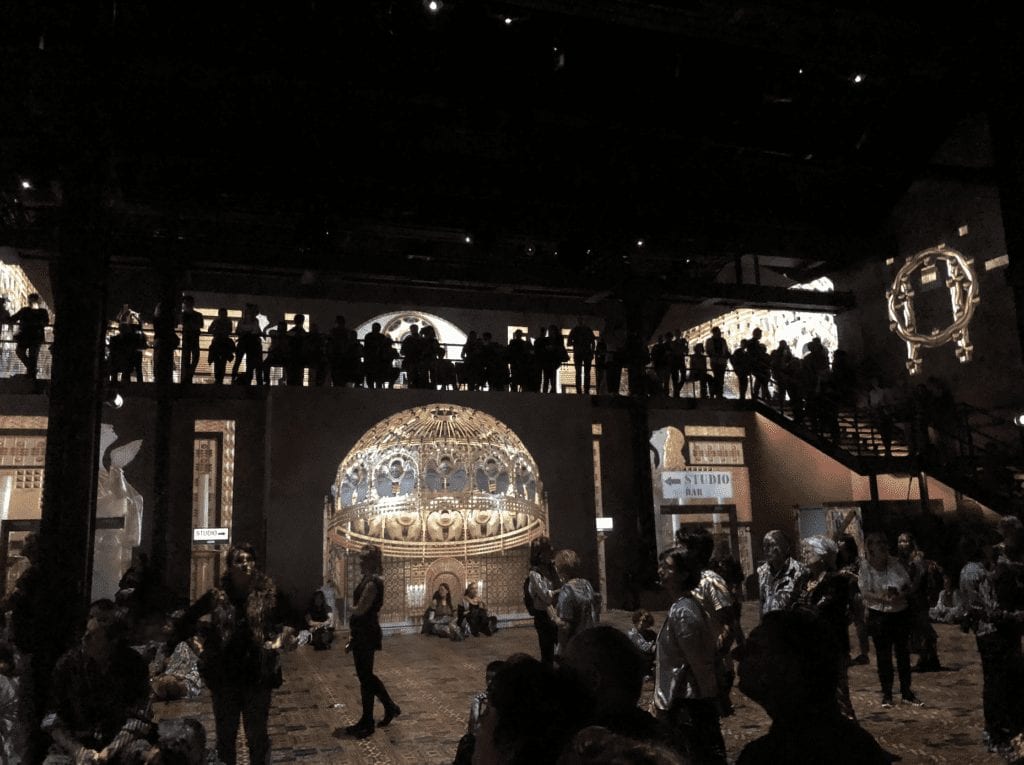 We purchased our tickets for 14.50 euro per adult. Once inside, we were directed to four large doors, through which we would enter the exhibit. We cracked the doors open enough to slip into what was an entirely different world inside.
Upon entering, I felt immediately overtaken with the sights and sounds encompassing the vast space. I had seen the photos on Atelier des Lumieres' website prior to arriving, but there's no photo that can describe how large this space truly is.
We began dazedly wandering around the space, looking in every direction and trying to take everything in. On every walled surface was a projection of Gustav Klimt's works. But it wasn't just still photos of his masterpieces: the artwork was moving, pulsing, growing, and changing. Everything had been brought to life. The movement of the artwork was accompanied by beautiful classical music that perfectly fit the emotion depicted in the work displayed.
The works projected and moving on the walls and floor changed with the rhythm of the music in harmonious unison. We continued to walk around and explore all the space had to offer. There were likely over a hundred people within the exhibit when we visited: sitting on benches or on the ground, meditatively pacing the area, or standing on the balcony above. Everyone was completely mesmerized by the art and sound show before them. Some were taking photos or videos, but many were simply watching.
This space had a large area for people to sit and watch on the main floor, as well as a balcony viewing platform. Beyond the seated viewing area was a large octagon-shaped space. Within this structure in the middle of the room was a mini version of the show, with similar artwork being displayed on the much closer walls.
Beyond the octagon-shaped space was another small, enclosed infinity room: lined with mirrors on the walls, ceiling, and floor, this space turned the artwork into seemingly never-ending space. Just to the right of that room, in the back right corner of the exhibition, were shallow pools for guests to look down at the water and see the artwork reflected.
Once we had walked every square inch of the space to get views of the exhibition from all angles, we settled on viewing the rest of the art brought to life from the balcony. Some seating was available on the balcony, but it truly was a better view to stand on the platform or on the stairs.
We were completely mesmerized by the artwork of Gustav Klimt, and then the work of Friedensreich Hundertwasser, come alive. These immersive exhibitions were accompanied by a pamphlet we received upon purchasing our tickets, that outlined each of the transitions in the exhibition over time.
Inside this space was a gorgeous studio bar for a snack and drink break, but we couldn't tear ourselves away for long enough to have a drink. After the Klimt and Hundertwasser immersive exhibitions, two shorter contemporary works aired. Much like a movie theater, these two works were the short films of sorts. "Poetic_Ai" was a beautiful show of colors and lights for a contemplative digital experience. "Colours x Colours" was a close-up look at chemical reactions, highly magnified on the big multi-screens. Both were unique and vastly different than the work of Klimt and Hundertwasser.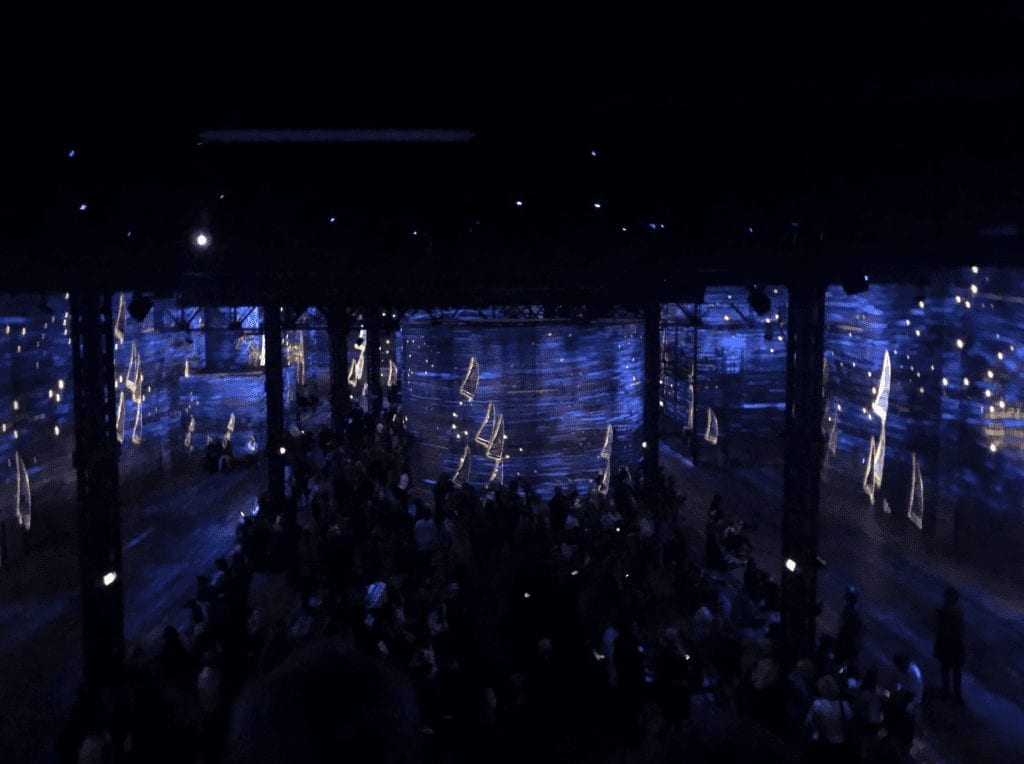 Once the two shorter exhibition presentations had come to an end, we decided to stay a little longer to see if we had missed any part of the Klimt long exhibition. Unlike a movie theater, ticket sales continue throughout the day and people can enter and exit the doors at any time (it was undisruptive and we didn't notice at all).
We were so mesmerized at the beginning that we honestly couldn't remember the first works we had seen upon entering, so we waited to watch a little longer. In all, we were inside the exhibition space for around an hour and a half to two hours. It would be easy to lose track of time in here, just listening to the music and watching the magical creations move across the screens.
When we finally exited, we felt so refreshed; we had just spent nearly two hours in contemplative meditation, surrounded by beautiful sounds and sights. We went to the help desk to learn more about the space. The Atelier des Lumieres staff told us that during the peak summer season, they had 650,000 people visit the exhibition. She told us that because of the exhibition's success and demand, they had extended the Klimt and Hundertwasser exhibitions through January 2019. After that, Culturespaces planned to have a new exhibition every few months.
The lobby area after exiting the exhibition space had illuminated signs telling more about the artists and directors, as well as a gift shop with the works of art just viewed in magnitude on souvenir goods.
Hours
The Atelier des Lumieres is open Monday through Thursday from 10:00 am to 6:00 pm. On Fridays and Saturdays, they remain open until 10:00 pm, and on Sundays until 7:00 pm. From Monday through Friday, the box office closes at 4:00 pm. On weekends, ticketing is online only. You can purchase tickets on the Atelier des Lumieres' website.
Bottom Line
If you're looking for something unlike anything you've seen before during your time in Paris, Atelier des Lumieres is an absolute must-see. We were completely mesmerized by this magnificent immersive exhibition, and I'd highly recommend it to anyone visiting Paris.