When you think of China, perhaps you think of Beijing and Shanghai, some of the largest cities in the world. However, did you know that China is home to some of the most amazing national parks and UNESCO World Heritage sites in the world? Let me introduce you to three of my favorite scenic sites and national parks in China.
Jiuzhaigou
Jiuzhaigou is about 10 hours by bus from Chengdu in western Sichuan province. (use Shuangliu airport, code CTU). Getting to Jiuzhaigou takes a long time because the bus has to wind through the mountains to get there.
The main attraction to this town is the Jiuzhaigou National Park. This city is completely alight with LED lights and miles upon miles of restaurants, hostels, and outdoor markets, awaiting the local and foreign tourists. The area is very close to Tibet, so there is a large Tibetan cultural presence there as well. If you go, stay in a Tibetan hostel. The decoration is gorgeous!
Yes, the photo above is real. Yes, I took it on an iPhone. That's how gorgeous this national park is. You can pay 90rmb  (less than $15 USD) to take the bus through the national park, or hike to get your steps in.
I would recommend getting to the park around 7 am when it opens to beat the crowds and watch the sun come up. Although there are often hundreds of thousands of Chinese tourists there, if you hike instead of taking the bus, you will barely see a single person!
Jiuzhaigou is known for its amazing crystal clear lakes, picture-perfect waterfalls, and massive mountains. It was like nothing I had ever seen before; I could hardly believe how blue and clear the water was. I recommend going in late summer or early fall to beat the peak tourist season. Plus, in fall, the leaves start to turn yellow and red and look divine.
Zhangjiajie
Have you seen the 2009 movie "Avatar" by James Cameron? The location in the film, Pandora, was inspired by and shot at Zhangjiajie National Forest Park. I could hardly believe my eyes, but yes, this landscape is real. Fly into Dayong Airport (DYG) in Hunan province. You can find flights to Dayong from most major Chinese cities, including Beijing and Shanghai.
These unique mountains, jagged quartzite sandstone columns over 200 meters high, have a unique tectonic position, allowing erosion and ice that expanded in the winter to break away at the quartz to form karst rock formations. The climate here is very moist, which allows dense foliage to grow on the towering columns.
Zhangjiajie National Park is massive. Some people take up to 11-day tours here, but if time is limited, you can do in just a few days. I recommend starting at Golden Whip Stream and making your way up to the Avatar Mountains viewing platform. Be ready for lots of stairs.
Definitely take a ride on the Bailong Elevator, also known as the Hundred Dragons Elevator. This elevator is built onto the side of one of these tall, narrow mountains and is 1,070 feet high. It is the highest and heaviest outdoor elevator in the world. It was a bit terrifying but gave us an amazing view.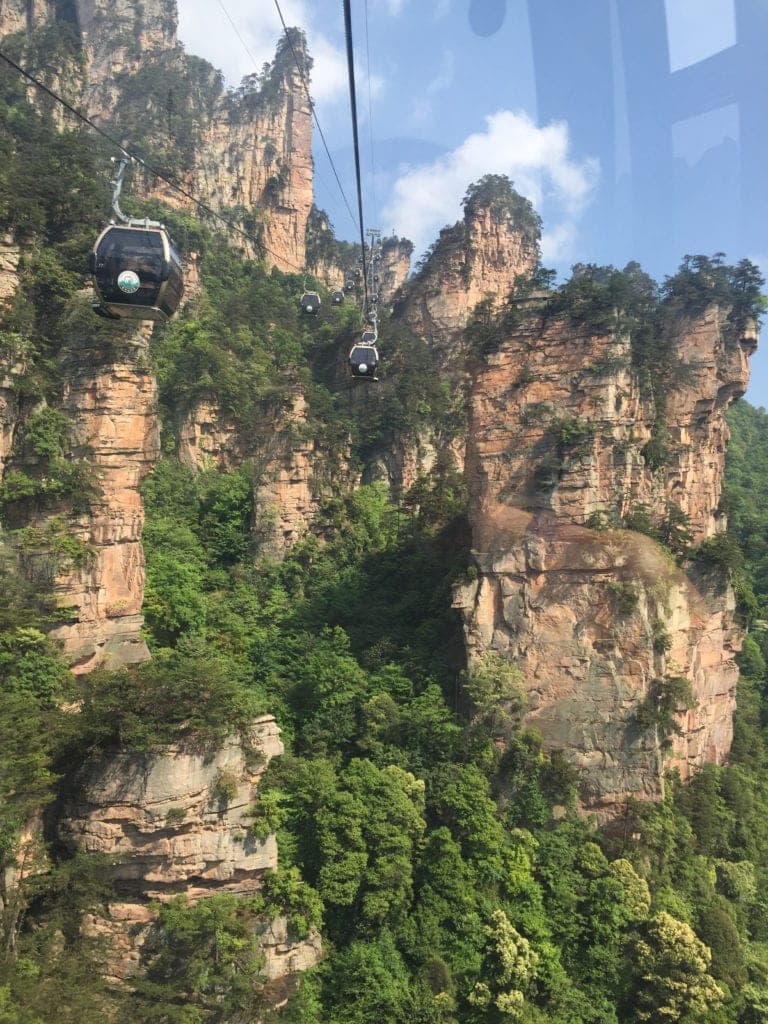 Take the cable cars up to Tianzi Mountain. At this viewpoint, you can see mountains from above and even see native monkeys. Make sure you've got all your valuables tucked away though. The monkeys are greedy.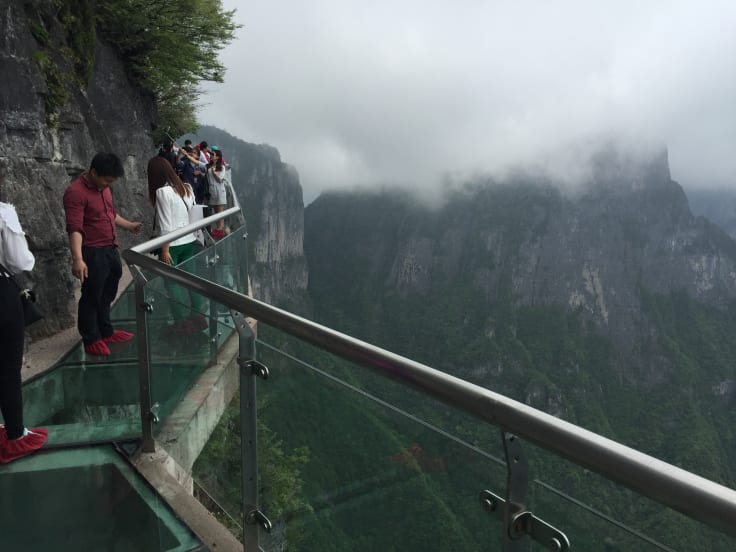 If you've got the time, take the cable car up to Tianmen Mountain: it's the longest cable car in the world. At the top, you can walk on the world famous "glass walkway" on the side of a mountain cliff. To ensure the glass doesn't break, everyone gets shoe covers and is let onto the walkway in small groups. Tianmen is not a good choice for those who are afraid of heights, but if you're willing to brave it, the view and experience is indescribable!
Emei Mountain (Emeishan)
In Chinese, "shan" means mountain. So you can probably guess that Emeishan is an epic hike. The best way to get to Emeishan and Leshan is to train or fly to Chengdu in Sichuan province, and then take a high-speed train to Emeishan. The train ride only lasts 1.5 hours and costs about 60 RMB, equivalent to about $9 USD.
Once in Emeishan, take a local bus to the bottom of Emei mountain. Here, you can choose to bus most of the way, part of the way, or hike it all. We chose to hike it all, and it took us two full days. If you're crunched for time or not ready to do 800 flights of stairs, I highly recommend taking the bus at least part of the way.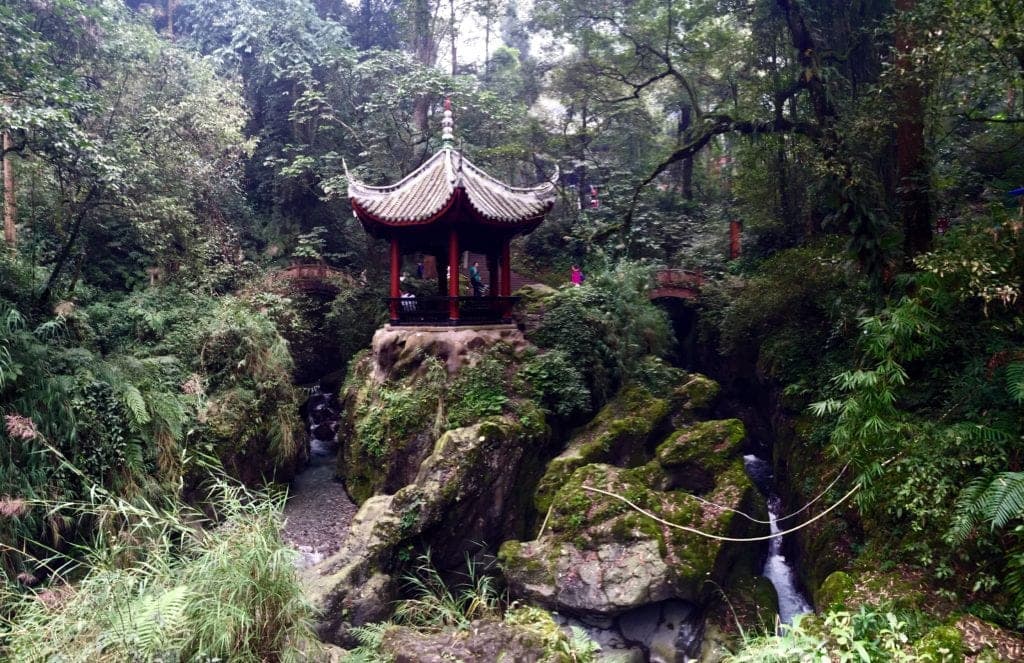 On the hike to the peak of Emei mountain, there are temples and other sights to see every 4-5 miles, which keeps the hike interesting. There are wild monkeys that inhabit some of the temples, so hold onto your phone.
To get to the very top of the mountain, take the cable car to save yourself several hours of expert hiking. At the top of Emei mountain, there is a massive golden Buddha. On the top of this mountain, you are often above the clouds, which is a peaceful and absolutely serene feeling that no words can describe.
Leshan
Leshan is just a short bus or train ride from Emeishan and is also easily accessible from Chengdu (Shuangliu airport, code CTU). The quaint town of Leshan is known for the Leshan Dafo. Leshan Dafo is the largest Buddha in the world and by far the tallest pre-modern statue in the world. I didn't even know the Leshan Dafo existed until a group of fellow travelers recommended it to me, and I'm so glad they did.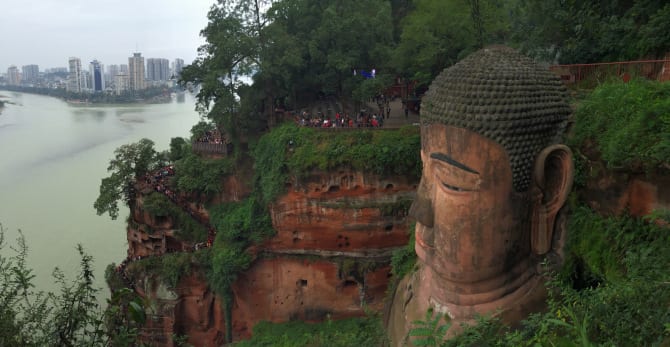 I know, it's hard to believe the pictures are real. He's so big! Dafo is a whopping 233 feet tall, built in 713 by a Chinese monk. The Buddha is built into the side of a mountain and is said to calm the river he looks over.
There is a genius water drainage system inside the rocks that make up the Buddha that is still in working order; this has reduced weathering and kept Leshan Dafo handsome for nearly 2,000 years. The Buddha has intricate carvings, each strand of hair delicately sculpted.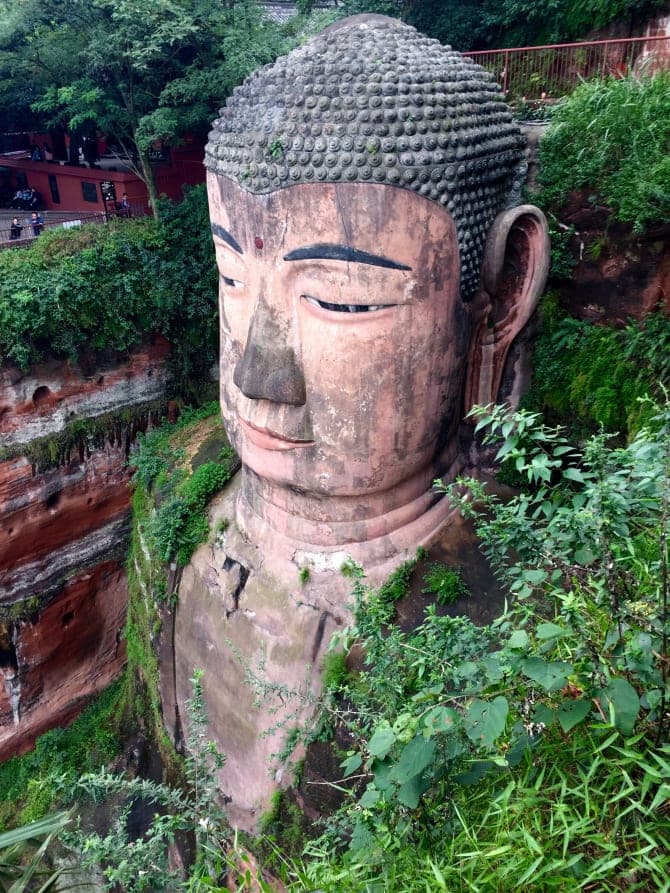 There are a few ways to enjoy the spectacle of the Leshan Dafo: first, the entrance to the UNESCO World Heritage Site takes you through some temples, gardens, and a monastery to the mountaintop surrounding the Buddha's head. Next, you can walk down a staircase in the side of the mountain to get a view of the Buddha from the side. Then, there is a platform where Leshan Dafo's feet rest, where you can truly admire how tall he is.
Finally, to get the full experience, I recommend taking a boat ride out on the river to get photos of the Buddha from the water. This allows you to get a bit further away and truly admire this mountain Buddha. Look how tiny the people look in comparison to his big toe.
Bottom Line
Although we hear so much about Beijing and Shanghai and the smoggy, densely populated cities of China, we rarely hear about the amazing national parks and UNESCO World Heritage Sites that the country is home to as well.
These are just four of my favorite national parks and amazing sites to see in China. My recommendation: get a great deal on a flight with Thrifty Traveler Premium, get your visa, and plan your amazing scenic trip to these national parks in China.