The coronavirus pandemic has drastically changed tourism and travel, around the world and within the U.S. And the same goes for California's wine country.
But wineries and businesses in Napa and the surrounding areas have quickly adapted to adjust for the times. And with temperate weather and outdoor wine tastings, a socially distanced trip to Napa, Sonoma, Paso Robles, or beyond could still work this year or next.
So, what's it like in Napa during COVID-19? Here's a first-hand look.
Read our tips to save on your trip to Napa.
What to Expect for Travel to Napa during COVID-19
While there are currently no travel restrictions for California, there are a few things to know before you head west.
First: California has a state-wide mask mandate. Throughout the state, wearing a mask over your nose and mouth is required when outside of the house. This means masks are required when indoors, on public transit, in ride-share cars, in line, and outside when 6 feet of social distancing is not possible.

Some bars, breweries, and brewpubs may be closed both for indoor and outdoor service. Restaurants and wineries cannot operate indoor service and movie theaters, zoos, and museums also may be closed. Reservations are required for most dining and winery visits – more on that later.
As California navigates lockdowns and further restrictions, each county is monitored separately. Be sure to keep an eye on the government website of the county or city you're planning to visit.
What It's Like at Wineries & Vineyards During COVID-19
This is why you're here, right? So, what's it like in wine country during coronavirus?
Don't worry: wine tastings at most wineries are still on. They just look slightly different.
Indoor tastings are not allowed. But luckily for Napa, Sonoma, and surrounding areas, the weather is temperate year-round. Most wineries were focused on outdoor seating anyway, and a view of the vineyards is always the best seat.
Similarly, indoor tours are currently not available. However, you can still get information from winery staff and servers while sipping on your flights outdoors.
Most wineries require appointments, so definitely make sure you book in advance. Weekends are the busiest (and would need an appointment even in non-COVID times). But on the weekdays, you can likely get away with booking the morning of your visit. Some wineries may be closed completely for tastings, so be sure to check each winery's website.

Okay, that covers the basics of what you should expect. But what were wineries actually like?

Besides other warm-weather destinations with plenty of distanced outdoor activities, this may be one of the most comfortable areas to visit during coronavirus. We visited several wineries during our trip and were very impressed with the safety procedures in place at each.
Tables were socially distanced – in many cases, much further than 6 feet apart. Servers and staff all wore masks. We witnessed enhanced cleaning procedures for cleaning tables and restrooms in action during our visits.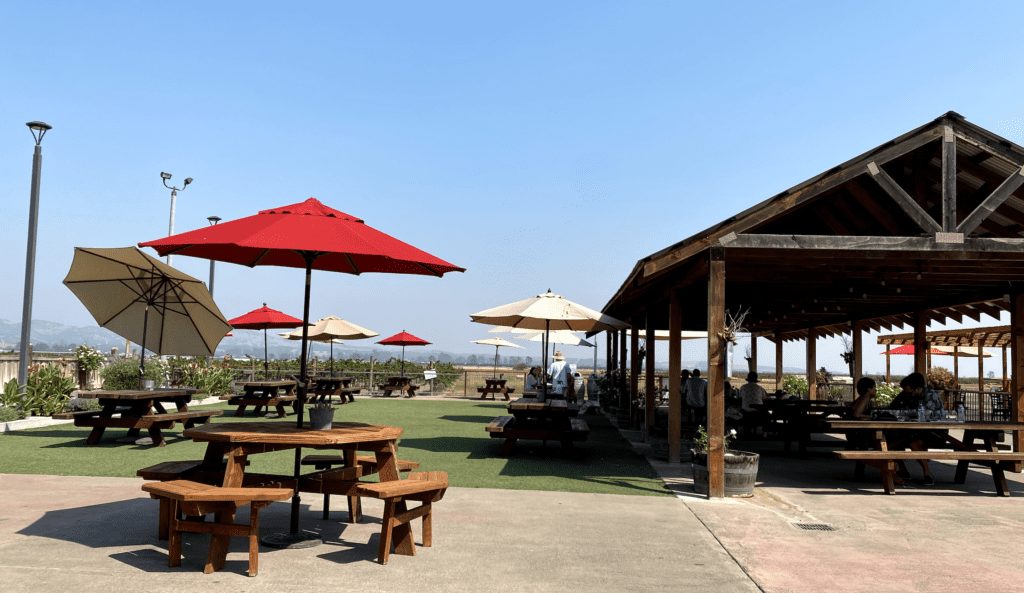 Weekdays and late mornings into early afternoons are typically quieter than weekends and late afternoons. But during our trip in early September – typically peak season leading into harvest time – we were the first and only visitors for many of our winery visits.

We could tell that winery staff were doing everything they could to make guests feel comfortable and safe during their stay.

Dining Around Napa
As far as dining in Napa and surrounding areas goes, expect much of the same. Just busier.
Restaurant seating is limited to outdoor seating only, and tables are situated at least 6 feet apart. Servers and hosts wear masks at all times.

Restaurants that do not offer tableside service have social distancing markers for the order line, and plexiglass dividers at the counter.

Many restaurants were also offering online ordering for pickup.

Other Activities
With so many scenic landmarks just a short drive from Napa Valley, staying outdoors and socially distanced is easy in wine country. Space out the wine tastings on your trip and head to these awesome spots.
Take in the ocean breeze and views at Bodega Bay, just an hour's drive from Napa. Explore the quaint fishing town around the edges of the bay and be sure to stop for famous clam chowder at Spud Point Crab Company. Then, drive out to the Bodega Bay Trailhead to walk along the coast. There are plenty of beaches and trails in this area to explore!

The other main attraction in the area is, of course, the redwoods. The closest option to wine country is the Armstrong Redwoods State Nature Reserve, just an hour's drive from Napa. We headed towards the reserve, but unfortunately, the entrance was closed due to the wildfires in September. We stopped along the Russian River instead to take in the views.

Bottom Line
California's wine country has shifted well to make visitors feel safe and comfortable during coronavirus. And if you like wine and the outdoors (who doesn't?), Napa is a great option for a socially distanced getaway.