I recently took a trip to Mykonos, Greece and it was my first experience on the Greek islands. The experience definitely met my lofty expectations. Here are a few I picked up during my travels to help you save money when you are in Mykonos, Greece.
Visit During "Shoulder Season"
While the Greek Islands are gorgeous year-round (I hear it is spectacular in winter), we know that summer is often the most popular time to visit. However, keep in mind that during peak summer months – July and August – prices for flights, accommodation, and activities on the islands skyrocket. We visited Mykonos in the beginning of June, and while it was still bustling with tourists, I imagine it was nothing compared to visiting the island in mid-July.
If you have the flexibility, I highly recommend booking your trip to Greece (or any vacation, really) during the "shoulder seasons". This is what we use to refer to the time around peak summer season: May – June and last August through September. It's much more likely that you'll find a great flight deal during these months, and you'll skip some of the crowds and inflated tourist prices when you arrive.
If you're looking for flight deals to Greece, sign up for Thrifty Traveler Premium: we find and email you 1-3 international flight deals a day at 50-70% less than the typical ticket price. Learn more about how Premium works here.
Stay outside of Mykonos Town
Mykonos Town is the most popular town on this Greek island, located just south of the ferry port. However, it can be pricey to stay there. The average hotel cost in that area is $400-800 a night. If this isn't in your budget, I suggest taking a look at some other areas on the island. We stayed slightly north of the ferry port in the Stefanos area listed on the map.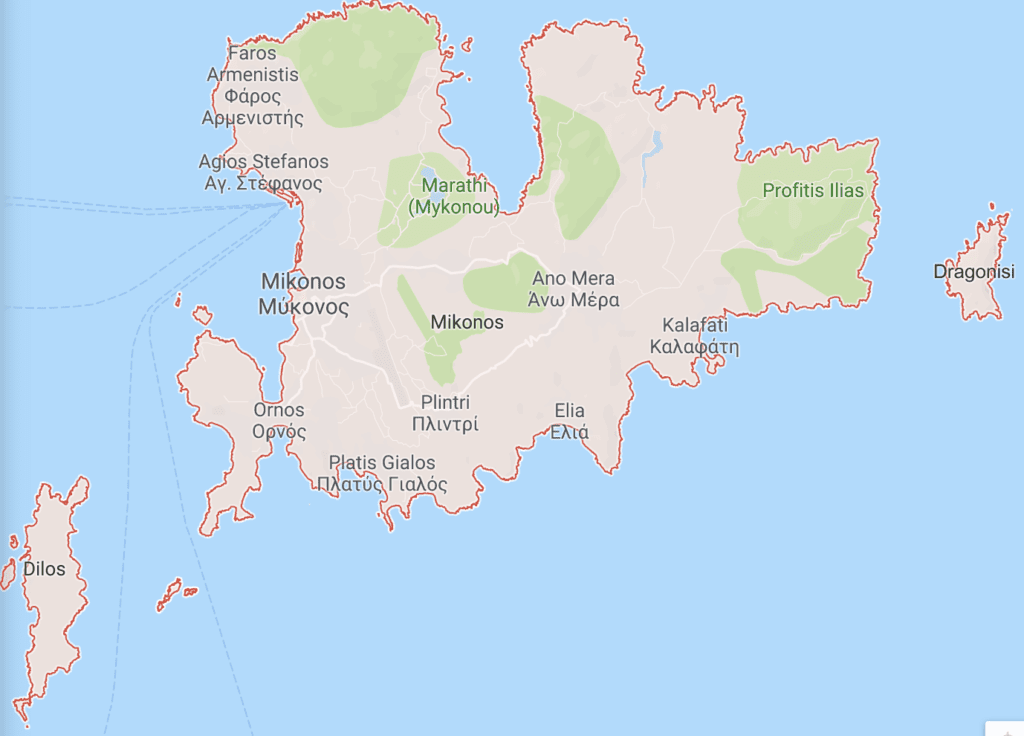 This location north of Mykonos Town actually suited us better. We were more secluded from the tourist areas and had an awesome view of boats coming to port, and Mykonos Town lighting up at night. I always say that the best views are not in the beautiful spot itself, but rather across from it.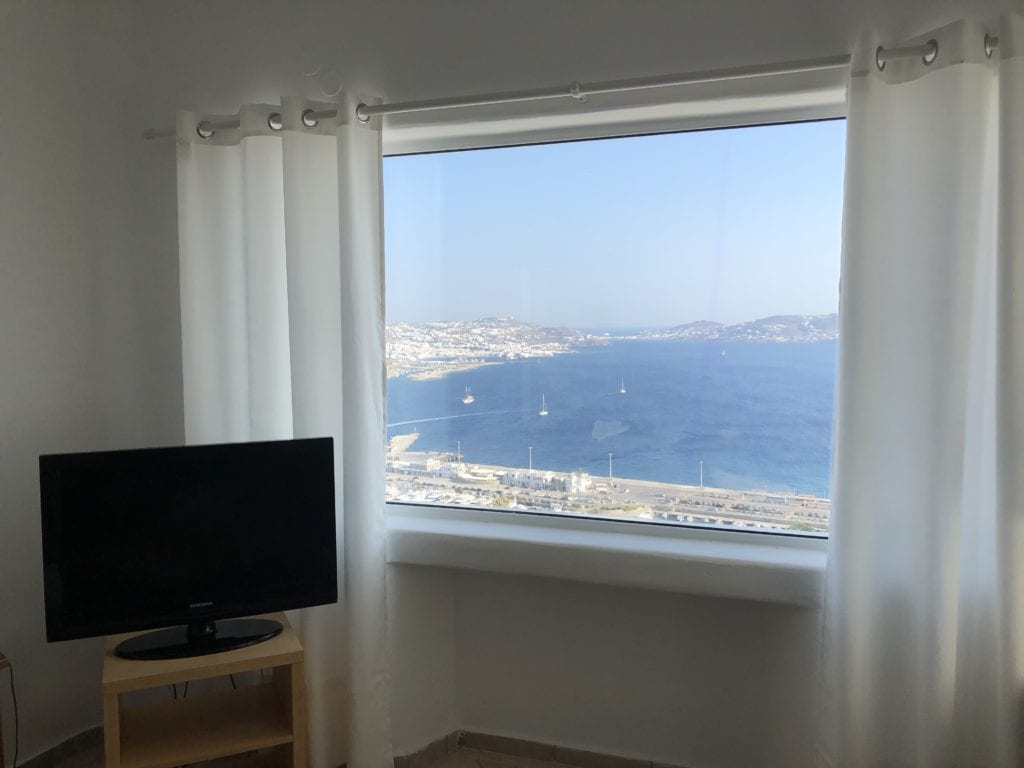 We chose the Hotel Aeri and booked through Hotels.com to collect free nights through their rewards program.
While this hotel wasn't crazy cheap (around $350 a night), our space was our own apartment with two bedrooms, two bathrooms, a living room, a full kitchen, and two patios. We even had our own semi-private infinity pool! It was a great value compared to other hotels and prices we saw for Mykonos.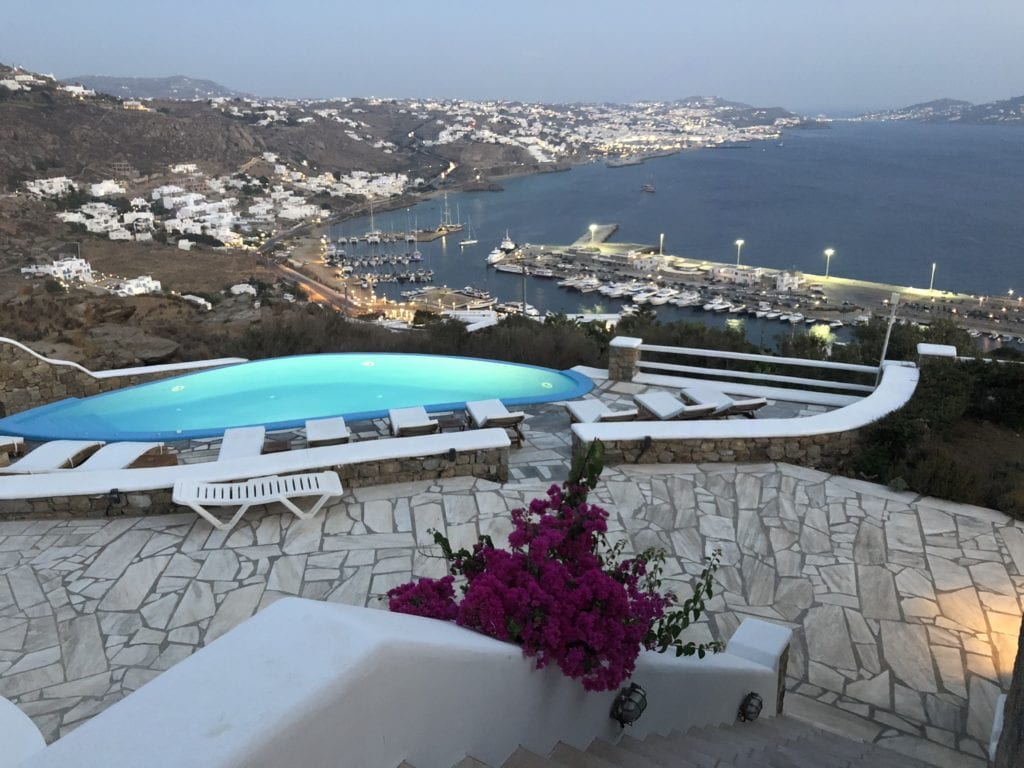 If you're looking to spend even less on accommodations during your stay in Mykonos, I recommend taking a look at hotels and Airbnbs on the other sides of the island. While the island isn't massive and less than 10 miles wide, staying further from Mykonos Town may mean you'll want to rent a moped or car if you plan to shop, sightsee, dine, or drink in town.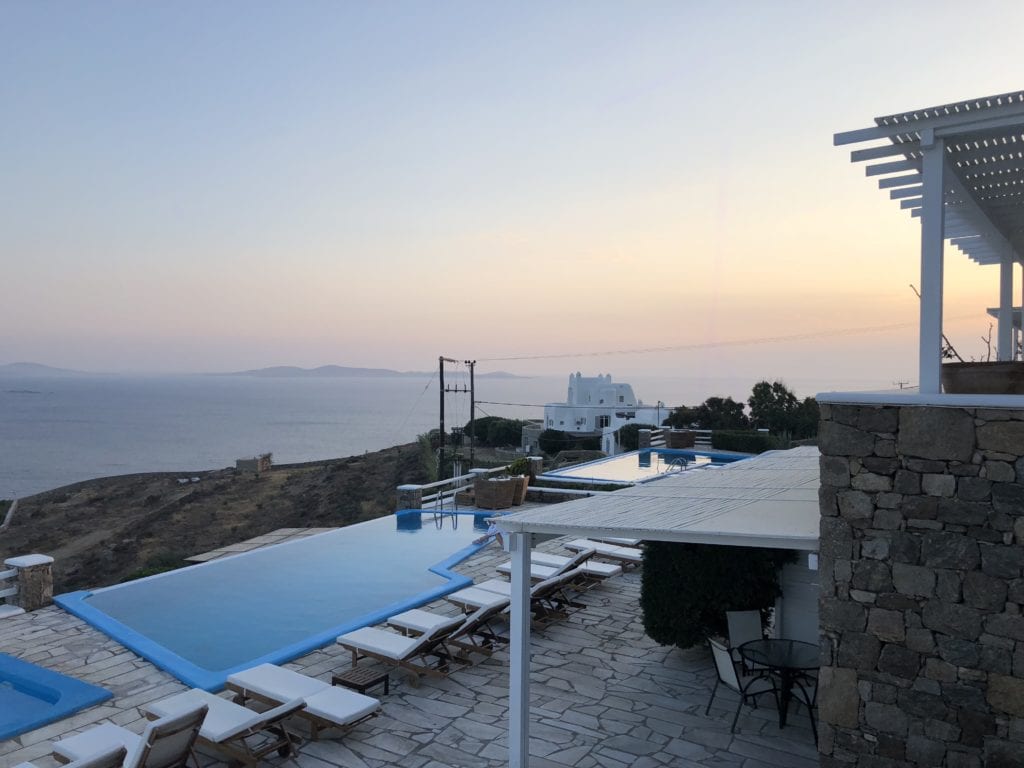 The southernmost areas of the island have a few famous beaches, so if relaxing by the pool and hitting the beach is more your speed, staying outside Mykonos Town can be a great option. Plus, the town can get pretty rowdy at night, so staying further away will likely be a quieter night sleep.
Cook Meals Yourself
Greek is one of my all-time favorite cuisines, but after a few days in Athens and multiple days in Santorini ahead, dining out for every meal was getting expensive.
Hotel Aeri provided free breakfast (in the form of the maids stocking our fridge with groceries), which was a value-add for the hotel. Plus, our hotel was up a steep road, with the restaurant options at the bottom of the hill. Since we wanted to spend most of our days relaxing by our infinity pool and watching the sunset from our patio, we decided to cook most of our meals in Mykonos ourselves.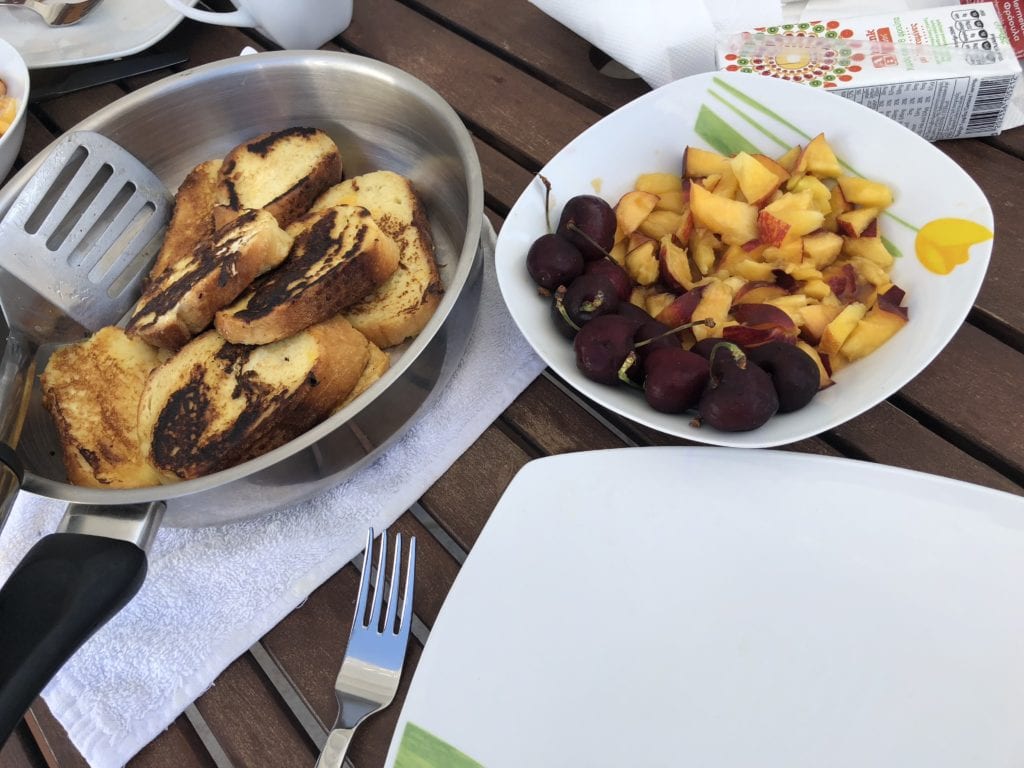 On our first day, we visited the local grocery store to plan our meals. Of course, we took advantage of the fresh local food and planned to cook according to Greek cuisine. We made tomato and feta salads, grabbed plenty of hummus, hot cheese dip, and tzatziki to go with bread and veggies, and picked out some seafood and pasta groceries for our main courses.
Even though we aren't local chefs, just using local ingredients (especially Greek olive oil) made our homemade dinners taste like fine dining.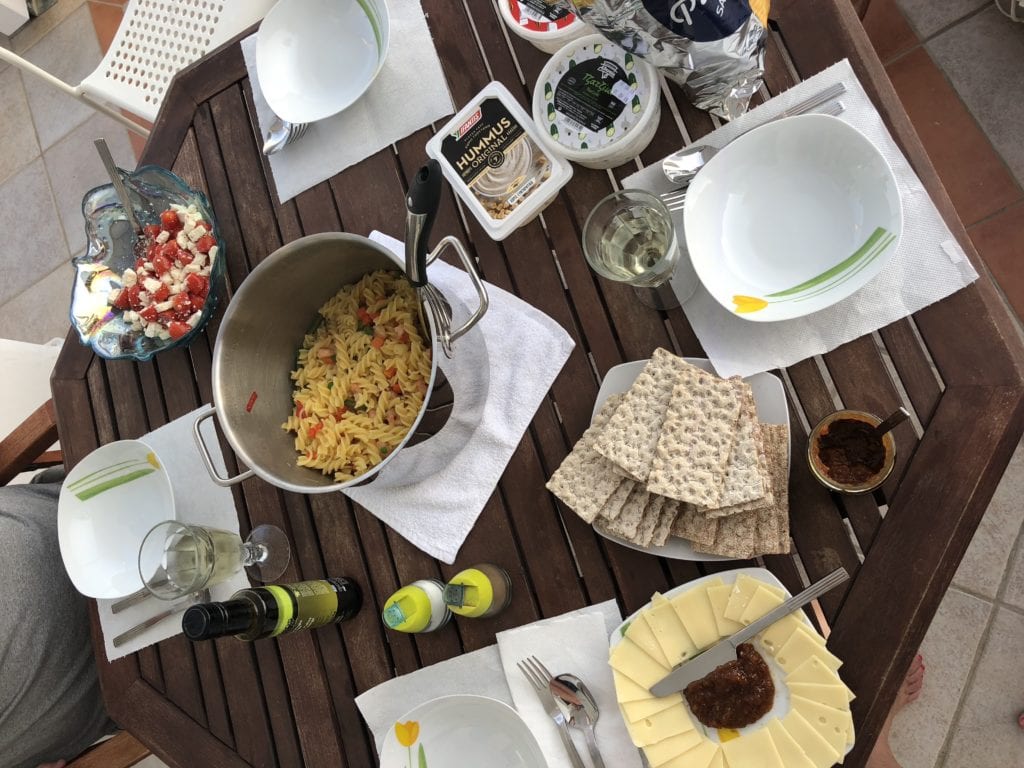 Take the Local Ferry
Transportation around Mykonos can be a bit tricky: we were told that there were less than 20 taxis on the whole island. With calling or hailing a taxi effectively being out of the question, we asked around to see what our best transportation option was to get to Mykonos Town from our hotel area further north.
We were told that there was a form of public transit bus system, but the system was unreliable and not really made for tourists. There are a few moped and car rental stores sprinkled around the island, but local driving on the steep hills and winding roads seemed a bit too wild for our taste. Finally, we found an option that was cheap and easy: the local ferry.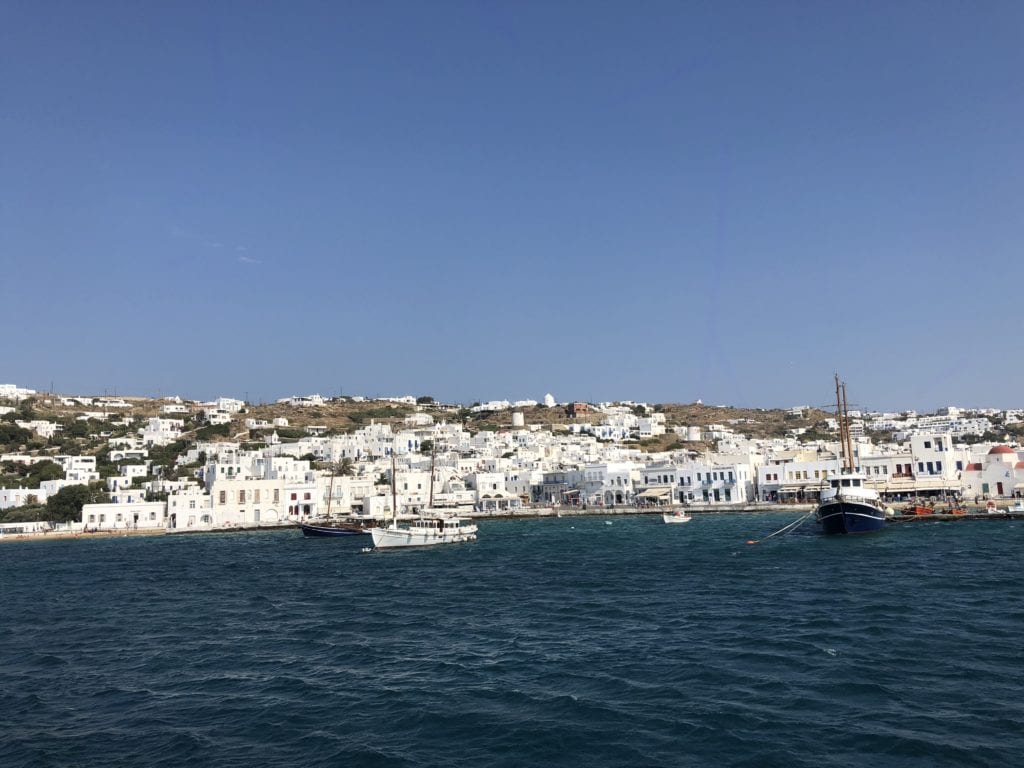 We walked down to the main ferry port, and just as we had been told, the ferry came every half hour to the port. For 2 euro, the ferry will take you from the port (I believe it picks up from one other spot on the island as well) to the heart of Mykonos Town, right next to Little Venice.
The ride takes about 10 minutes and is definitely the easiest way to get from the port to Mykonos Town. However, keep in mind that the ferry ride frequency lowers to once an hour in the evening, so plan your night accordingly.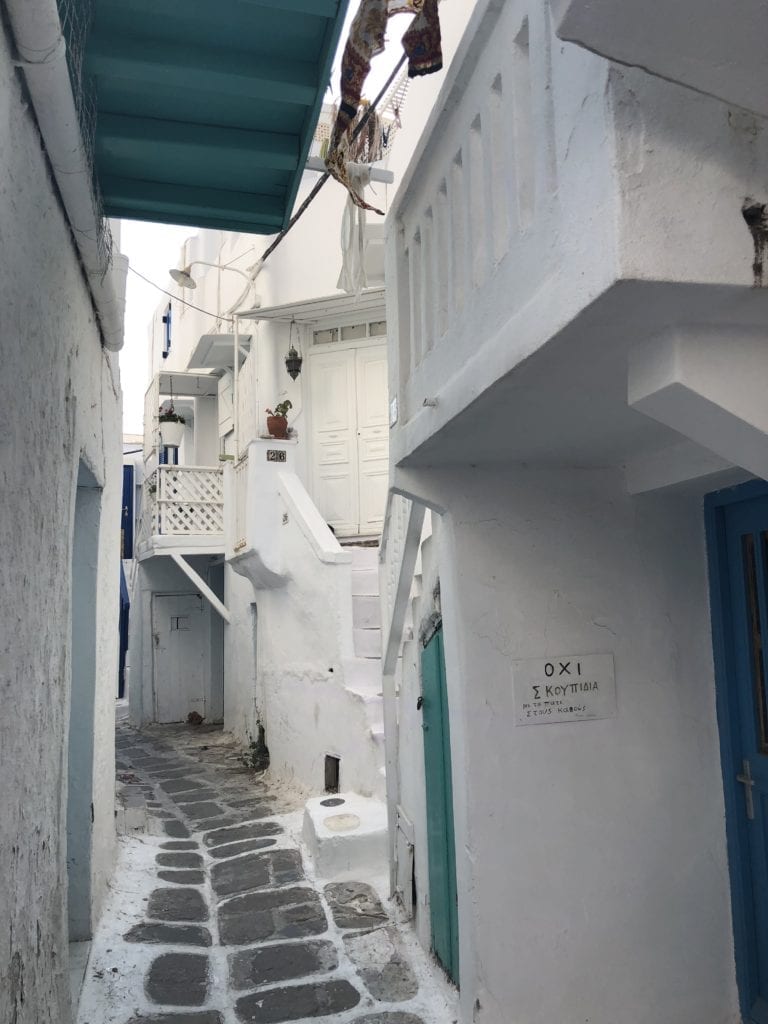 Once you've arrived by local ferry to Mykonos Town, enjoy the quaint alleys, delicious food, spectacular sunset view, and bumping nightlife. Give yourself enough time to explore all the town has to offer.
Bottom Line
Mykonos is an awe-inspiring and relaxing island to visit, but its beauty isn't cheap to behold. Use these money-saving tips to save on your next trip to this beautiful Greek island. Happy travels!