All-inclusive resorts are all about the flowing drinks, endless food, sun, sand, and tons of activities. For many travelers heading for Mexico or the Caribbean, staying at an all-inclusive resort is a foregone conclusion.
But how has COVID-19 changed that experience? We just found out for ourselves with a recent stay at the Hyatt Zilara Cancun, Hyatt's adult's-only all-inclusive property. It was our third stay at the property, so the changes were obvious and easy to spot.
Of course, every resort will be different. But this experience should give you an idea of what changes are in store for your next trip to an all-inclusive.
Read More:  Is Travel to Mexico During COVID-19 Safe? A Firsthand Look

New COVID-19 Cleaning and Safety Procedures
All the major hotel chains have partnered with big companies to up their cleaning. And that was obvious at the Hyatt Zilara Cancun.
Hyatt has partnered with Ecolab for enhanced cleaning procedures and to provide extra services to guests, like hand sanitizing stations. The changes were evident from the minute we arrived.
First, we were asked to hand over our luggage to be cleaned. Our luggage was returned with a sticker showing it had been sanitized.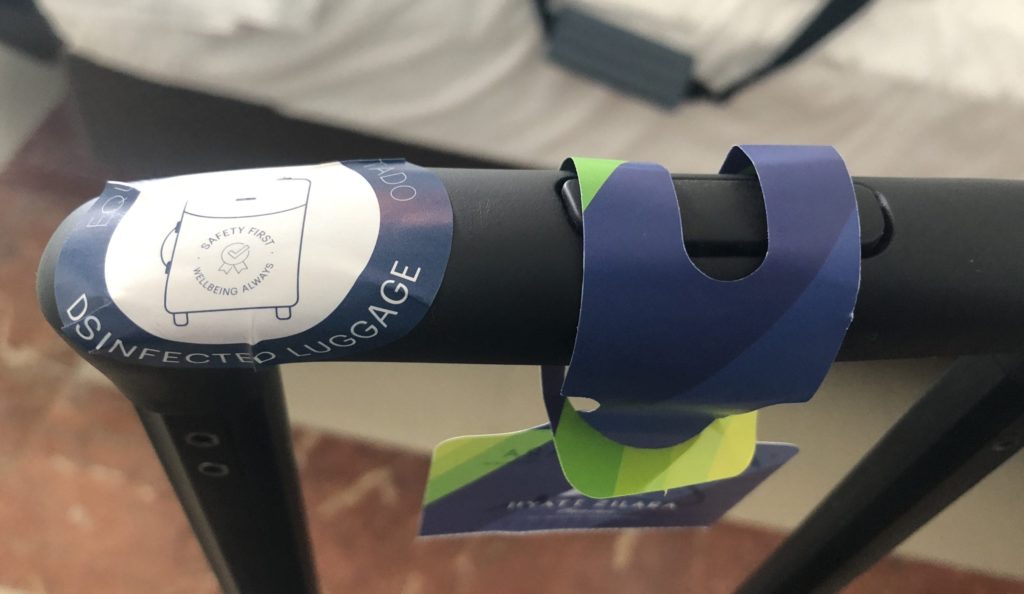 The check-in process was fairly similar aside from the plexiglass separating each receptionist from guests – a common touch at all hotels and resorts these days. As we headed to our room we noticed hand sanitizing stations scattered around the property, mainly in high-traffic areas.

When we got to our room, it had a seal on the door to show that it had been fully sanitized. And it certainly had been: The room was spotless.
The biggest change in the room was with amenities. All of the shampoo and soaps, and TV remote, and even the coffee maker were in small baggies sealed with a sticker to show they, too, had been sanitized. There was also a small bag containing a bottle of hand sanitizer and antibacterial wipes.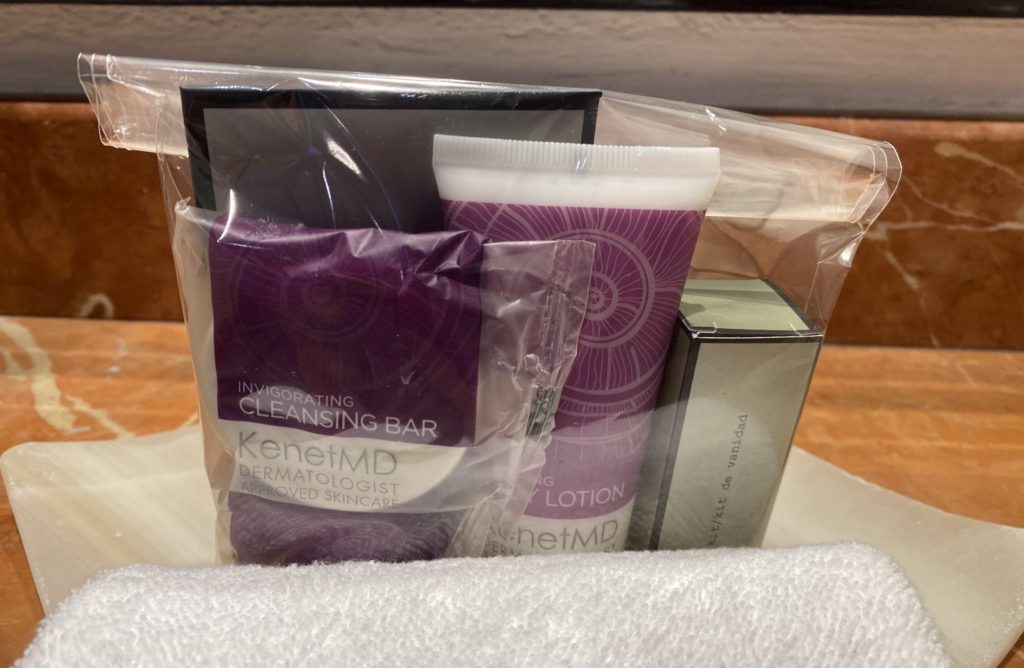 Wearing Masks
Hyatt requires masks to be worn in all public spaces of each and every one of their hotels – including in the pool area. The Hyatt Zilara Cancun was no different.


But were guests actually following it? And was the hotel enforcing it? Well, not exactly.
Just 60% or so of hotel guests were wearing masks around the property, including indoor spaces. We wore our masks in all public spaces indoors and outdoors, including going to and from our lounge chairs by the pool.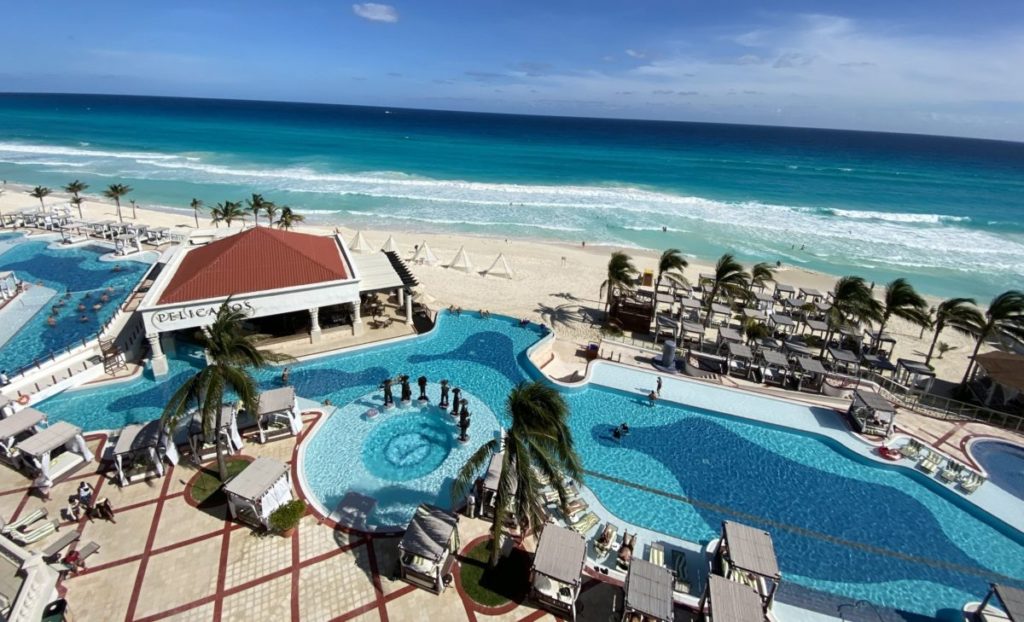 The staff all wore masks at all times including around the pool. At indoor restaurants, staff wore both masks and face shields and also used gloves.
At the Pool & On the Beach
Not a lot has changed around the pool area or on the beach. And that's both good and bad.
Chairs and cabana beds hadn't been moved for social distancing. Luckily, most people were trying to keep their distance. We chose to sit where it was less busy.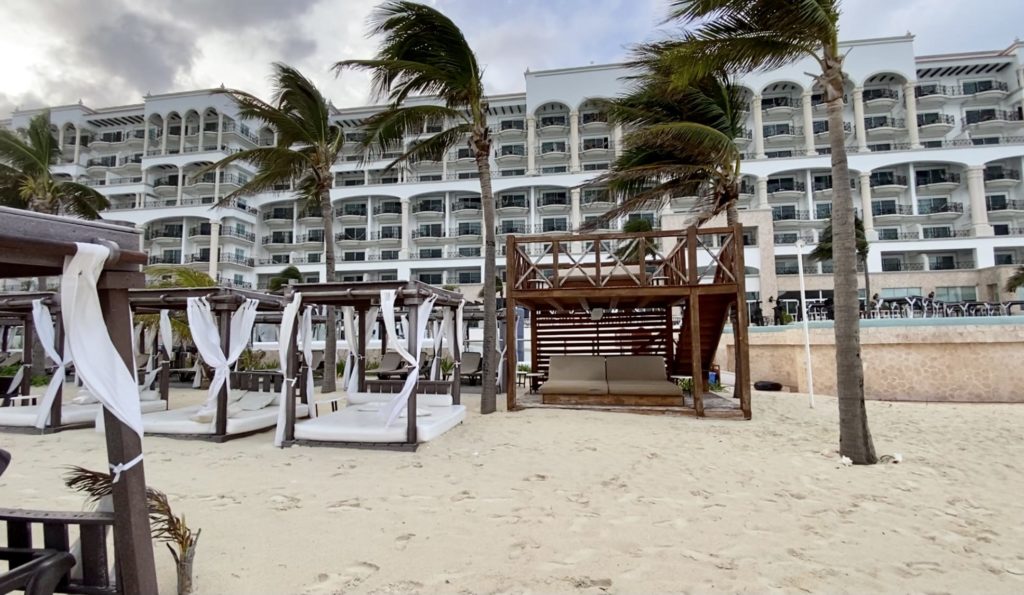 Restaurants & Bars
The changes are much more noticeable when it comes time to eat and drink.
The Hyatt Zilara Cancun has only one outdoor restaurant, Pelicanos. And while it is typically only open for breakfast and lunch, it's now also open for dinner.
The indoor restaurants are at 50% capacity with tables spaced out. All of the staff at the indoor restaurants wear masks, face shields, and gloves. Tables were fully sanitized between seatings.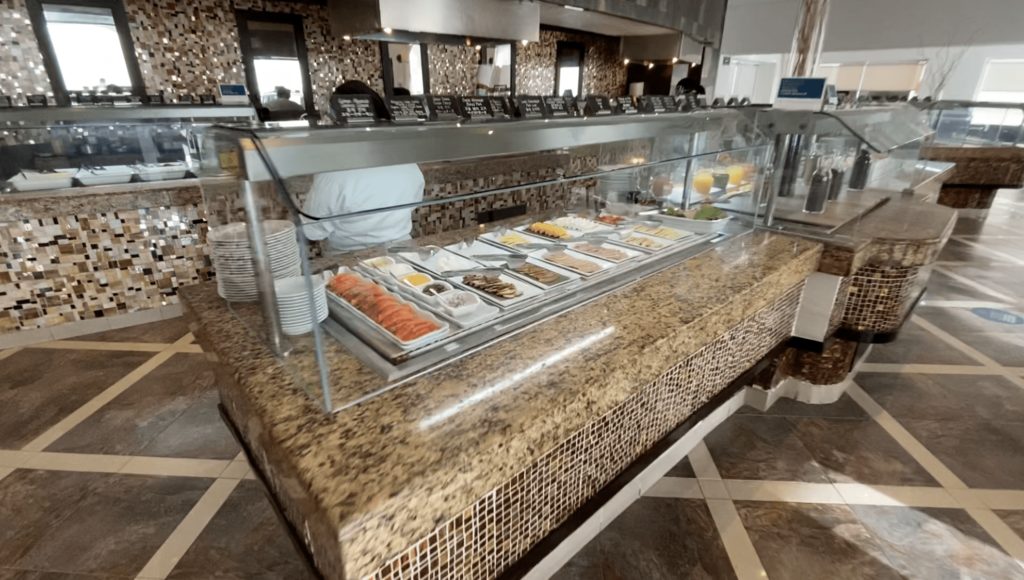 For breakfast, the buffet was still available, but it is no longer self-service. All of the food is covered by plexiglass and there are staff members there to serve you both cold and hot items.

The main change we noticed at the bars around the property was the lack of seating around the bars. You can no longer belly up to the bar to order drinks. Instead, there are circles on the ground indicating where to stand to order. They also added more tables near the bar that were properly spaced out.
Room Service
Room service came in take-out containers with plastic silverware, which is the case for most hotels right now.
Still, it was a surprise because all of the Hyatt Zilara Cancun's restaurants are open, and they're using dishes and silverware. I expect the resort is simply following Hyatt's general guidelines for room service.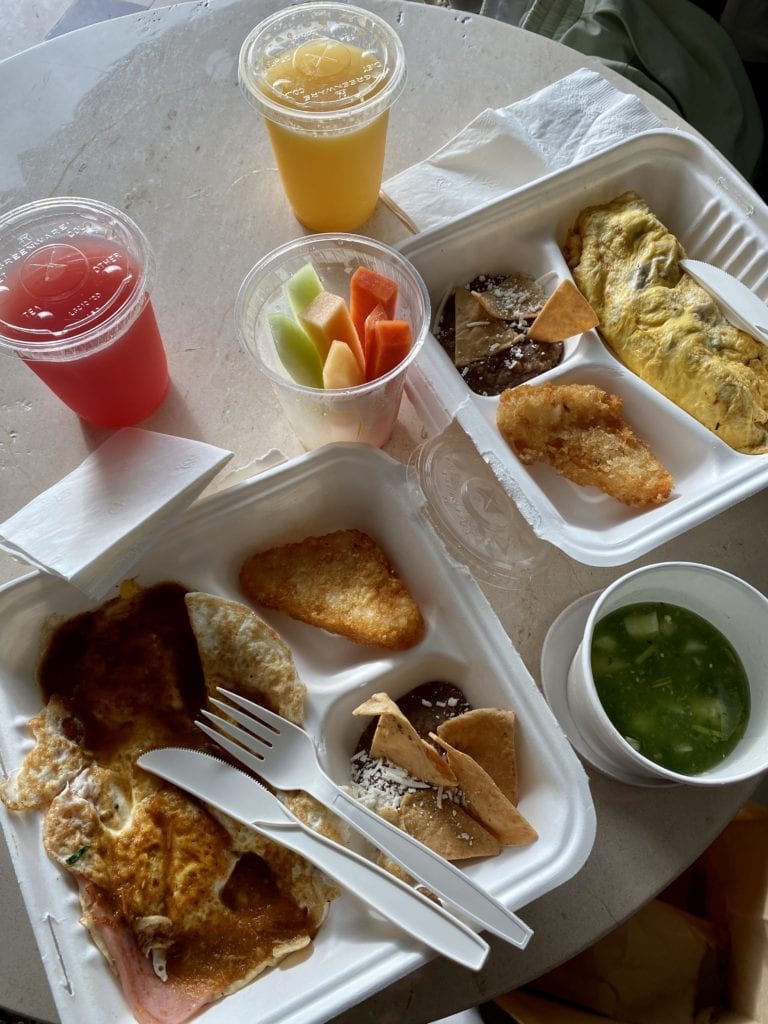 Activities
Little has changed when it comes to onsite activities.
Most of the usual activities were available to guests, including yoga outside in a gazebo, pool activities, and evening entertainment. It seems the only activities they don't seem to offer anymore are the wine and tequila-tasting classes.

Fitness Center
Nothing visibly changed with the fitness center aside from the prevalence of sanitizing spray to clean equipment before and after use.
But keep in mind that the gym at the Hyatt Zilara Cancun is one of the bigger hotel gyms I have seen. Some properties with smaller gyms have been limiting capacity or requiring people to sign up for times.

We chose to go to the gym early in the morning around 6:30 a.m. hoping that there would be fewer people around. And there were only a couple of other people in the gym at that time, making it easy to keep our distance.
Bottom Line
The Hyatt Zilara Cancun has done a lot to ensure the safety of guests and the staff. And while each resort will be different, there's no denying the all-inclusive resort experience has changed.