The COVID-19 pandemic has changed Sin City, too.
Much of Las Vegas shut down in the early stages of the pandemic, but travelers have been making their way back to the gambling capital of the U.S. for months. From mandatory masks to capacity limits, new safety procedures are in place.
But after a recent visit to Las Vegas, I can confidently say: It's just … different. The constant buzz of the Las Vegas Strip is gone, at least for now. In its place, there's a tentative hum of a tourist mecca waiting, buying time until "normal" returns.
Whether you're a first-timer or a regular, here's a look at what you'll find on your next trip to Las Vegas.
New Safety Measures at the Airport
While travel is down across the board, Las Vegas is one of a handful of tourist destinations nationwide still luring tourists back during the pandemic.
After touching down at Las Vegas (LAS), you'll quickly see the airport has done more than perhaps any other to improve safety. There are automated hand sanitizers almost everywhere you look. You'll see and hear almost constant reminders, placards, posters, and overhead announcements to stay safe, keep at least 6 feet between strangers, wash your hands, and wear a mask. And because this is Las Vegas, it's all done with a gambling theme: "Don't roll the dice: Stay 6 feet apart!"
The airport has dubbed it "LAS All In," and it's seriously impressive. Airport officials also say they've stepped up their cleaning throughout the airport, using higher-grade disinfectants. And while the airport can't control each and every passenger, there's no denying its enhanced safety protocols for COVID-19 are making a difference.
Looking to use a lounge on your way back home? The fabulous American Express Centurion Lounge in Las Vegas remains closed (and is undergoing an expansion) but you can get into The Club in Terminal 1D with a Priority Pass membership. Capacity is capped, seating is blocked to ensure social distancing, and all food and drinks are served by lounge attendants.
Empty Streets, Busier Weekends
Look at this.
In a half-dozen visits spread over the years, I have never seen Las Vegas Boulevard (aka "The Strip") this empty. Not even close. Today in Las Vegas, the cars, trucks, and driving billboards that typically dominate the Strip have all but disappeared. Sidewalks and walking paths feel much emptier, too.
Or scope out the check-in area at Aria on a Thursday afternoon.
It's a sign of the times. While visitors have returned to Las Vegas during the pandemic, it's nowhere near back to normal. Case in point: Visits to Las Vegas were down 57% in August compared to a year before, according to data from the Las Vegas Convention and Visitors Authority. That's a healthy increase from the 97% drop recorded in April 2020, but travel is still way down.
The rhythym in Las Vegas follows the same familiar formula. Weekdays are lighter until Thursday, when it begins to pick up for the weekend.
But now, weekdays are positively sleepy. And although it's noticeably busier on Friday and Saturdays, you can still feel the city is not buzzing along as usual.
Most Strip Resorts are Open Now
For months, much of the Las Vegas strip went dark as casinos and resorts closed down amid the pandemic. Fast forward to the fall, and almost every major property on the Las Vegas Strip has reopened.
Today, almost every major property on the Las Vegas Strip is back open for business. Most recently, Planet Hollywood opened its doors just last week on Oct. 8. Park MGM
As of publication, just two properties on the Strip remain closed:
The Cromwell
Rio Las Vegas
Mandatory Masks (& Some Temperature Checks)
Just because the Strip is back open for business doesn't mean it's business as usual inside hotels and casinos.
For starters, you'll have to wear a mask. Not just because it's common sense, but because of a statewide mandate. And in most cases, casinos are enforcing that with reminders around casino floors and public spaces and employees stationed at entrances to monitor mask usage as guests come in.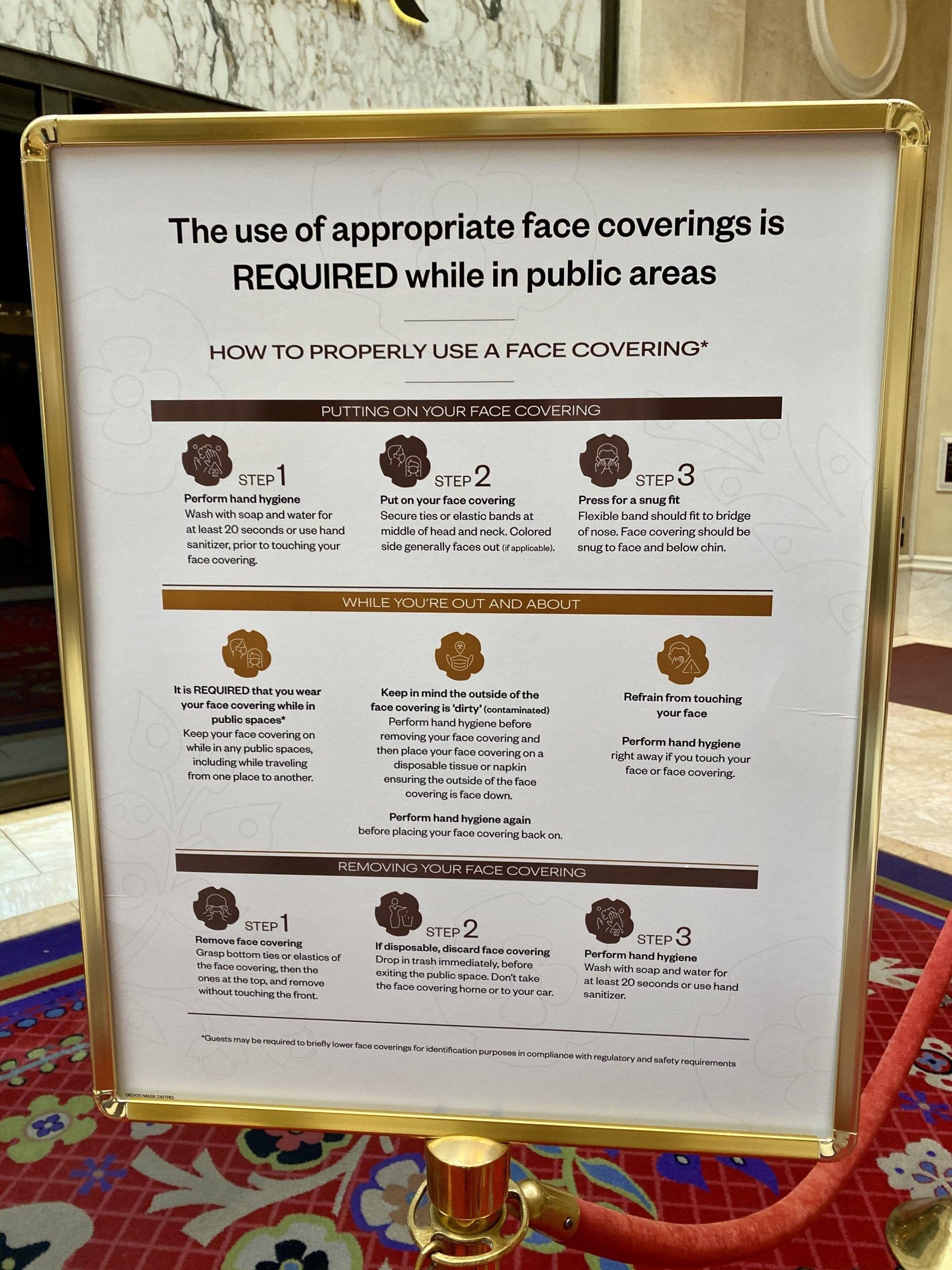 Some casinos and stores along the Strip even get a bit cheeky about it…
But temperature checks aren't nearly as widespread. Wynn and Encore have thermal scanners to check temperatures of guests as they walk past, but otherwise this technology isn't common around the Strip.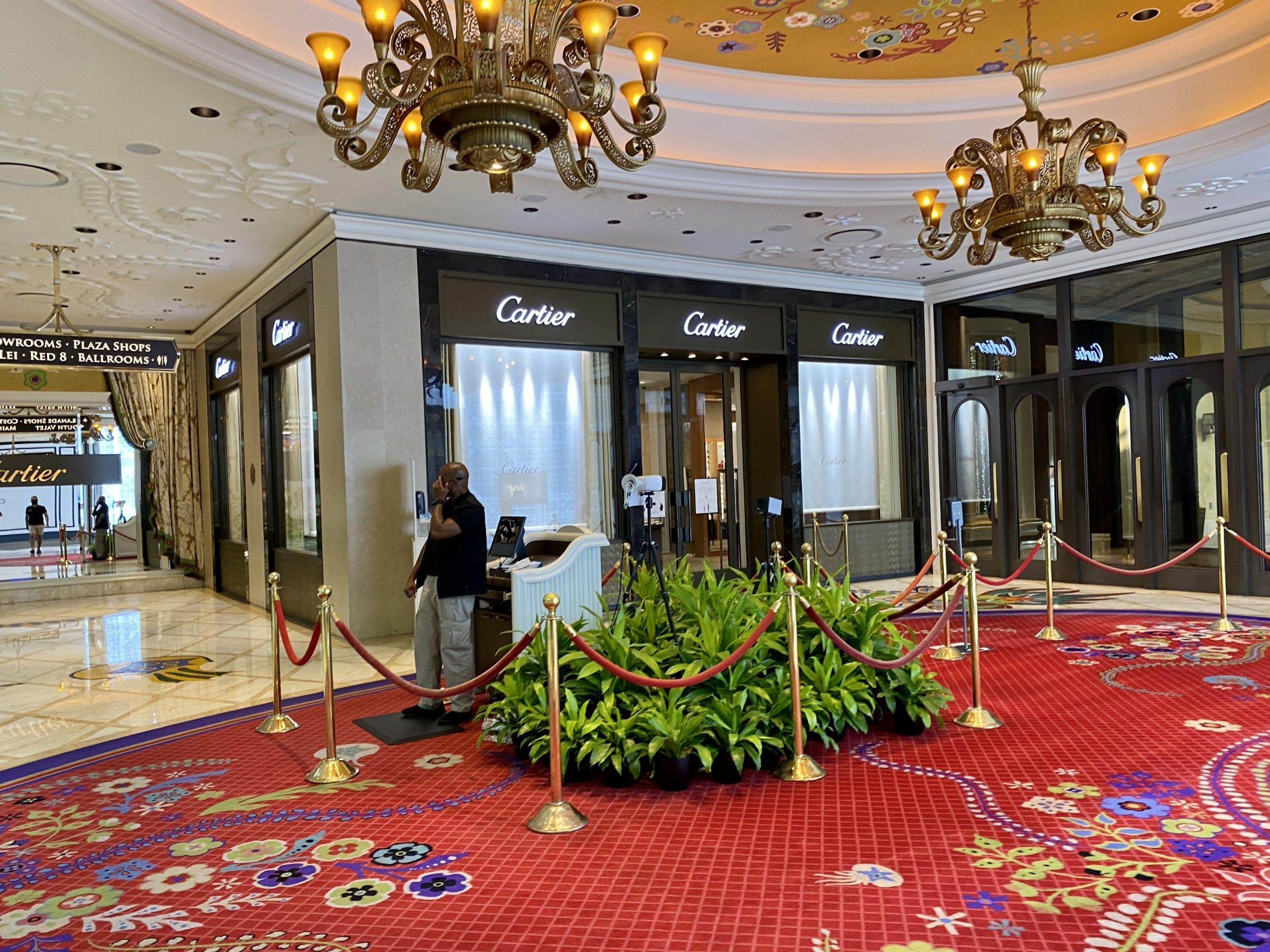 Socially Distanced Gambling
Hitting the casino floor? There are changes in store there, too.
Many tables on each casino floor have simply shut down. The ones still playing have removed seats or capped capacity to help people spread out. And many tables with poker, roulette, craps, and blackjack have installed plexiglass partitions between players.
The same is true at the slots, where most casinos have removed seats between each machine or simply shut them down to give people more space while playing – or both.
Dining is Still Fine, But…
Going hungry in Las Vegas means you're just not trying.
With restaurant capacity limited at 50%, making a reservation is more important than ever. On the bright side, tables at most restaurants are appropriately spaced out. You can slip your mask off while eating and drinking, of course. And in my experience, every waiter was good about wearing a mask at all times – and wearing them properly.
Just one thing to be aware of: COVID-19 surcharges. The Las Vegas Review-Journal reports that some restaurants are experimenting with a 4% surcharge "to help offset restrictions on our business resulting from the COVID-19 crisis." It's not common yet, but that could change, too.
And yes, the food is still good.
Read our guide to matching hotel status to get a $100 dinner on the Las Vegas Strip!
Few Outdoor Dining Options
Getting a good meal in Vegas isn't a challenge. Eating a good meal outside? Well, that's another matter.
Most of the top eateries on the Strip are indoors. That's bad news if you're set on staying outdoors as much as possible due to COVID-19. But here are a few options to eat al fresco:
At Paris, you'll find Mon Ami Gabi as well as the rooftop Beer Garden
Head for The Linq and grab light bites from many restaurants in the Linq Promenade or head straight for Guy Fieri's patio.
Wynn and Encore have more restaurants with outdoor seating than any other resort on the Strip.
On the south end of the Strip, Border Grill at Mandalay Bay has plenty of outdoor seating.
The Great Outdoors Still Awaits
Here's one thing that hasn't changed in Las Vegas: Its proximity to some jawdropping scenery.
Now as ever, you can use Vegas as your starting point for an epic trip through Utah's national parks. Make your way through Bryce Canyon, Arches, Canyonlands, Zion, and Capitol Reef. You won't regret it.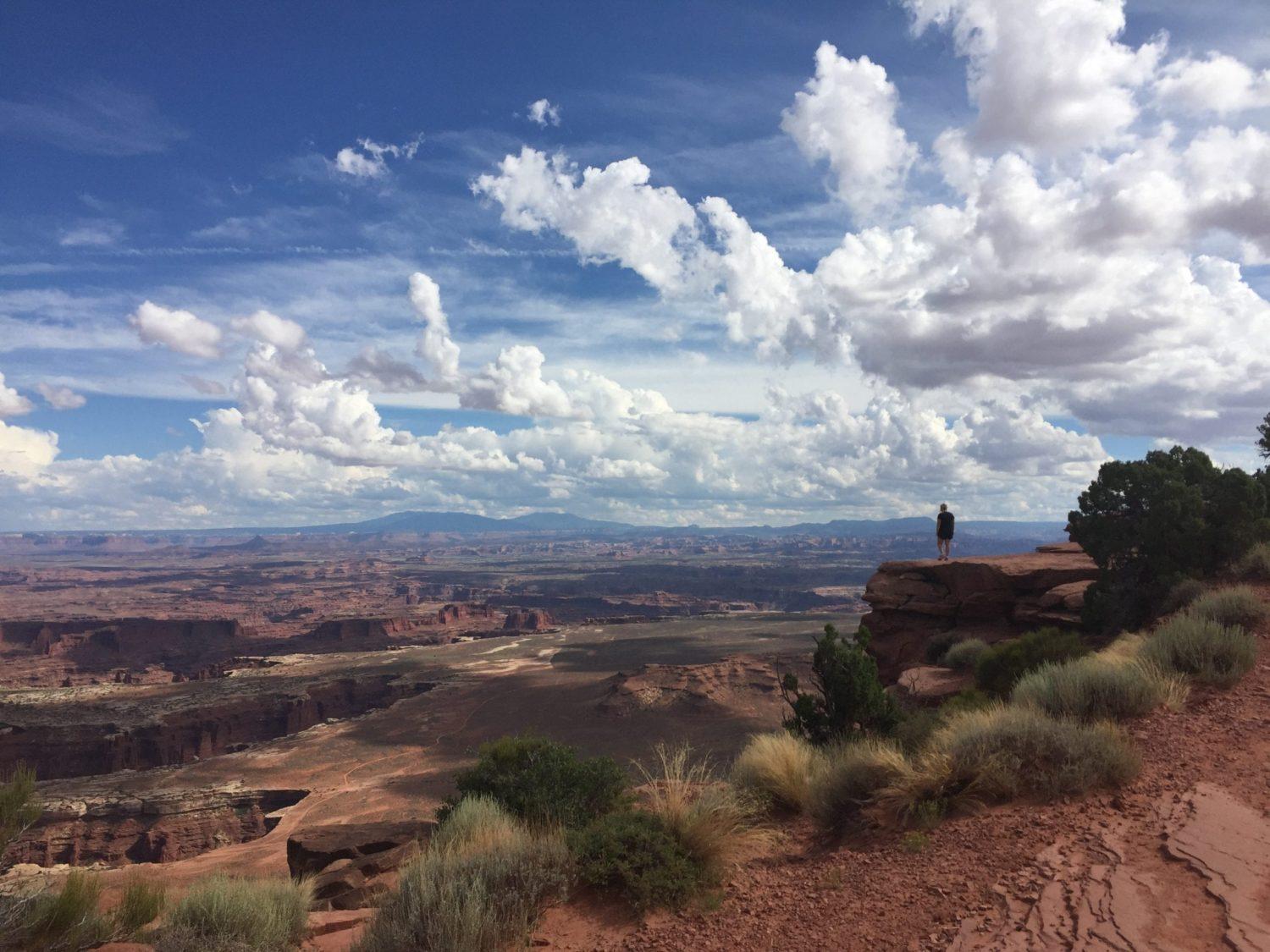 Want to stay closer to the city? Head for Red Rock Canyon, just a 30-minute drive west of the Strip.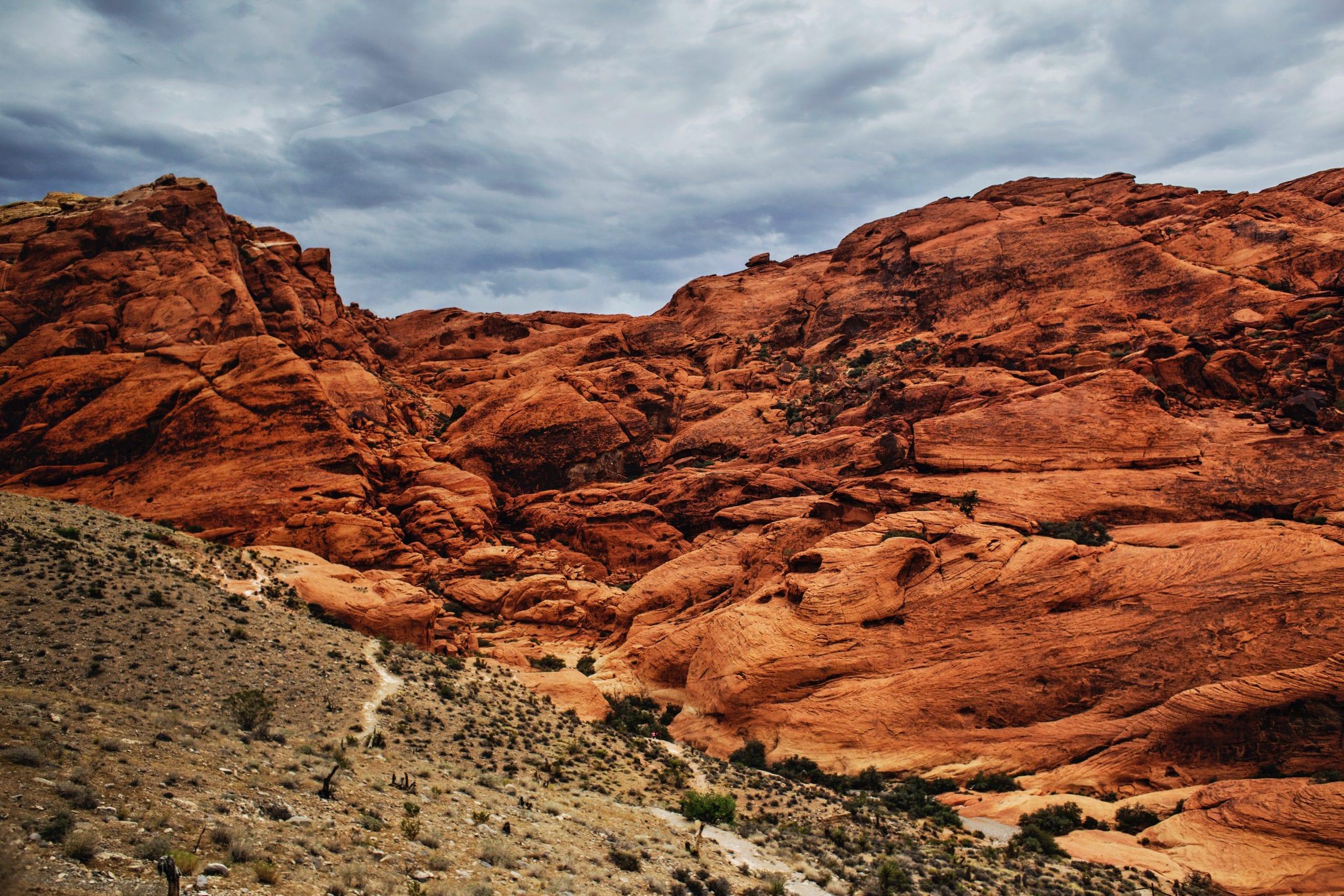 Or make the hour-long trek out to Valley of Fire State Park, packed with tons of amazing hiking and sights like the stunning Fire Wave.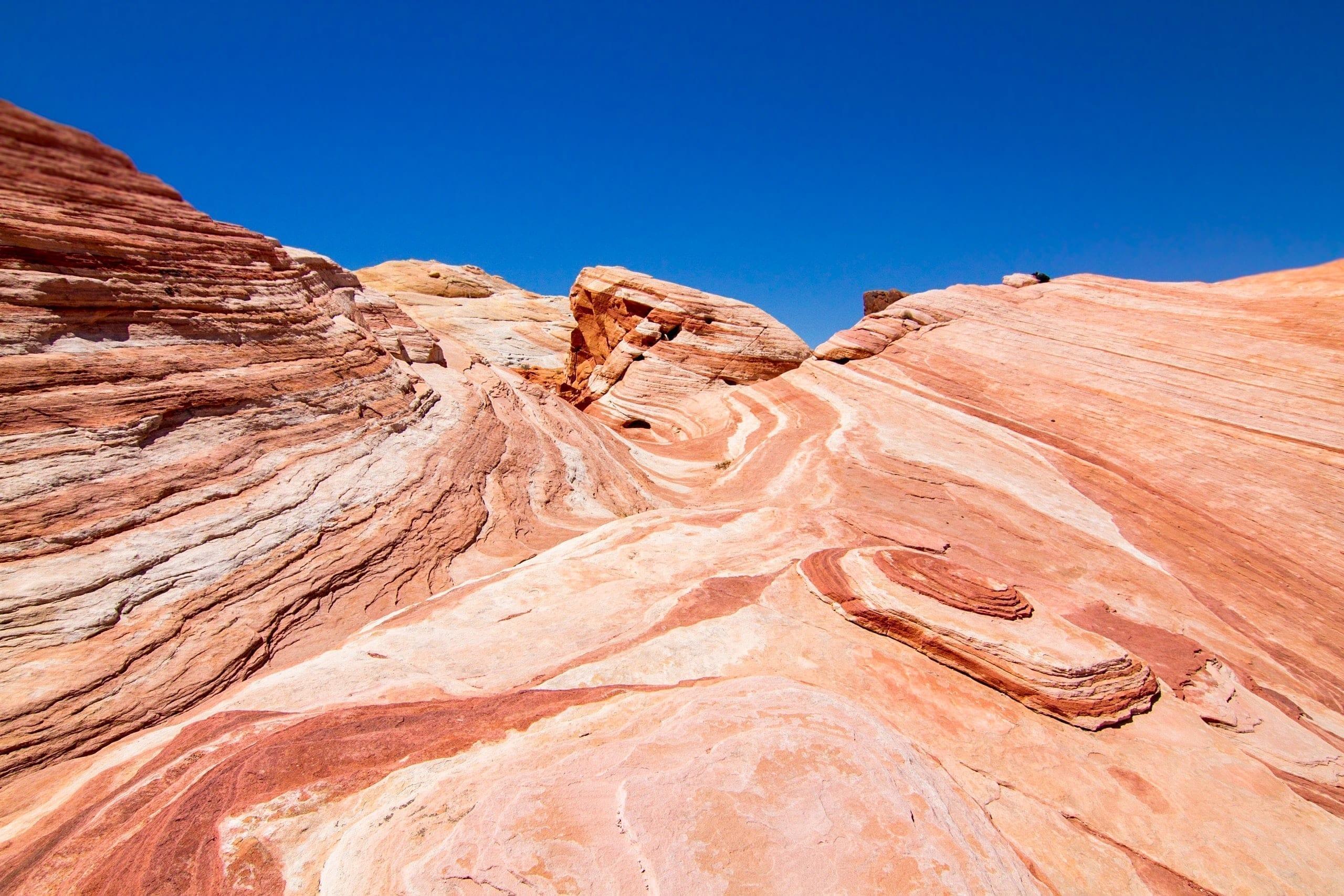 Bottom Line
Just like the rest of the travel world, the COVID-19 pandemic has changed Las Vegas. While travelers are returning in greater numbers each month, it's still far from the norm. The Strip can still feel quite empty.
Add in all the changes resorts and casinos have made to keep tourists safe, and your next trip to Las Vegas will be unforgettable. Whether that's a good or bad thing is up to you…