About The Author: Cal Bailey runs www.mountainleon.com – a travel blog he started after two years of traveling the world.
Lauded as Australia's cultural capital, Melbourne is a rich and vibrant city with great food, beautiful scenic sights, majestic architecture, and interesting attractions. There's a little bit of everything in Melbourne, from nature to trendy haute couture and excellent coffee. It's also been voted the World's Most Livable City six years running.
However, all that glitz, glamor, and wonder comes with a pretty hefty price tag. This may be discouraging for excited travelers on a tight budget, but Melbourne is not cheap. The most affordable hostels go for about $30–$40 a night, a decent cup of coffee can cost $3–$5, and the average price of main dishes in restaurants goes well above $15.
Fortunately, traveling in Melbourne on a budget is completely possible. A lot of people have tried it, and they've been more than happy to share their success—and their experience—online. From one thrifty traveler to another, here is our guide to Melbourne that can help you fully immerse yourself in the Melbourne experience without draining your wallet.
Find the Free Things
Although Australia has a reputation for being incredibly expensive, you'll be pleasantly surprised to find that there are quite a number of places you can visit—and enjoy—in Melbourne for free! From their local art scene to beautiful "secret" gardens, you certainly won't be left wanting for things to do.
Royal Botanic Gardens: These gardens are a lovely spot for a picnic or a bit of aimless wandering. Although arguably not as groomed as other commons, the lush greenery and scenic landscapes certainly have a quaint charm that is uniquely their own. For the social media enthusiast, this place is definitely Instagram-worthy.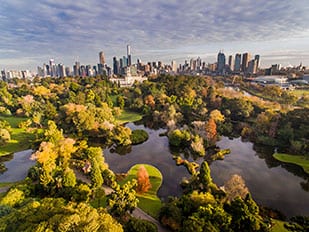 The Laneways. The laneways in Melbourne are expansive outdoor galleries splashed with vibrant, masterful street art. They're also perfect for window shopping and café-hopping in between admiring the masterpieces. You're bound to come across cozy bakeries and simple mom-and-pop shops that offer cheap but flavorful food and drink. You could spend an entire afternoon getting lost here, and that alone would make the trip worth it.
Thrifty Tip: Hosier Lane is a crowd favorite, so be sure to drop by!
Museums & Art Galleries. If you do a bit of digging, you'll find that Melbourne has a ton of free museums and art galleries. The Shrine of Remembrance, for instance, is just across the street from the Royal Botanic Gardens, and it's a lovely Anzac memorial house that is definitely worth a couple hours of your time.
The Victoria Art Gallery is another excellent place to visit. Entrance is free, but the pieces inside? Absolutely priceless. They feature exhibits from Australia and all over the world, so soak up as much as you can. And while you're there, check out the State Library of Victoria. It's got a number of art exhibits that are worth checking out, and the atmosphere is absolutely perfect for finding your zen. It also offers free Wi-Fi and outlets for charging devices.
Stay Away from Tourist Traps
If you want a nice, memorable trip that won't break the bank, stay away from the dreaded tourist traps looking to guzzle your money. Remember that tourism is still, essentially, a commodity. The government stands to earn a lot from travelers like you. This means the prices catered to travelers like you can be flat-out insane.
Avoid popular rooftop bars, winery tours, and live shows. These things aren't necessarily a waste of money, but they are pricey (especially if they're specifically catered towards tourists). If you're on a budget, they're not for you.
Spend your money on food, transportation, entrance fees, and souvenirs if you must, but stay away from major shopping centers. Big, dazzling restaurants near main streets must also be avoided. It'll take a bit of research and quite a lot of walking around at first, but you can find restaurants and stores in Melbourne selling items that are just as good as the ones in main centers—for a fraction of the cost.
Don't join single day tours either, as they can cost an arm and a leg. They also usually end up taking you to places you could have gone on your own; you'll only be paying for the convenience.
Try These Budget-Friendly Restaurants
Speaking of food, you'll definitely want to sample some Melbourne musts while in town. Poached eggs with avocado on toast and a cup of Melbourne coffee are definitely things to try. And don't worry, they can be had for cheap. You just have to know where to look.
Your best bet is to go online and start researching recommended budget restaurants in Melbourne. You'll be surprised how many thrifty travelers want to help out their fellow backpackers-on-a-budget. Some great restaurants include Om Vegetarian, which serves All-You-Can-Eat lunches and dinners for $6.50 a plate.
Lucky Coq is a pizza place that offers $4 pizza—at select times—and cheap beer all day long. You can also check out Vegie Bar, a slightly pricier restaurant that serves scrumptious $16 main dishes.
You might opt for smaller, frequent meals to save a bit of cash. Instead of waiting between meals and then spending upwards of $25 on a huge plate of food (because you're starving), grab some sushi for $2 to $3 a roll to quiet those hunger pangs. By the time lunch or dinner rolls around, you won't be craving giant portions so much.
Trams-portation
When traveling, transportation fees are usually the biggest drain on the finances. Not so in Melbourne. There's a free tram zone inside the CBD, and it covers the CBD's main attractions. Just look for tram line number 35 and hop on (and off) accordingly. You can check the maps for more details regarding the tram routes and the free areas covered.
If you're traveling beyond the CBD, you should invest in a myki Visitor Value Pack. This card grants you access to Melbourne's extensive public transport network. What's more, you get unlimited use of public transportation in Zones 1 and 2 during weekends and holidays (after a daily cap of $6). If you've got a lot of places to visit in Zones 1 or 2, pick up your myki card and schedule your visit for a weekend.
Don't Be Afraid to Ask a Local
If you truly want to stretch your budget for all that it's worth on your trip to Melbourne, you can always ask a local. The people you meet on the streets, along the laneways, and in quiet, cozy cafés are great sources of knowledge beneficial to a thrifty traveler.
Ask them about cheap novelty stores, hole-in-the-wall food joints, or free entertainment and attractions that you might have missed. On top of enriching your colorful Melbourne adventure, you might even make a new friend.
Bottom Line
Melbourne is a must visit on your next trip to Australia. If you let it, the city can really put a drain on your pocketbook. Use our guide to Melbourne to help you navigate and get maximum value out of your budget.