While preparing for our trip to Greece, I scoured the internet for advice and recommendations on island hopping. I had a difficult time discerning whether a ferry or flight was the best option for our travels. We planned to travel from Athens to Mykonos, then to Santorini, and then return to Athens. We decided to try both ferry and flight. Read on for my review of both experiences below.
The Ferry Experience in Greece
We decided to test out the ferry from Athens to Mykonos. The front desk staff at our hotel in Athens recommended that we take a flight, but admitted that the two transportation options are very similar in price, time, and experience.
We booked our ferry rather last minute: just two days before our departure date. There were lots of ferry ticket vendors online, but I decided to purchase with Let's Ferry; this company had good reviews and an easy online purchase process. The few reviews of Greek island hopping I had read online recommended booking the fastest and largest ferry available to ensure the smoothest ride. We decided to book our travel on the SeaJet 2.
Cost: The adult ticket price for a one way ferry from Athens to Mykonos was about $70 USD. Prices are pretty consistent for each departure and destination location in Greece.
Luggage: There really isn't a luggage restriction for the ferry.
Duration: The ferry trip duration from Athens to Mykonos was 2 hours and 40 minutes.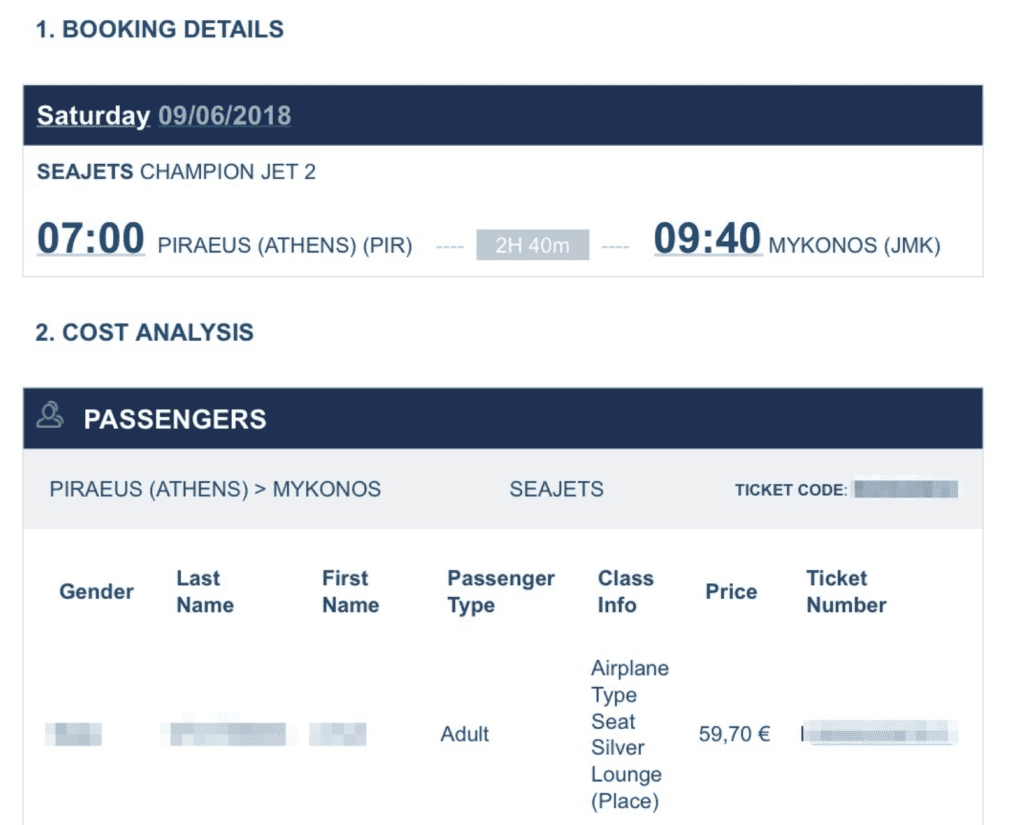 We received an email confirmation from Let's Ferry for our Sea Jet 2 transportation, but unfortunately, this was not an e-ticket. We still needed to pick up our physical tickets from the Let's Ferry ticket office at the ferry dock in Athens the day of departure. We were instructed to arrive at the dock 1.5 hours before departure to collect our tickets and prepare to board the ferry.
We took a taxi to the ferry port, which ended up being only about a 20 minute drive from our hotel, rather than the nearly one hour drive it would have taken us to the airport. This saved on some taxi costs.
The line for the ferry ticket booth was already very long. There isn't much structure when it came to waiting in line, which can be pretty frustrating. When we got up to the ticket office window, I even had a lady walk right up in front of us and tell the cashier she was tired of standing, and requested tickets for her group of 8. This is where a more streamlined nature of ticketing and boarding a flight would have been nice.
There we were: a mob of a few hundred people standing on this dock waiting for the ferry to let down its gate. There is no line or process to boarding the ferry, so when the doors opened, everyone stormed the gates. A poor lone staff at the edge of the entrance gate tried to check everyone's tickets.
Once on board, you arrive in the underbelly of the ship. This is a massive space where, on each side, you can store your luggage. You toss your luggage onto one of the many racks or prop it against the wall. There are no luggage attendants, so it didn't feel very secure to leave our luggage and hope we could find it when we exited.
Up above, you enter the Main Cabin seating area (there are first class ticket options). The interior really looks like a very wide airplane. The seats are in rows of 4-6 and columns that run as long as the room. The seats aren't assigned; rather, the steward suggests you an area to sit in based on your group size. However, the best spot on the boat isn't your seat: head outside onto the deck to get a spectacular view of the sea and the islands passing by. It's windy out there, so hold onto your hat and phone!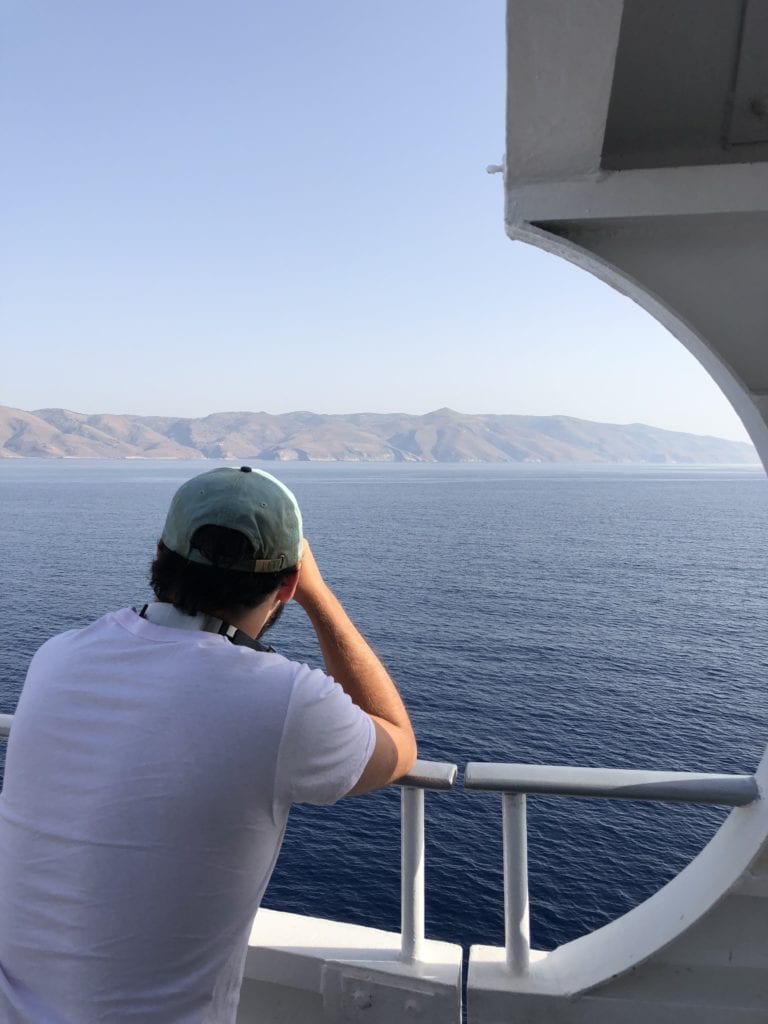 There are restrooms and small food and drink stands to make your journey comfortable on board. I worried that the ride would be bumpy on such a large body of water. There were some parts where it felt that we were swaying from side to side, but for the most part, the ride was comfortable and smooth. Of course, this depends on the weather on the day of your travel.
The peaceful views and sway of the sea rocking you into a nap abruptly ends when it's time to disembark. Similar to the boarding process, this part is a bit chaotic. Because the seats are not assigned, everyone gets up at once and storms down to the loading area. This area, seen in the photo below, is where everyone entered and dropped luggage along the sides. Now, everyone stands in one huge mass, waiting to get to the spot where they left their luggage and get off the ferry.
It's not a pretty process and can be aggravating with people pushing and shoving, but it's a cheap and popular way to get to your island of choice. We ended up booking a ferry again from Mykonos to Santorini a few days later because we were closer to the port than the airport.
The Flight Experience in Greece
For our trip back from Santorini island to Athens for our departure from Greece, we decided to take a flight. We were staying close to the airport in Athens and then had a departing flight early the next morning, so we figured a flight was the best option.
We had been told that, like ferries, there would be plenty of flights and we could book flights a day or two in advance. However, we were in Greece during the peak summer season and things were more booked up than we had anticipated. We ended up getting 4 seats but paid about $30 more than we were expecting per ticket.
Cost: A ticket on Hahn Air purchased on the Expedia app cost about $97. Note that prices will vary based on your departure and destination locations: while Santorini to Athens was under $100, tickets from Athens to Crete can cost over $400.
Luggage: Hahn Air ticket included one carry-on bag per person.
Duration: Flight duration was 50 minutes, but keep in mind that you'll need to arrive around two hours before flight departure.
We arrived at the Santorini airport a little over two hours early but spent one hour waiting outside the tiny airport because inside was too full of current flights going out. While waiting, we chatted with the airport security guards. They said that Aegean and Olympic were by far the best airline companies to fly within Greece.
We finally got inside, checked in, and headed towards the security check. The line for security was long and winding, and once past security, it was even worse. Below is a photo of the "terminals" in Santorini airport. Multiple flights were waiting to board or delayed, so everyone was crammed into this tiny waiting room. We were glad we brought our own water and snacks!
Our plane was delayed (which the guards also said frequently happens to the budget airlines), so we waited in this terminal for a little over an hour extra. The plane was a small aircraft: I couldn't tell whether the bumpy ride was due to turbulence or the pilot, but either way, I understood what the guards had said about low-cost airlines.
All in all, we made it to Athens eventually in one piece. However, I can't say that the process was much smoother than the boarding process for our ferry rides.
Bottom Line
A ferry will get you to your destination for a cheaper price. A flight will get you to your next stop with a shorter travel time. Both ferry and flight have a bit of a disorganized boarding process. I personally preferred taking the ferry because of the cheap ticket price, ease of port access, and views from the deck. However, choose the mode of island-hopping transportation that best fits your preferences. Whether that be a ferry or flight, I'm certain you'll love Greece as much as I did!