Driving in another country may seem intimidating but it really shouldn't be. Is it more challenging? Absolutely, but I think that's part of the experience. In most of Europe, you drive on the same side of the road as the United States and the cars are exactly the same. In addition, most of the driving rules are the same but there are a few differences, which I will cover below.
Mrs. TT and I recently drove from Dusseldorf, Germany through the Netherlands, Belgium, France, Switzerland, Austria, and back into Germany ending in Munich. In total, we logged over 3000 kilometers (1865 miles). We saw parts of those countries that you would never see flying or taking the train.
With gas in Europe costing $5-6 per gallon, driving usually doesn't make the most economic sense over flying or taking the train. In our case, we were traveling in a group of five so the numbers made sense. We also went to see many places that were simply not accessible by train so driving made it much easier. Check out my thrifty tools to help you decide which is cheaper; planes, trains or automobiles.
I recommend going to your nearest AAA and picking up an International Drivers Permit before leaving for your European vacation. A permit is not required in France but it is required if you are driving in Austria, Bosnia-Herzegovina, Croatia, Greece, Hungary, Italy, Poland, Romania, Slovenia, or Spain. They are quick and easy to get at AAA and only cost about $20.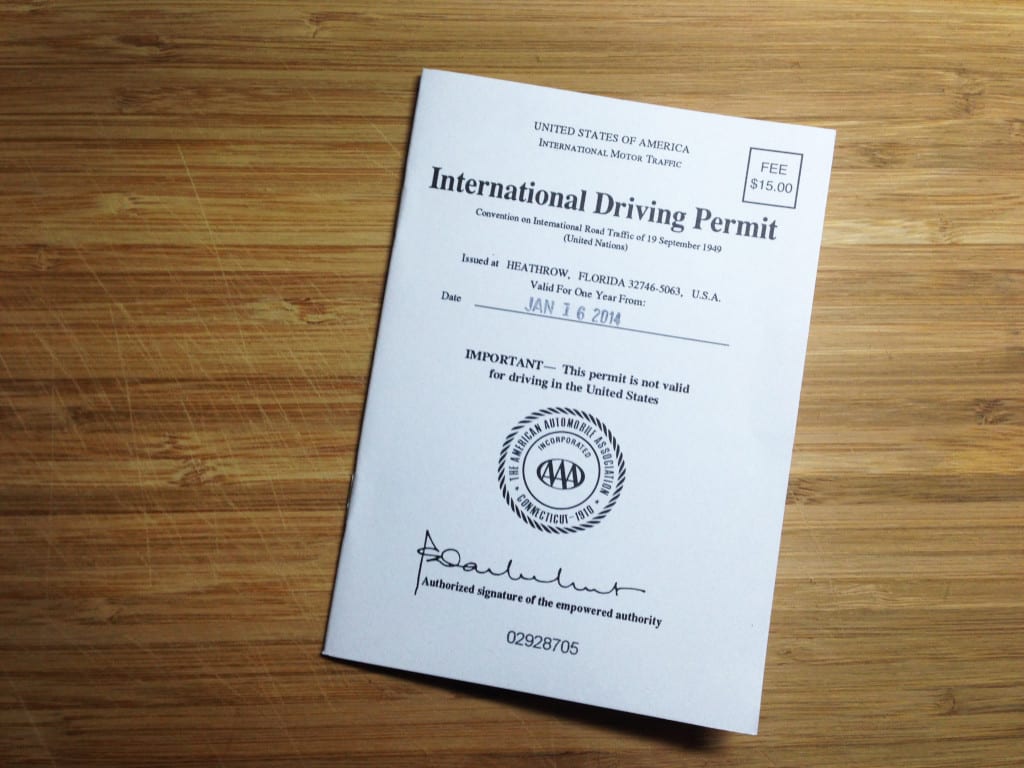 Thrifty Tip #1: Pick-up an "International Driving Permit" from AAA. It is required in some countries and for $20 it's cheap and gives you good peace of mind that you won't have any issues. Just go in with the application, get your picture taken and you're out the door.
I typically rent cars online from Europcar, as they have cheap rentals and operations everywhere, but check out Kayak as you may be able to get cheaper rentals elsewhere. I'd recommend renting a smaller fuel-efficient car as gas is expensive. Another reason to rent a small car is it's much easier to maneuver on one-lane country roads and also in large cities. Also, be aware that most vehicles in Europe sport a manual transmission. You will pay significantly more to rent an automatic transmission as there are simply fewer options.
Thrifty Tip #2: The longer you rent the car, typically the less it is for each additional day. Day 1 might be $90 but to have it for four more days may only cost $30 per day.
Thrifty Tip #3: If you are a Delta SkyMiles Member (you should be) you can get a 10% discount off your Europcar rental.
Thrifty Tip #4: If you can't drive a manual transmission you will likely have to pay more for an automatic car rental.
The good news is that France does not require you to purchase a vehicle permit or any sticker for your vehicle which can be the case in other countries. The bad news is that they compensate for this through tollways, which are not cheap. Make sure to learn péage which means "toll" and try to avoid those roads, which is basically any major highway. The easiest way to avoid these tollways is to use Google Maps before leaving and plan a route that does not have tolls. You can do this by clicking on "Route Options" and check Avoid Tolls. It will likely add some time to your trip but it will save you quite a bit of money. You'll also see more of rural villages and countryside by not taking major highways. Most built-in car GPS systems also have a feature that will allow you to avoid tollways.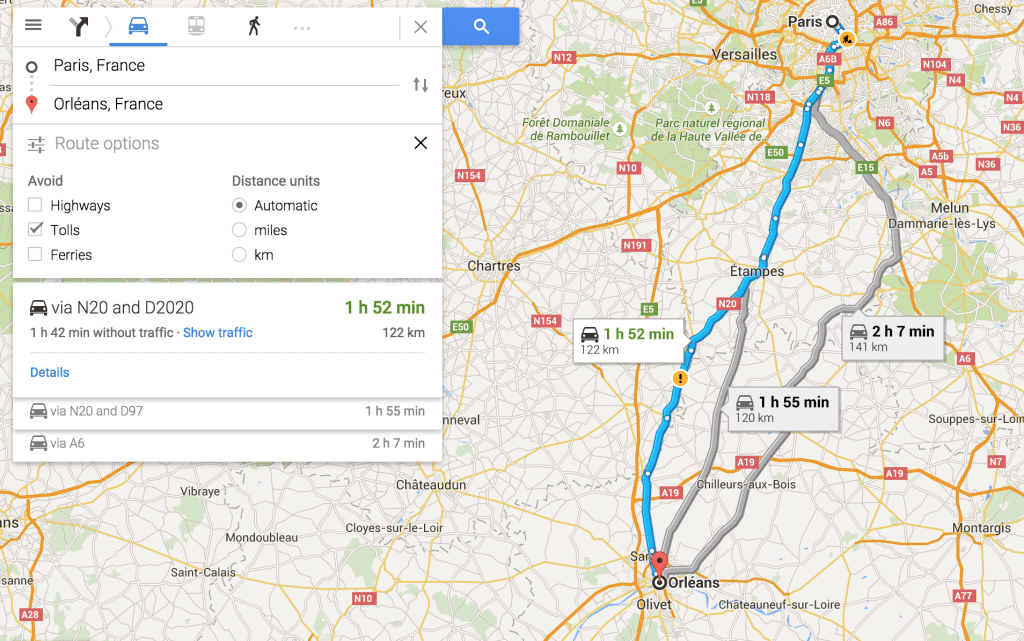 Thrifty Tip #5: Utilize Google Maps and select "Avoid Tolls" in the Route options. This will find the fastest route that does not require tolls.
Thrifty Tip #6: Always carry spare change and extra Euros if you do decide to take the tollways. Our credit cards only worked at about half of the automated toll-booths, even though we have chip-enabled credit cards.
Another thing you need to get used to in France is traffic circles aka roundabouts. They are everywhere, from downtown Paris to rural France. We passed through so many in rural France I was close to getting sick from going around and around. They are generally the same as here in the US but some in larger cities, such as Paris, are massive.
Another important thing to know is that motorcycles and mopeds can drive in between lanes during slow traffic. This was especially noticeable in Paris. There were hundreds of mopeds that passed us on our trip into Paris when we were staying at the Westin Paris Vendome.
It seemed extremely dangerous but Paris drivers are much more aggressive than the average American driver. Don't even try changing lanes when you're stopped because you could easily hit a motorcycle. I will admit that driving in Paris is a significant challenge, especially if you are trying to maneuver near the city center. Those streets were not made for car traffic. It's probably best to park on the outskirts of major metro areas and take the metro train into town.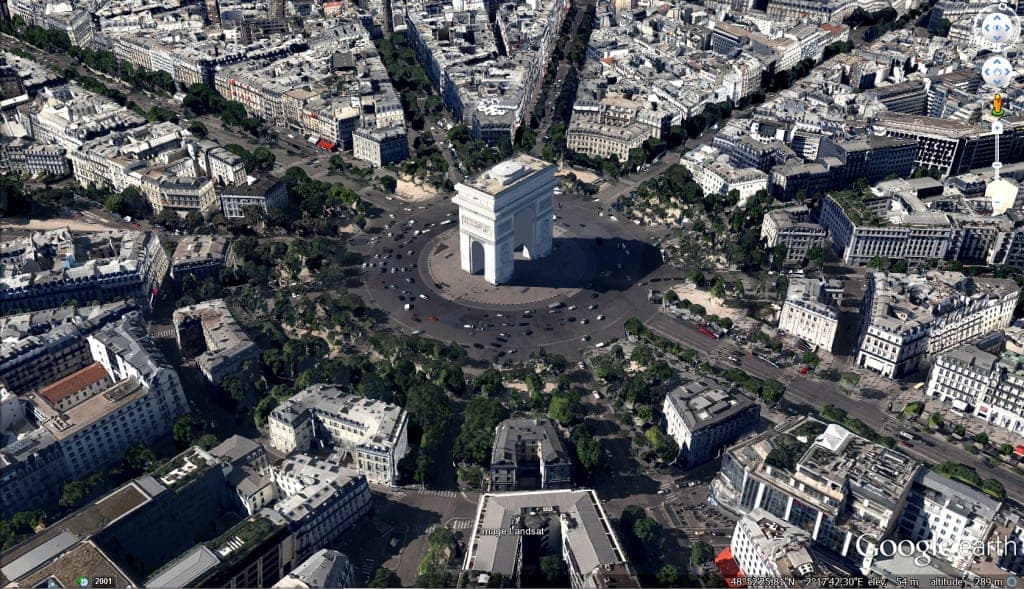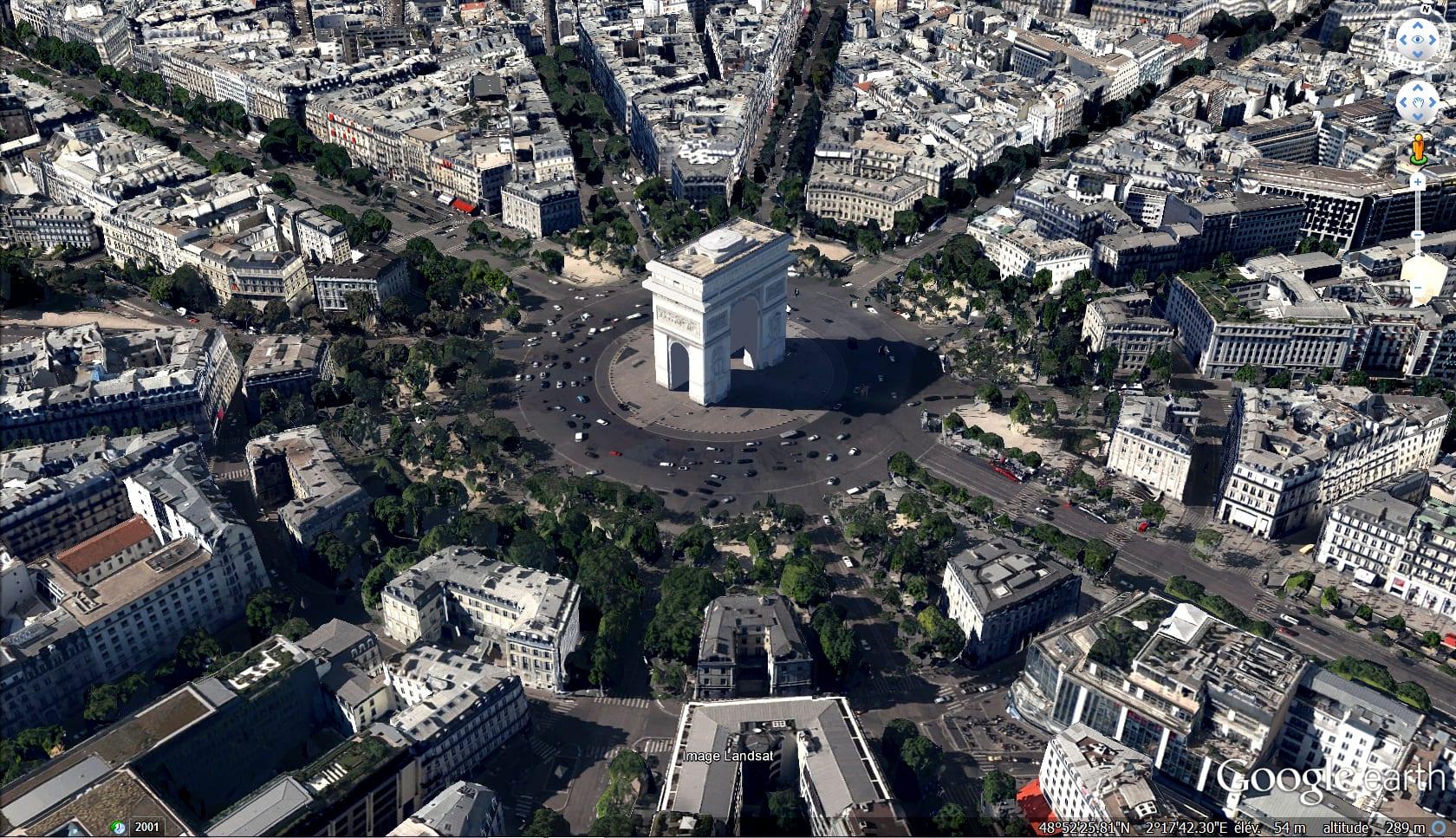 Thrifty Tip #7: Be aware that motorcycles and mopeds can drive in between slow or stopped cars. This was especially true in Paris.
Thrifty Tip #8: Park outside of major metro areas such as Paris, Lyon, Marseille and take the metro train in. Parking and driving can be a nightmare. You can thank me later.  
Other Important Facts
It is illegal to talk on your phone while driving.
Seatbelts are required.
Do not drink and drive in France. The blood alcohol limit is 0.05%.
You may not turn right on a red light. You must wait until green.
Three types of fuels are generally available: diesel (diesel, gasoil or gazole), 95RON-octane gasoline (Sans plomb 95), 98RON-octane gasoline (sans plomb 98). Most rental vehicles are gasoline and only require 95 octane so I'd stick with that.
On highways, trucks drive in the far right lane, slower vehicles in the middle and passing vehicles in the left-hand lane. This is true all across Europe.
If an oncoming car flashes its headlights at you it means there is a speed trap ahead.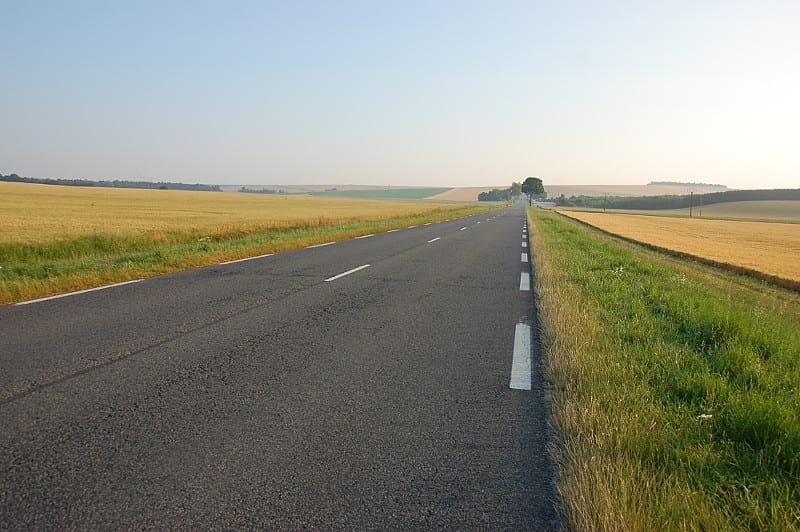 Bottom Line
The good news is that most of France is rural with lots of easy driving. I was actually surprised at how much of France was farmland with beautiful historic rural villages. So give driving in France a try and let me know how it goes! I'm sure you'll have some good stories to tell! Leave any tips I may have left out in the comments below.