Turning everyday spending into more travel is the name of the game, and a key to traveling more for less. The Ibotta app is about to become your best friend.
Ibotta is much like any other cashback or rewards shopping portal. Shopping through Ibotta, you can earn cashback through rebates for purchases at qualifying stores and products. It works online and even in person.
The best part? You can make purchases with your favorite rewards credit card and then earn the rebates on top of what you earn with your card! And in some cases, you can take it even further and earn cashback through Ibotta as well as another shopping portal like Rakuten.
In the past twelve months, I've earned nearly $350 in rebates using Ibotta on top of the points I've earned with my rewards cards without changing my spending habits.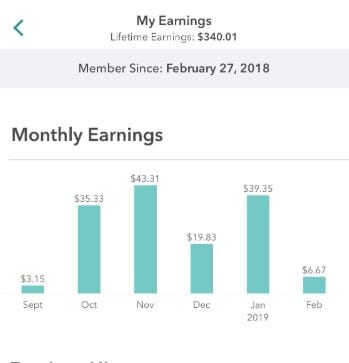 Here's how it works and why you need to add this app to your rewards portfolio.
How Ibotta Works
First, you'll need to download the free Ibotta app.
Then, search retailers and add rebates on products you are probably already purchasing at stores you probably already shop at. This part does take a little time but pays off in the end. Yes, you can and should use it at Total Wine.
Once you've made a purchase, simply tap "redeem". The app will walk you through how to upload a picture of your receipt. Add any offers you have taken advantage of, and you're done! The money will post to your account within a day or two.
You can cash out directly to PayPal and Venmo. Or, let the money sit in your Ibotta account and use it when you're ready for a vacation! Gift cards to a wide array of retailers are also available as a redemption option.
Use it with Amazon Prime
Ibotta partners with Amazon to offer rebates on a ton of different categories from groceries to home improvement. If you are a Prime member and aren't starting your Prime shopping with Ibotta, you're leaving money on the table.
Simply start with Ibotta by clicking "shop" next to any of the categories. Ibotta will automatically launch the Amazon app and you can shop as you normally would. After checking out, your work is done and Amazon will notify Ibotta of any qualifying purchases. You will automatically receive the rebate.
Use it for Weekly Groceries
Almost every major grocery store is on Ibotta and the products offered through the app tend to be well-known and commonly purchased items. Additionally, the app offers an array of "any item" offers that will give you a rebate for purchasing any brand of a particular item.
Thrifty Tip #1: Ibotta offers a weekly freebie rebate good for anywhere from 10 to 25 cents back on anything you purchase for groceries. It doesn't have to be anything offered on the app. Over the course of a year, that can add up!
In-Store Purchases
Countless retailers offer a percentage back on Ibotta simply for making in-store purchases. All you have to do is check to see if the retailer is on Ibotta, add the offer, and upload a picture of the receipt. The rebates tend to fluctuate but sometimes are as high as 20%!
Booking Travel
Ibotta has a solid portfolio of travel websites that you can redeem cashback offers on. For example, we've seen 10% back on Orbitz for cruises and car rentals.
Cashback rates vary by category and travel site so make sure to check around before booking. You can still use your hotel loyalty program and favorite travel card on top of the Ibotta offer. This makes booking travel with the app a great value!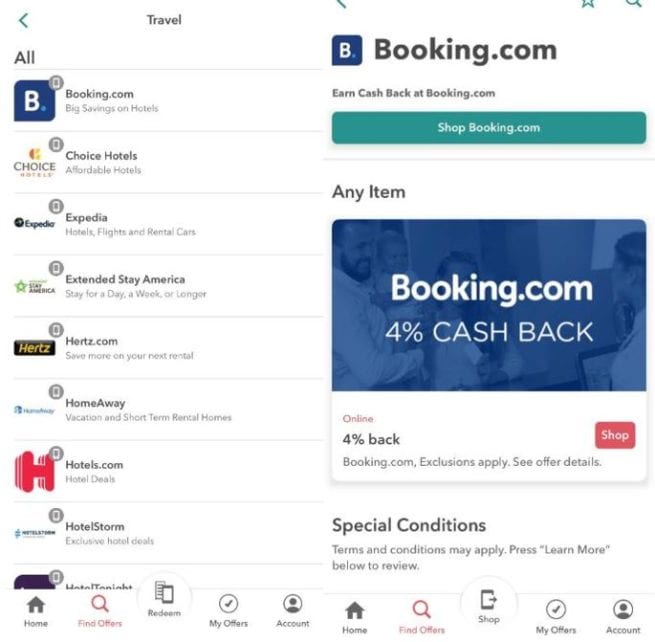 Thrifty Tip #2: Book qualifying travel through Ibotta using the Capital One Venture card. Ibotta will credit you with cashback after completing your travel. You can then use the Capital One purchase eraser within 90 days to erase the transaction from your statement and keep the cashback.
Large Purchases
Whether it's a new TV or an appliance suite, premeditating a large purchase and using Ibotta can yield some hefty cashback. If you know what you'll be ordering, you can buy the item using a retailer that offers online or in-store cashback. If buying online, you can then arrange for delivery or in-store pickup and still receive the offer. Best Buy, Lowe's, and Home Depot are just a few retailers to think about for large purchases.
Earn Even More
In addition to all of the ways above to earn, make sure to check out the bonuses section. Bonuses can be earned by referring friends, redeeming multiple offers from a certain category, or by hitting certain thresholds over the course of a month. They can be a great way to maximize your rebates.
Stack in' with Rakuten
Lastly, consider double-dipping Ibotta rewards with Rakuten (formerly Ebates). This will only work on in-store offers in which the retailer participates in both apps. Rakuten works with linked credit cards, whereas Ibotta requires a receipt upload. A good example would be Under Armour. You currently could get 3% back at Under Armour on Rakuten and then stack an additional 10% back by uploading your receipt to Ibotta.
Bottom Line
Ibotta allows you to double-dip on rewards by combining spending on your favorite credit card with rebates at retailers you likely shop at every day. These rebates can add up quickly and are a great way to supplement your travel budget.