Thinking you'll get a free bag on your next JetBlue flight? Think again.
Airlines have turned luggage fees into a cash cow over the last decade, raking in billions of dollars a year, and JetBlue baggage fees are no exception. In fact, they've gotten even worse in recent years.
Curious about what you'll pay to check a bag on your next JetBlue flight? Want to know what you'll be allowed to bring as a carry-on? Want to find ways to save on JetBlue baggage fees … if not avoid them entirely?
We've got it all covered.

Current JetBlue Baggage Fees
When it comes to checking a bag, JetBlue baggage fees are far more straightforward than you'll find on other airlines.
The New York-based airline charges a flat rate on nearly all its flights, whether you're flying within the U.S. or down to the Caribbean or South America. Here's a look at the current JetBlue baggage fees, which can vary based on what kind of fare you buy or whether you hold JetBlue mosaic status – and how many bags you need to check.
These charges apply each way, so double them for a round-trip flight.

| Fare Type | First Bag | Second Bag |
| --- | --- | --- |
| Blue Basic | $35 | $45 |
| Blue | $35 | $45 |
| Blue Plus | Free | $45 |
| Blue Extra | $35 | $45 |
| Mint | Free (up to 70 lbs) | Free (up to 70 lbs) |
| Mosaic Members | Free | Free |
| JetBlue Credit Card | Free | $45 |
However, JetBlue allows you to save a little money by planning ahead. If you pay for your luggage online (or via the JetBlue app) at least 24 hours before departure, you'll save $5 and pay just $30 for your bag.

But now that JetBlue is flying to London (and soon Paris and Amsterdam, too), there's a different baggage fee structure for these transatlantic flights. Check it out:

| Fare Type | First Bag | Second Bag |
| --- | --- | --- |
| Blue Basic | $65 | $105 |
| Blue | Free | $105 |
| Blue Plus | Free | $105 |
| Blue Extra | Free | $105 |
| Mint | Free | Free |
| Mosaic Members | Free | Free |
| JetBlue Credit Card | Free | $105 |
Need even more than two bags? You'll pay dearly. JetBlue charges $150 per bag starting at the third piece of checked luggage – or $200 to or from Europe. And even with the right fare or JetBlue status, there's no escaping that extra cost.
JetBlue Overweight & Excess Baggage Charges
Like most airlines, JetBlue has some strict limits on how much your bag can weigh before you have to pay extra.
All checked bags must be no more than 62 linear inches and a maximum of 50 pounds – unless you're flying JetBlue Mint, in which case the JetBlue checked bag weight limit is 70 pounds.
How much are checked bags on JetBlue? If they're between 51 and 99 pounds, you'll have to pay $150 each. And bags over 99 pounds are not accepted on JetBlue, period.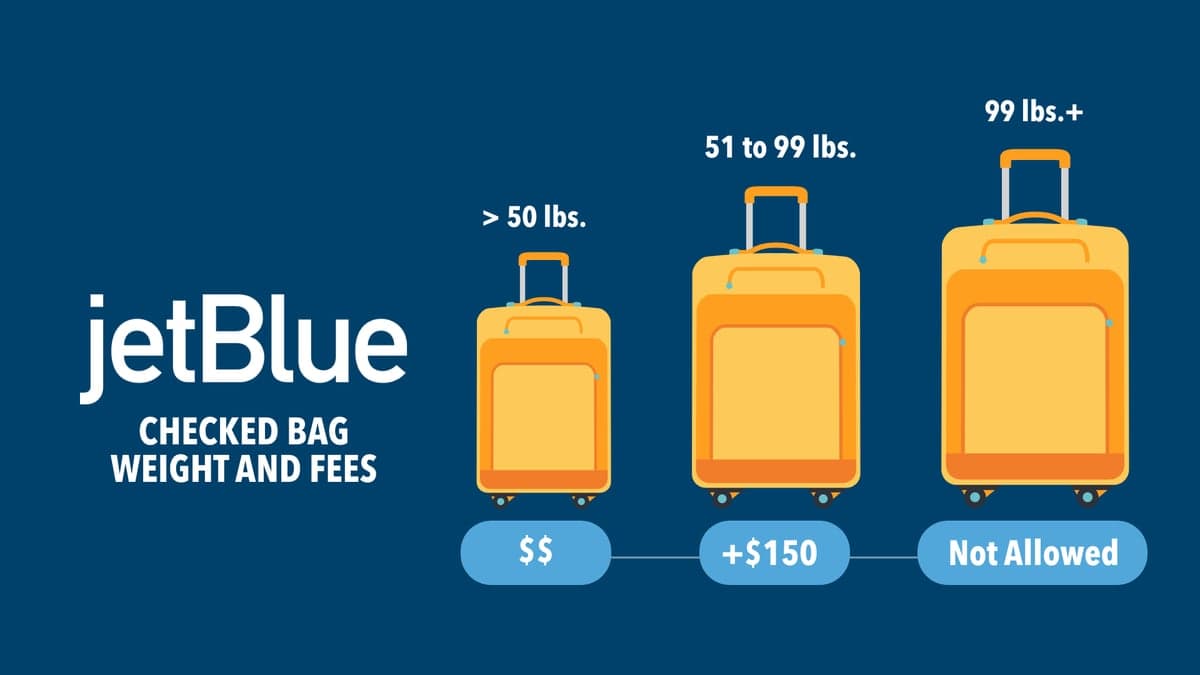 Concerned about oversized baggage? JetBlue will also charge $150 apiece for bags between 63 and 80 linear inches. And bags larger than 80 linear inches are not allowed, either.
JetBlue Carry-On Bag Allowance
Does JetBlue allow carry-ons? It's a little complicated when flying JetBlue, but more than likely you'll be paying a JetBlue carry-on price.
Unless you're flying to Europe, JetBlue no longer allows travelers who bought a Blue Basic fare (the airline's name for basic economy) to bring a carry-on bag onboard. Flying with a JetBlue basic economy fare only gets you a backpack or other small bag to stow underneath the seat in front of you. Nothing more.

This policy puts JetBlue in line with United for having some of the most punitive restrictive basic economy restrictions. Delta, American, Alaska, and other carriers all still allow travelers with a basic economy fare to bring a carry-on bag. Fortunately, this policy doesn't apply to transatlantic flights to London, Paris, or Amsterdam – you can still bring a carry-on bag with a Blue Basic fare.
And unlike with United, carrying a JetBlue credit card won't allow you to bring a carry-on – only JetBlue Mosaic status will do that. If you buy a Blue Basic fare and purchase an Even More Space seat assignment with extra legroom, you'll be allowed to bring a carry-on.
Bring a carry-on to the gate anyway? JetBlue says it will charge you a whopping $65 to gate-check your carry-on bag. 
Sports Equipment, Pets & More
JetBlue details the cost of checking in more uncommon items for your journey, from skis and golf clubs to musical equipment and even surfboards, there are numerous items listed with the cost and whether they are accepted as carry-on and/or checked luggage.
In general, anything over 99 pounds will not be accepted as checked luggage. Be sure to double-check the exact policy related to your miscellaneous luggage. 
Booking Your Pet
If you're traveling with a pet, JetBlue also has charted out what it will cost you, along with all the rules and regulations for this. Generally, bringing a pet will run you $125 for each flight segment along with other stipulations. Familiarize yourself with all the rules related to traveling with pets if you intend to travel with a furry buddy. 
Read more: A First-Timer's Guide to Flying with a Carry-On Pet
Here are the basics of what you need to know if you're trying to bring your furry friend on a JetBlue flight.
JetBlue's pet fee is a flat $125 each way
Travelers can bring a maximum of two pets, though you must book a second seat for a second pet.
JetBlue has a limit of six pets per flight
Pets are not allowed in the JetBlue Mint cabin
Pets are also not allowed
Pet carriers count as a personal item and need to fit underneath the seat. Pet carriers can be 17 inches long by 12 1/2 inches wide and 8 1/2 inches high at most. They can weigh a maximum of 20 pounds
Pets aren't accepted on interline or codeshare bookings, aside from select nonstop flights operated by American Airlines within the U.S.
Travelers with a pet can add them online (under "Extras"), via the JetBlue app, or by contacting the airline.

JetBlue Baggage That Won't Incur a Fee
Exactly what you can bring for free on your JetBlue flight depends on what you've
If you've purchased at least a main cabin (Blue) fare, you'll be able to bring a full-sized carry-on bag and stow it in the overhead bin without paying a fee. And you can always bring a personal item like a backpack or a purse for free. Just be sure it can fit underneath the seat in front of you.
But if you bought the cheapest basic economy fare, the only baggage you can bring without paying fees is a small personal item.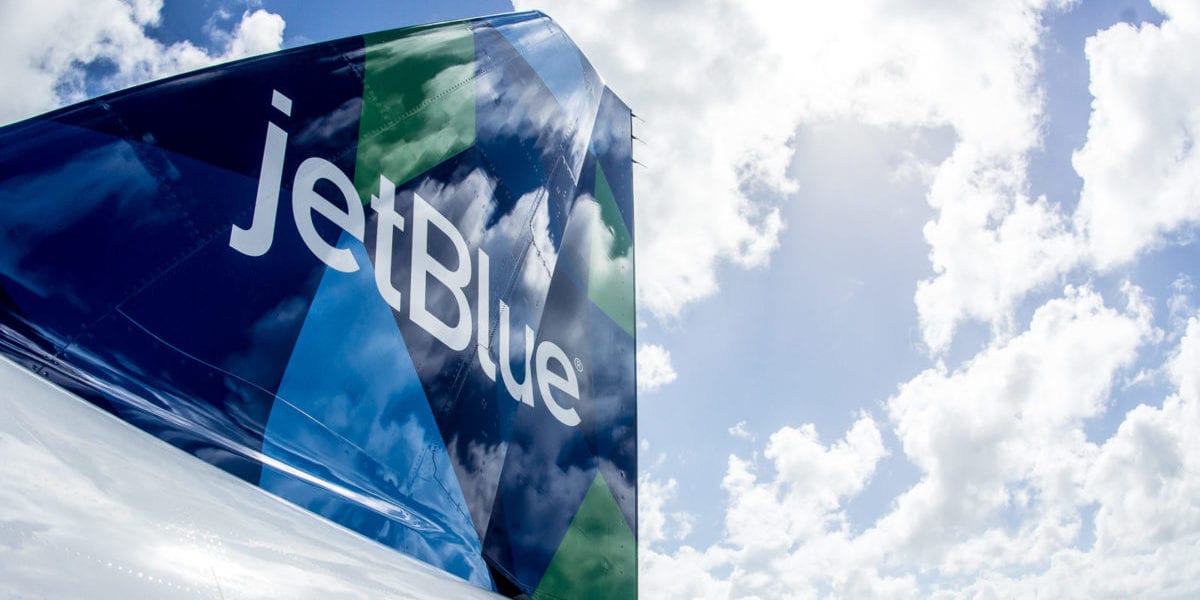 Lucky for you, there are a few other ways to bring more on your JetBlue flight without paying extra fees…
How Can I Avoid Paying JetBlue Baggage Fees?
As with other carriers, there are a handful of ways you can get around paying these pesky JetBlue luggage fees altogether.
Pack in a Carry-On to Avoid JetBlue Baggage Fees
The first way to avoid paying JetBlue baggage fees is completely free. You just have to pack a bit less.
JetBlue says these bags should be roughly 22 inches by 14 inches by 9 inches, which is a standard carry-on size. And unlike some other major international airlines, there's no weight limit on your carry-on with JetBlue.
While it will save you money, packing into a carry-on bag can also save you time and stress. There's no more waiting to check in your luggage or grab it from the baggage carousel. You don't have to worry about the airline losing your bag anymore – it's with you at all times.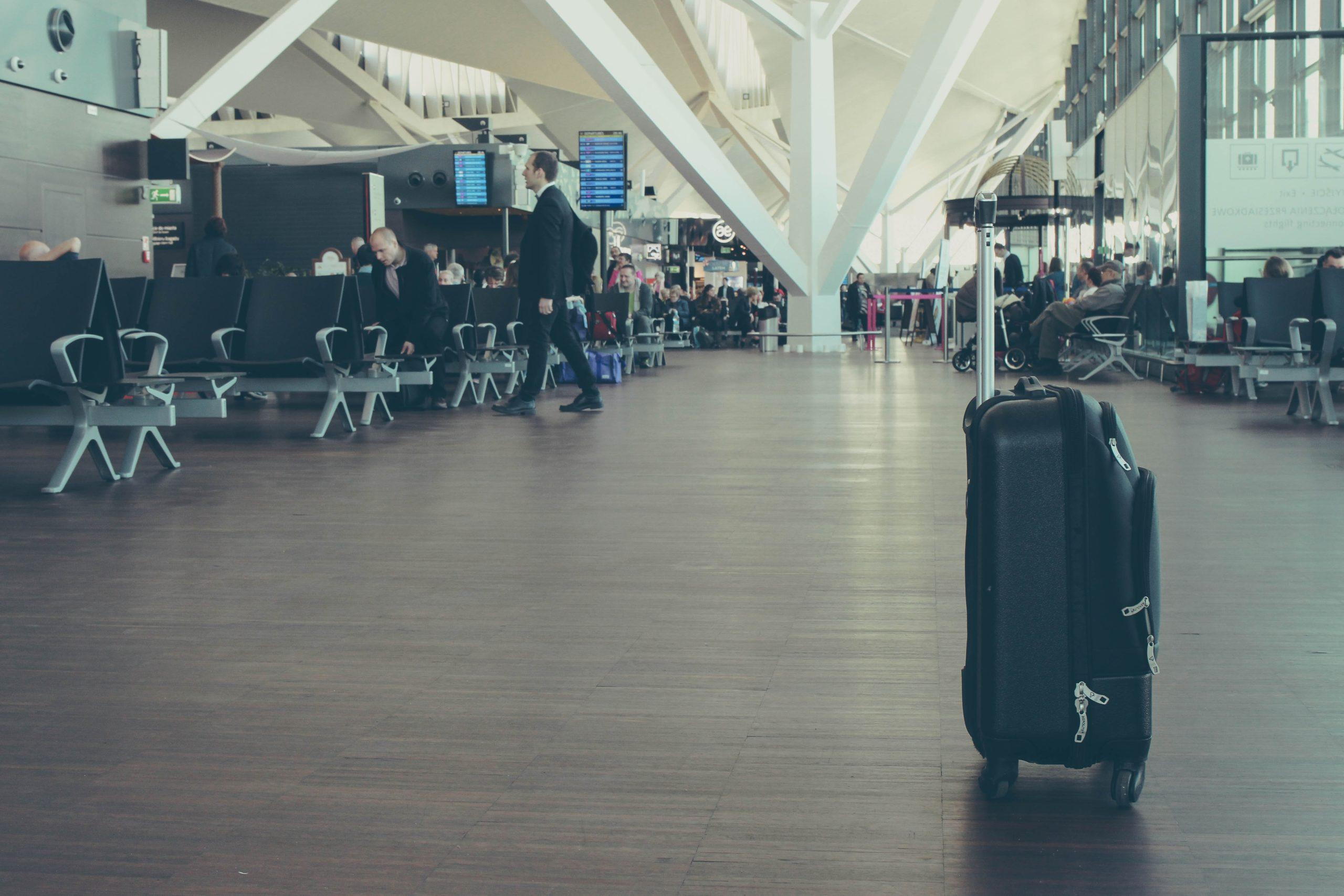 Packing into a carry-on bag when you're used to taking a 50-pound bag on every trip can feel daunting, but we promise it can be done. Follow our tips and you'll be a proud member of team carry-on in no time.
Check out some of our favorite carry-on bags if you need to pick one up.
Don't forget: You'll need to book a standard Blue fare (or higher), otherwise you won't be allowed to bring a carry-on bag onboard without paying a hefty JetBlue carry-on fee. The only exception is if you're flying across the pond to London or Paris, in which case all passengers can bring a carry-on bag.
Fly Mint for Free Baggage
JetBlue's first-class seats – dubbed JetBlue Mint – have changed the game, with lie-flat seats and better food and service than you'll find on any other domestic carrier. JetBlue Mint is even fancier flying across the pond, with suites equipped with closing doors for every passenger.
And it comes with a bonus: No JetBlue baggage fees, either. Plus, JetBlue Mint passengers get two free checked bags apiece. It's the most generous luggage allowance you'll get flying JetBlue by far.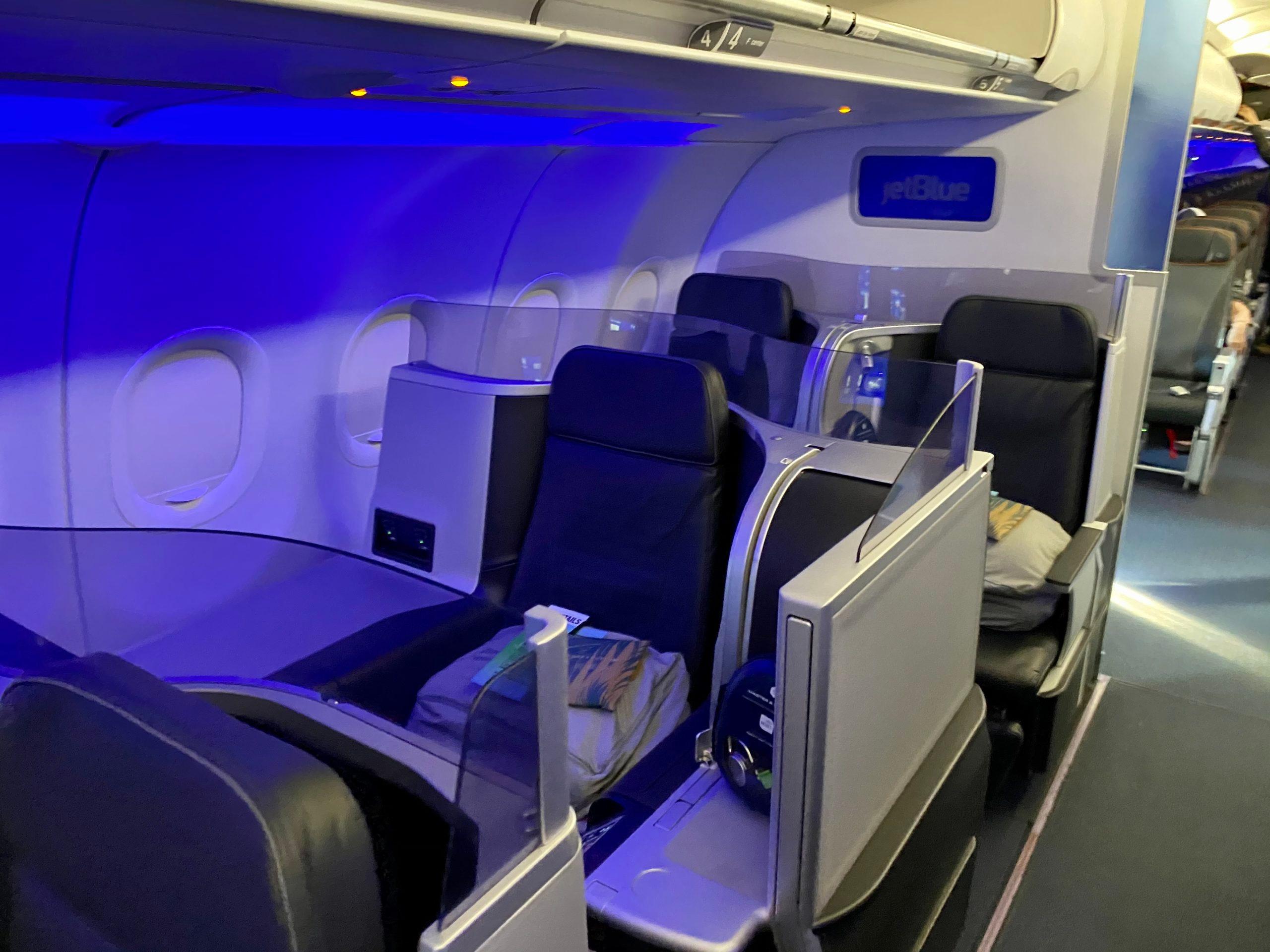 Read our full review of flying JetBlue Mint from Boston (BOS) to Las Vegas (LAS)!
JetBlue flies planes equipped with Mint seats only on select routes, like premier transcontinental flights, some flights to the Caribbean, as well as transatlantic hops to London. Check out JetBlue's route map to see where Mint is flying these days.
Free Bags with JetBlue Credit Cards
JetBlue has three co-branded credit cards, and two come with luggage benefits: The JetBlue Plus Card and the JetBlue Business Card. Both are operated by Barclays, and both will get you a free bag on every JetBlue flight. 
Not only that, but you can get a free checked bag for up to three other passengers booked on your reservation. But there's a catch: You have to pay for your flights with your JetBlue card in order to get the free bags.
That's more restrictive than many other co-branded airline credit cards, which get you a free bag just for holding the card. Still, it's a nice benefit.


JetBlue credit cards come with some other worthwhile perks that can pay off if you fly JetBlue frequently, like earning 6x points on all JetBlue purchases and the ability to pool JetBlue points. Both cards carry a $99 annual fee.
Earn JetBlue Status (or with American)
Mosaic is JetBlue's status program, and it'll get you two free checked bags and a free carry-on bag on every JetBlue flight. Along with a wide array of other generous benefits, holding Mosaic status is a solid option to ensure you never have to pay for baggage fees.
JetBlue has revamped its Mosaic status tiers, but even the first level gets you two free checked bags and a free carry-on.
To earn Mosaic status in 2023 and beyond, you'll need to earn at least 50 Tiles – equivalent to spending $5,000 on JetBlue flights or qualifying purchases, $50,000 in purchases on a JetBlue credit card, or a mix of both.
On select flights, you can also get up to two free bags flying JetBlue if you've got American AAdvantage status thanks to the carriers' Northeast Alliance partnership – though that may not last much longer after a federal court ruled that alliance must end.
Show Military Documentation for Free Checked Bags
Just as with many other airlines, active duty military members can get free checked luggage with JetBlue. In fact, JetBlue's baggage benefits for members of the military goes further than most.
Traveling on duty? You and your dependents traveling on the same itinerary can each check five bags (weighing up to 99 pounds) for free. You'll be required to present travel orders as well as a DOD Common Access Card.
Traveling for fun? You and your dependents can also check two bags free, weighing up to 50 pounds each. You'll be required to present your DOD Common Access Card when checking bags.
Active duty members of the military are also allowed to bring a carry-on bag with a Blue Basic fare.
Bottom Line
Baggage fees are a pain. Airlines make billions of dollars a year charging for what they once included for free on each and every ticket.
And JetBlue has doubled down by charging even more to check a bag and banning basic economy passengers from bringing a carry-on bag onboard. But there are still easy ways to save on JetBlue baggage fees – if not avoid them entirely.