If you looked at flight prices over Christmas and New Year's just a month ago, you might have seen soaring prices. Here's your sign to check again…
In 2023, we're seeing something amazing: Some flights around Christmas and New Year's to popular destinations are staying cheap … and in some cases, they're getting even cheaper! We're talking about lower fares to destinations like Palm Springs, Tucson, Mexico, the Bahamas, and even as far away as New Zealand.
It's by no means universal. Some routes will still feature the traditional sky-high holiday prices, especially for a quick domestic flight to get home. But for many of the most popular destinations in the world, a Christmas or New Year's getaway on the cheap is possible.
So, here's a grand plan for an epic holiday surprise: Book one of these incredible holiday flight deals for the whole family, open your presents a few days early, and make the last gift that's opened an envelope with these plane tickets in them. It's the most memorable gift of all – at stocking stuffer prices.
Start getting flight deals to your inbox for free! Sign up for our cheap flight alerts!
Cheap Flights Abroad for the Holidays
Let's take a look at some of these shockingly cheap holiday flights. For Thrifty Traveler Premium members, much of this is old news: They've already all received these emails (and hopefully booked them) before prices shoot back up.
While you might assume staying closer to home is the ticket to big savings, the first example is just the opposite.

These prices are gone now – get the next one in your inbox with our free cheap flight alerts!
Yeah, really. We couldn't believe it either.
You could book nonstop roundtrip Delta flights to Auckland (AKL) over Christmas or New Year's for the sizzling price of $684 roundtrip. So long as you don't fly home just before New Year's Eve, you can get this low, low price.

Elsewhere outside the United States, cheap flights to the Bahamas have made a comeback lately. And yes, that includes holiday availability, too.

If the darkest, coldest part of the winter in Western New York has you pining for a beach and a daiquiri, we've got the solution. Leave Santa a note at your place in Buffalo letting him know to deliver presents to the swim-up bar this year.
While Buffalo benefitted from these ultra-low fares to Nassau (NAS), it wasn't alone: Dozens of cities could get down to the Bahamas over Christmas for under $400 – and, in some cases, under $300!

The same goes for this next deal, which could take you on a sleigh ride to the beautiful beaches of the Gulf of Mexico this holiday season.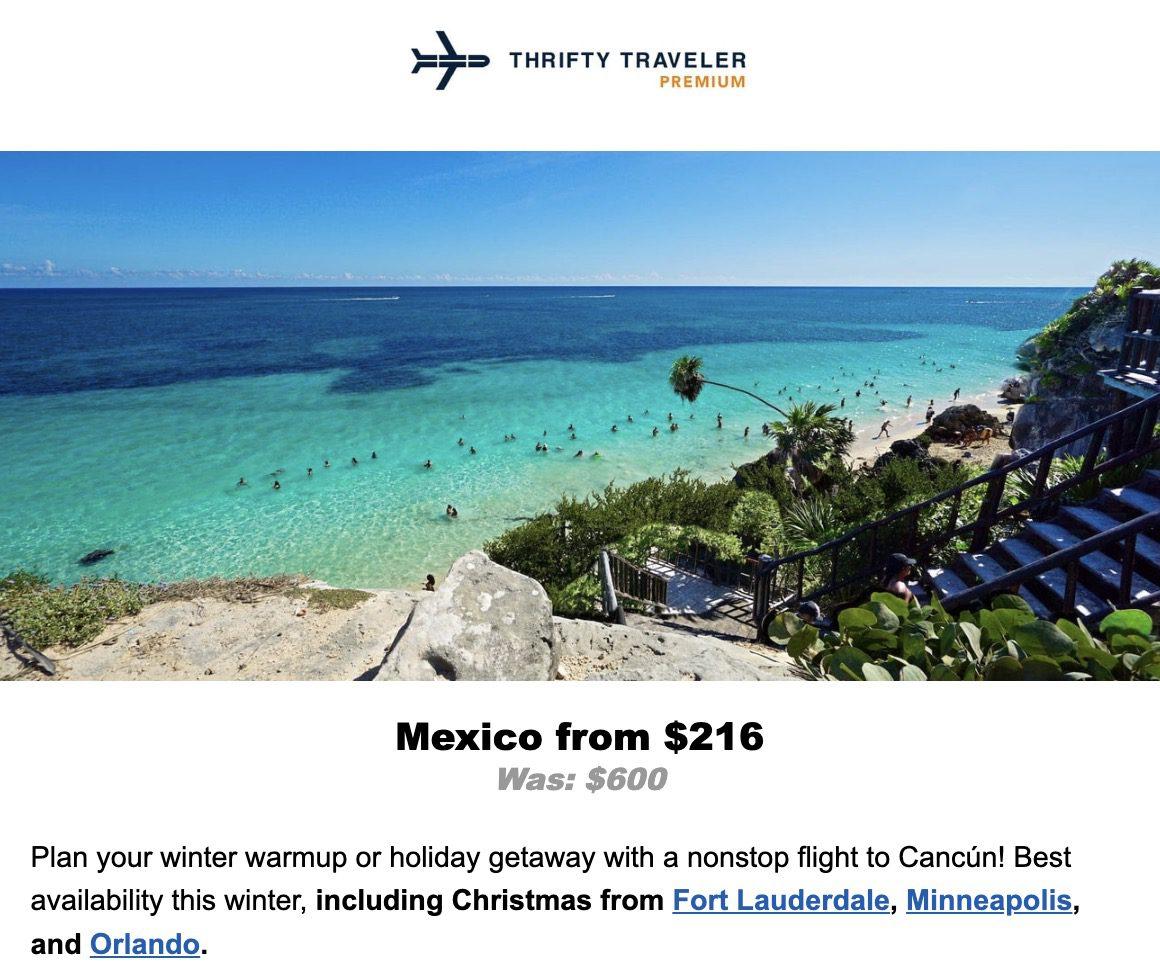 Travelers in Fort Lauderdale (FLL), Minneapolis (MSP), and Orlando (MCO) were all just a cheap nonstop flight away from Cancún (CUN) with Christmas availability.


Some travelers like the beach, and some want to visit a foreign land dripping in culture. For the latter crowd, there's Montréal.
Montréal is a beautiful city with some incredible holiday celebrations. It's a little slice of Europe here in North America, ideal for a Christmas or New Year's getaway. And we found some incredibly low fares there just last week.

Christmas in Montréal (YUL) would be spectacular. But a night on the town over New Year's Eve would make for an epic getaway, too.


Our friends in the U.S. capital could book that adventure from just $278 roundtrip!
Domestic Cheap Flights for the Holidays
You don't have to dust off the passport to take advantage of this trend. All over the U.S. – and particularly out west – we're seeing more Christmas and New Year's availability pop up.
A Lake Tahoe Christmas sounds like a pitch for a Hallmark movie, and you could be the star! Just make sure to pack your coziest aprés-ski sweater for Christmas in the Sierra Nevadas this winter.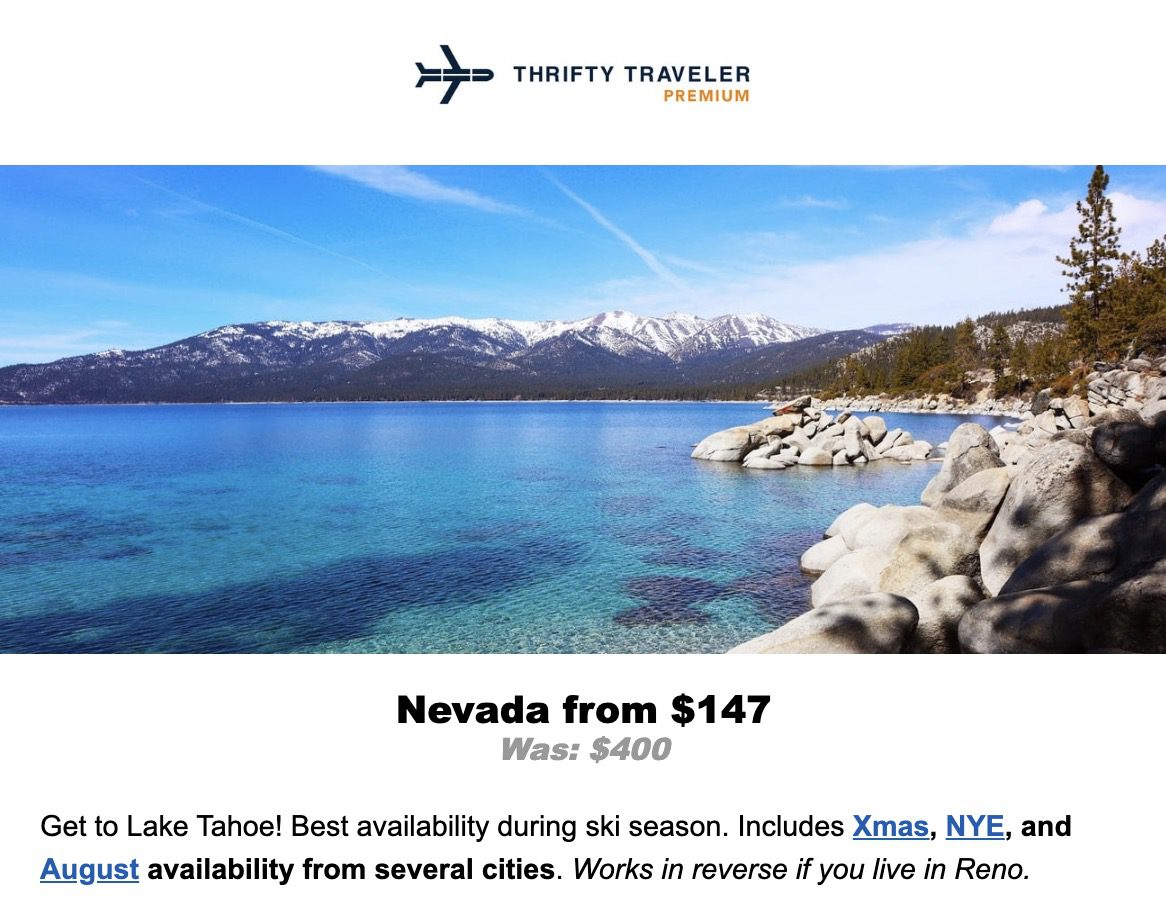 Cheap flights to Reno (RNO) – just an hour from Lake Tahoe – will put you straight into a winter wonderland. Tahoe is home to some of the finest skiing and snowboarding in the world. New Year's week is a popular one for skiers and riders – especially if you're tied to the school calendar.
These cheap flights – available from dozens of airports for $200 or less – can help you get there exactly when you need to.

Further south in the desert of California, we're seeing a similar trend. Palm Springs (PSP) is the kind of destination that would make for a sunny, warm reprieve for many holiday travelers. And starting at just $137 roundtrip, this might be the cheapest Christmas present you buy this holiday season.

Another desert destination that so many travelers love is Tucson (TUS). At these prices, we can't blame them.

Nonstop flights to Tucson don't go on sale too often, so we were loving these dirt-cheap fares to the desert of Arizona.

Here's someplace I'll admit I'd never considered for a holiday getaway: New Orleans (MSY). But when a $123 flight could get me there, my thinking has changed.

The more I think about it, the more I think New Orleans probably throws a pretty epic New Year's party. And our friends in Austin (AUS) are the beneficiaries of a roundtrip fare cheaper than their Bourbon Street bar tab!


To us, the takeaway is clear. These fares are a symptom of an overarching trend: After months of asking travelers to pay a small fortune for holiday flights, many airlines have realized they went too far, leading to empty seats. The best way to fill them up is to cut prices.
Play your cards right, and you can benefit with a cheap holiday getaway.
Bottom Line
Last-minute holiday flights aren't usually this cheap, but flight prices to some of our favorite destinations around the U.S. and across the globe have been shockingly low lately.
That doesn't mean you'll see cheap fares everywhere you look. But it could just put a cheap, last-minute trip over the winter holidays within reach. And that's the best present of all.
Sign up for our free cheap flight alerts and get the next great deal from your home airport right to your inbox!