There's been an onslaught of bad news for Delta flyers lately after the airline's sweeping – and costly – changes to its Medallion elite status program along with punishing restrictions to Delta SkyClub access on the horizon. Delta loyalists may have understandably soured on the program, but there are still plenty of positives.
While lounge access and earning Medallion status will get much harder, the airline has made no changes to how you can earn or redeem Delta SkyMiles. That's a good thing, as deeply discounted Delta SkyMiles flash sales to destinations like Cancún, Tahiti, Australia and London are as prevalent as ever. And while Delta flyers might be accustomed to seeing higher flight prices when using cash, we're still finding plenty of cheap Delta flight deals for our Thrifty Traveler Premium members.
Let me reiterate: Nobody is coming for your Delta SkyMiles. So whether you're warily eyeing your saved-up stash of Delta miles or wondering what to do with your future earnings when swiping your Delta American Express cards or buying Starbucks, don't fret. The deals are still out there.
Read Next: What the Delta Medallion Status Changes Mean for Flyers, SkyMiles Cardholders
SkyMiles Deals to Mexico & the Caribbean
Less than a week after the big changes were announced – while much of the internet was still hand-wringing about whether they would ever fly Delta again – our Thrifty Traveler Premium team unearthed tons of ridiculously low fares to Mexico this coming winter.
How cheap? How about just 9,000 SkyMiles … roundtrip.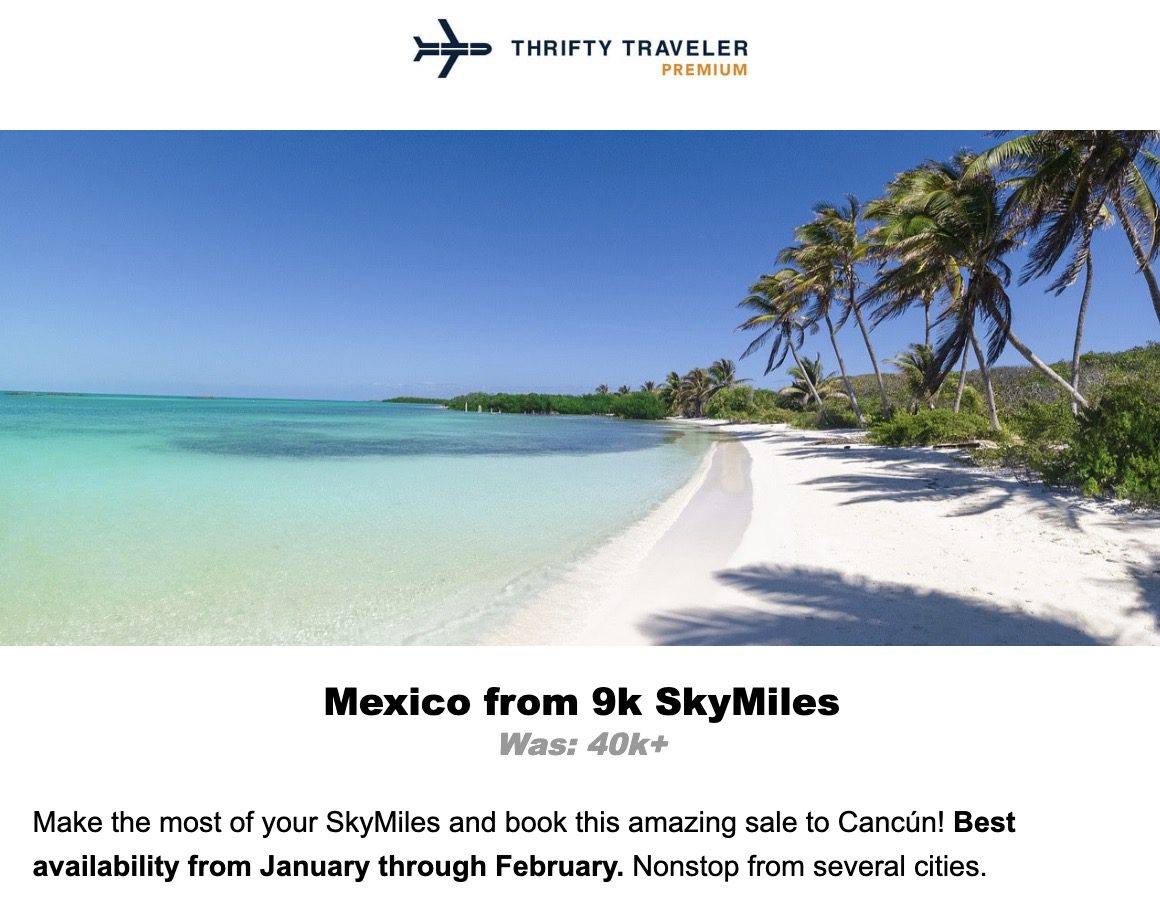 This Cancún (CUN) sale was special because of how many smaller or mid-sized airports were involved. From Asheville (AVL) in North Carolina to Eugene (EUG) in Oregon, Delta sprinkled in some fun, discounted deals from coast to coast.

Sales like these aren't too rare, either. Just a month earlier, Delta quietly dropped SkyMiles rates to another sought-after Caribbean spot: Jamaica.

These Delta flights to Montego Bay (MBJ) can cost you up to $600 roundtrip in many cases, so using your Delta SkyMiles to get there instead is a huge win for travelers in places like Birmingham (BHM), Boston (BOS), or Bristol (TRI).

The SkyMiles in your account haven't changed one bit. When you use them wisely, they can get you down to Mexico or the Caribbean for your winter escape. But they can take you much, much further, too…
SkyMiles Deals to Australia, New Zealand & Tahiti
Delta SkyMiles flash sales aren't going anywhere, and our latest find made dreams come true for travelers hoping to knock Australia, New Zealand, or Tahiti off the bucket list this year or next.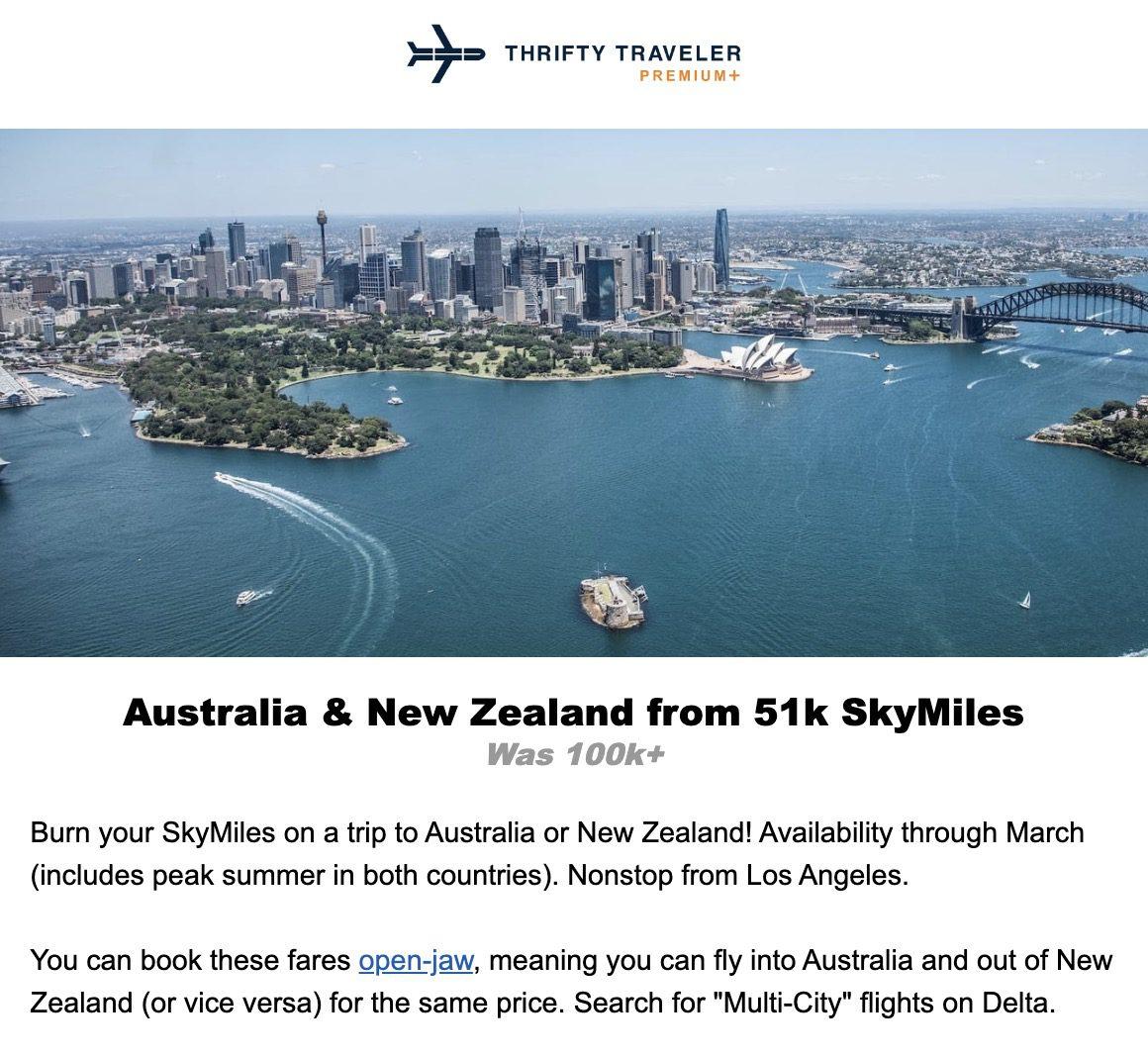 This deal included both Sydney (SYD) and Auckland (AKL) for 80,000 SkyMiles roundtrip or less. If you haven't canceled your Delta credit card yet, you get another 15% off when using SkyMiles, bringing these fares as low as 51,000 SkyMiles total.

The best part about this deal? You could book it as a multi-city (or "open-jaw") itinerary, too. That means you could fly to Sydney (SYD) and fly out of Auckland (AKL) all for the same price as a regular roundtrip. It's a great way to see two cities for the price of one.
The same week, we found some crazy low Delta SkyMiles rates to Tahiti (PPT), too. And if you used the TakeOff 15 discount, the lowest fare from Los Angeles (LAX) was just 42,000 Delta SkyMiles roundtrip!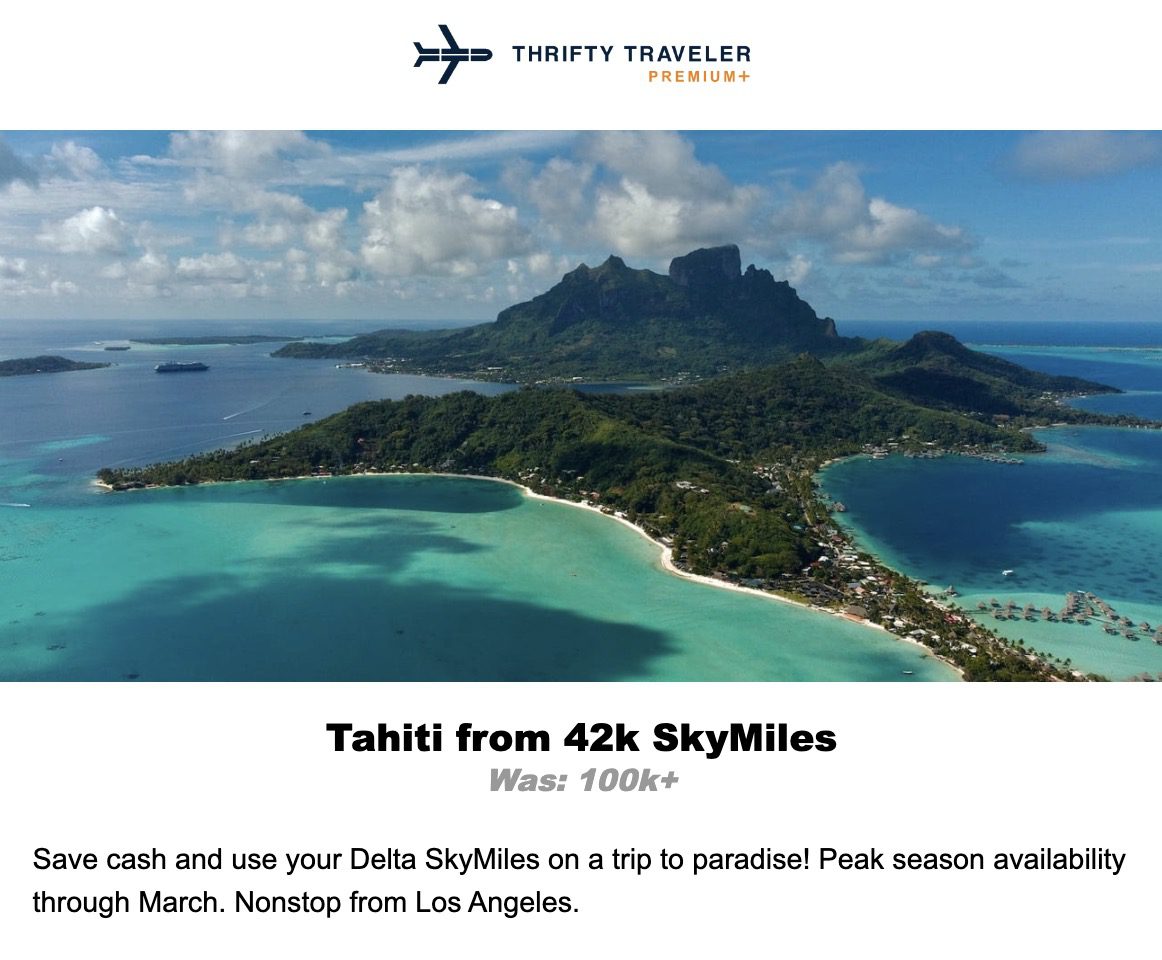 Compared to the close to $1,400 cash fares, it's a great use of Delta SkyMiles

SkyMiles Deals to New York City & London
Cities like New York and London are notoriously expensive: Food isn't cheap, drinks are pricey, and they're not places where you can rely on getting an Airbnb so you can cook your own meals and save.
The alternative? Save your money, book flights with SkyMiles instead.

This Delta SkyMiles flight deal to London-Heathrow (LHR) flying Delta was a big win for our Thrifty Traveler Premium subscribers. Not only were these fares under 42,000 SkyMiles in many cases – or less with a SkyMiles card discount – but they were for Main Cabin economy to boot! That means you get free seat selection and could cancel (or change) your flights whenever you want and get all your miles back. Incredible.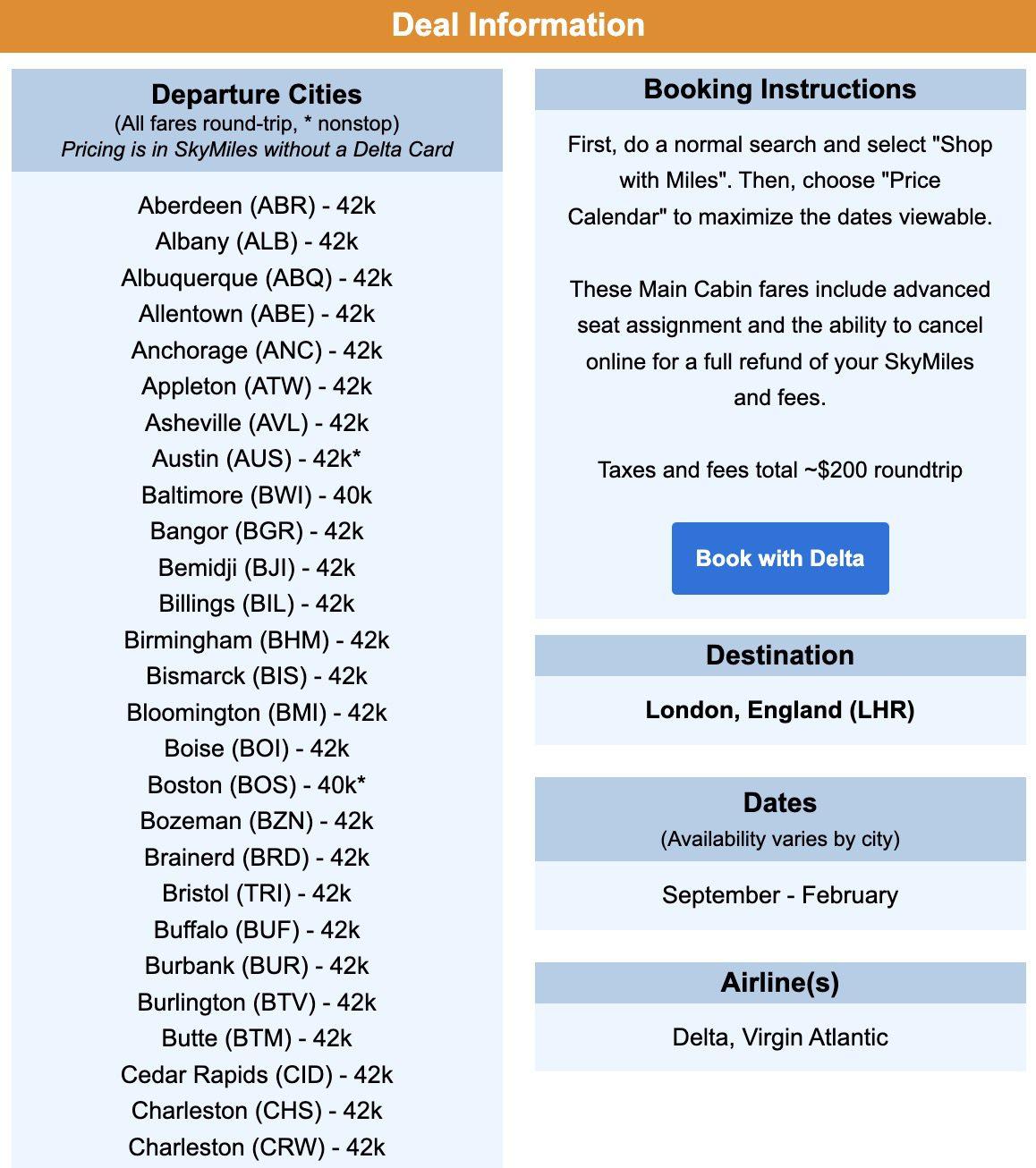 Closer to home in New York City, prices are often equally high. Except for SkyMiles fares, that is.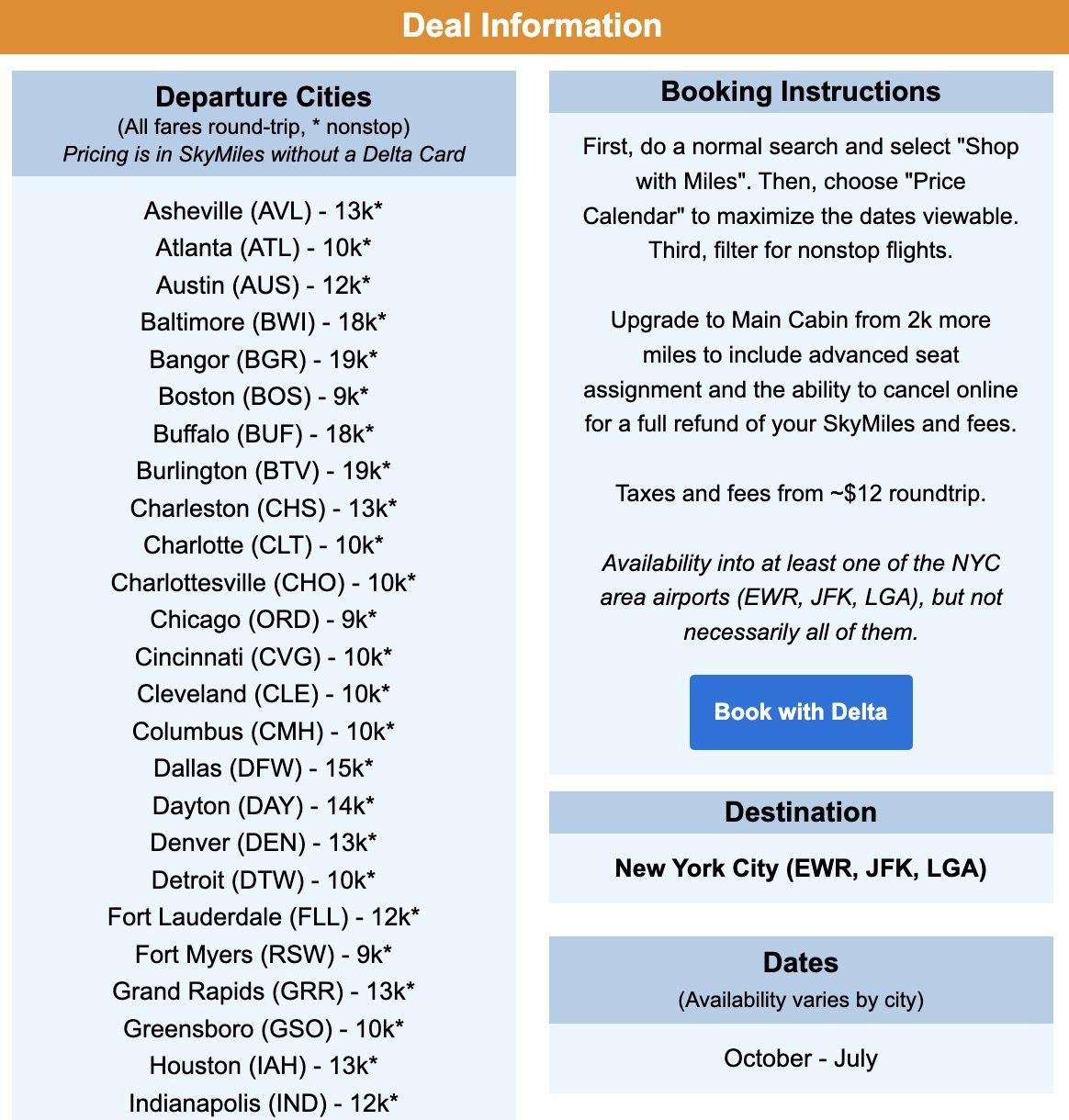 These nonstop flights to NYC's three airports (EWR, JFK, LGA) were all under 20,000 SkyMiles roundtrip, including this lowest fare from Nashville (BNA) to New York City (JFK) starting as low as just 7,600 SkyMiles roundtrip.
SkyMiles Deals to Fly Delta One Business Class
Delta rarely sells its cozy Delta One business class fares at a discount. You're likely to see one-way fares of 300,000 SkyMiles or more … but not always.
Just a few weeks back, we found a solid deal for our Thrifty Traveler Premium members: 170,000 SkyMiles roundtrip to Seoul-Incheon (ICN) and back in a Delta One Suite!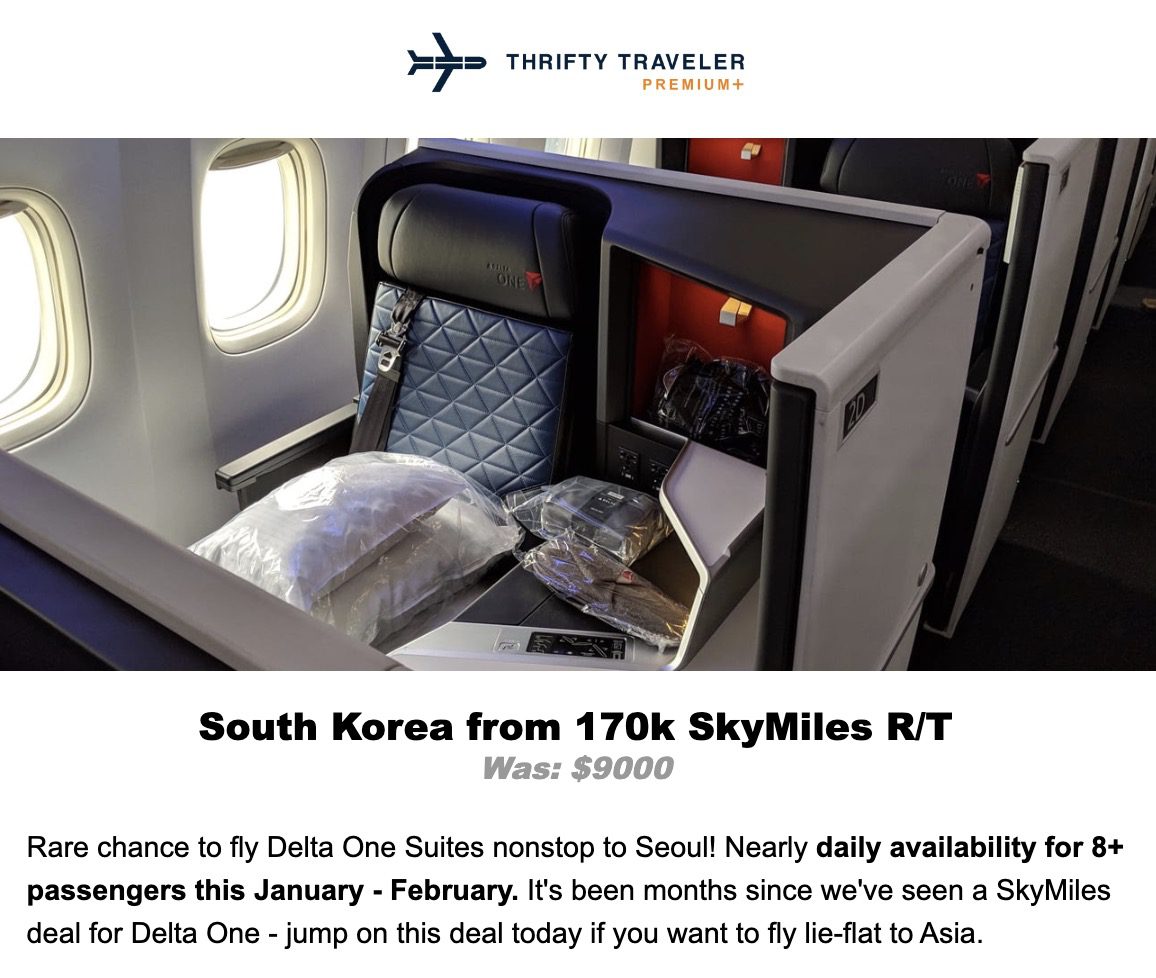 A trip across the Pacific Ocean requires an ultra-long flight no matter what. Wouldn't that flight be nice in a lie-flat Delta seat?

For our subscribers in the Delta hubs of Atlanta (ATL), Detroit (DTW), Minneapolis-St. Paul (MSP), and Seattle (SEA), nonstop Delta One flights to and from South Korea were made a reality with fares right around 200,000 SkyMiles roundtrip. Factor in the 15% discount for Delta cardholders, this deal was bookable for just 170,000 SkyMiles roundtrip from Seattle.
Cheap Delta Fares Aren't Going Anywhere, Either
Delta has been trying for years to set itself apart as America's premium airline – with higher, premium prices to match. But that hardly means Delta flights are always expensive.
In the days since the announcement of Delta' Medallion Status changes, the sweet, sweet cheap flight deals flying Delta just keep coming. Want proof? You've got it.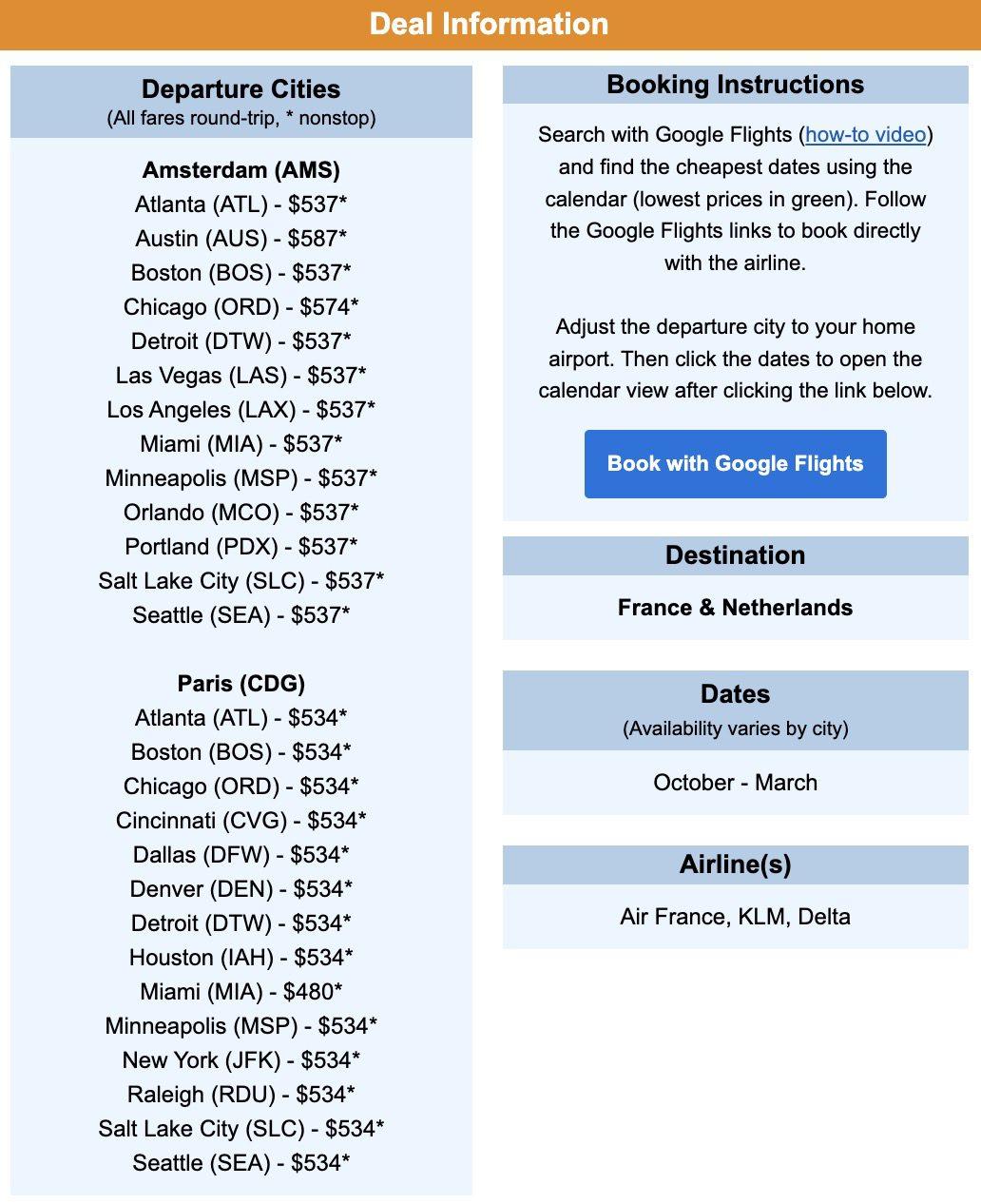 This past weekend, Delta slashed tons of fares to both Amsterdam (AMS) and Paris-Charles de Gaulle (CDG), leading to this sizzling deal on nonstop flights to Western Europe this year or next.
And just a few days before, Delta slashed fares flying all the way to Istanbul (IST), too, working in conjunction with partner carrier Air France!

This flight deal to Turkey targeted many of American Airlines' hub cities like Dallas-Fort Worth (DFW), Philadelphia (PHL), and Charlotte (CLT). Airlines are always competing for customers – now more than ever – and that often results in cheap flights for our subscribers flying to sought-after destinations. The same thing happened with these Delta routes to Athens (ATH), too.

You don't have to go too far to take advantage of Delta's cheap fares, though. This summer and heading into the fall, Delta has regularly dropped domestic airfare down below $200 roundtrip (and sometimes under $100) to many destinations across the country, like these routes to Denver (DEN) for both peak fall colors and ski season.

Delta is still planning to operate a robust, reliable, and occasionally cheap airline. These latest deals are all the proof you need that cheap Delta flights and SkyMiles flash sales aren't going anywhere anytime soon.
Bottom Line
Delta made big, almost entirely negative changes to its Medallion status program and its Delta SkyClub access policies. But your SkyMiles are safe for now.
While there's no telling what changes Delta will make in the future, right now, your Delta SkyMiles are just as valuable as ever – and there are still plenty of amazing ways you can use them. Just ask our Thrifty Traveler Premium members who have received all of the deals above just in the last month.