It might be freezing outside, but the battle for Minneapolis-St. Paul (MSP) between Sun Country and Delta is heating up.
The Atlanta-based airline added a slew of nonstop routes to its schedule from its biggest Midwestern hub over the weekend, featuring some sought-after outdoorsy destinations from coast-to-coast. From Burlington (BTV) in Vermont to Reno (RNO) in Nevada, they've nearly all got something in common: Sun Country flies it already – or will soon.
It's the latest volley between the airlines jostling in the Twin Cities market, pitting the legacy U.S. giant against the hometown airline turned low-cost carrier. Just last month, Sun Country announced its own massive route expansion, including some routes going head-to-head with Delta to its hubs in Detroit (DTW) and New York (JFK).
Now it's Delta's turn, taking aim at several nonstop routes that Sun Country has monopolized while matching a pair of recent additions from last month that haven't even begun flying yet. There are a few brand new routes for Delta along with others that had been paused.
Here's the full list:
Burlington, Vermont (BTV): 3x weekly, June – August
Richmond, Virginia (RIC): Daily, starts in June
Harlingen, Texas (HRL): Daily, February – April (restarting in October 2023)
Colorado Springs, Colorado (COS): Daily, June – August
Reno, Nevada (RNO): 3x weekly, June – August
Jackson Hole, Wyoming (JAC): 3x weekly, June – August
Great Falls, Montana (GTF): Daily, starts in February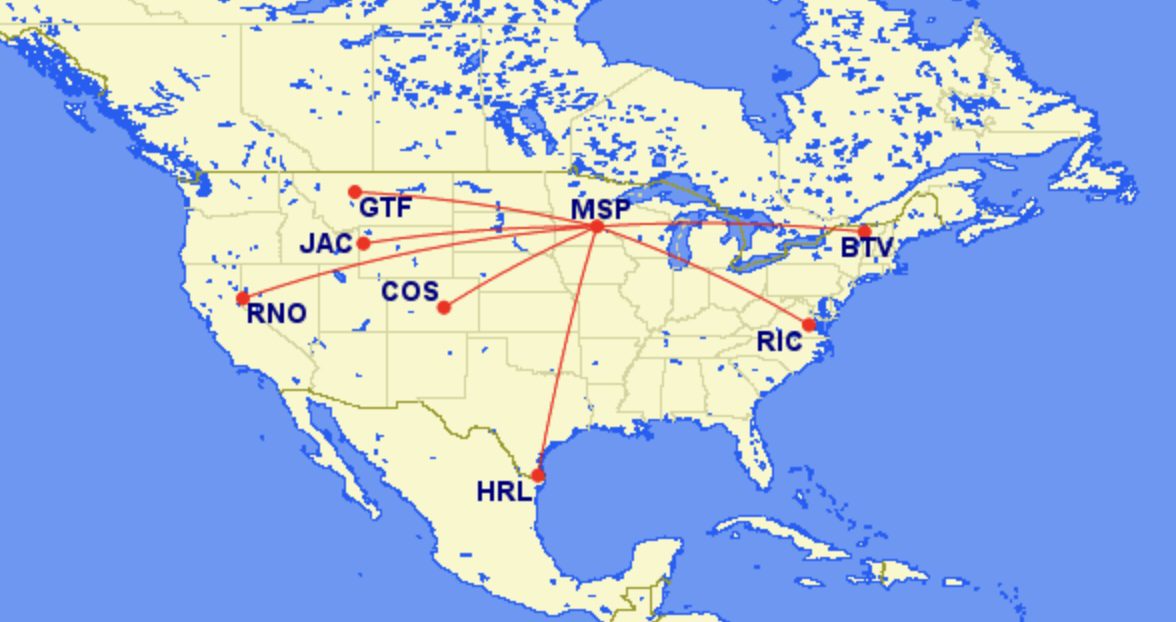 Among that list, only the nonstop route to Colorado Springs (COS) is brand new for Delta's network. The rest, Delta has operated at some point – though some have been dormant for years.
The flights to Colorado Springs and Richmond (RIC) are both direct responses to Sun Country's recent expansion – the low-cost carrier isn't set to commence either route until the spring. And while Sun Country only flies nonstop to Kalispell (FCA), Delta adding flights to Great Falls (GTF) gives it even more lift for travelers heading to Glacier National Park.
Besides Sun Country, many of these destinations have one specific thing in common: The Great Outdoors.
During the pandemic, many Americans spent more time outdoors, visited National Parks in record numbers, and developed new outdoor hobbies like hiking, mountain biking, and more. This map expansion from Delta is a clear nod to those changing travel patterns.
Read next: How to Plan a National Parks Road Trip Through Wyoming and Montana
A flight to Burlington puts you right into the Green Mountains of Vermont. Reno puts you at the doorstep of the Sierra Nevadas. Great Falls is on the eastern edge of Glacier National Park. Colorado Springs is in the throes of the Rockies. And Jackson Hole Airport is literally inside the boundaries of Grand Teton National Park.

Americans are clearly searching for and booking flights to these epic outdoor destinations, and Delta's map makers have taken notice.
A Rivalry Brewing?
Besides having a clear outdoor recreation bent, Delta's real motivation for launching these new routes is competition with its Minneapolis roommate Sun Country.
All but one of these new routes from Delta matches a flight that Sun Country is either already flying or plans to soon. Notably, the Colorado Springs and Richmond flights were just announced by Sun Country last month – they haven't even started flying yet.

Delta is a clear number one at MSP, flying more than 54% of domestic travelers in August during the peak summer travel season, according to data from the Bureau of Transportation Statistics. Fold in Delta's regional partners, and the airline commands more like 70-plus percent of the market.
But Sun Country wants a bigger piece of the pie … and its executives aren't shy about it.
"We're trying to turn Minneapolis into a two-airline market," CEO Jude Bricker said last month during an interview that raised many eyebrows across the industry. "If you pay with your own money, you fly Sun Country. If you fly on a corporate contract, you fly Delta."
Sun Country flew just 10.7% of passengers this past August. But that's up from just 7% of market share in August 2019 before the pandemic. Even through a pandemic that decimated travel, Sun Country is growing faster than ever.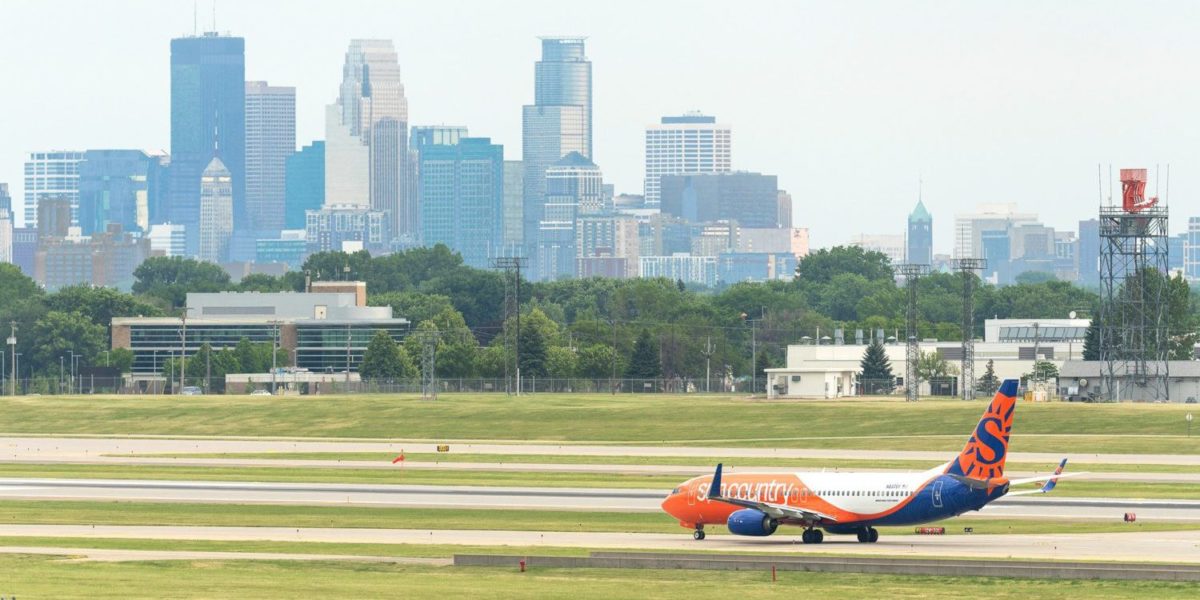 Sun Country isn't all talk on expanding their presence in Minneapolis, either. Their route expansion from last month targeted Detroit (DTW) and New York (JFK), both Delta hubs and uber-popular Delta routes from Minneapolis.
This isn't the first time Delta has responded by matching Sun Country. The airline has followed Sun Country's lead by launching service to destinations like Asheville (AVL), Destin (VPS), Charleston (CHS), and Myrtle Beach (MYR) – often at dirt-cheap fares in a bid to poach some of Sun Country's would-be customers.
Bottom Line
Delta Air Lines added a bevy of new nonstop flights from Minneapolis-St. Paul (MSP) over the weekend, matching existing routes from hometown Sun Country Airlines.
It's the latest volley in a brewing tit-for-tat between the two biggest airlines in Minneapolis. That increasing competition isn't just fun to watch: It's also a win for travelers … in the form of cheaper fares.
This story has been corrected to note that only the nonstop flight to Colorado Springs (COS) is a brand-new addition from Minneapolis-St. Paul (MSP).
Lead photo courtesy of Chris Lundberg via Flickr