Travelers have turned the page on 2022, and that means one thing: It's time to start booking your 2023 flights – if you haven't already. And we've got good news, too: Cheap flights for 2023 are abundant.
After flight prices exploded last summer and again heading into the holidays, airfare is settling back down. For months, we've been sending our Thrifty Traveler Premium members amazing flight deals for a cheap trip somewhere this year. And with flights now bookable through November, we're doubling down with even better cheap flights for 2023.
Looking to stay close to home? We've seen a resurgence of domestic flight deals under $200 – and sometimes dipping below $100 roundtrip. If Europe is on your mind for 2023, you're in luck: We've seen great fares recently like roundtrip flights to Dublin (DUB) for under $350 or all the way to Athens (ATH) for just $458. And winter getaways to the Caribbean are heating up, with fares regularly under $300 roundtrip.
Thrifty Traveler Premium members got first crack at all of these deals, and many are gone now. But we wanted to share so you can see what's possible this year.

Cheap Flights to Europe in 2023
Make 2023 the year you go (or return) to Europe. And do it for less.
There are some tried-and-true favorites in Europe, and Paris is always one of them. Just a few weeks ago, we dug up a huge deal featuring more than 100 all across the U.S. and Canada for under $600 roundtrip.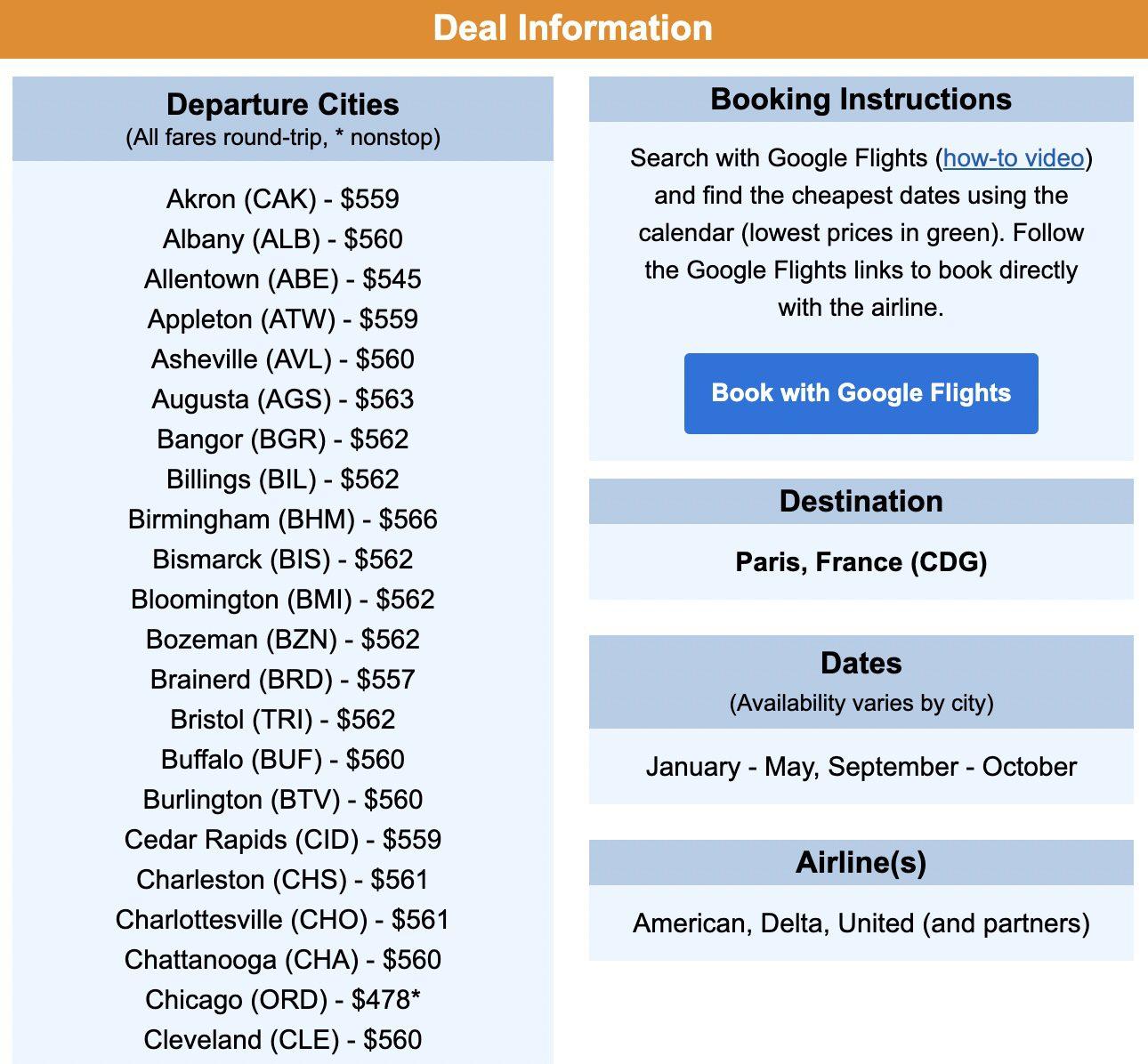 It doesn't get much better than a nonstop flight from Chicago-O'Hare (ORD) to Paris-Charles de Gaulle (CDG) for just $478 roundtrip later this year. When we first sent this deal to our members, you could book a trip through this coming spring and again in fall 2023!


Get flight deals like this one sent to your inbox with Thrifty Traveler Premium!
When it comes to lists, Iceland is probably already on yours … and it should be! I've been twice now and each time was spectacular – but I've never paid these low prices to get there!
From $398 nonstop and roundtrip, you could fly to Iceland in 2023 for the trip of your dreams this year. This deal was special because it featured peak summer availability from many cities.

Whenever we send an Italy deal to our Thrifty Traveler Premium members, they eat it up – especially when prices are this low! This flight from Boston (BOS) to Milan (MXP) for just $451 roundtrip was the lowest of the bunch, helping East Coasters get to Italy this year for half the usual price.


I can't imagine anything better … or can I? How about a $483 flight to Greece and back!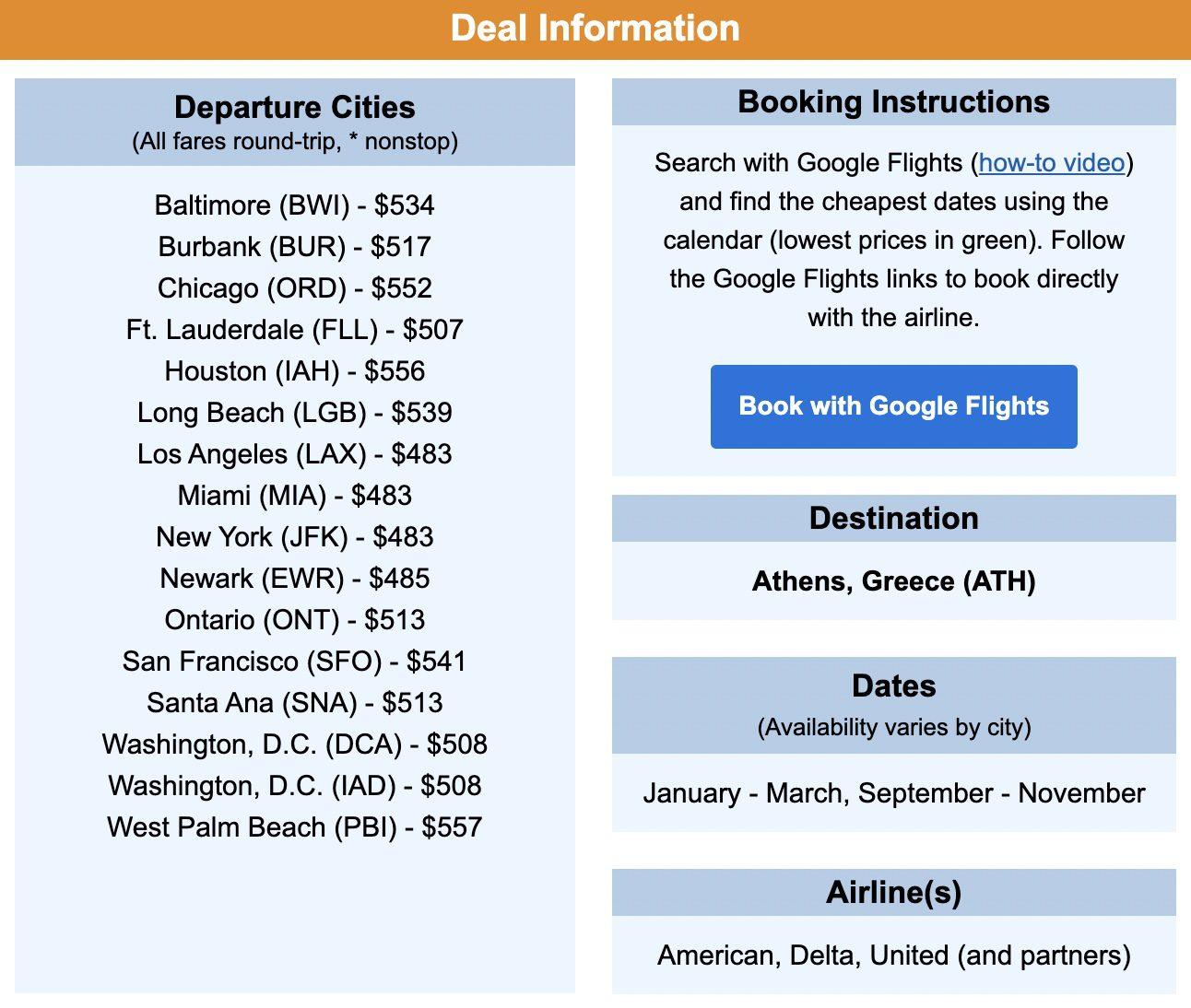 This deal was special because it featured some ridiculously low fares from the West Coast, too. When you can get from California all the way to Greece for roughly $500, you know it's a great deal.
Just like Paris at the top of this list, London is also another European favorite. Luckily, we are constantly scouring for cheap flights to London – and always finding them, too. That includes an impressive chunk of low fares on nonstop routes from the U.S. and Canada to London for a trip in fall 2023.

Trips to Europe came back in a big way last year. But 2023 could be the year when some of the cheapest flight deals make a comeback to help you get there for less.
Cheap Flights to the Caribbean in 2023
Europe is nice, but as the calendar flips to 2023, it's pretty cold and miserable in much of the country. We've got the perfect antidote: The Caribbean.
While the Cayman Islands, the Bahamas, and the Virgin Islands are all hotspots, we've been unearthing some ultra-low prices to some of the most unique islands in the Caribbean. Let's start with Trinidad and Tobago, where you can rarely find flights for $500.
How about half that price?

The islands of Trinidad and Tobago would be the perfect escape for a northerner in 2023. It's off the beaten path, the kind of unique destination you didn't know was on your list until you booked it! And with fares as low as $260, we can't blame you.
The same goes for Grenada, or the "Spice Island of the Caribbean." It's another distant yet stunning destination that is beckoning cold weather dwellers for a trip in 2023.

Then, there are the classics of the Caribbean like Turks and Caicos (PLS). It's a place that just sounds expensive … but it doesn't have to be with nonstop Delta fares later this winter under $300.

I'll admit that St. Lucia is the kind of island I thought I'd never be able to afford to visit, but our Thrifty Traveler Premium team proved me wrong again!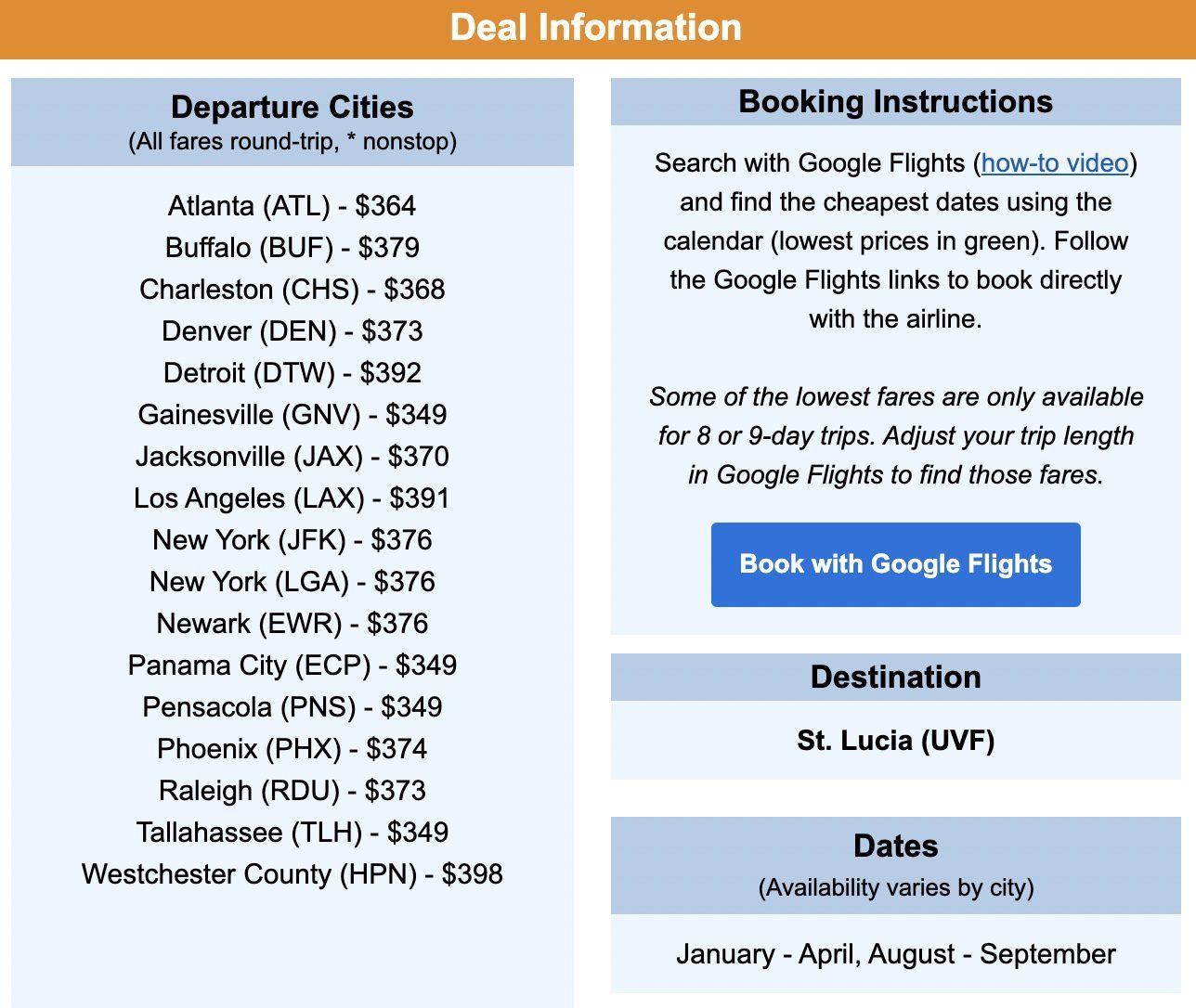 From Buffalo (BUF) to Los Angeles (LAX), and back to Tallahassee (TLH), you could fly down to St. Lucia for less than $398 in 2023. Book that dreamy island getaway this year. You won't regret it!
Cheap Domestic Flights in 2023
If you're looking to stay closer to home in the United States in 2023, there are plenty of flight deals for you, too.
After last year's wild swings in flight prices, we're betting on more predictable airfare for 2023 along with a steady stream of cheap flight deals – especially domestically. And it doesn't get much cheaper than these fares to New York City for a trip this year.

New York City's three airports (JFK, LGA, and EWR) offer hundreds of nonstop flights a day sprawling all over the country, meaning there's likely a great option for you from your home airport. In this latest find, we unearthed plenty of sub-$200 fares for a trip to the Big Apple all the way through fall 2023.
If a desert retreat is more your speed, then look for one of these incredible fares to Phoenix (PHX) for 2023. How incredible? How about as low as $89 roundtrip for a winter trip to Arizona?!

You'll want to bring along your golf clubs to Arizona, but you'll need your skis or snowboard for your Denver trip. Our latest deal to Denver (DEN) featured wide-open availability all through peak ski season in the Rocky Mountains.
Look at this fare from Austin (AUS) we dug up last month. That's right: Just $90 roundtrip to start your trip, leaving more money in your pocket for a good rental car, hotel, and the obligatory après-ski.

Finally, let's look somewhere in the U.S., but not exactly close to home: Alaska. Flights this far away don't have to break the bank.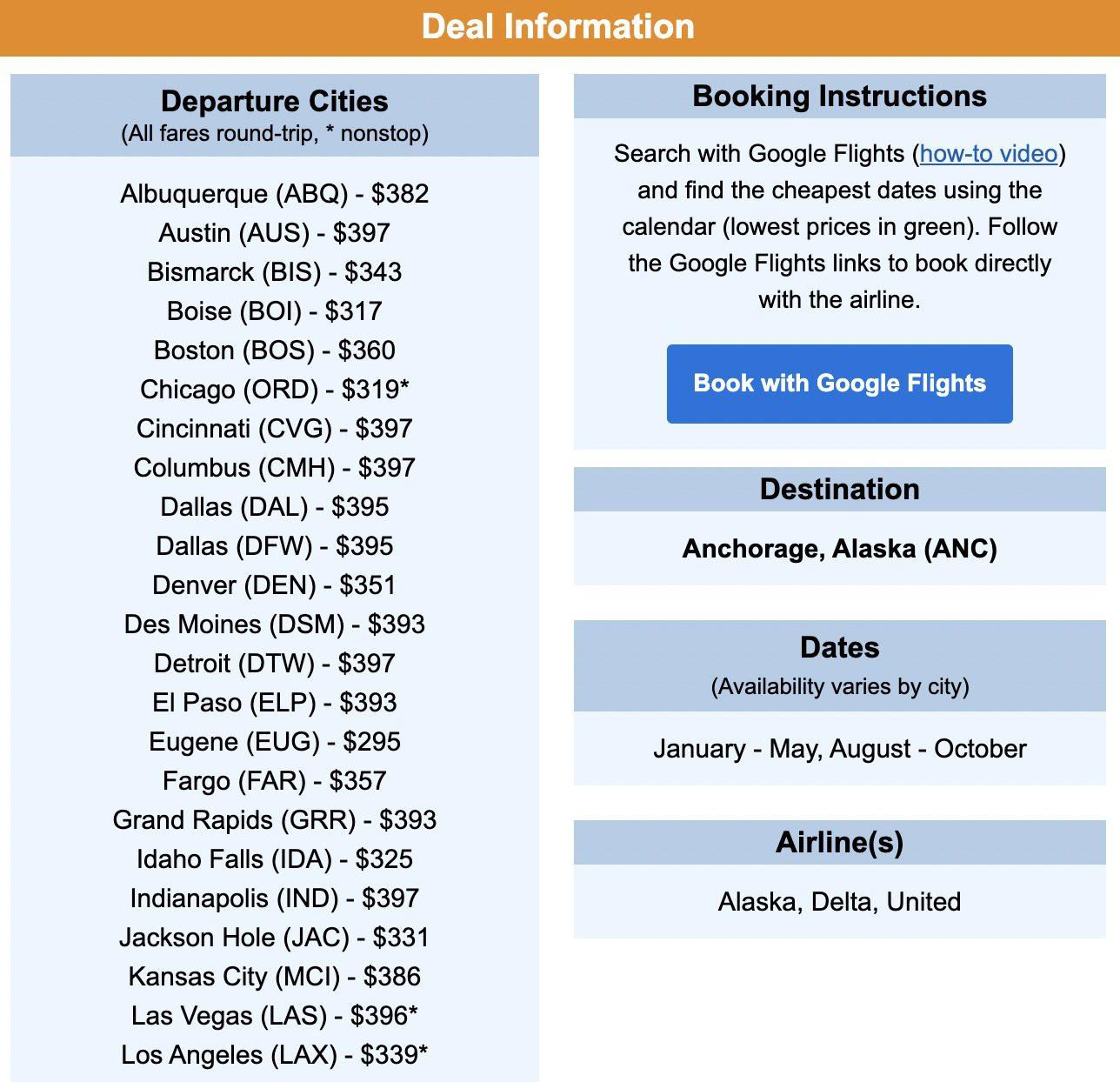 Look at this list of fares here, which include some late summer and fall availability from most cities. Alaska's summer starts later than ours does down here, so often times, the best weather of the year is in August and September – not June and July.
If an excursion to our wildest state is on your mind, 2023 is the year to go.
Cheap Flights All Over the World in 2023
Let's get really out of dodge this year and take some trips to the most far flung and spectacular destinations on the globe.
Let's start in South Africa, where we've seen a steady trend of cheap flights for 2023. Even a nonstop flight all the way to dreamy Cape Town (CPT) doesn't have to cost you an arm and a leg.

When United put this new Cape Town route on sale, we were blown away. We sent it to our subscribers instantly – these prices are long gone now.
But the same goes for Vietnam, where a trip to Ho Chi Minh (SGN) normally costs $1,200 or more … but could cost you as little as $638 roundtrip with the right cheap flight for 2023!

Elsewhere in Asia, Thailand is usually high on travelers' lists. A cheap flight to Bangkok (BKK) could be the perfect starting point for a voyage through one of our favorite thrifty countries.

We don't have to only travel east or west to get good deals with Thrifty Traveler Premium, though. Planes fly south, too. Sometimes very south: All the way down to Chile. And while flights into Santiago (SCL) typically cost $1,000 or more, we've seen some huge savings for a trip in 2023.

This flight deal to Santiago had flights starting at just $514 roundtrip. From there, you can jump on a short, cheap flight down to Patagonia to visit some of the best landscapes on the planet like Torres Del Paine.
And let's do one more for good measure, because it's a spectacular one. People who want to travel to India may have given up on ever seeing a fare like this. Have hope: Flights for under $600 nonstop, roundtrip exist!

Not only is this fare sublime, but it's a nonstop, roundtrip fare flying United! We've hardly ever seen anything this cheap to New Delhi (DEL) … or anywhere in India for that matter. That's just a taste of what's in store for 2023 travel.
Thrifty Traveler Premium members got this deal first, and had first dibs on their 2023 trip to any of these far-flung, but inexpensive places.
Deals to Use Your Points & Miles in 2023, Too!
There's no better way to travel even more for less than using points and miles. We've got just the thing: Award alerts straight to your inbox.
With Thrifty Traveler Premium+, we offer the only flight deal alert service on the market that sends our members both cheap cash fares and award alerts to book flights using points and miles – including rare business and first class opportunities!
Let's start with our bread and butter: Delta SkyMiles flash sales. These deeply discounted award rates are easily the best way to use a stash of SkyMiles, and it doesn't get much cheaper than a roundtrip flight to San Francisco (SFO) or San Jose (SJC) from just 6,000 SkyMiles total. Best of all, these rates were bookable all throughout 2023!

But the deals we find go far, far beyond using SkyMiles. One of our favorites can get travelers from Minneapolis-St. Paul (MSP) to almost anywhere in Europe … for just 30,000 points and under $100 in fees roundtrip! The trick is using Virgin Atlantic points to book flights operated by Air France or KLM, avoiding the peak summer to get the best deals.
Other cities get hit with $300-plus in taxes and fees, but Minnesotans luck out with lower cash costs to take advantage of one of the best ways to get to Europe using miles.

Only our Thrifty Traveler Premium+ members get award alerts like these to use their points and miles!
Want to get to Europe in style, flying lie-flat business class seats? We don't blame you, and we're here to help. Among the many business class alerts we've found to Europe for 2023, there was wide-open availability to fly United Polaris business class from Chicago-O'Hare (ORD) to London-Heathrow (LHR) – with seats for two bookable all the way through the spring!

Even ultra-rare first class seats are occasionally up for grabs in 2023. We unearthed gobs of Etihad First Class award space for two passengers to fly from Washington, D.C.-Dulles (IAD) to Abu Dhabi (AUH) through November. This is one of the best, most luxurious ways to kick off a trip to the Middle East!

Bottom Line
We think 2023 is going to be a spectacular year for flight deals. In fact, we've already got the receipts to prove it.
From flights to places like South Africa or Grenada to destinations like Phoenix or Paris, Thrifty Traveler Premium members have been receiving the best flight deals for 2023 trips for months now. And by now, the trend is clear: The cheap flights for 2023 like these are going to continue.