The upcoming holiday travel season means flyers are dealing with yet another wave of soaring domestic flight prices. But there's another, better trend for travelers: The best value in travel is abroad, not closer to home right now.
It seems counterintuitive, I know – why should longer flights be cheaper? But even as $400-plus fares for simple domestic flights have become the norm, we're still seeing some astoundingly cheap flights to Europe at $400 or less roundtrip. There are fares to hotspots in the Caribbean in the $300s. And even getting to Hawaii and back can cost just $253 – half of what a quick flight to Chicago for the holidays may cost you.
The deals we're finding and sending to Thrifty Traveler Premium members over the last few weeks prove that good flight deals are still out there … if you know where to look. And increasingly, that means you're better off looking for flights to Naples in Italy … not Naples, Florida.
Read more: Why Are Flights So Expensive Right Now?
Why Are Flight Prices Cheaper Abroad?
All the major U.S. airlines made a big deal about expanding transatlantic flights for last summer, including a bunch of brand new routes that are sticking around into 2023.
Yet it's domestically (as well as to Mexico and the Caribbean) where travel demand has once again exploded ahead of the holiday season. Travel demand within the U.S. is nearly back to pre-pandemic levels, but international demand has tapered off after a busy summer travel season. And even though people have cooled on the idea of a trip to Europe, there are still many more seats flying back and forth across the ocean every day.
So generally, the sweet spot for good airfare isn't going to be flying from Tennessee to Phoenix (PHX). You might get a better deal flying all the way over to Paris-Charles de Gaulle (CDG) instead.
Think I'm joking? Take a look.

Here's a search for flights between Bristol, Tennessee (TRI) and the popular domestic travel destination of Phoenix. Even for a mid-week flight in the middle of January – typically ripe for cheap flights – fares are in the $400s from this regional airport.
But if you think a little bigger, you could head to Paris for a similar price.

Get flight deals like this one sent to your inbox with Thrifty Traveler Premium! 
This is a snapshot of a deal we sent our Thrifty Traveler Premium subscribers just a few weeks ago. Look closely and you'll see fares from Bristol to Paris and back for right around $460 roundtrip. Pay just $27 more than the cost of a two-hour flight to Arizona, you could see France in 2023!
This pattern plays out again and again again, no matter which U.S. airport you're starting from. How about something from Thrifty Traveler's home base: Minneapolis-St. Paul (MSP)? If you want to fly somewhere in the U.S. from MSP ahead of the holidays, you might be looking at a search like this…

Ouch! Nonstop flights for more than $800? Backtrack all the way to Denver and still pay more than $450? Miami is not worth that. Not now, not ever I've got a better idea…
Why don't you take that $500 and put it towards a trip to Italy instead with these cheap fares into Milan (MXP)?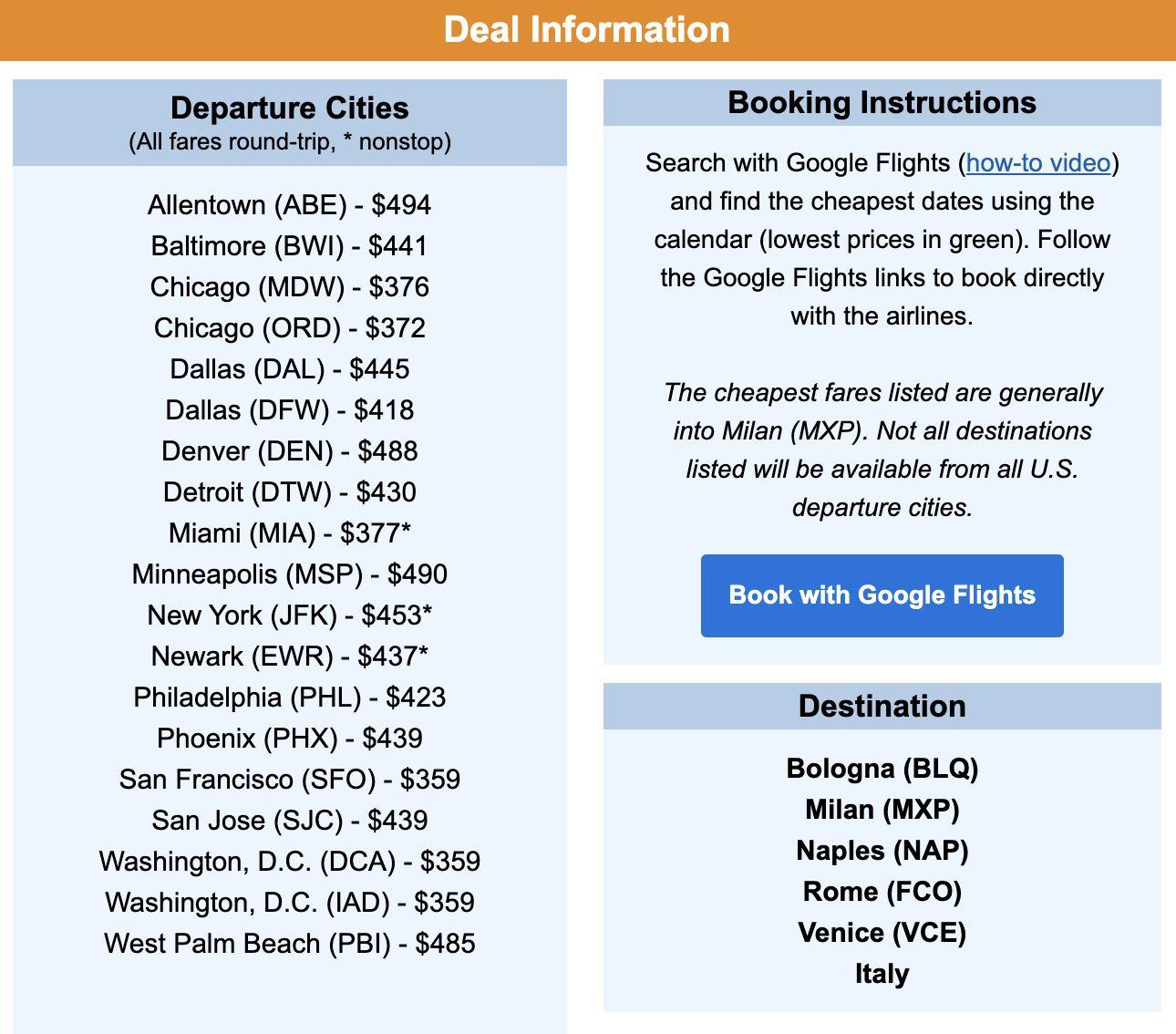 This deal we sent to Thrifty Traveler Premium subscribers a few weeks ago featured Minneapolis-St. Paul (MSP) fares to Milan (MXP) and Rome (FCO) for just $490! It included early December availability from Minneapolis and all the other cities on this list, too.
These are just a few examples among hundreds we've seen recently where you can find better value by looking abroad rather than flying domestically in 2022 and 2023.
Prices will vary from city-to-city to every destination. That's just how flight prices are. But as domestic flight prices soar, I implore you to think a little bigger to find a better deal.
The Best International Destinations for Flight Deals in 2022 and 2023
Not sure where to look across the globe to find the best deal for a trip this year or next? You've come to the right place.
We've got some ideas based on the flight deals we've been finding for our Thrifty Traveler Premium members. But if you're just looking to go anywhere a cheap flight will take you, start by searching with Google Flights Explore. Plug in your home airport, set your ideal travel dates, and take a spin around the globe to find the best international flight deals you can.
Read more: How to Find Cheap International Flights
But if you need some guidance, we have a few favorites from the last few weeks for you. And we'll start in Greece.

Get more fares like this one straight to your inbox with Thrifty Traveler Premium!
I don't know how to use Photoshop, but I can take a screenshot. This fare is for real! And it was a part of a much bigger deal to Athens (ATH) that we sent to our subscribers a few weeks ago.
Portugal is another hotspot for cheap international fares through 2022 and 2023 – and Lisbon is an incredible city, too.

And it may seem unbelievable given what domestic fares look like, but even fares to Italy can be scored for less than $400!

These prices are gone now, get the next deal straight to your inbox with Thrifty Traveler Premium!
As fares within the U.S. keep going up, flights down to some of the best gems in Caribbean seem to keep dropping. We've been obsessed with Curaçao lately … and who can blame us with fares as cheap as these?

And while Hawaii is perhaps our favorite member of these United States, airfare to Hawaii acts more like international flight prices than domestic. Which is why some big time savings have had us shocked over the last few weeks.

These Hawaii fares in the $200s and $300s featured departure cities ranging from Toronto (YYZ) to Boise (BOI) to Kansas City (MCI) and so much more.
This is just the tip of the iceberg: Check out more destinations where you can find cheap flights right now!
Are There Any Cheap Domestic Flights Out There?
Has the ship entirely sailed on domestic flights? Of course not.
While cheap domestic flights are generally much higher than just a few months ago, there are still some value out there if you know where to look. And we do know where to look! Here are some Thrifty Traveler Premium domestic flight deals that can help you elude those price hikes you're seeing elsewhere.

Cheap flights to Chicago are abundant to both Chicago-O'Hare (ORD) and Chicago-Midway (MDW) right now, so if you want a quick domestic getaway, maybe set your sights on the Midwest.
But if you're looking for a little sun, the same goes for Los Angeles (LAX)! These fares disappeared fast, but many Premium subscribers locked in trips to SoCal for cheap this winter. It doesn't get much better than these flights from Austin (AUS) to LA for less than $100 roundtrip!

Let's look at one more destination, and it's a little different: Steamboat Springs, Colorado. Pack your skis and jump on one of these nonstop flights to Steamboat (HDN) for the winter ski season.

So not all hope is lost for domestic cheap flights this year or next, so long as you know where to look.
Bottom Line
I know it may seem counterintuitive, but your best bet at booking a cheap vacation this year or next is by looking abroad, not within the United States.
While demand for domestic flights has reached pre-pandemic levels this holiday season, demand abroad has slowed down. And that means your best chance at getting a cheap flight might mean looking outside of the United States from your home airport.